One of the selling points of the Samsung Galaxy S5 (#Samsung #GalaxyS5) is its performance and owners were actually expecting it to be consistently fast every single time and that's where disappointment comes into play. There will always come a time when the phone slows down especially if it has accumulated a lot of data or just got a new update.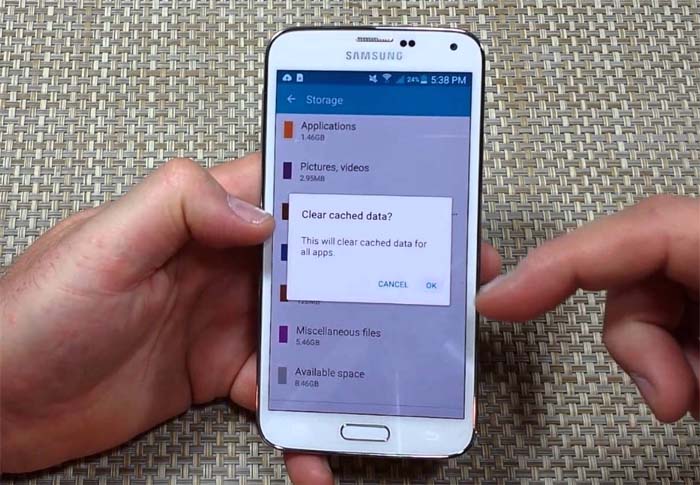 Performance issues are often firmware-related. Watch out for the day when you feel that it's performance becomes sluggish accompanied by random reboots and unexplained crashes often characterized by errors because it means that your phone needs your attention more than ever.
I have included three problems in this post that best describe how the phone behaves when it's suffering from performance-related issues. I will tackle each problem and provide suggestions. Try to see if your problem is related to one of them.
Just before we dig deeper into these problems, if you have other issues, visit the troubleshooting page we setup for Samsung Galaxy S5 as it contains hundreds of solutions to problems we already addressed. Find issues related or same as yours and try the fixes we provided. If they don't work, then feel free to contact us as we always willing to help. Don't worry, it's free; just provide us with more details about the problem.
Galaxy S5 became sluggish with apps crashing
Problem: Firstly, I love my S5, never had problems in the last year I've had it. However, since the recent update in the last week or so, my phone has been seriously laggy in all functions, sometimes not able to perform simple tasks such as type or bringing up the keyboard to type, not recognizing swipes left/right, and randomly shuts off and restarts without warning. Voice recognition only works about 50% of the time. I've tried soft reset and clearing out caches, and I'm a bit OCD about making sure apps aren't running in the background (thanks to Apple for that habit). I no longer keep photos/vids on the phone, uploading to Dropbox at the end of every day. I use CM as my cleaner/booster/virus check, never had problems in the past, but now often getting the "has stopped working" message for it. I don't know what else to do besides a factory reset, which I'm trying to avoid. It's coincidental that I also hit the Edge up point just within the last few weeks (I swear it seems like the carriers put self destruct points in the phones to force us to upgrade). Anyhow, you guys always have good tips and articles, so I decided to let you have a go. Thanks in advance for the great work! Keep it up!
Potential Solution and Troubleshooting: There's no mention of an update but since Lollipop has been rolled out for the Samsung Galaxy S5 earlier this year, I am sure the owner already received a notification and may even have installed it, otherwise, there will also be a mention of update notification that keeps showing.
Honestly, I even think all these issues is connected to the recent update and I believe all the errors started showing up after the installation just like hundreds of owners who complained that lollipop ruined their phones instead of making them better.
If a third-party app is crashing, it's more likely just an app problem but if a pre-installed app crashes, then it's more likely a firmware issue. In this case, some of the core services won't function like the keyboard, voice recognition and whatnot. I say, a master reset is necessary to bring this phone back to its original state and there's no going around it. Just backup your data and then follow these steps:
Turn off the device.
Press and hold the following three buttons at the same time: Volume Up key, Home key, and Power key.
When the phone vibrates, release the Power key but continue to press and hold the Volume Up key and the Home key.
When the Android System Recovery screen appears, release the Volume Up and Home keys.
Press the Volume down key several times key to highlight 'wipe data / factory reset.'
Press Power button to select.
Press the Volume down key until 'Yes — delete all user data' is highlighted.
Press Power button to select and start the master reset.
When the master reset is complete, 'Reboot system now' is highlighted.
Press the Power key to restart the device.
Galaxy S5 freezes, turns off and restarts
Problem: Phone will freeze then turn itself off then restart again. Does this 6-10 times a day. Doesn't matter what your doing whether your on a call, writing email, watching movies or just placed on a table will shut off. This has been happening long before lollipop update. That's what's so confusing. Thanks.
Troubleshooting: This issue needs further observation as we don't know for sure what causes the freezing and the reboots. The best thing to do is to boot it in safe mode first and observe if the problem still happens.
Turn the device off.
Press and hold the Power key.
When 'Samsung Galaxy S5' appears on the screen, release the Power key.
Immediately after releasing the Power key, press and hold the Volume down key.
Continue to hold the Volume down key until the device finishes restarting.
Safe mode will display in the bottom left corner of the screen.
Release the Volume down key when you see Safe Mode.
In case the phone would still freeze and reboot, you have to perform master reset as it may be just a firmware issue. If it were a hardware problem, the reboots may happen more often. But after the reset and the issue remained, it's time you sent it in for repair.
On the other hand, if the problem was fixed in safe mode, then you just have to find apps that cause it, or better yet, proceed with master reset to give the phone a fresh start.
Brand new Galaxy S5 keeps crashing and freezing
Problem: Hey, I was just reading your article about app crashing and freezing on the S5. I liked how clearly you'd described each process, much easier to follow than most other places! So I picked up the S5 only a week ago as my new phone, 24 month contract. Unfortunately the actual phone is crashing / resetting, not the apps.
Several times today. Many times just on the lock screen, nothing engaged/pressed… It'll stall at the lock screen, then crash/reset. Which is quite worrying to me, for what was a flagship phone, and is brand new. I'd read it was well equipped so I would have hoped it could handle a lock screen or basic functions.
Had you written an article on this? Is it common?
I'd previously used the S4 and was a big fan at the beginning, but it eventually became almost unusable due to bad upgrades…
If you had any tips or posts, it would be appreciated, Richard.
Suggestion: Hey Richard! I only have one suggestion for you: have your phone replaced while you are entitled to received a brand new replacement unit.
It's your phone and if its performance is already crappy out of the box, then you might have gotten yourself a "bad" phone. There are always units that have manufacturing defects or problematic and it seems like you gotten yourself one. There's no point in troubleshooting a brand new phone that's not working properly. As long as you haven't tinkered the firmware or there's no liquid or physical damage that could void the warranty, then you can get a brand new replacement unit.
If you've already set it up, then perform a master reset first before returning the device. And to answer your questions, well, we sure encountered a few problems related to yours and we suggested the same thing. And no, it's not common at all. There are only a few "bad" units and it just so happened that you got one.
Bad upgrades can always be addressed. Phones with bad hardware can't.
Connect with us
We are always open to your problems, questions and suggestions, so feel free to contact us by filling up this form. We support every Android device available and we are serious in what we do. This is a free service we offer and we won't charge you a penny for it. But please note that we receive hundreds of emails every day and it's impossible for us to respond to every single one of them. But rest assured we read every message we receive. For those whom we've helped, please spread the word by sharing our posts to your friends or by simply liking our Facebook and Google+ page or follow us on Twitter.