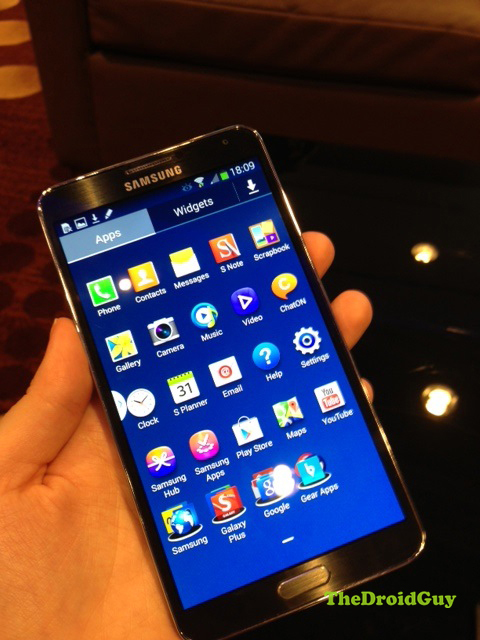 If there's one thing that makes smartphones attractive, it's the camera feature. The camera has become an integral part of any phone today that it is unthinkable to have a snartphone without the ability to capture moments of our lives. As phone-mounted cameras become the norm, camera hardware and apps have also become sophisticated creating more and more possibility of points of failure. It's no surprise for us to know that there are many Android users reporting all sorts of camera-related problems all the time. Below are some of these problems sent via email by some of our loyal readers.
Let us know if the solutions provided here on how to fix Samsung Galaxy Note 3 camera issues are effective using the link below.
Problem #1: Galaxy Note 3 won't focus after updating to Lollipop
Hi. My phone's camera won't focus and i can't take pictures with my phone. This problem occurs after i update the Android version to 4.2 but now i updated to 5.0 and the problem is still not fixed. Is it an issue with the lens or software? How can i fix this problem? — Sharon
Solution: Hi Sharon. If this problem remains after you updated to Lollipop, it is most likely a hardware failure. Some users who updated their devices to Lollipop reported some autofocus issues after the installation but they were fixed by factory reset. If you haven't tried performing a factory reset after installing Lollipop, you may want to do that.
Otherwise, consider getting a replacement phone.
Problem #2: Galaxy Note 3 auto rotate won't work
When I take a picture with my phone the position is always to the side. If I straighten out the picture and send it in an email it comes in the email sideways or inside Instagram it will turn sideways. I have turned off my phone and rebooted. I have took the battery out and put it back in. I don't know how to fix this problem. Can you help me? Thank you. — Nina
Solution: Hi Nina. Many users reported this problem months ago. The problem appears to be caused by a faulty ROM or by a malfunctioning root firmware. If your phone has been rooted, please revert it to its stock ROM to resolve the issue.
However, if you did not root your phone, try to restore the device to its defaults via recovery mode. Here are the steps:
Turn off the device.
Press and hold the following three buttons at the same time: Volume Up key, Home key, Power key.
When 'GALAXY Note 3′ appears on the screen, release the Power key but continue to press and hold the Volume Up key and the Home key.
When the Android System Recovery screen appears, release the Volume Up and Home keys.
Press the Volume down key to highlight wipe data / factory reset.
Press Power button to select.
Press the Volume down key to highlight delete all user data.
Press Power button to select and start the master reset. When the master reset is complete, select Reboot system now using the Power button.
Problem #3: How to recover corrupted photos from internal memory of Galaxy Note 3
Hello. When I updated to Lollipop in my Galaxy Note 3, the camera photos were damaged all the time. The setting was to save directly to the external card.
I changed this setting to save the photos to the internal memory instead of the microSD and the photos were ok.
The problem is that when I moved my photos to a folder in the external card all moved as damaged and I cannot open them. I need those photos and I don't know how to do it.  Please help me. — Luis
Solution: Hi Luis. If you can't transfer the photos normally from your phone to another medium, there's a chance that these images may have become corrupted. Try checking these recovery tools to see if they can help you. We can't guarantee the effectiveness of these recovery software and they are not free but they have been reputed to have work by many people. Keep in mind that software recovery is a tricky business and there's always the risk of failure.
Make sure to create a back up of your other personal data before attempting to recover your photos.
Problem #4: Galaxy Note 3 "server error occurred. Restart camera." error
Hi. Can you please help me rectify this issue? My front camera is not working. The screen goes black when i select the front camera. And when i click its says "server error occurred. Restart camera." Please let me know how to solve the issue. —  Murtaza
Solution: Hi Murtaza. Were you using the stock camera app when this error came up? If you were, the camera app may have failed to launch properly due to issues with other apps. Gallery and camera app are closely linked together and if any of them suffers from a glitch, the other one is  more likely to get affected too. Try clearing the cache and data of both apps and observe the phone for a few hours. If the problem continues, other apps may be to blame. You can then clear the phone's cache partition. If you haven't done this before, here are the steps:
Turn off the device.
Press and hold the following three buttons at the same time: Volume Up key, Home key, and Power
When GALAXY Note 3 appears on the screen, let go of the Power key but continue to press and hold the Volume Up key and the Home
When the Android System Recovery screen appears, release the Volume Up and Home
Press the Volume Down key to highlight wipe cache partition.
Press the Power key to select and wipe the cache.
With Reboot system now highlighted, press the Power key to restart the device.
Problem #5: Unmounting SD from Galaxy Note 3 solves front- camera issue
I read your solutions on the front facing camera not opening. I was suffering from the same dilemma. I was about to reformat my SD card, but decided to take it out and immediately reinsert the card. Luckily/surprisingly, this fixed the problem. Thanks for the help. — Greg
Solution: Hi Greg. Good to hear you fixing the issue yourself. In theory, we can't really see the logic why that would resolve the issue but we can't argue with a fact. Maybe unmounting the SD card refreshed the circuit or eliminated some errors. Whatever the explanation for the phenomenon, we're glad to know that it was effective. We appreciate your effort and time by letting us know about it. We're hoping there are more Android users out there who can give us any feedback. Keep it up!
Problem #6: Galaxy Note 3 front camera stopped working after updating to Lollipop
I updated my Note 3 to Lollipop and everything was working fine. After a week or so my front camera stopped working. Whenever i switch to front camera the screen go black and message appears saying camera is not responding. My model is SM-900. Rear camera is working fine but front one is not. I bought it back in August last year. Front camera was working fine until now. Please help. Thank you. — Abhishek
Solution: Hi Abhishek. Did you install any update or app before noticing the problem? Many not-so-good-things happen after updating to Lollipop so you may want to check our previous article on how to fix your problem: Why Android Lollipop Causes Problems.
You may also want to unmount the SD card, then re-insert it again just like what Greg (above) did.
Problem #7: How to get stock camera app back in a rooted Samsung Galaxy Note 3 after it was deleted
Hi. My name is Dao Ton. Recently I have rooted my Galaxy Note 3 SM-900 to explore more about Android phone. I accidentally deleted the original camera app of the phone. My question is that as follows:
Is there any better camera app than the Samsung one?
If not, please teach me how to reinstall the original Samsung camera app.
Thank you and best regards. — Dao
Solution: Hi Dao. There's a long list of excellent alternate photography apps for Android out there so it's just a matter of personal preference. We really can't say if the stock Samsung camera app can be used as a standard to measure what makes a photography app good. We'll leave the judging to you. Just use Google to search for the best photography apps for Android and you'll be presented with tons of them.
If you want to continue using the stock app though, consider reverting to the stock operating system to get it back.
Problem #8: How to recover some photos in Galaxy Note 3 gone missing
Hi The Droid Guy. I hope you can help me. Couple days ago i was just shocked finding out that hundreds of my photos are suddenly missing. Not all photos missing, only in my camera albums which the photos are gone and only videos remain. 2 other photos folders are also gone missing. I have been sad and desperate about it, I don't know how this happened.
Before this, i did uninstall 2 application from Note 3 and also I connect the Note 3 via USB to my laptop few times. Can those affect why my photos are now gone?
Is there any chance to bring back the file or the photos that are missing?
Thank you. i will so appreciate if you reply my answer 🙂
Best Regards. — Siaowan
Solution: Hi Siaowan. As long as the files are intact in the storage memory units, there's always a chance to recover them. Please try using the recovery options provided for Problem #3 above.
Problem #9: Galaxy Note 3 camera won't save pictures to SD card
For some reason my phone will not let me default to save pictures to the SD card. I have even gone into the camera settings and manually done it. I will take the picture and I then get a message dating it cannot save to the SD card and saved to device instead.
I cannot download some apps also,  as it says I cannot save to SD card. With these, it automatically tries to save them there. This is sine apps,  not all. And it will not let me move apps from the device to the SD card.
Galaxy Note 3. — Tony
Solution: Hi Tony. Make sure that the SD card you are using is formatted using your Note 3, and not by any other device. If you continue to be unable to save your files in the SD card, try another card to see if it makes any difference. Old, recycled SD cards sometimes no longer works as expected. If possible, get a brand new SD card and try again.
If the problem continues though, just perform a factory reset.
---
Engage with us
If you are one of the users who encounters a problem with your device, let us know. We offer solutions for Android-related problems for free so if you have an issue with your Android device, simply fill in the short questionnaire in this link and we will try to publish our answers in the next posts. We cannot guarantee a quick response so if your issue is time sensitive, please find another way to resolve your problem. 
When describing your issue, please be as detailed as possible so we can easily pinpoint a relevant solution. If you can, kindly include the exact error messages you are getting to give us an idea where to start. If you have already tried some troubleshooting steps before emailing us, make sure to mention them so we can skip them in our answers.
If you find this post helpful, please help us by spreading the word to your friends. TheDroidGuy has social network presence as well so you may want to interact with our community in our Facebook and Google+ pages.