The PlayStation 4 is one of the most iconic gaming consoles ever and that's not only because of its hardware but also of its excellent software, online services, and contents in the PS Store. The sad thing though is that fact that not everything on offer in the PlayStation Store is available for each PS4 user. A particular country may offer contents that are not available in others. It's not surprising that many PS4 users would want to know how to change the country or region on their console to be able to access games, contents or services that are not available in their own country.
In this guide, we'll show you the easy way to make that possible.
Is the PS4 locked to a certain country or region?
The PS4 consoles and its games are NOT region-locked. However, certain games, contents, and streaming services may not be readily available for all PS4 users around the world. For example, Hulu Live TV can only be accessed in certain markets particularly in North America region or United States but not in Asian region like Hong Kong or Singapore.
All PS4 disc games are tied to the region where they're bought from so if you have a game disc from the UK but wants to play it on your US console, that won't happen.
Also, some games may encounter issues if it's not compatible with the region set on your PlayStation 4 console, or if you're using a different PSN region. In most cases, the base game may run but its downloadable contents and other online services may not be available if you bought them from a different store region.
So, while the PS4 is not technically region-locked, it may still seem to be that way for an average user since he or she can only purchase contents tied to his or her specific region. To avoid having issues, make sure that your PSN account and PS4 console belong to the same region.
How to check your PS4 region?
Every time you sign in to your new PSN account, its region is the same to that of the PlayStation Store. If you're confused what your PS Store region is, follow these simple steps:
Open a web browser on your PC or smartphone.
Go to https://www.playstation.com/ and click on Sign In button at the top.
Enter your PSN email and password.
Scroll down to the very bottom to see your Country/Region.
Reasons why you may change your PS4 country or region?
Different users have different reasons why they may want to change their PS4 country or region. Most of the time though, they fall under any of the following:
to access contents not available in your country
to play new titles that are not yet available in their country
to access other apps or streaming services from other countries
Can your PS4 be used in another country?
Since Sony does not have actively block PS4 users from bringing their PS4 anywhere on the globe, the answer is yes. The PS4 uses an internal "universal power supply" unit, which means that it can handle the different voltage and frequency ratings of any country. For example, if you brought your PS4 from the United States, which has 120V/60Hz standard to the Philippines, which has a 220V/60Hz standard, you can continue using it there. You only have to consider checking if you need to secure a universal adapter if you encounter a different socket type in your destination.
How to change your PS4 country or region?
There are two things that you cannot change in your PSN account: your age and country/region. We've found a workaround for changing your Sony account age in this guide.
Changing the region on PS4 can only be done by creating a new account. At this time, there's is no known workaround to trick Sony's system to let you modify the country or region in your PS4 or on their website.
If you want to create a new PSN account instead, which is very simple, follow these steps: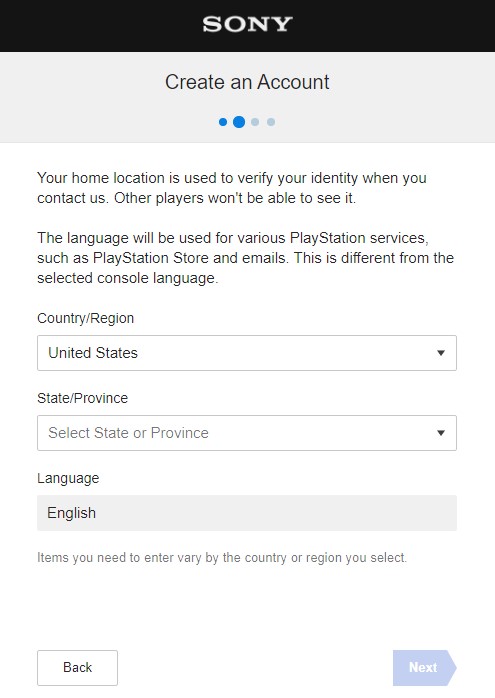 Open a web browser on your PC or smartphone.
Click Create button.
Enter your correct birthdate. Make sure that you enter the correct information at this stage to avoid encountering issues or losing access to your account in the future.
Select your new Country/Region, State/Province, and language.
Enter your email address and password. Make sure that the email address is not tied to any PlayStation or Sony account before. Be sure to also create a secure password for your PSN account.
Click on Confirm button.
If you want to create a new account on the PS4 console, here's how to do that:
Go to your PS4 Home screen.
Select Power.
Select Log out of PS4.
Press the PS button on the controller.
Select New User.
Select Create a User.
Accept the User Agreement if it shows.
Hit Next.
Select New to PlayStation Network? Create an account.
Select Sign Up Now.
In the Join PlayStation Network screen, select your new Country/Region, Language, and Date of Birth.
Hit Next.
Follow the rest of the steps in the succeeding pages to create a new account.
NOTE: You can't transfer credits or contents to your new account.
How to access games and contents that are exclusive to certain regions only (geo-restricted)?
If you're only planning on accessing or buying games, downloadable content or using certain streaming services like Netflix that are geo-locked to certain regions, you can skip creating a new PSN account but instead use a Virtual Private Network or VPN.
In order to use a VPN, your router must support VPN usage and you must know how to configure it in that device. If you have no idea how to check if your router supports VPN, contact the router manufacturer or your Internet Service Provider.
Bear in mind that not all routers support VPNs so this is an important consideration.
Once you're positive that your router can handle VPN, you also need to sign up for a good VPN service. Here's our own list of excellent VPNs for the PS4.
Other interesting articles:
Visit our TheDroidGuy Youtube Channel for more troubleshooting videos and tutorials.