We all sometimes make mistakes when creating accounts. If you think that you've put a different age on PS4 account and you want to change your age now, this guide should help.
Reasons to change your age for your PS4 account?
PlayStation 4 owners have varying reasons why they may want to change their age or date of birth on their PlayStation Network account.
Account creation mistake.
The most common cause why some players wish to change the age on PS4 is because they committed a mistake when filling out the account setup form. If you entered an incorrect value for your age when creating your account before, making yourself a minor in Sony's system, there are limitations that you'll encounter when using that account on your PS4.
Child account wanting to access all contents in PS store.
It can be very frustrating for a 17-year old who wants to download or play mature-rated games from the PlayStation Store due to content restrictions. Or if you are a parent who's is constantly bothered by your children to allow them to play certain games that are otherwise restricted for their age range, you may want to change their date of birth on their account so you can upgrade them to an adult account.
As you can see, child accounts must be tied to an adult account so if you don't want that setup, you can either change your parental control settings, or change their age on their PSN account.
Unlimited multiplayer time.
Certain games may limit the total playing time for child accounts. To go around this particular restriction, you can change the birthdate of your child's PSN account by following the steps in this guide..
How often can you change your age on your PS4 account?
Sony only allows you to change your age ONCE. And changing your age for your PSN account is NOT even permitted.
If you want to change your age, you'll have to go to Sonymobile.com page so you can modify your birthdate. This change is reflected across all Sony services such as your Sony account for your Xperia phone and other consoles. This also applies to your Sony account even if you created it on another device.
How to check your PlayStation Network account age?
Before you proceed to change your PS4 account age, make sure that you confirm if your age is indeed incorrect. Unfortunately, Sony no longer provides the age on the account for security reasons. While this is not a problem for most, especially those who put in the correct information in the first place, it can be quite a headache if you are locked out of your Sony account or any Sony services like a PlayStation Network account as you can be locked out of your account forever if you can't prove your identity using your birth date.
As your PSN account does not show your age or birth date in your account management page, the only to check your PlayStation Network account age is by going to account.sonymobile.com. This is the same site where you can change your birthdate as well. We'll show you the steps below.
In order to avoid future inconvenience, we highly recommend that you enter the correct age or birthdate when creating your account.
How to change age on PS4 account (easy steps)?
So, if you think that you've made mistakes before when creating your PSN account, or when you want to ensure that you have the correct age for your PS4 account at this time, here's what you can do: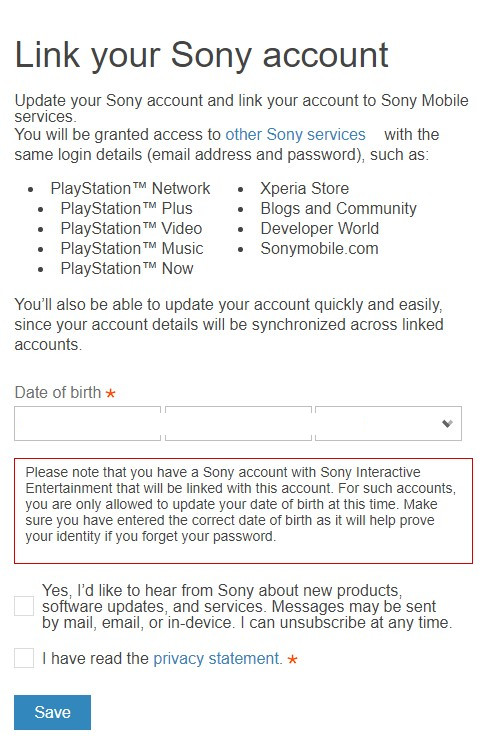 Open a web browser and go to account.sonymobile.com.
Enter the e-mail address and password for your PlayStation Network account.
The next page should show you the age or date of birth you've entered for your account. If you want to change it to the correct one, you have ONE chance to do it here.
After modifying the boxes, check the box for Privacy statement and click on Save button.
Is changing your age on your PlayStation account legal?
Sony provided the option to change it once so it must be perfectly fine. They've made it clear though that you can only change your age just once with this notice:
What are other settings that you can change on your PlayStation Network account account?
Sony allows you to change other details on your account as well such as the following:
Name
Gender
Residential address
Email address
Payment methods
language
You can change any of these items by either going to the official PlayStation Network website, or under your account in the PS4 console itself.
Other interesting articles:
Visit our TheDroidGuy Youtube Channel for more troubleshooting videos and tutorials.