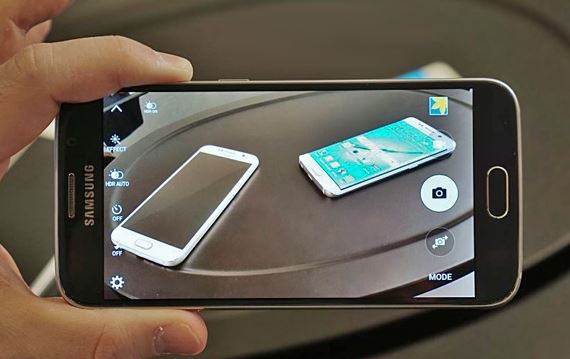 Ever experienced freezing and rebooting issues on your new #GalaxyS6 or #GalaxyS6Edge? Issues like these may not really be "issues" in a technical sense as they can also be signs of overheating or hardware failure. We hope that this post can give you an idea where to start in your quest to troubleshoot your issue. As a general rule of thumb in Android troubleshooting, doing a factory reset is paramount in fixing any software-related issues. Make sure you do it before submitting your device for repair.
Our article today discusses these topics below:
If you are looking for solutions to your own #Android issue, you can contact us by using the link provided at the bottom of this page.
---
Problem #1: Galaxy S6 Edge won't boot up after charging it wirelessly overnight
I have had a Galaxy S6 Edge for a few months now, and last night I put it to charge on a Samsung Wireless charger. This morning when I woke up the phone was unresponsive, the LED light is blinking like when I get notifications but the screen won't turn on, the  LED light won't turn red when I connect it to a charger and now I'm freaking out. If you could help me that would be amazing. — Jonathan
Solution: Hi Jonathan. If your S6 Edge no longer boots normally, try to check if you can still start it in other modes. You can either try to boot in download (Odin) or Recovery mode to do that. If you can't do either of the two, the next best thing is to call Samsung and have the phone repaired or replaced.
Problem #2: Galaxy S6 "recovery is not seandroid enforcing" error after rooting
I tried to root my SM-G925F. It succeeded but I was in a bootloop with the S6 logo and "recovery is not seandroid enforcing". I was trying to flash many different ROMs, they all failed. Finally I tried the G925FXXU3QOK9_G925FBOG3QOK9_G925FXXU3QOJO_HOME.tar and it failed at hidden.img. I renamed it ".tar" and flashed it as I saw on a forum but now I'm stuck in another bootloop with the S6 logo and an Android in a blue background with Galaxy spelt above it. I can't go to the recovery mode. I am from France (bouygues). I really don't know what to do now..– Oceane
Solution: Hi Oceane. We covered this issue on this post. Please check it and follow our suggestions.
Problem #3: Galaxy S5 saying "remove the device" and install an app during charging
Hi. My phone is Samsung Galaxy S6. I bought it as an used phone. It didn't came with the original charger. It was working really fine and fast. Still working fast but there is a problem. When i plug in my phone charger it says to remove the device and install an app (voice command). And screen goes black and all the buttons stops working even the touch. Can't even turn on the device. When i press the power button there is a small cross on the screen and that doesn't even work. Even the charger doesn't work. After a while when i plug in the charger screen comes on and it starts working. Is there any way you can help me to fix this problem? I will be really grateful if you do. Thanks.
Regards. — Masud
Solution: Hi Masud. Please do a factory reset so we'll know if this is a firmware bug. Here are the steps to do it:
Turn off your Samsung Galaxy S6 Edge.
Press and hold the Volume Up, Home and Power keys together.
When the device powers on and displays 'Power on logo', release all keys and the Android icon will appear on the screen.
Wait until the Android Recovery Screen appears after about 30 seconds.
Using the Volume Down key, highlight the option, 'wipe data/factory reset' and press the Power key to select it.
Press the Volume Down button again until the option 'Yes — delete all user data' is highlighted and then press the Power key to select it.
After the reset is complete, highlight 'Reboot system now' and hit the Power key to restart the phone.
Make sure to create a backup of your personal data (photos, videos, contacts) before you proceed with factory reset.
Do not install any third party application after doing a factory reset. Wait for at least 24 hours so you can observe how the phone behaves. If the issue remains during this time, have yourself a new device.
Problem #4: Galaxy S5 screen issue after it was dropped and got wet
Hello there. I bought a Samsung Galaxy S6 Edge in May, in USA and that was about the time i was coming back to Nigeria. So, not buying from authorized dealers here in Nigeria didn't assure of any warranty nor was i told about any Samsung Galaxy S6 Edge warranty available, unlike the my previous S4.
so my phone fell into the closet, hitting the ceramic base and was half way in the water but my reflex was able to rescue it in split seconds. i brought it out and it displayed normally for 5 seconds before flickering and going off. i pressed the power button several times and even did some safe recovery mode options i found on your website. due to the irremovable battery and tight casing. All i could think of was to shake it vigorously, which i did and a little amount of water sprinkled out from the ear speaker. the screen did not crack despite the hard fall but i think i made a mistake of plugging the charger because i wasn't thinking straight and all i wanted was to see it come on. it did come on but seemed like the battery drained as much as it was charging. while on the charging screen, it would flicker also, going on and off and i left it till the next day because it happened on sunday night.
The following morning, i pressed the power button again and it came on but it would flicker, go dim, a little bright and i noticed colourful dots all scattered though the background entire screen, like it's a galaxy of stars. i noticed this pattern while charging the previous night also and some of the colourful dots would shine like a glittering star . but since the phone came on this morning, with the tiny dots everywhere, the icons on the display seemed transparent . i have put it off now.
i just would like to know if it would mean i have to change the screen or it's fixable once the back is removed and totally dried of water.
despite the wide variety of phone engineers around, i don't know who to really trust with this because it is not a regular phone you see that these engineers have worked on or are used to. so even if it's with little fixes, they would charge extremely high for a sophisticated phone.
i don't have a Samsung store nearby, i would have to travel to another state for some hours before seeing one. please just give me your honest suggestion concerning the screen. Thanks. — Mich
Solution: Hi Mich. You clearly have a hardware issue at hand. We don't think the damage due to the fall and water exposure is limited to the screen area only. A full motherboard overhaul is needed to verify if all components are working normally. As much as we would like to help you, there's just nothing that you can do to fix this issue right now. Visiting Samsung may get you somewhere but the repair will certainly not be free. Even then, there's no guarantee that Samsung technicians can fully fix the phone. They will most likely advise you to get another phone.
Problem #5: Galaxy S6 won't install system update
I was doing a software update and everything downloaded fine. Afterwards the phone said it must boot so that the installation can take place.  When starting with the installation it just say error but no code or number is displayed. A window pops up on the screen with the wording.
"Failed to update software. Failed to update firmware. Try again using PC software (Kies) or visit a Samsung service center."
I do not no know how to do the installation using PC software (Kies) – What is the Kies?
Kindly help as I am currently in Swaziland and far from a Samsung outlet or service provider. Thank You. — Hermie
Solution: Hi Hermie. The error message you're getting is an indication that your device refuses to install the update file it received. If the update was provided by your carrier in Swaziland, try to call them for direct assistance.
Alternatively, you can follow the instruction to update the phone via Kies. This is an official Samsung software that users can use to sync files on their phones and PCs or update a smartphone. If you want to try to update via Kies, make sure you have a working computer that has internet access. Once that's taken care of, visit Samsung's Kies site to download the software.
Problem #6: Galaxy S6 keeps freezing and rebooting
My phone keeps freezing and restarting constantly. When I went to check on the System Update it said that the operating system has been modified in an unauthorized way, and the Device Status is shown as "Custom". I haven't rooted my phone and to confirm my suspicions i use apps like "Root check". Before it reboots it usually freezes and lines run across the screen. if I'm watching a video it emits a loud beep. I have factory reset it about 4 times now and it still has the same problem. I want to get a new phone probably but I don't know if the same problem will be transferred to the new phone due to using the same Samsung account. Please help. — Felipe
Solution: Hi Felipe. The problem is not account-specific so getting a new smartphone and logging in your Google or Samsung account will not "transfer" it. The most likely reason for the current issue is due to a third party application. To check that, try to boot your phone in safe mode and observe. While in safe mode, no third party applications will be allowed to run. It's a good tool to use to verify our hunch. Here are the steps to boot your S6 to safe mode:
Press and hold the Volume Down and Power keys for 20 to 30 seconds.
Once you see the Samsung logo, release the Power key immediately but continue pressing the Volume Down key.
Your phone should continue booting up and you will be prompted to unlock your phone as usual.
You will know if the phone successfully booted in safe mode if the text "Safe mode" is displayed at the lower-left corner of the screen.
If your phone works fine while in safe mode, that's a signal that you should start uninstalling apps until the cause of the issues is eliminated.
Keep in mind that freezing and rebooting can also be signs of malfunctioning hardware. If nothing changes even when the device is in safe mode, start looking for options to have the device repaired or replaced.
---
Engage with us
If you are one of the users who encounters a problem with your device, let us know. We offer solutions for Android-related problems for free so if you have an issue with your Android device, simply fill in the short questionnaire in this link and we will try to publish our answers in the next posts. We cannot guarantee a quick response so if your issue is time sensitive, please find another way to resolve your problem.