Touchscreen or display issues on a #Samsung #GalaxyS4 happens but only to few unfortunate users so we seldom receive requests for assistance regarding them. If they do occur though, they mostly result to a total mess. This is because most screen issues have hardware causes and they are usually beyond the technical know-how of average users to fix.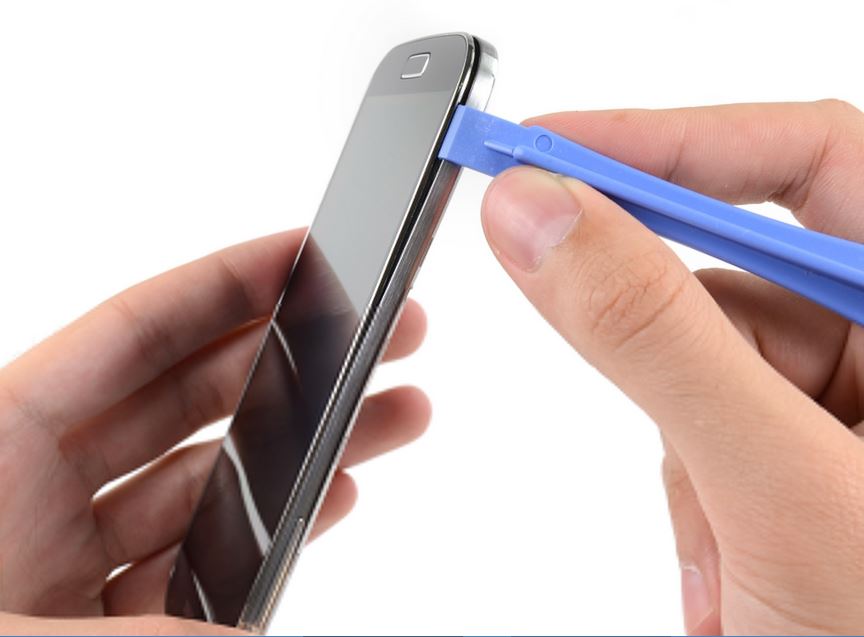 If your S4 is showing signs of screen trouble, we suggest that you try the basic software troubleshooting clearing the cache or performing a factory reset to isolate the true nature of the problem. If nothing changes, that's a confirmation that there may be an underlying component failure.
If you think you can manage fixing the point of failure yourself, the guides provided by iFixit website may help you.
Anyhow, our post today includes these 4 issues:
---
Problem #1: Samsung Galaxy S4 screen showing greenish and horizontal lines
Just a heads up. I have no idea what update I am on. Though I do update when it says there is one ready to be installed.
Anyway the issues that I am having with my phone are one that it gets hot for NO reason. Or if I have it hooked up to the charger it will heat up to over 115 degrees sometimes.
The second issue I'm having is that today, I was playing on my phone fine and dandy. And I literally walked from my couch to my room and turned my phone screen back on and it came up a greenish yellow. Half that color and half black. So I turned it off again and the. Turned it back on and the screen was completely black. So I took the battery out and put it back in and restarted it. Black screen.
So I restated it again and this time the screen shows the greenish color and black horizontal lines. So I tried to navigate through and find the phone reset and then poof my screen was fine and crystal clear again. Now every couple hours or so the phone screen goes back to horizontal lines and then back to clear screen. Can you help or is this a "I need to replace my LCD screen issue" — Jessica
Solution: Hi Jessica. There are three possible causes for a problem like yours–third party app, firmware, or hardware. There has been a few reported cases for other Android phones showing flickering screens after installing some rogue apps so your best bet is to reboot your phone in safe mode. Here how:
Turn the device off completely.
Press and hold the Power
Once the Samsung Galaxy S4 logo appears on the screen, release the Power
As soon as you release the Power button, press and hold the Volume Down
Continue holding the Volume Down key until the phone has completed the reboot process.
If you can read 'Safe Mode' at the bottom left corner of the screen, release the Volume Down Otherwise, repeat the process until you can boot the phone to Safe Mode.
When in safe mode, all third party apps are prevented from running so if the problem fails to occur, you have a confirmation that one of your installed apps is the culprit.
If the problem remains even when in safe mode, you can try clearing the system cache.
Samsung and Google suggest to update the operating system (as the last resort) to try and fix a possible software glitch so you might want to give it a try if its available.
Now, if these three workarounds won't do anything, you can safely assume that any of these hardware issues may be the cause:
screen connector may be loose
On-board connector may be loose or water-damaged
LCD screen might have be suffering from liquid or water damage
LCD screen may be faulty itself
If you can't fix any of these hardware issues, consider having the phone repaired by a qualified technician.
Problem #2: Galaxy S4 touchscreen does not turn on
I can't use the screen on my phone. It comes on like normal but when I try to type in my password I can't press anything. It's not frozen because stuff still pops up on my phone and the time still changes. It's like the touch screen isn't working anymore for some reason. — Jazmyn
Solution: Hi Jazmyn. Not a lot of people of have touchscreen problems on their S4 but for those who do, the usual reasons are hardware in nature. We hope there's no hardware issue involved in your case though. To try to determine if a software issue is the reason for the touchscreen failure, make sure that the phone's cache is not corrupted and full. The best thing to do first then is to wipe the cache partition. Here's how:
Turn the phone off completely.
Press and hold the Volume Up, Home and Power
Release the Power button when the phone vibrates but continue holding on to the Volume Up and Home
When the Android System Recovery screen appears, release both the Home and Volume Up
Using the Volume Down key, highlight 'wipe cache partition.'
Press the Power button to select the option.
The phone will automatically restart once cache data are wiped out.
After deleting the cache partition, perform a soft reset by turning off the phone and removing the battery for at least 10 seconds. If these two simple solutions fail to resolve the problem, there must be an underlying hardware issue. Technically, this hardware problem can be broken down into two failures–function button touch failure and touch screen failure. Whatever the specific failure may be, we recommend that you let a professional handle the issue for you.
While you can find guides all over the internet on how to fix any of these two failures, there is no guarantee that you can bring back the normal functions of the phone afterwards. Needless to say, you also need to provide for yourself the necessary parts and tools to do the job.
Problem #3: Complete black screen issue on Galaxy S4
Hello, I am an owner of an s4 mini and I have had a problem with my phone, I searched what my issue may be with my phone and tried the solutions that match the problem. Whilst researching the problem your site came to me as the most trustworthy.
As I was researching a term as 'the Black Death screen' came up and I'm not too sure if that is the problem I'm having.
Last Friday I was using my phone normally, browsing through Pinterest, like normal and my phone died. Prior to last Friday I had got my screen replaced because it had cracked and desperately needed to be fixed. So, continuing with last Friday, my phone had completely died. I put it on charge and as it started to switch on the usual Samsung Galaxy logo came on it started to glitch and run down the screen constantly, so I took my battery out, left it out for 5 minutes and the same thing happened but the writing was pink, yellow and green.
Now my phone is completely black but the sounds for all my notifications work and the back and menu options still light has usual. I have taken out the battery, held the power button down for exactly a minute, released it, and left the battery out for five complete minutes. I then inserted the battery and turned on my phone. The logo came on again but with pink, green and yellow pixels but then went off again and resumed being with a complete black screen.
This has gone on for just over a week now and I'm hoping that you can advise me on how to fix it.
Thank you for taking your time to read this. Yours sincerely. — Aaliah
Solution: Hi Aaliah. You mentioned that you had the display replaced prior to experiencing the black screen issue so that might actually have something to do with the problem at hand. If the screen has transformed into a useless black glass, there's nothing more that you can do unless you know how to open the phone to diagnose the failing hardware component.
We recommend that you bring back the phone to the shop that did the previous repair so they can check what the real issue is. We can't give any hint on what specific component may have stopped working as that involves physically checking your phone. If you want to check if you can get something running on the screen by booting up in recovery mode (although this is highly unlikely), here are the steps:
Turn the phone off completely.
Press and hold the Volume Up, Home and Power
Release the Power button when the phone vibrates but continue holding on to the Volume Up and Home
When the Android System Recovery screen appears, release both the Home and Volume Up buttons.
Recovery mode (if you can boot to it successfully) will give you options like wiping the cache or doing a factory reset so you may want to try any of those.
Keep in mind that booting in recovery is not a fix, but simply an exercise to determine if you can make the screen display something.
Problem #4: Galaxy S4 screen failing after it got water damaged
My S4 mini had an incident with water. It was turned off and dried out in rice for a number of days. I also took it into a repair shop who cleaned the components. It worked fine for a couple of a days and then developed a screen refresh issue.
The display continually refreshes to the home screen if you try to swipe to other screens. When you open an app it immediately returns to the home screen but the app runs in the back ground. When on the lock screen you can see the screen refresh itself every second or so.
I have taken it back to the repair shop who recommended a new screen. However I suspect that something else may be causing the problem as the display/touch screen works perfectly during the set up screens after a factory reset. The refresh issues only occurs once the operating system kicks in.
Could a new screen resolve this? Or is it time to give it up and buy a new phone? — Tanya
Solution: Hi Tanya. Each app can demand from and interact with the screen differently so if the display appears normal after a factory reset, it may be failing to a certain degree. This means that it may no longer be able to work normally when it tries to work in tandem with an app or apps. It is in this regard that we say, it's time to have the screen replaced. We think that the technician who checked your phone was in better position than us to diagnose what's wrong with your device.
If screen replacement won't fix the issue, then there must be another hardware issue behind this trouble. In that case, you're better off having the phone replaced altogether.
---
Engage with us
If you are one of the users who encounters a problem with your device, let us know. We offer solutions for Android-related problems for free so if you have an issue with your Android device, simply fill in the short questionnaire in this link and we will try to publish our answers in the next posts. We cannot guarantee a quick response so if your issue is time sensitive, please find another way to resolve your problem. 
When describing your issue, please be as detailed as possible so we can easily pinpoint a relevant solution. If you can, kindly include the exact error messages you are getting to give us an idea where to start. If you have already tried some troubleshooting steps before emailing us, make sure to mention them so we can skip them in our answers.
If you find this post helpful, please help us by spreading the word to your friends. TheDroidGuy has social network presence as well so you may want to interact with our community in our Facebook and Google+ pages.