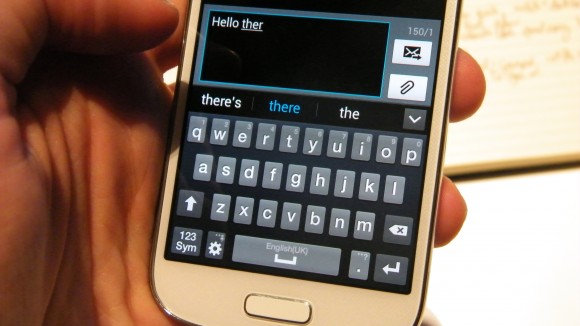 SMS or MMS problems can take many forms so we want to share some of them here for our community. Issues mentioned here are from some of our readers having texting or MMS problems on their #Samsung #GalaxyS4.
If you are looking for solutions to your own #Android issue, you can contact us by using the link provided at the bottom of this page.
---
Problem #1: Restore unread text message on Verizon Galaxy S4
Hi guys. So i recently got a new phone but prior to that i dropped my old phone and the phone screen went completely black. Since the screen outing, I've still been receiving text messages and calls and whatever else but i cannot view them obviously because my screen is black and won't let me click anything. i got the new phone and activated that (same one as before just one that works) and got all my contacts and pictures and all from my Verizon cloud onto my new phone but i was wondering if there was a way to get the messages that i received but didn't open on my old phone?
I checked my cloud and it has selected that my contacts, messages, pictures, and all that other stuff is to be backed up but the only thing that i cannot find are the messages. It says I have like 9,000 messages and to view them go to my messaging application which i did but the only thing there is the messages that i have received since i got the new phone.
If any suggestions please respond, not many people know i broke my phone so i just don't want to be ignoring any important calls/texts. Thank you in advance! — Hannah
Solution: Hi Hannah. Your question is best answered by Verizon as they are the one keeping your information. There's nothing that we can tweak or change on your phone right now to get those unread messages back. We don't know exactly how Verizon manages unread text messages so asking them for direct support is the best thing that you can do.
Problem #2: Google Play Store, SnapChat, Youtube not working on Galaxy S4
Over the past few days I have been experiencing a lot of trouble with my S4 Active, Custom OS (I think, I got the phone second-hand). Anyways, It randomly started acting up and it's driving me insane. My phone is connected to both my Wi-Fi and ATT 4G but I cannot use apps like Youtube, Snapchat, or the PlayStore. However, I can still use Facebook, Twitter, email so I don't think it's an internet problem(??).
The phone randomly has lag spikes that last about 2 seconds and then go away. I can not send texts, but I can receive them. Also, I do not get notifications for any of my apps anymore.
I looked through a bunch of pages on the website but couldn't find any case similar to mine, I feel like a factory reset might work but I am afraid that if I do this and it does NOT work I wont be able to re-download any apps because I can't Use Play Store. — Logan
Solution: Hi Logan. If Google Play Store is disabled, there's high likelihood that your phone is rooted and may be running a non-stock Android version. There are custom OS that blocks Google Play Store on purpose so if that's you have, you are most likely out of luck unless you are amenable to flashing a stock firmware.
First, try to check if your phone is rooted. If it is, the device must have custom OS as well. To know if your S4 is rooted, try checking all your apps to see if there's an app called SuperUser or SU installed. This is the most commonly used (though not always) rooting app for many devices. If SU is installed, the device must be rooted.
The second thing to do is to look for online resources on how to flash a stock firmware on your device. You can use Google to search for specific instructions on what to do. Just make sure that you use the correct firmware for your S4 model to prevent bricking your device.
Problem #3: Galaxy S4 not receiving group messages
My carrier is Straight Talk. I have had the phone for almost 2 years now and have always been able to send and receive Group Text messages using the default messenger. Recently, about the last week or so, I was noticing failed message downloads from a fellow Android user. The only messages that would fail are ones in which he messaged a group text thread I was in. I could still receive direct messages and picture messages without incident. My friends with iPhones would respond and I would have no problem receiving their group texts. Today however, I am now no longer able to receive any group text messages from anyone. I can still send group messages and I can still receive direct messages including other forms of MMS like video or picture. Its only group messages that fail.
I have cleared the messenger app data with no change. I have cleared the cache. I have restarted the phone. Made sure it has the most recent update. I have made sure the Group Messaging check box was checked. I have no clue what could be causing this problem or what might have changed or why. I'm hoping to avoid contacting Straight Talk because I have never gotten very far with their "support" "service."
Thank you. — John
Solution: Hi John. If you're not receiving a group message from only one contact, the problem is most probably on his or her end. However, if you're having trouble getting group message from everyone (especially from iOS users), you still have to check with them if they are using a special messaging app or in iPhone users' case, iMessage when sending replies to group messages.
Also, you have to make sure that the stock messaging app is the default app if you have any other messaging apps installed.
In most  group messaging cases, if one member of the group enables iMessage on his or her phone, a problem like this usually arise. If you can ask your friend to ensure that their iMessage is not used, that would probably fix your issue.
Problem #4: Galaxy S4 not receiving MMS or group text
SMS no longer shows group texts or picture mail. All I get is download boxes that never download. This occurred right after my system updated to 5.0.1. It worked flawlessly prior. I've tried many different APN settings and even contacting net10 support. I was told this isn't a service provider issue.
I have an unlocked AT&T Galaxy S4, on net10 service. I've been dealing with this for months now, and just want to use the services, and phone, that I pay/ed for.
Please help! — Anthony
Solution: Hi Anthony. If you are absolutely sure that the APN settings are correct, try wiping the system cache and performing a factory reset. These two solutions are often effective in fixing problems showing up  after a system update.
How to wipe the S4 cache partition:
Turn the phone off completely.
Press and hold the Volume Up, Home and Power buttons.
Release the Power button when the phone vibrates but continue holding on to the Volume Up and Home buttons.
When the Android System Recovery screen appears, release both the Home and Volume Up buttons.
Using the Volume Down key, highlight 'wipe cache partition.'
Press the Power button to select the option.
The phone will automatically restart once cache data are wiped out.
How to perform a factory reset on an S4
From the Home screen, tap the Menu key.
Touch Settings and then Accounts tab.
Under Backup options section, touch Backup and reset.
Touch Factory data reset.
Touch Reset device.
Tap Delete all.
Problem #5: Galaxy S5 texting problems
Hi. First, thanks for your help!
Starting today my phone won't consistently let me respond to texts like normal, by tapping on the blank bar at the bottom of the screen.  I can activate the paper clip functions to attach things,  but when I tap the bar to type in a response text, the keyboard doesn't appear. I've removed the battery as you instructed, but it doesn't solve the problem. Occasionally the keyboard will appear, and it will be normal, but there is no pattern or consistency.
I wondered if it was a problem with the touch sensors in that section of the screen, but that area works normally with every other function of the phone. That said, my phone has had a rough two days because a kitten pushed it off a counter into a water bowl yesterday, but I yanked the battery and dried it, and very little water had gotten in. I let it air dry for a little while, then reinserted the battery and everything was fine, including the texting.  Then today another kitten bit the upper left corner in the exact spot the glass was missing,leaving a tiny tooth hole about the size of a pinhead. After that the text problem appeared, but why would that just affect texting? Kittens…such adorable villains. ..
Any suggestions?? If that section of screen went dead across the board I would accept that the tooth hole broke my phone,  but how could it just affect one thing? — Cari
Solution: Hi Cari. Yeah, kittens do that but they're still adorable of course. Try to delete the cache and data of the messaging app you're using first. Hopefully, this is just a software glitch because if that's the case, you should be able to fix it by doing the basic troubleshooting we usually provide. To wipe an app's cache or data, just do these steps:
Go to Settings.
Proceed to Applications.
Select Manage Applications.
Tap the All tab.
Look for the Messaging app and tap it.
From there, you will see the Clear Cache and Clear Data buttons.
If nothing changes, you can also delete the cache partition and do the factory reset (steps provided above).
These are the only potential solutions that you can do on your end. If none of them work, the phone might have suffered a hardware issue. Have it checked by a professional so it can be cleaned and repaired.
---
Engage with us
If you are one of the users who encounters a problem with your device, let us know. We offer solutions for Android-related problems for free so if you have an issue with your Android device, simply fill in the short questionnaire in this link and we will try to publish our answers in the next posts. We cannot guarantee a quick response so if your issue is time sensitive, please find another way to resolve your problem. 
When describing your issue, please be as detailed as possible so we can easily pinpoint a relevant solution. If you can, kindly include the exact error messages you are getting to give us an idea where to start. If you have already tried some troubleshooting steps before emailing us, make sure to mention them so we can skip them in our answers.
If you find this post helpful, please help us by spreading the word to your friends. TheDroidGuy has social network presence as well so you may want to interact with our community in our Facebook and Google+ pages.