If you're reading this, you are most probably looking for answers to your own #GalaxyNote4 issue. We hope that the solutions we mention here can help Android community deal with Galaxy Note 4 power issues.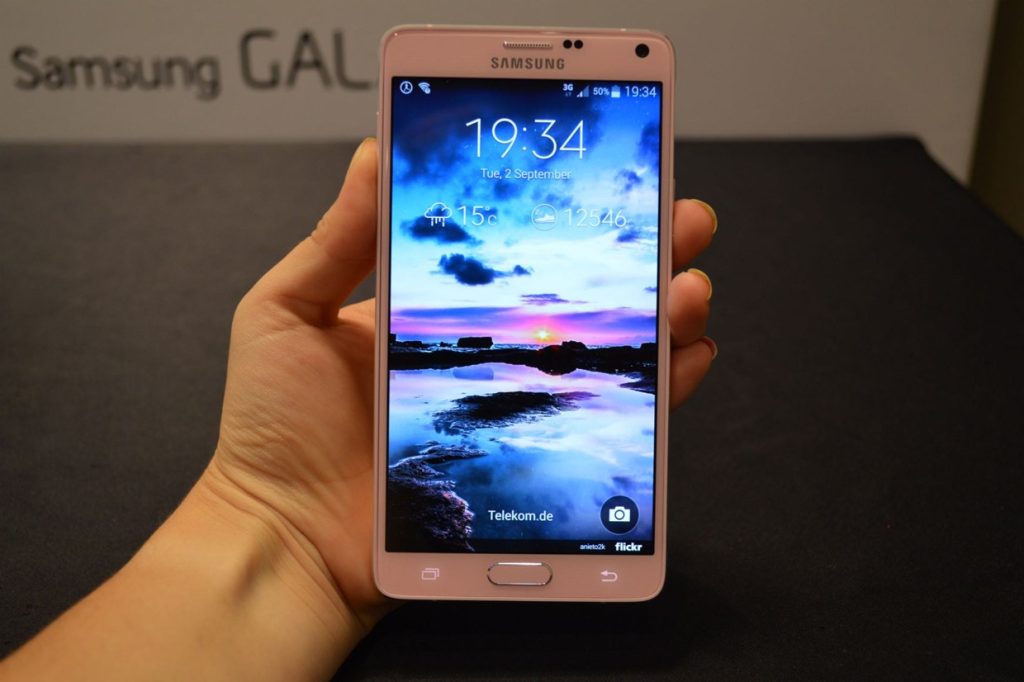 These are the specific topics we are discussing for you today:
If you are looking for solutions to your own #Android issue, you can contact us by using the link provided at the bottom of this page, or you can install our free app from Google Play Store.
When describing your issue, please be as detailed as possible so we can easily pinpoint a relevant solution. If you can, kindly include the exact error messages you are getting to give us an idea where to start. If you have already tried some troubleshooting steps before emailing us, make sure to mention them so we can skip them in our answers.
---
Problem #1: Galaxy Note 4 shuts down when battery has low power level
I have had my Note 4 for a while and recently I've been having some trouble with it. For starters, the phone will die anywhere from 28% to 40%, then when i plug it in to charge it starts charging from where it left off (say it died on 38%, it will say its charging and currently at 38%).
Also, not sure if it is related to this problem but unless i have fast charging enabled in the battery menu, it will not charge significantly ( it will charge maybe 5%-10% in a 7 hour span). Not sure if this is a power IC problem or the battery but i have a replacement on the way since i have heard that it fixes the turning off at 28-40 but the slow charging baffles me. — Koby
Solution: Hi Koby. The only way to know if a particular hardware component is defective or not is to check it physically so tests can be done. Unless you have done that, you must try doing software troubleshooting first.
And speaking of software troubleshooting is concerned, we recommend that you try battery recalibration first. Doing so will help the operating system read the correct battery levels. Sometimes, Android can lose track of correct battery readings so doing this procedure will help it do the job properly. Here's how to do it:
Use the phone by playing games or doing tasks to hasten power discharge, until the phone turns itself off.
Turn the phone on again and let it turn itself off.
Charge the phone without turning it back on.
Wait until the battery says it fully charged to 100%
Unplug the charger and turn the phone on.
If the phone says it's not 100% anymore, turn it off, plug the charger back in and wait until 100% charge is reached.
Unplug the charger the turn the phone on again.
Use the phone until you drain the battery down to 0.
Repeat the cycle once.
If battery calibration won't work, try doing a factory reset and see how the device charges. Make sure that you let the phone run for at least 24 hours or longer without installing any app or update. If nothing changes immediately after a factory reset and during the observation period, you can assume hardware may be to blame.
For reference, here are the steps on how to factory reset your device.
Turn off the Galaxy Note 4 completely.
Press and hold the Volume Up and the Home keys together, then press and hold the Power key.
When the Note 4 vibrates, release both the Home and Power keys but continue holding the Volume Up key.
When the Android System Recovery shows on the screen, release the Vol Up key.
Using the Volume Down key, highlight 'wipe data / factory reset' and press the Power key to select it.
Now highlight 'Yes — delete all user data' using the Vol Down key and press the Power key to begin the reset.
When the master reset is complete, highlight 'Reboot system now' and hit the Power key.
The Note 4 will restart but it will be longer than usual. When it reaches the Home screen, then begin your setup.
Factory reset will wipe the phone clean so make sure that you create a backup of your files before doing it.
Problem #2: Galaxy Note 4 running very slow
For the last 3 days my phone has been running very slow. The apps take around 2 minutes to load. When they do load I'm faced with a white screen for a further minute. it keeps resetting itself, freezing at random points on anything i try to do — launch an app, read and email, send a message etc. When making a call i am unable to hang up because i have a black screen apart from a white phone icon in the top left corner and the time etc in the right. The lock and home button do not respond for a while then after about 2 minutes it will keep flashing up with the lock screen as if it is trying to catch up with itself after me pressing the button so many times. i have reset the phone, removed the battery numerous times just to reboot it as it completely locks up. I have not installed any apps recently or had any recent updates, i have removed a load of apps/ games from my phone to see if this helps but with no improvement. — Cassie
Solution: Hi Cassie. Slow performance issue like the one you're talking about here can be caused by a number of things so your first task is to narrow down the possible causes. These causes can include the following:
a corrupted system cache
an operating system glitch
malware
bad battery
an unknown hardware issue
To see if it's a corrupted system cache, make sure that you wipe the cache partition first. Sometimes, updates or new apps can lead to instability issues as well as slow performance. Wiping the cache partition should delete the old system cache and create a new one. It's a simple maintenance step that you should do once every few months, especially if you tend to install a lot of apps. To wipe the cache partition, follow these steps:
Turn off the Galaxy Note 4 completely.
Press and hold the Volume Up and the Home keys together, then press and hold the Power key.
When the Note 4 vibrates, release both the Home and Power keys but continue holding the Volume Up key.
When the Android System Recovery shows on the screen, release the Volume Up key.
Using the Volume Down key, highlight the option 'wipe cache partition' and press the Power key to select it.
When the wiping of the cache partition is finished, highlight 'Reboot system now' and hit the power key.
Should nothing change after wiping the cache partition, you can then proceed to factory reset. Factory reset is a must-do troubleshooting step especially that you don't provide us with any helpful piece of history about your device. If bad hardware is causing the lag or slow performance, factory reset should not change anything. Like what we said above, you must observe how the phone works immediately after a factory reset to see any difference. If there's no positive change, consider getting a new battery or simple send the phone to Samsung for repair or replacement.
Problem #3: Galaxy Note 4 can't move files to SD card
I can't copy or move any files on to my SD card. I also can't move them from folder to folder on the SD card. However I can move them from the SD card to my phone memory without any problems. And files already on the SD card seem to work fine, it's just moving them that does not work.
I have tried using the "My Files" app but it did not work.
Sometimes, after restarting the phone I can move files without problems for a couple of minutes. And moving files from my PC to the SD card is really weird. When doing this it will move the files, they will show on the PC that the files have been moved but on the phone only some of them will actually have been moved, and the other files will be absent. After reconnecting the phone to the PC, it will also show that only some of the files have been moved. These problems only occur when moving files to the SD card or their location on the SD card.
Also this can't be a problem with the phone because I had the same problem with the same SD card on my old phone (Galaxy S3) as well. — Arnold
Solution: Hi Arnold. If the same issue occurs when using the same SD card on another device, then something must be wrong with the SD card. Try to reformat the SD card using your phone and try to move files again. If the problem stays, have the SD card replaced.
Problem #4: Galaxy Note 4 randomly shuts down | Galaxy Note 4 power button not working properly
I have a Galaxy Note 4 and for the past couple months the power button stopped working. I figured the button itself went bad but if I press it hard and quickly, it will sporadically, jump straight to the long hold menu to turn off, restart or put it in Airplane mode. The troubles don't stop there, if it dies, sometimes it goes completely empty. sometimes it can turn off at 35% or thereabouts, it will not turn back on. It is getting stuck in the reboot phase.
If I pull the battery out (when already off) and put it back in it will give a quick vibration after 2-5 seconds, show the black screen with "Galaxy Note 4" in white, but that will not stay the full length of time it's supposed to and then go off. If I pull the battery out and put it back in and then hold the volume down and home buttons it will show that screen, sometimes it's momentary, other times I can press the volume up or down button to try to get it to do something but then it dies again. The only solution I have found was on youtube people have said to tap the phone on a hard surface around the power button area for a few seconds or taps. Then put the battery in and see if it vibrates. If it does, repeat that process until it does not vibrate and then hold the power button and the phone will restart correctly. This has happened around 3 times now, and it is unbelievably frustrating and annoying. I have spent around 45 minutes to an hour doing this. After the phone restarts there's an uncertain amount of time that the power button works correctly, then will stop working as mentioned above. To me, that sounds not like a hardware issue, but a software issue. So my question is, could this be related to the 5.0.1 software that I'm running because I have never had this issue with any previous versions? Do you advise going back to a previous revision and seeing if that fixes it, or do you think there's something else going on? I would really rather fix this phone which works perfectly otherwise, instead of paying $700 for a new one. Please let me know if you can help. Thank you. — Greg
Solution: Hi Greg. First of all, you already know that the power button is not working properly. A bad power button means that the metallic contact on the physical button may be causing the phone to randomly trigger a shut down command. We don't think it's a coincidence that the phone has a random reboot issue and bad power button at the same time. This can also be the reason why the Youtube remedy you're doing has not fixed the issue. The hit-and-miss situation is most probably due to the fact that the power button mechanism does not work as expected.
If you think it's a software issue though, consider doing the basic software troubleshooting such as wiping the cache partition, observing in safe mode, and factory reset. If the issue remains after doing these three procedures, we strongly recommend that you have the phone's power button fixed.
For reference, here are the steps on how to do the software troubleshooting:
How to wipe the cache partition
Turn off the Galaxy Note 4 completely.
Press and hold the Volume Up and the Home keys together, then press and hold the Power key.
When the Note 4 vibrates, release both the Home and Power keys but continue holding the Volume Up key.
When the Android System Recovery shows on the screen, release the Volume Up key.
Using the Volume Down key, highlight the option 'wipe cache partition' and press the Power key to select it.
When the wiping of the cache partition is finished, highlight 'Reboot system now' and hit the power key.
How to boot the phone to safe mode
Turn off the phone completely.
Press and hold the Power key and the Volume Down key.
When the phone starts to boot, release the Power key but continue holding the Volume Down key until the phone finished restarting.
Safe mode will be display at the lower left corner; you may release the Volume Down key now.
How to factory reset the Galaxy Note 4
From the Home screen, tap the Apps icon.
Launch Settings and scroll to 'User and Backup' section.
Tap Backup and reset.
If you want, you can tick the checkboxes next to Automatic restore and Back up my data.
Tap Factory data reset.
Touch Reset device.
You may be asked to enter your PIN or Password.
Tap Continue and then Delete all.
Problem #5: Galaxy Note 4 won't turn on after being inactive for 18 months
I have a Galaxy Note 4 that was working fine then switched off and put in drawer for 18 months. Now device won't work. Charges but nothing on screen, red service lights then goes green when charged. Turn on seems ok, it vibrates, soft keys light and then blue light flashes BUT nothing on screen so I have no idea what is going on, if anything. As phone was fine am reluctant to think screen has mysteriously failed.
Also, I'm not fully convinced it is booting normally. Button presses for reset etc. do not get anything from screen so no idea if there is anything going on or not. Are you able to help?? As, I say phone was fine before and in excellent condition, no damage so optimistic it is ok but thanks. — Bcrux
Solution: Hi Bcrux. We think the cause of the problem is a bad battery. 18 months is a long way to let keep a Lithium-ion battery bleed power without recharging. Keep in mind that a battery of this type gradually loses power even when it's not being used. The ideal remaining battery percentage level  should be around 80 percent before you set it aside for a long time. This will ensure that there's enough power to keep internal protection circuits alive. Allowing a lithium-ion battery to fully discharge, also called "deep discharge," will cause the phone to lose its ability to keep a charge. If your phone's battery has been deep discharged within the 18-month period, there's nothing more that you can do right now but to replace it.
Technically, if the phone's battery percentage level shows 0%, it doesn't really mean the battery is fully empty. It still retains certain amount of power to keep its circuits alive.
Bad battery may be the reason why the phone appears unable to boot properly, or even show anything on the screen. Get a new battery and see how  it goes.
Problem #6: Galaxy Note 4 screen heats up when phone is in use
Samsung Galaxy Note 4, about 2 years old. Hello! I have recently been having hardware problems with my Samsung Galaxy Note 4. About 2 weeks ago, the phone began to have issues regarding the screen and heat. The upper-left part of the screen would begin to heat up very rapidly with only very minor use. Soon after, the screen would begin flickering, beginning with a few lines here and there from shapes, to the entire screen flickering and moving up and down like an old tape, and the screen going black. Turning off the screen by tapping POWER and turning it back on fixes it, but only for about 5 seconds. I am required to let the phone cool off after every 10 minutes of use. I am pretty sure this is a hardware problem. A safe mode boot did not fix it, and neither did a cache clear. Some help would be very much appreciated; I cannot afford a new phone currently, but may be able to afford repairs, if needed. Thank you in advance. — Myles
Solution: Hi Myles. The symptoms you mention here are definitely consistent with a hardware problem but we still recommend that you do a factory reset first. If the same symptoms remain after a factory reset, that's clear proof that there's hardware malfunction. In that case, we suggest that you  let a professional check it so you'll know if repair can be done, or if replacement is a better option. Our blog does not provide hardware troubleshooting and solutions so if you want to do the repair yourself, consider looking for guides from other websites.
Bear in mind that phone repair, just like a typical gadget repair, requires a solid understanding of electronics, not to mention the needed tools to do the job. If you think you have the skills and tools for a Note 4 repair, then go ahead.
---
Engage with us
If you are one of the users who encounters a problem with your device, let us know. We offer solutions for Android-related problems for free so if you have an issue with your Android device, simply fill in the short questionnaire in this link and we will try to publish our answers in the next posts. We cannot guarantee a quick response so if your issue is time sensitive, please find another way to resolve your problem. 
If you find this post helpful, please help us by spreading the word to your friends. TheDroidGuy has social network presence as well so you may want to interact with our community in our Facebook and Google+ pages.