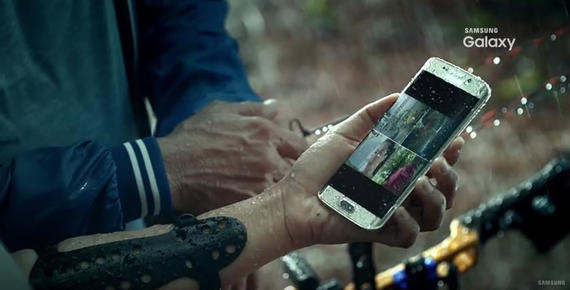 Smartphone owners usually wonders what's the best way of fixing a water-damaged or wet device, particularly the #GalaxyS7, so we think publishing a brief guide about it is necessary. This issue and four others will be discussed below. We hope you'll find this material useful in your own search for answers.
If you are looking for solutions to your own #Android issue, you can contact us by using the link provided at the bottom of this page, or you can install our free app from Google Play Store.
When describing your issue, please be as detailed as possible so we can easily pinpoint a relevant solution. If you can, kindly include the exact error messages you are getting to give us an idea where to start. If you have already tried some troubleshooting steps before emailing us, make sure to mention them so we can skip them in our answers.
---
Problem #1: Galaxy S7 no sound issue during calls
Thank you so much for offering this service.
When I make or receive calls, I cannot hear the other person on the other end of the call and vice versa. Outgoing calls, I can hear through the earpiece speaker the "ring" sound that the call is being made. When the other person picks up, there is no sound. I've switched to speaker and used the speaker phone, still no avail. When someone calls me, even if I'm not currently using the phone, i get a message that asks if I want to put the current call on hold to pick up the person calling in. Very strange. Software is up-to-date and the phone works great in all other functions, except this. I've done a soft reset, but not a factory reset. I'm hoping there is another option and that be my last resort.  Please, please help. — Samantha
Solution: Hi Samantha. Are you using a third party dialer? If yes, try using the stock dialer app or simply uninstall the third party one to see the difference.
Alternatively, you can try to boot your phone in safe mode during calls so you can compare how calling function works. With Safe mode on, all third party applications and services will be prevented from running. If one of them is the reason for the trouble, the issue should not happen while safe mode is enabled. To restart your phone in safe mode, simply follow these steps:
Turn the phone off completely.
Press and hold the Power key.
As soon as you can see the 'Samsung Galaxy S7' on the screen, release the Power key and immediately hold the Volume Down key.
Continue holding the Volume Down button until the device finishes rebooting.
You may release it when you can see 'Safe mode' in the bottom left corner of the screen.
If your phone successfully booted up in safe mode and there's no calling issue whatsoever, try to uninstall suspected apps until the issue is gone. Or, you can proceed with Factory reset through Settings or Master reset by booting up your phone in recovery mode again. Either way, the problem will be fixed.
Problem #2: Galaxy S7 screen remains black and showing colored horizontal lines
I was out for a walk and had my phone in my back pocket. I didn't sit down anywhere or bend it. However, sometimes I can hear it constantly trying to do something, the screen seems to be touchy at times and I will pull it out of my back pocket and discover it has "popped" to all these other apps or tried to go to the internet, etc. The screen suddenly went black and I kept hearing all these notifications. I didn't get it wet or drop it. I could still hear notifications and receive phone calls, but I couldn't see or send a text or dial.
I went to the Verizon store in my home town (I had only purchased the phone about 3 months ago) and the lady at the counter said it was probably a software issue with the screen. She tried turning it off and on but nothing. She said that I could send it in for a warranty but that if they discovered internal damage, I might have to pay upwards of $300 for the phone.
I am still paying off the phone for about $200 some dollars. Or she said I could make an insurance claim but I have a deductible and it may cost me an extra $150. Both these alternatives upset me and they sounded expensive.
I have never cracked the screen or gotten the phone wet, but they did transfer all my phone numbers and photos from my Tracfone to this phone, and it has been very full, and I cannot put any other apps on it. I have kids and I have tried to erase the many photos I have of them, but it's difficult. So the phone is loaded to the max. I even had to take Candy Crush off of it. I don't know if this has anything to do with it.
I then tried to fix it myself by resetting the battery a couple of times and now it had multi colored horizontal lines and when I call it from my house phone, it won't ring now.
Please help! If I send it into Verizon, what's stopping them from lying and saying it does have internal damage when they can make some money off of me? I haven't been happy with this company but they are the only ones that work the best in this limited service area that I live in. Thanks. — Susan
Solution: Hi Susan. The problems you describe here appears hardware in nature rather than software ones so your best chance at having a working phone again is to either have it repaired or replaced. If your phone continues to boot up but the screen remains black or showing colored horizontal lines, that's an indication that the screen assembly may have failed. Discoloration of the screen can be caused by a malfunctioning LCD, one of the major components of a screen assembly. Sadly, a problem like this can't be resolved by doing some software troubleshooting like the ones we usually provide. You must have the phone checked physically so a complete hardware diagnostics can be conducted.
Problem #3: How to fix a water-damaged Galaxy S7
I dropped my phone in water and dried it off. I then took off the back cover to make sure water didn't get into it but it did. I quickly dried it. At that point my phone was still working properly however it was being slow and lagging. It didn't look like water got anywhere into my phone but my phone was being weird. It goes to the Galaxy S7 loading screen then in the top corner it says rebooting system and then goes to this programmer looking screen, the Android System Recovery. No matter what I do or press I always get that screen where I have options of rebooting system, apply updates from ADB, external storage, and from cache. I can wipe data and factory reset and that didn't work.
I'm giving the option to wipe cache partition, reboot to boot loader, power down, view recovery logs, enable cp logging, and disable cp logging. I'm in desperate need of help and I put my phone in rice for about a week now, just to make sure its dry and whenever I turn it on I get this screen. Please help. — Alexis
Solution: Hi Alexis. If your phone started acting up after it got wet, that's probably because water has seeped into the motherboard, causing problems. In a perfect world, you should have removed the battery right after pulling out the phone from water, cleaned it properly using alcohol, and left it to dry thoroughly for days or weeks. Not doing any of these can lead to problems later on, like what is happening to your device right now.
Leaving the battery connected to a wet motherboard is a perfect recipe for disaster. Current can reach places of the board where it's not supposed to go. This means that some components can get shorted, which can lead to hardware problems. Electrolysis can also develop after some time, causing metal components of the motherboard to stick to another. Water can cause corrosion of parts which is the last thing you want to happen on a motherboard.
The worst thing that you can do to a wet smartphone though is by turning it on. Doing so will not only hasten the destructive chemical processes that happens when a motherboard is exposed to water, but that will also be a certain death sentence for your device. There's no faster way of frying electronic components than by turning on a wet phone. You can bid those components goodbye right away.
Whatever the exact reason why something triggered the phone to boot in recovery mode, making it technically unusable, one thing is for sure — your S7 is gone. To be frank, unless you are amenable to replacing the motherboard entirely by yourself, there's little to nothing that you can do. Either you let a professional take a look at it, or you get a replacement. We know these may be unacceptable for you right now but just like what we said to Susan above, hardware failures cannot be fixed by software solutions.
If you think you can still salvage your phone by doing something on your end, below are the steps that you can try.
Tear the phone down
Find a way to open up the phone so you can clean the inside parts completely. This procedure requires special kits so a complete teardown is achieved. Remember, you don't know what component is exposed to water at this time so you will have to inspect every removable part inside. This first step requires tools and skills so if you don't have both, don't even think of doing it. You can research for ways how to achieve a complete teardown of your Galaxy S7.
A word of caution: doing this step will obviously void the warranty and may brick the phone for good so do it at your own risk.
Clean the parts
Once you've managed to separate the components from each other (and we hope you can manage to put them back together later), get a large pan so you can pour about a quart of alcohol to it. You can use old 70%-90% rubbing alcohol depending on what you have. Don't use drinking alcohol! You can use ethyl or isopropyl alcohol instead.
Now put the components in the pan (including the case and everything) and clean them thoroughly. Don't forget to disconnect the battery before immersing it in the pan. Then make sure that you remove any dirt or minerals from the components. Swish them in alcohol for 5 minutes. Alcohol will then do its job of absorbing the water from the phone. After 5 minutes, remove the phone and parts from the pan, drain the alcohol from them, and dump the alcohol. Do the same process once to ensure that no dirt, water, or minerals remain.
Dry the phone
Dry the components with clean soft cloth and re-assemble the phone. Be sure to dry each part before the reassembly by putting them into a ziplock or container with uncooked rice or silica gel. Make sure the container is sealed. Then you have to wait for at least a week. The rice or silica gel will absorb the alcohol so make sure to dispose them properly afterwards.
After a week, open up container, wipe the components with clean soft cloth, and begin the reassembly. Hopefully, your first aid procedure will work and the phone will run normally again.
Problem #4: Calendar not restored after Galaxy S7 was factory reset
Please help! I've tried everything and have been up for hours.
Today my Samsung S7 just went dead although I knew I had 64% charge…it was like it had no charge. Someone told me to hold down both volume buttons and home and power button at same time.
The phone came back on and we hit restore and it updated system.
After several hours I had everything back except for the calendar. And I've tried everything for the last few hours. Soooo frustrated since my life is in that calendar. Can you help me please??? — Sarah
Solution: Hi Sarah. If you did a factory reset and restored everything except the Calendar, that means that the events were not saved in Google cloud or to any other cloud services. You can only restore the things that were saved somewhere else (like in another device or in the cloud) before the reset. If your Calendar information were not synced with your Google account or Samsung account, there's no way for you to get them back again.
Problem #5: Galaxy S7 lower screen stutter and turns white randomly after Marshmallow update
Just downloaded the software update for 6.0.1. Almost immediately the lower half of the screen started to stutter (and turns white) when the power or home key is pressed to unlock. This also occurs seemingly randomly and regardless of which apps are open. It also happens during start up as the Samsung logo is displayed. I have performed factory reset and partition cache but still no joy. Concerned this is a bug with the update. 9.3 GB of storage available on phone so don't think it is a space issue. Phone worked perfectly beforehand. — Scott
Solution: Hi Scott. We suspect that a third party app is to blame for this problem. Although you can try to check if our suspicion is true by booting the phone in safe mode (steps provided above) for a few days, other third party application or service may continue to run. We recommend that you do another round of factory reset instead and observe how the phone's screen works for 48 hours without installing any third party app. This will help you determine if one of your apps is to blame.
---
Engage with us
If you are one of the users who encounters a problem with your device, let us know. We offer solutions for Android-related problems for free so if you have an issue with your Android device, simply fill in the short questionnaire in this link and we will try to publish our answers in the next posts. We cannot guarantee a quick response so if your issue is time sensitive, please find another way to resolve your problem. 
If you find this post helpful, please help us by spreading the word to your friends. TheDroidGuy has social network presence as well so you may want to interact with our community in our Facebook and Google+ pages.