Learn how to #troubleshoot when your Galaxy S7 Edge (#GalaxyS7Edge) cannot successfully connect to your computer or laptop via a #USB cable
What you need to do if your computer can detect your phone is being connected but can't recognize it preventing you from transferring files and data
Things need to be done when your computer isn't detecting your phone even if it's set as a media device or you have installed necessary drivers
Read some problems sent by our readers that best represent the issues being tackled in this post
Learn how to request free Android support from us or where to look for solutions to your problems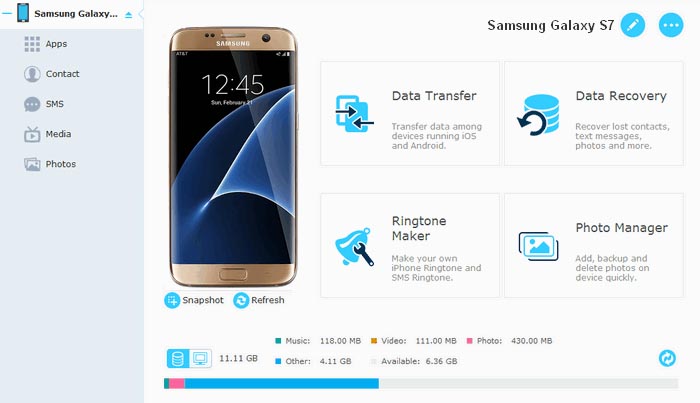 One of the best and easiest ways to backup your data from your new Samsung Galaxy S7 Edge or any Android phone for that matter is to connect it to your computer and just copy or move your files, data, pictures, videos, etc. but there are times when the computer can't connect to your device or worse, can't recognize your phone.
So, in this post, I will tackle the following issues:
Can't connect to computer
Can't be recognized by PC
Computer not detecting the phone
If you're experiencing one of these problems, then read on to know what to do to try to fix it and since majority of complaints came from users that owned Windows computers, it's not necessary to troubleshoot minor connection issues with a Mac. After all, what you need is the program called Android File Transfer (AFT) on your Mac so your Android phone can communicate with it.
Galaxy S7 Edge Can't Connect to a computer
When you plug your phone to your computer using the USB cable and the machine doesn't even prompt you that something is connected, it's probably that your phone was set to charge only. Fortunately, this issue isn't serious especially if you already tried connecting your device to your PC or laptop before and it worked.
When this thing happens, all you got to do is change the USB connection option on your device so you can transfer files and/or media by simply dragging and dropping them to your computer. Here are a couple of problems from our readers that best describe this issue:
"Hi droid guy! I just got my Samsung Galaxy S7 Edge brand new and it's still a couple of days and I already took a lot of pictures and videos. Since I don't have an SD card yet, I want to transfer them over to my laptop to make a backup but when I connected my device, my computer didn't respond. I owned 2 previous Galaxy devices and every time I connected them to my laptop, there would always be a pop up on my computer asking me what to do. Well, it's not doing it anymore with my new phone so I'm a bit worried and frankly, I don't know what to do. Should I send the phone back? Did I get a bad phone or a broken cable? Please, suggest what needs to be done. Thanks."
"Hello guys. My Galaxy S7 Edge is just not connecting to my computer. I mean, when I connect it using the cable, the computer's not seeing it. Is there a way to workaround it? There are some files I want to transfer over as they're huge enough and are taking so much memory. Please help me."
This issue seems to happen during the first time you connect your phone to a computer because it appears like by default, the phone is set to charge only when connected to a USB port; you need to change that. Just pull the notification panel down and hit the battery charging and it will give you options to run the installer or use it as a media device.
As long as all necessary drivers are installed, your computer or laptop should be able to detect and connect to your phone when you change the USB connection option.
Galaxy S7 Edge Can't Be Recognized By Computer
This is another problem and many owners encountered and often left alone for not knowing third-party devices that are connected via USB connection need their respective drivers installed to be recognized by the computer.
There's a clear difference between "not being detected" and "not recognized." If it's the latter, then it must be a driver issue. To fix it, all you need to do is to install the necessary drivers. Visit Samsung's official website, find the model of your phone and you can find downloadable driver installers. You need to download the executable file for you phone's drivers and install on your computer so that the next time you connect your device, your machine can detect and recognize it.
"I have a new S7 Edge and everything is working except that my computer can't recognize it. It can detect that something was plugged into the USB port but it can't recognize it being my phone. As a result, I can't transfer my photos and I always backup my photos to my computer just for safekeeping. Can you guys know how to fix this problem?"
Aside from manually downloading the driver installer from Samsung website and installing it on your computer, you can also download and install Smart Switch for Windows. The program makes it easy for Galaxy and Android owners to transfer files and data from one phone to another and to make sure it works for all Samsung devices, the company included all necessary drivers for its devices in it. Installing it means installing necessary drivers for your phone.
I hope this sheds light to your questions.
Computer Not Detecting Galaxy S7 Edge
Now, this one sounds more serious than the first two issues of the same nature. When you connect your device to your computer, changed the USB connection option to use the phone as a media device and it still won't detect it, then it's a possible cable problem. Why? Because if the cable is fine, the computer should be able to detect something is connected through its USB port.
Isn't it a driver problem? Nope. If it was a driver problem, the machine would be able to detect a device is using one of its USB ports but couldn't recognize it.
In this case, you may try to use a different USB cord to bridge your phone to your computer. If it still not detected, then the other possibility is that the USB or utility port on your phone is damaged, loose, or one of its pins is bent. Before I itemize the things you need to do, here's one message form our reader that best describes this issue:
"When I connect my phone to my laptop, it's not detecting it. I understand I have to change it to media device so I can transfer photos and videos but even when I do that, the computer is still not detecting it. What seems to be the problem?"
Here's what you need to do to troubleshoot this problem:
Plug the cable to a different USB port on your computer or laptop.
Disconnect the device physically and reboot your computer, then try to connect your device again.
Try charging your phone and when it does, check the pins in your device's USB port and both ends of the cable.
Use a new USB cable and if still no, then visit a shop to have it checked
Connect with us
We are always open to your problems, questions and suggestions, so feel free to contact us by filling up this form. This is a free service we offer and we won't charge you a penny for it. But please note that we receive hundreds of emails every day and it's impossible for us to respond to every single one of them. But rest assured we read every message we receive. For those whom we've helped, please spread the word by sharing our posts to your friends or by simply liking our Facebook and Google+ page or follow us on Twitter.