"Hi guys. Why does my Samsung Galaxy S6 (#Samsung #GalaxyS6) notifies me a couple of times in a minute when there are no messages or missed calls in the status bar? How can I stop it from doing that?"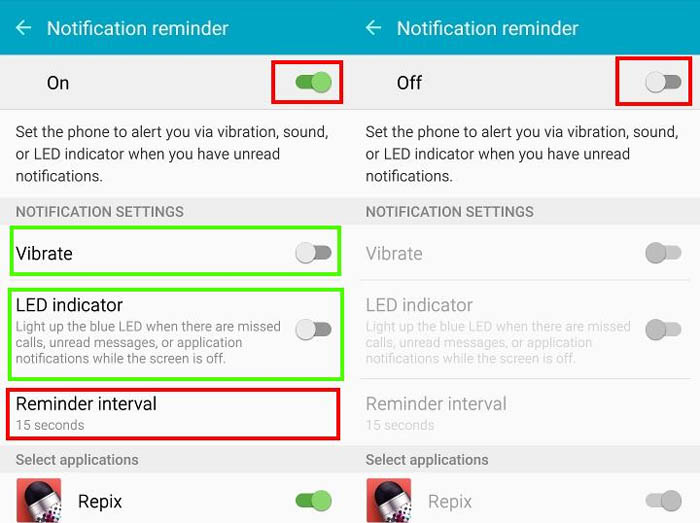 This is one of the issues we heard so much about from our readers. We did receive a lot of emails lately and they're not just from S6 owners. Note 5, S6 Edge and Edge+ owners were also complaining about it. The good news is, it's not really a problem but a setting or a feature that needs to be disabled or modified to work the way you want it and not annoy you with notifications every few seconds.
Your phone has setting that's called Notification Reminder. As the name implies, it will remind you every few seconds to few minutes that you still have unread notifications in one of your apps. It's very annoying because most people immediately check their phones when they notify. Now imagine having 3 apps that keep notifying you every 15 seconds.
Read on to know how to address the problem as well as other issues I mentioned in this post.
If you have other concerns, you may contact us by filling up this questionnaire or by visiting our S6 troubleshooting page where we list down every problem we address each week. If you choose the former, make sure you provide us all the details of the problem.
---
Galaxy S6 plays some kind of notification sound even if there are no messages
Problem: My Galaxy S6 started notifying me at least twice in a minute but when I unlock it, there's no indication of a text message or even a missed call on the status bar. I really don't understand why this problem started all of the sudden. But if it's just a setting, how can I disable it? If it's a real problem, how can I fix it? Thanks a lot!
Related Problem: Phone has been doing meep meep sound all the time and we can't connect it with any notification that has come in.
Related Problem: I have contacted support tech's, my phone has a notification that goes off about every minute or so did the safe mode didn't work, did the factory settings and it was OK for a day or so and it came  back. Looked in the recent notification with the tech nothing stands out. Can you help is any one else having this issue. Help.
Related Problem: For roughly about a week now I've been receiving the notification sound but no notification indicated on my phone's lock screen or on the status bar. I turned off all notifications from apps when I first got the phone and have only installed 3 third party apps which I've had on previous devices. I'm at a loss as to where this is coming from. Hopefully you can help me. Thanks in advance!
Related Problem: I think it is a knox system. My issue is when I open my phone or when i am just looking at it and not touching the phone it makes the S voice sound i have called sprint several times they have no idea. This is my 2nd phone because of this problem also the market just pops up with  advertisement apps anywhere on my phone it is really annoying. The notification sound goes off all the time like it hears what is going on in the room and the phone reacts. I think it is possessed. Please help if you can. Thank you.
Solution: There's a setting that needs to be disabled if you want to stop it, or change in case you want the phone to still notify you after a few minutes instead of seconds. The setting is called "Notification reminder," which can be found under Accessibility.
Tap the apps icon and look for Settings.
Tap the Settings icon.
Scroll down to find Accessibility (it's under Personal section) and tap on it.
Tap Notification reminder to open its settings page.
Tap the toggle switch from On to Off to disable it.
Or, you may change the frequency of the notification sounds if you don't want to disable it completely. You can also set which app you want to silence and which ones are allowed to notify you.
Galaxy S6 notification sound won't work after an update
Problem: There was a firmware update available for my p0hone a few days ago. Thinking it would fix some problems, I downloaded and installed it on my phone. Everything worked great and the update was successful, however, there's one thing that's missing in my phone right now, the notification. I already checked all the volumes and everything was set to the max level but the device still wouldn't sound off there if there are messages, or won't notify me if some of my friends on facebook PMed me. What should I do? Do I have to uninstall the update?
Troubleshooting: If you are sure that all the sounds have been working in your phone prior to the update, then the problem might fall on corrupt caches and/or data. Otherwise, it's a hardware issue and a technician is needed to fix it.
There are two procedures you need to do. The first is to delete the system cache to rule out the possibility that corrupt caches are causing the problem:
Turn off the device.
Press and hold the following three buttons at the same time: Volume Up key, Home key, and Power key.
When the phone vibrates, release the Power key but continue to press and hold the Volume Up key and the Home key.
When the Android System Recovery screen appears, release the Volume Up and Home keys.
Press the Volume Down key to highlight 'wipe cache partition.'
Press the Power key to select.
When the wipe cache partition is complete, 'Reboot system now' is highlighted.
Press the Power key to restart the device.
The second procedure, you only need to do this if the first one failed. It's a very hassling procedure especially if you have a lot of data and/or files in the phone. The procedure is called master reset, which will bring the device back to its factory settings.
Turn off your Samsung Galaxy S6.
Press and hold the Volume Up, Home and Power keys together.
When the device powers on and displays 'Power on logo', release all keys and the Android icon will appear on the screen.
Wait until the Android Recovery Screen appears after about 30 seconds.
Using the Volume Down key, highlight the option, 'wipe data/factory reset' and press the Power key to select it.
Press the Vol Down button again until the option 'Yes — delete all user data' is highlighted and then press the Power key to select it.
After the reset is complete, highlight 'Reboot system now' and hit the Power key to restart the phone.
Galaxy S6 shows "Internal player: unknown error" when using Podcast Addict app
Problem: I'm trying to use podcast addict app. It worked fine for 1 episode but the next one I tried to play started giving me error: "internal player: unknown error…Looks like the internal player isn't supporting this file. Fee free to play with an external player."
Troubleshooting: Apparently, it's a compatibility issue and it's the app is the culprit; it can't play the file. Find out the format of the file you're trying to play back and find apps from the Play Store that's compatible with it. Also, if there's an available update for the Podcast addict app, download it as it might bring new decoders that could read the kind of file you're trying to play. If not's applicable, then stick with finding other apps that are compatible.
Galaxy S6 notifications for texts and calls aren't working
Problem: Hi guys. I have a big problem. My phone, an S6 just stopped notifying me for some reason even though the volume is set up high and everything was set. I went to all settings you guys pointed out in your previous posts to no avail. I just want my phone to notify if text messages and calls come in, that's all. So, what's the problem with my phone? Can it be fixed?
Answer: Well, it could have been a lot easier for us to figure out what the problem is if you provided us more details about the things you did or where you "went" with your troubleshooting and what happened to the phone prior to the problem?
Since we don't know for sure what caused the problem, then I suggest you back all your data and just do the master reset. It seems to me like it's a firmware issue especially when there's no apparent cause or reason why the phone's notification just stopped one day.
Galaxy S6 doesn't sound for notifications after being wet
Problem: I didn't know I dropped my phone on the doorstep of our house and it was raining. I think it was there for 30 minutes before I noticed I lost my phone and had to use my husband's to call it. It rang actually and it was still on when I picked it up. I turned it off, placed it in a bag of rice for a day and tried turning it on. It worked! However, when I called my number again, the ringtone didn't play and when text messages come in there was no notification. The worst thing is, there is no sound coming out of the loudspeaker. So what should I do?
Answer: Have a technician take a look at it because apparently, liquid has found its way into it and may have messed up some of the components. The good thing is the phone still works and its only the speakers that were affected. A general cleaning might be able to fix it, otherwise, the speakers need to be replaced after a thorough check up.
Connect with us
We are always open to your problems, questions and suggestions, so feel free to contact us by filling up this form. This is a free service we offer and we won't charge you a penny for it. But please note that we receive hundreds of emails every day and it's impossible for us to respond to every single one of them. But rest assured we read every message we receive. For those whom we've helped, please spread the word by sharing our posts to your friends or by simply liking our Facebook and Google+ page or follow us on Twitter.