Disconnections in online matches in FIFA 21 are unavoidable. Some players may suffer from connection problems during the game while others may choose to intentionally leave an unfinished game when frustrated or on the losing side. In this article, we'll explain why you may be getting the "lost connection to your opponent" error in FIFA 21 and how to fix it.
The full error message should read: "You lost your connection to your opponent. We'll check the match report to see who won and who lost." If you are wondering what you can do about this issue, read on.
What does Lost Connection To Your Opponent Error in FIFA 21 mean?
If you're getting the "lost connection to your opponent" error in the middle of playing FIFA 21, it can mean a few things. First of all, this is the resulting error message that one usually gets when an opposing player suddenly quits the game, either out of frustration or untimely internet failure.
If both parties did not intentionally quit the game, then the error can indicate that there may be a server outage or something else entirely.
The "lost connection to your opponent" error message also means that the match result has been finalized depending on the last recorded score.
What are the causes for Lost Connection To Your Opponent Error in FIFA 21?
Some websites are saying that the "lost connection to your opponent" error message in FIFA 21 is triggered after playing 2 consecutive games in Pro Clubs but in my personal experience, this is not the case. There are other reasons for this message so let's talk about each of them below.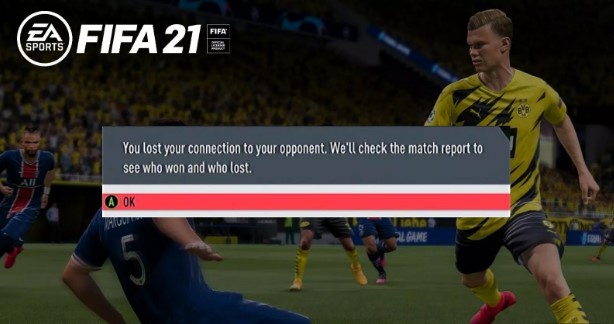 The other party intentionally quits the game.
There are simply too many FIFA 21 players who can't handle losing very well. If your match was working fine before you received the "connection to your opponent has been lost" error, your opponent must have rage quit. There's nothing much that we can say about this and it is a reality in these types of games.
The good thing is, rage quitters are usually hit with a DNF (Did Not Finish) penalty making them earn significantly less coins. The penalty is lifted once the player has finished playing a certain number of games.
On-going match terminated due to loss of connection.
Some players who play any online mode of FIFA 21 may have poor internet connection and as such, may potentially not be able to finish their games. If you are experiencing slow or intermittent connection problems on your end, try to avoid playing an online mode in FIFA 21 in order not to get penalized for DNF.
Server is down.
EA game servers are far from perfect and many FIFA 21 players may not be able to play online due to server troubles. While some may be prevented from getting on any online game, some may suddenly be disconnected while in the middle of the match due to unexpected server delays or outage.
Rare software or game glitch.
Some FIFA 21 players may encounter frequent crashes while the game in underway. After several crashes when in an online mode like Ultimate Team or Pro Clubs, the server may eventually prevent reconnection so the other party will receive the "connection to your opponent has been lost" error.
How to fix FIFA 21 Lost Connection To Your Opponent Error
Below are the possible solutions that you can do to fix "connection to your opponent has been lost" error on FIFA 21: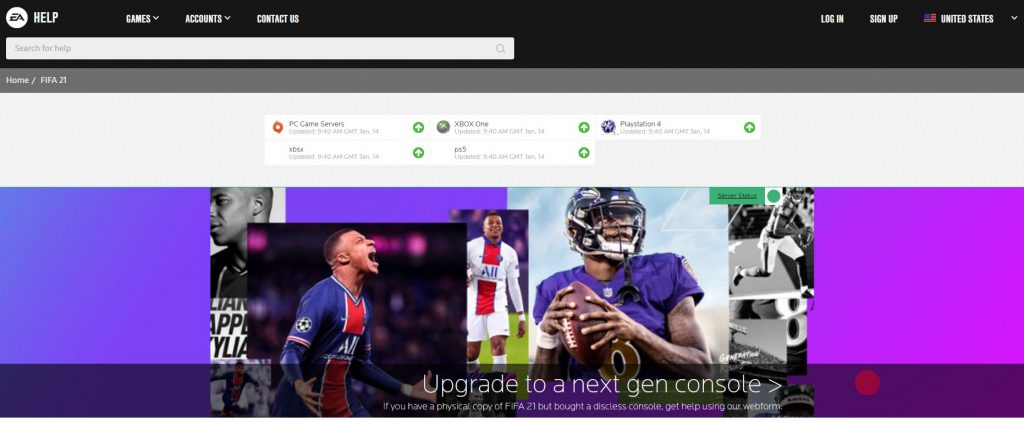 Fix #1: Check the servers.
Since the most common reason for this error is due to EA game servers, the first thing that you need to do is to verify if there are on-going server problems.
To do that, visit the official EA website to know the server status of the game. On this page, be sure that you click on the green Server Status button.
Fix #2: Verify if opponent quit the game.
If you did not experience any connectivity issues during the game but you suddenly get the error, your rival may have quit the match. Wait for a few moments and check the game returns a match result. If it does, then the other party must have left the game.
Fix #3: Check for local network issues.
Having a good working internet connection is a must when playing any online mode in FIFA 21. To avoid being hit by DNF penalty, make sure that you have no connectivity issues in your own local network such as frequent (intermittent connection) issue, no connection problem, or slow connection.
Fix #4: Restart your router.
If you are getting the "connection to your opponent has been lost" error, one of the basic things that you can do is to perform a network equipment power cycle. Turn off the router and leave it unplugged for 30 seconds.
Fix #5: Report the bug.
If you are regularly experiencing the error and the problem is not due to your own internet connection, game, or PC, then we suggest that you exercise some patience and instead report the problem to EA Sports.
Other interesting articles:
Visit our TheDroidGuy Youtube Channel for more troubleshooting videos and tutorials.