This post will show you how to enable YouTube Incognito Mode on the Galaxy Note 20. Read on if you need help going incognito while watching and searching YouTube videos on your new Samsung Note device.
Private Browsing with YouTube Incognito
The YouTube app will allow you to browse and watch videos privately via incognito mode.
Incognito mode works by letting you browse through YouTube channels like you're signed out. To make this possible, you will need to turn on incognito mode on the YouTube app.
When incognito mode is enabled, all videos that you watch, search or browse will not appear in the search and watch history of the app. However, going incognito doesn't hide your activity from Google as well as your Internet service provider.
That said, you may only opt to go incognito for the sake of online privacy as doing so prevents your browsing history from being cached or stored in the app.
Here's how to activate YouTube Incognito Mode on the Galaxy Note 20 YouTube app settings.
Easy Steps to Enable YouTube Incognito Mode on your Note 20
The following steps will prompt your device to switch to Incognito Mode while watching and searching for YouTube videos on the Note 20 YouTube application.
1. From the Home screen, swipe up from the bottom to launch the Apps viewer.
Different app icons and shortcut controls will load up on the next display.
2. Locate the G Suite or Google Folder and then tap on it.
The G suite opens with all Google-related apps and services.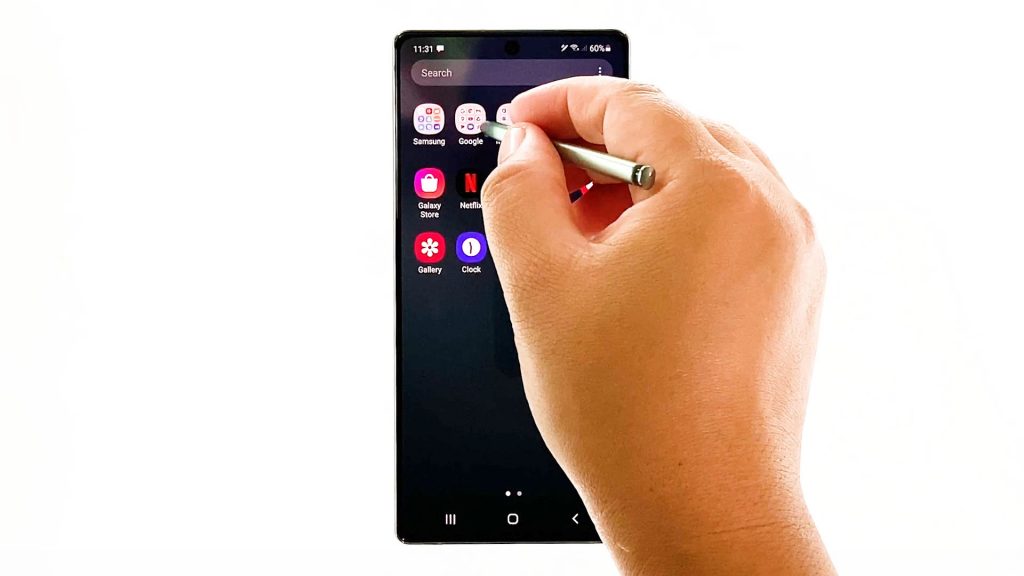 3. Tap YouTube to open the app.
Doing so will route you to the YouTube app's main screen.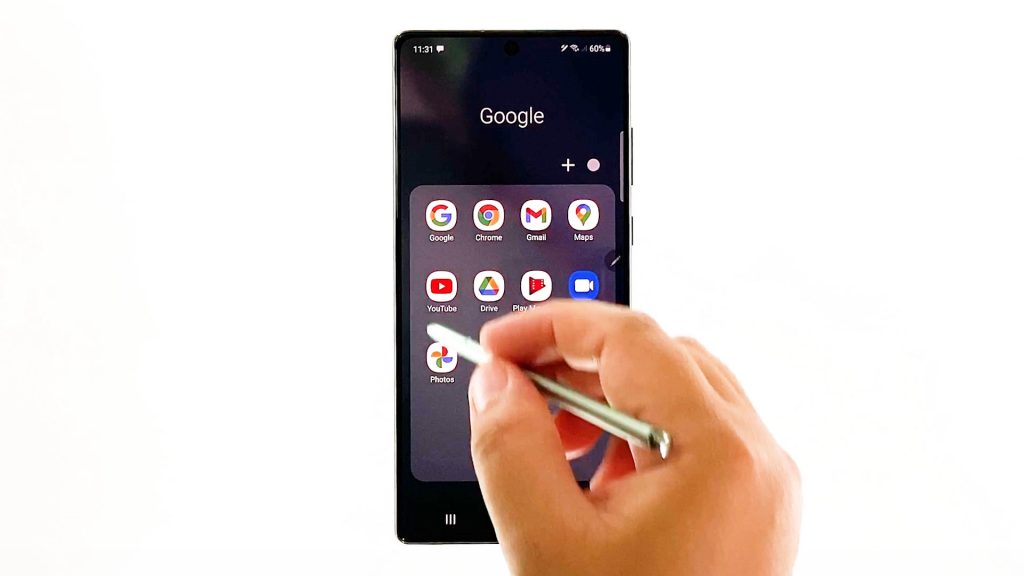 4. While on the main screen, tap on your YouTube account's profile picture.
A side menu opens with a list of features and options for you to manage.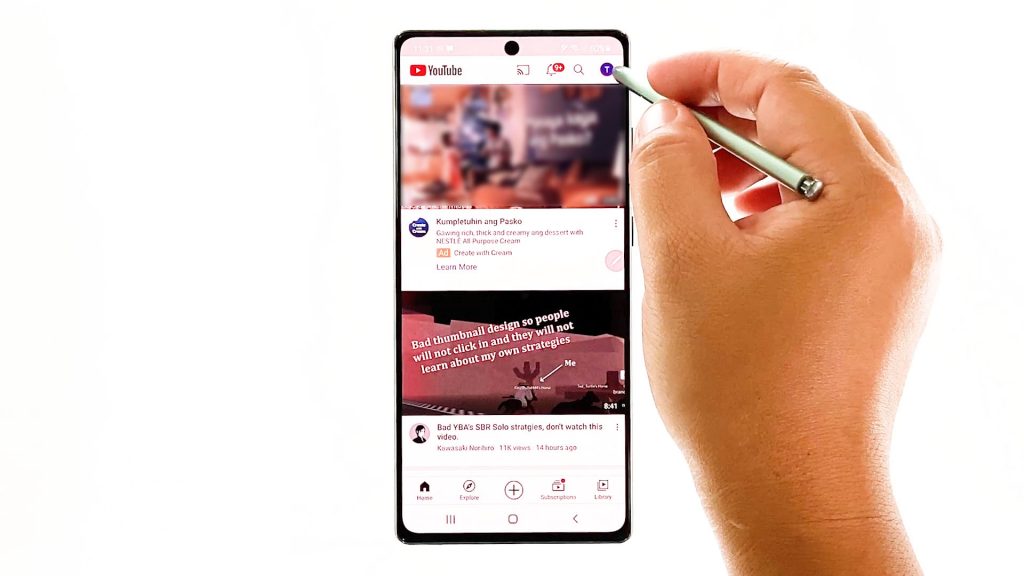 5. To switch to incognito mode, tap the option to Turn on Incognito.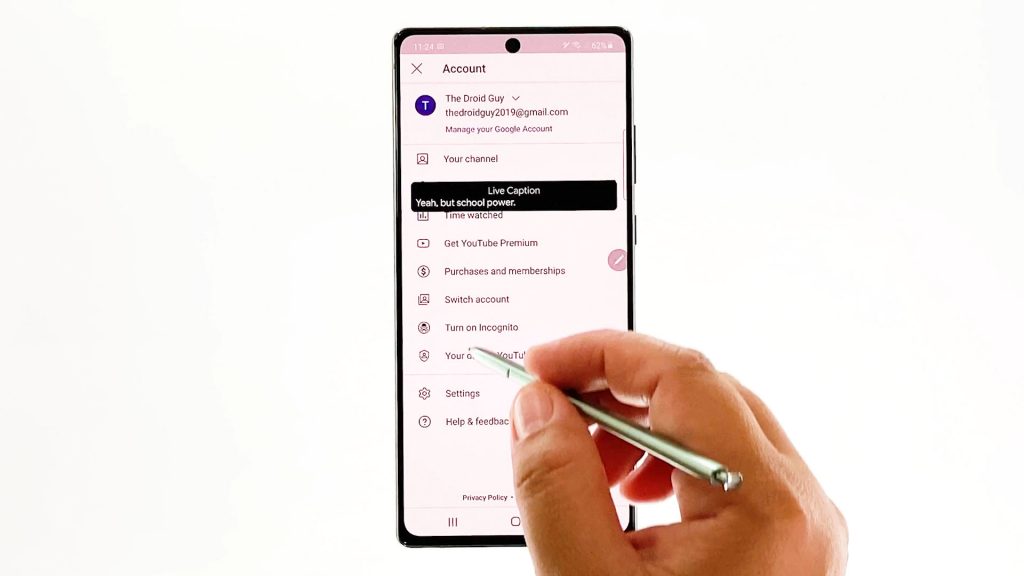 A confirmation label saying that you're incognito will appear beneath the display.
YT Incognito Mode Activated
The profile photo of your YouTube account on the upper-rightmost corner will also change to the hat and shades icon. It's the same hat and shades icon that Google uses for incognito mode in Chrome.
This is an indication that you're already using the YouTube app in incognito mode. At this point, you can start watching and searching YouTube videos privately on your phone.
You can always go back to normal mode any time you want.
To turn off Incognito mode, simply tap on the hat and shades icon. Then, tap the option to Turn off Incognito from the pop-up menu.
When the icon disappears, it denotes that you're already using the YouTube app in normal mode.
A confirmation label saying that you're signed back into your account will also appear beneath the display.
When YouTube Incognito is Enabled
When incognito is enabled, the YouTube app acts as if you are not signed in to your account. As a result, your account's activity including watch history and subscriptions will not influence your YouTube experience as they are not saved in the first place. So it's like those activities never happened.
Everything you do on Incognito will be deemed by the platform as private and thus it will not reflect on your account's YouTube history.
Commenting, subscribing and other public activities are also not available.
Switching from Incognito back to Normal Mode
Should you wish to exit Incognito and return to normal mode while using YouTube, simply tap on your account (incognito) icon at the upper-right corner and then tap the option to Turn off Incognito at the bottom of the screen.
Your incognito session will also end automatically if you are inactive for over 90 minutes. When this happens, you will be returned to the last account you used.
A message saying that you are no longer incognito will also pop up the next time you open YouTube on your device.
When you turn off incognito, your search and watch history is cleared.
Hope this helps!
More Video Tutorials
To view more comprehensive tutorials and troubleshooting clips on different mobile phones and tablets, feel free to visit The Droid Guy channel on YouTube anytime.
You might also want to read: