This article will show you how to clear your Hulu watch history. There are several reasons why Hulu users would want to clear Hulu's watch history. When you share your Hulu subscription with somebody but don't want them to view your watch history, You've watched something that you don't want to share with others. You watched some explicit material that you are unable to share with other people.
You could also want to clear Hulu viewing history for another reason. Hulu, like any other streaming service, analyzes your viewing history and watch progress to make content recommendations for you. If you don't like the recommendation based on your viewing history, you can delete it by clearing your Hulu watch history at any time. After you delete your watch history, your suggestion area will get a fresh start.
Hulu is a video streaming services that is majority-owned by Walt Disney. Hulu streaming service began as a platform for recently aired TV series but has now expanded to include entire movies, original programming, and live TV alternatives. Hulu lets you watch movies, new TV series, Hulu Originals. You'll find everything you need, whether you want to watch new TV shows, browse episodes of your favorite shows, or discover and browse the latest movies. Explore and watch movies and TV series the way you choose.
Clear Hulu watch history, Here's how to do it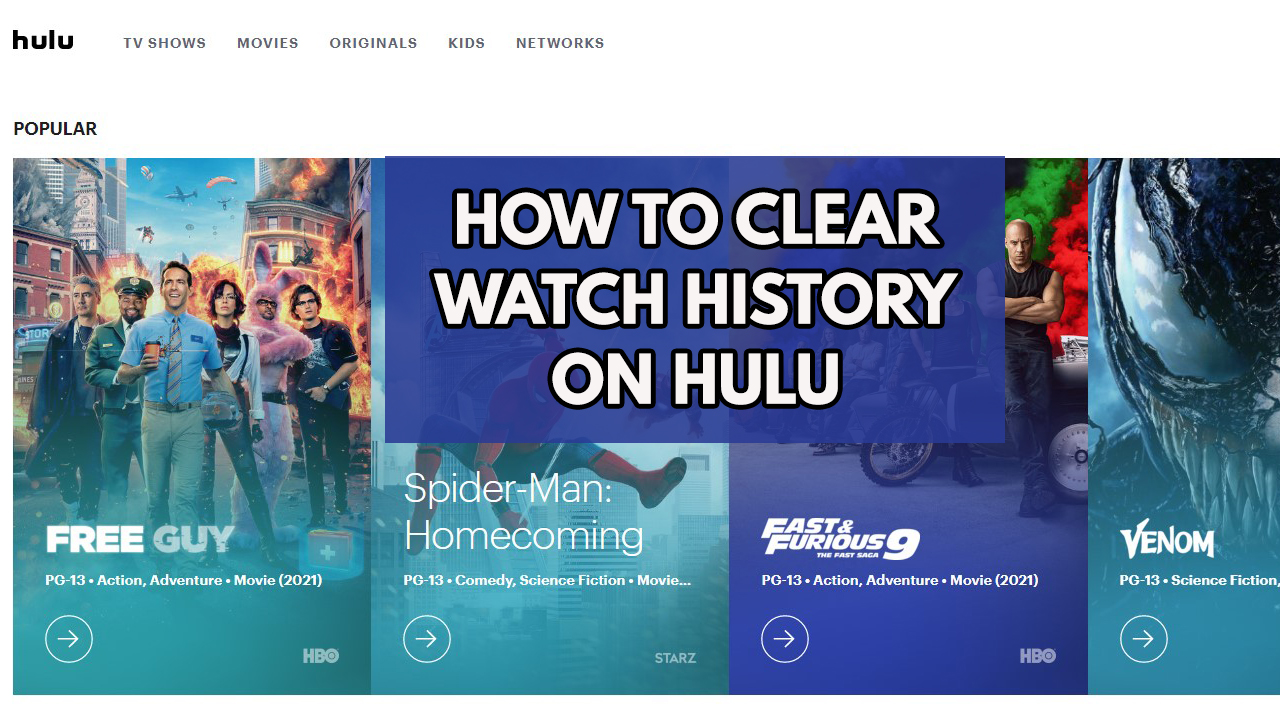 We'll guide you step by step on how to clear entire Hulu watch history of shows and movies from your watch collection using the Remove feature from watch history option. This can be done via your smartphone Hulu app in iPhone or android device, smart TV, or Hulu account in internet browser.
Method 1: Clear Hulu watch history on your Desktop browser
Clearing the entire watch history will be simple in your preferred browser. Your Hulu account will be cleared as a result of this. When you do this, all of the recommendations that were previously displayed will remove. To clear Hulu history follow the steps below:
Time needed: 2 minutes.
Clearing watch history on Hulu
Step 1: Go to Hulu homepage and log in to your Hulu account using your username and password. It's always a good idea to browse the website on a computer so that you can see anything clearly.

Go to Hulu website by opening your preferred browser and login your account.

Step 2: Click My Stuff.

On the Hulu menu, click My Stuff to start to clear Hulu viewing history.

Step 3: Hover to the thumbnail of any movie or tv series to see more options and cross '-' icon.

On My Stuff window hover to any thumbnail to have the movie's details information.

Step 4: To clear the title of the show or movie from your viewing history, click the cross '-' icon then click on remove and watch history on Hulu will be cleared in your watching collection.

Clearing watch history on Hulu.
Method 2: Clear Hulu app watch history of individual movie and TV series with mobile device
If you don't have access to a computer or prefer to use the Hulu app on your mobile device, you may clear episodes from your watch history quickly and conveniently using your Android device or iPhone device. To clear Hulu watch history, follow the steps below:
Clearing Hulu app watch history feature
Step 1: On your iPhone or Android device, open the Hulu app.
Step 2: Log in to your account.
Step 3: Swipe right until you reach Keep Watching.
Step 4: In the upper right corner of the chosen show, you'll see three dots. Select them by clicking the three dots.
Step 5: To remove it from your Hulu watch history, select "Remove from Watch History" feature.
Method 3: Clear watch history using Smart TV
It is simple to remove your Hulu viewing history from the smart TV you are using at home. By following the instructions below, you can clear your Smart TV's watch history:
Clearing viewing history using Smart Tv
Step 1: Open the Hulu application on your smart TV.
Step 2: Tap on the thumbnail to see the history of the particular show or movie. This will bring out the details page of the show or movie.
Step 3: Select the Manage Movie option to remove a movie, but the 'Manage Series' option to remove any series.
Step 4: Select 'Remove from watch history' from the drop-down menu.
Step 5: After that, click Confirm to erase any selected TV show or movie from your watch history list. You can also select cancel to return to the previous screen.
Method 4: Clear entire history of all the movies and TV show in your account page
The steps below will assist you if you have too many profiles under your main account and want to remove the Watch History automatically;
Clearing entre history of shows and movies
Step 1: Launch the Hulu application on your device.
Step 2: In the top right corner of the Hulu homepage, click on your profile. Account should be selected.
Step 3: You may be required to enter your password at this moment.
Step 4: Scroll down to the Privacy And Settings section on your account page.
Step 5: Select California Privacy Rights from the drop-down menu.
Step 6: Check the Watch History box on the following page, just below Manage Activity.
Step 7: Simply click the black Clear Selected button after that.
Step 8: This will prompt you to confirm your selection with a pop-up window message. To finish the procedure, click Clear.
For your mobile phone, instead of choosing Keep Watching, select All Viewing History to delete your entire search history on the Hulu mobile app.
Keep in mind that you won't be able to get your watch history back after this. This will also wipe out all of your show's progress. Before you delete anything, think twice.
These are the top methods on clearing your watch history feature on Hulu streaming service.
Depending on the device you're using, there are a few different ways to remove your Hulu watch history. Just choose any method you are able to use to erase your Hulu watch history from a desktop computer browser, phone, or Smart TV.
Feel free to visit our YouTube channel for additional support and troubleshooting guides on various devices.