Discord has evolved from a purely gaming chat tool to an all around communication utility for all types of users nowadays. And when it comes to messaging and chatting online, Discord is hard to beat. Managing messages in Discord is not as straightforward as it used to be though. Right now, there's no native support to easily delete messages in the platform and if you're not that familiar with Discord, you may have a hard time deleting or even hiding messages temporarily.
Fortunately for you, we have already done all the heavy lifting for you when it comes to this problem. In this article, we'll show you the easy ways to delete Discord chat messages.
Two types of Discord messages
There are two types of messages in Discord. One is called Direct Messages. These are private messages between users and are not publicly available.
The other type is called Channel messages. These are messages found in channels or group and is publicly available for everyone in that group.
Each of these Discord messages has its own rules to follow so there can be differences when deleting them.
In the early days of Discord, the platform let users easily delete messages in bulk. This feature has created issues with Discords database though and it has to remove the option to prevent admins deleting contents at the same time.
While deleting a few messages can be a breeze, the same cannot be said if you're a channel admin who needs to delete messages in the thousands.
Discord may have removed mass deleting messages function in its service but there's still a number of ways to delete your messages quickly.
How to delete Discord chat messages?
If you're wondering how to delete Discord messages, check out the ways to do it below.
How to delete Discord Direct Messages
Follow these steps to delete Discord direct messages:
Open the Discord app.
In the left panel, right click on the user that you've communicated with via Direct Message.

Click on Close DM.
Once you've clicked on the Close DM option, there will be no confirmation dialog and the DM with that user will simply vanish. However, this process will not permanently delete Discord messages with that user; it simply hides it. Once the user messages you again, the entire thread will return including all the history of your Discord chat with that user.
If you simply want to temporarily hide your Direct Messages with that particular user, then this is the way to go.
Keep in mind that deleting a certain message in a thread requires that you manually erase it.
If you only want to delete Discord message of the said chat thread, here's what you need to do:
Open the Discord app.
Pull up the message thread that contains the message that you want to delete. 

Hover over the message and click on the three dots on the right.
Select the Delete Message option.

Confirm Delete Message by clicking on Delete.
Bear in mind that you can only delete a particular message that you own. The messages of the other party in that particular chat thread will remain and can only be deleted by that user on his or her end.
How to delete Discord message on mobile
If you're trying to delete a Direct Message on your mobile, here's how it's done:
Open the Discord app.
In the Direct Messages screen, tap on the User so the chat thread will appear.

Tap the Profile Name of the user.

On the upper right, tap on the three dots.

Tap on Close DM.
Again, the Close DM option is not a permanent solution to delete the chat thread with that particular user and you're merely closing and hiding the thread.
If you want to delete Discord message from that chat thread, here's how it goes:
Open the Discord app.
In the Direct Messages screen, tap on the User so the chat thread will appear.
Press and hold on the message that you want to delete.
Select Delete.
Tap Delete to confirm.
How to delete Discord Channel Messages
The steps to delete channel messages are different to delete direct messages. For this one, you have three options to choose from:
delete discord messages manually,
delete discord messages using a Discord bot
delete Discord messages by cloning the channel
Let's discuss each of these methods below.
Delete discord messages manually
You can choose to manually delete channel messages. Here are the steps:
Open the Discord app.
Go the to the text channel that contains the message that you want to erase.
Click the message and click on the three dots at the right.
Click on Delete Message option.
Select Delete to confirm.
These steps are perfect for deleting a handful of messages in your text channel. However, deleting messages that go by the hundreds or thousands can take a significant amount of time using this method.
If you need to perform to delete bulk messages, or even all the messages in the channel, you have to learn the rest of the methods below.
Delete bulk Discord Messages with bots
When it comes to Discord bots that can help you clear your channel messages, you have tons of options to choose from. It's up to you which one fits your style and need but for demonstration purposes, we'll use the popular MEE6 bot.
Because it is one of the most popular bots on the platform, the vast majority of moderators on Discord depend on MEE6 to automate their servers.
In addition to providing users with additional capabilities such as the ability to play games and listen to music from YouTube, MEE6 makes it possible for users to do things that would normally need a few of clicks to accomplish. When there are so many different MEE6 commands to choose from, it might be challenging to determine which ones would be the most beneficial to use on your channel.
For us, we only need to know how to use MEE6 to help you delete your Discord message history, or clear certain messages.
IMPORTANT: bear in mind that Discord has modified its stance on bots, moving from discouraging their usage to openly identifying them as a breach of its agreements. Previously, the goal was to discourage their use.
Because using bots puts you at risk of having your account removed from the app, we do not recommend that you use this strategy; nevertheless, if you want to do so, we ask that you proceed with extreme care.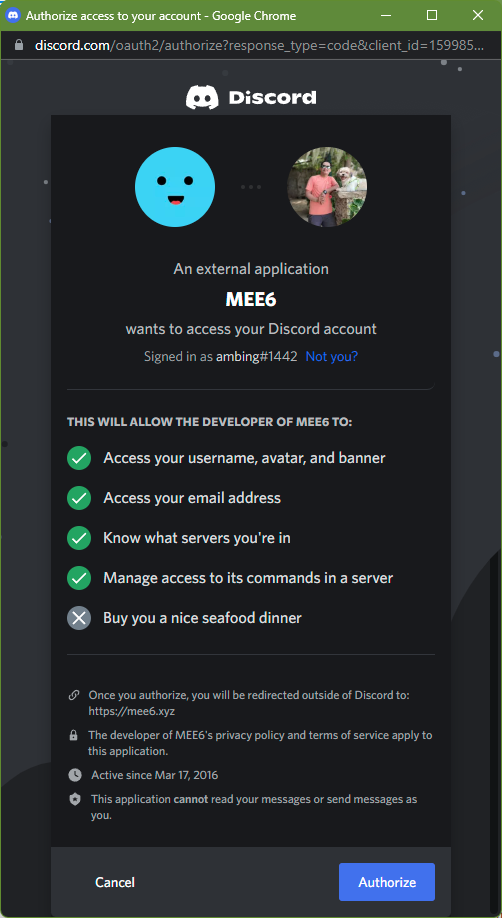 Go to the official website of MEE6.
Click on Sign In and sign in to your Discord account.
Click on Authorize.
Select the server where you want to add MEE6 bot by clicking on Setup.
Click on Continue.
Click Authorize.
Verify using CAPTCHA.
After installing MEE6, you can use a number of commands to start deleting messages.
For example, if you only want to delete messages from a specific user, you can use the '!clear @username' command to do that.
MEE6 can help you delete channel messages for up to 1000 at once by using the command '!clear 1000'. If you want to delete a lower number of messages, simply modify the number like '!clear 500
Delete Channel Messages by cloning the channel
The other quick way to delete unnecessary channel messages in one go is by cloning the channel. What this means is that you are creating a copy of the channel without the old message history.
Cloning your channel will not bring over bots you've added so be sure to manually install them afterwards.
Open the Discord app.
Go the to the channel that contains the message that you want to erase.
Right click on the channel and select Clone Channel.
Enter the name of the cloned channel.
Delete the old channel and add the bots you need in the newly cloned channel.
When you clone a channel, users from the original channel will be added to the new one, and the permissions for each user will be added automatically. The creation of a new channel using this method is more simpler than using the traditional method. At this point, all of the messages that were in the previous channel have been removed, and the settings for your new channel are the same as before.
FAQs
Is there a way to recover deleted messages on Discord?

Unfortunately, Discord has confirmed that once a message has been deleted, there's no way to retrieve it within Discord. 

Will messages disappear permanently when you delete your Discord account?

No. Deleting your Discord account will not automatically delete the messages in that account. Instead, Discord will tag those messages under a "Deleted User" and they will remain in someone else's Direct Message or channel.

Can messages of other users be deleted in a channel?

Yes. You can delete messages of other users if you are the moderator or the server owner.
OTHER INTERESTING ARTICLES YOU MAY LIKE: