In this article, we'll show some of the effective solutions that you can try if Call Of Duty Mobile keeps crashing on you when playing it in GameLoop.
If you're an Android user that wants to play your favorite mobile game such as Call Of Duty Mobile in a larger screen, using the GameLoop emulator is a good choice. GameLoop is the official emulator for Call Of Duty Mobile and it's one of the top emulators that you can use for free. While majority of users of this emulator does not have any issue with it at all, some people may discover that some games may crash for no apparent reason.
Crashes can be caused by a number of factors so we're going to discuss that a little bit before jumping onto the solutions that you can try.
Causes for Call Of Duty Mobile crashes when using GameLoop
If your Call Of Duty Mobile game keeps crashing when using the GameLoop emulator, one of the following must be the reason:
Random game or software bug.
If your GameLoop crash happens only from time to time and there's no clear pattern, it may be caused by a random game bug. Keep in mind that even when you play Call Of Duty Mobile on your smartphone, crashes can occur from time to time. This does not necessarily mean that there's a serious issue with the game or with the device. At times, certain software conditions can develop an internal error that the system can't simply resolve in time.
Corrupted COD Mobile app data.
For some people, Call Of Duty Mobile may keep on crashing because of damaged game data. A game crash due to a corrupted data can happen if the app is damaged after a failed app or software update. At other times, the way the game is coded may play a role in crashes as well.
GameLoop application glitch.
Although persistent crashes is unheard of with GameLoop, this gaming emulator is not totally perfect. It may suffer from its own coding errors, incompatibility issues with the software running on your Windows machine, or develop problems that the system can't fully resolve.
How to fix Call Of Duty Mobile crashing issue in GameLoop
If you can't seem to shake away the crashes when playing Call Of Duty Mobile in GameLoop, these are the solutions that you can try. Before you start doing anything though, make sure to RESTART GameLoop to see if that will help.
Fix #1: Update the emulator.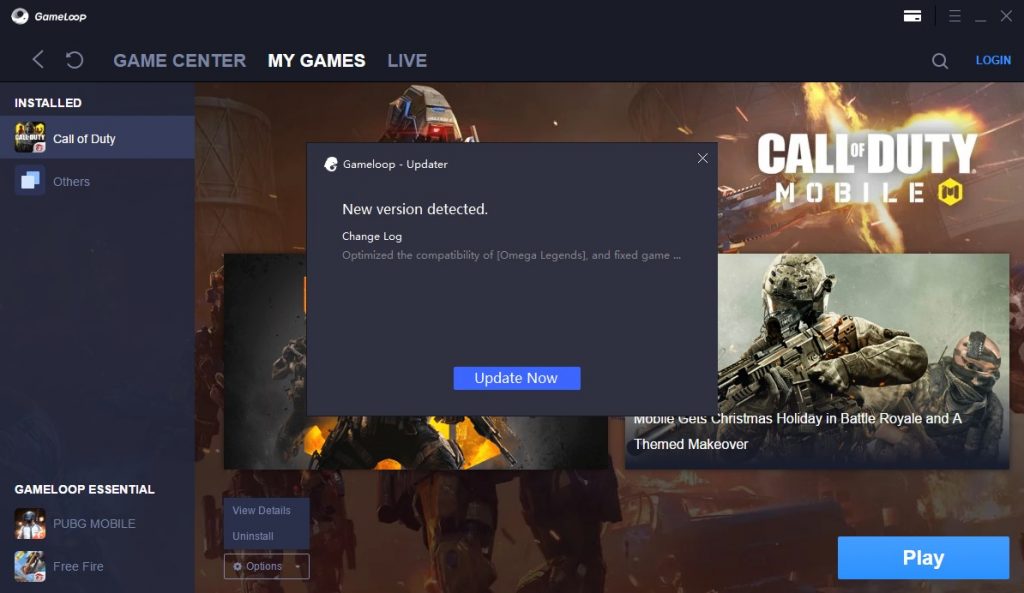 In order to lessen the chances of encountering issues with any of your game apps, you want to ensure that GameLoop is running the latest software update all the time. Follow these steps to check for GameLoop updates:
Open GameLoop.
Click the More Options icon (three horizontal lines) at the upper right.
Click Update.
Select Update Now button if there's an available update to install.
Fix #2: Clean cache.
If GameLoop is already running the latest software version at this time and COD Mobile still continues to crash, the next possible solution that you can try is to refresh the game cache. Here's how it's done: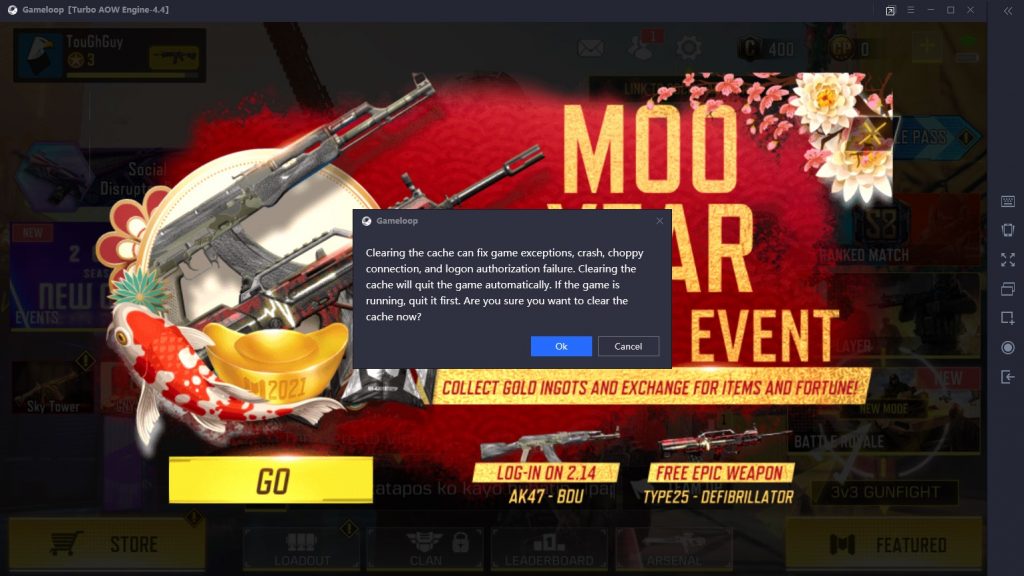 Open GameLoop.
Find Call Of Duty Mobile game and open it.
Once the game is running, Click the More Options icon (three horizontal lines) at the upper right.
Click on Clean Cache.
Click OK to confirm.
Click OK.
Cleaning the cache is equivalent to clearing your app data in an Android phone. Once the cache is cleaned, the game will restart and you're going to need to re-launch it.
Cleaning the COD Mobile game cache will also delete all downloaded updates and other resources of the game so you'll have to redownload them afterwards.
Fix #3: Uninstall GameLoop.
The other solution that you can try in this case is to uninstall the game before adding it back. To delete Call Of Duty Mobile, follow these steps:
Open GameLoop.
Click on My Games at the top.
Select Call Of Duty at the left pane.
Click Options below the Call Of Duty image.
Click Uninstall.
Click Yes to confirm.
After deleting the game, open GameLoop and again and reinstall the COD Mobile.
Fix #4: Delete and re-install GameLoop.
If Call Of Duty Mobile continues to crash, the final solution that might help you is to delete and re-install GameLoop emulator. Sometimes, the game errors encountered by Android games are caused by issues within the emulators themselves.
FURTHER READING:
Visit our TheDroidGuy Youtube Channel for more troubleshooting videos and tutorials.