Are you enjoying Fortnite on your PS4 but can't play it because it keeps crashing or showing the error CE-34878-0? If yes, then this article should help you fix the issue.
In this guide, we'll explain to you what error CE-34878-0 means and how you can solve it easily. In most cases, the main reason for this problem is a random software bug so even a basic troubleshooting step might help you get rid of it.
What does CE-34878-0 error mean in Fortnite?
CE-34878-0 is a general error on the PS4 that can indicate a game issue, a random bug in the system, a corrupted software, or even a failing hard drive. This error code has been around and unfortunately, Sony has not really addressed it for good. A lot of PS4 users still complain about this problem from time to time.
Why is Fortnite crashing and showing the CE-34878-0 error?
There are several causes why your PS4 may crash or stop playing a game unexpectedly. If error code CE-34878-0 follows after Fortnite has crashed, it may indicate that the game has a problem, or that the console itself needs to be checked or fixed.
Below are the known reasons for CE-34878-0 error:
Unexpected game or software glitch.
Although Fortnite is largely stable in almost all platforms, a lot of PS4 players are still complaining that their game crashes with the error code CE-34878-0. If all your other games are working fine and only Fortnite seem to be crashing and showing this error, there may be an issue with the game's files. It's also possible that the game needs an update to fix a known bug.
Bad saved data or game files.
Some games may develop bad saved data due to how they were designed. This has been especially true when Ghost Of Tsushima was first released in 2023, when a lot of people were complaining about the game crashing and their saved data not allowing the game to proceed.
Other games like Fortnite don't have saved data for offline plays but their game files may still become corrupted due to other reasons.
Corrupted PS4 database.
At times, error code CE-34878-0 may occur not because of a bad saved data or game files but due to the fact that the PS4's database becoming disorganized, cluttered, or corrupted. If you've observed that Fortnite seems to be having a long time to load, or that the PS4, in general, has been performing slowly, it may be caused by a bad database.
Hard drive issues.
If you have an old PS4 and it still uses the original hard drive, it's possible that the error code CE-34878-0 issue you're getting right now may be caused by a failing HDD.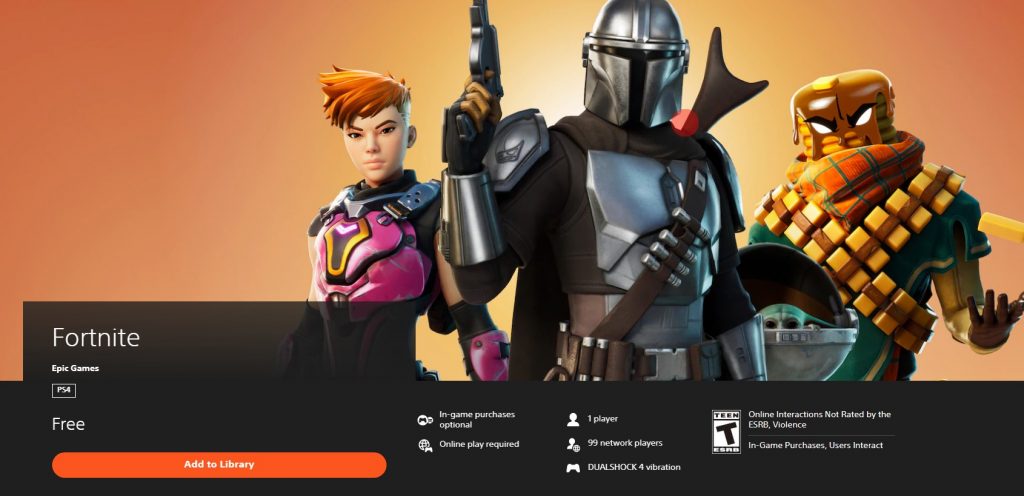 How to fix Fortnite CE-34878-0 error (easy solutions)
If you can't play Fortnite without it crashing and showing the error CE-34878-0, these are the solutions that you can try:
Fix #1: Reboot the console.
Refreshing the PS4 and clearing its system cache is often effective in fixing minor or random game bugs. If you've been running the game for several hours already, let your console reset by turning it off and unplugging it from the power source for 30 seconds. Then, plug it back in and check for the problem again.
Fix #2: Keep the system software and game updated.
Making sure that the system software runs the latest version is one of the simplest ways to fix PS4 bugs. The same is true with the rest of your games and applications. So, once you've restarted the console, make sure to also check for update (both for system software or Fortnite) that you can install.
Fix #3: Rebuild the PS4 database.
Your PS4 database may become corrupted after a failed update, like when the console is turned off in the middle of installing a system software update. This happened to me once and I ended up fixing the system with a PS4 database rebuild.
Fix #4: Reinstall Fortnite.
If Fortnite has been updated but the error CE-34878-0 continues, you need to see if you deleting the game and adding it back may help. I've seen this solution fix the issue with my COD Black Ops Cold War game before so hopefully it will work on your end too.
Fix #5: Factory reset your PS4.
If error CE-34878-0 still shows up after you've reinstalled Fortnite, the next drastic solution that you can try is to wipe the console by doing a factory reset (Initialize PS4 in Safe Mode).
Also read: How To Do A PS4 Factory Reset
Fix #6: Check the hard disk drive.
Finally, if none of the solutions above has helped at all, and the same error occurs whether or not you're playing Fortnite, you should consider looking at the hard disk drive as the main reason. The first model of PlayStation 4 are especially prone to hard drive failures.
If you don't know how to check the hard drive or replace it, we suggest that you tap professional help. 
FURTHER READING:
Visit our TheDroidGuy Youtube Channel for more troubleshooting videos and tutorials.