In this post, we will show you how to fix the Brawlhalla FPS drops and lagging issues that seem to be bugging some gamers. While problems like this are often minor, they are pretty annoying as you can't play properly if the screen glitches. So continue reading as we may be able to help.
The drop in FPS (Framerate Per Second) in game will always result in lags and in-game glitches. It can be due to several factors ranging from minor game issues, server downtime or transient technical issues with your PC itself. All these things can affect the performance of the game and if they occur, FPS drops can even be the most minor issue you may encounter.
You should immediately troubleshoot your rig or the game once you start noticing the lags while gaming. That way you'll learn the reason why it happens as well as be able to formulate a solution to fix the FPS drops to make your gaming experience smoother. With that being said, here are the things you should do to fix Brawlhalla FPS drops:
Fix #1: Check your Internet connection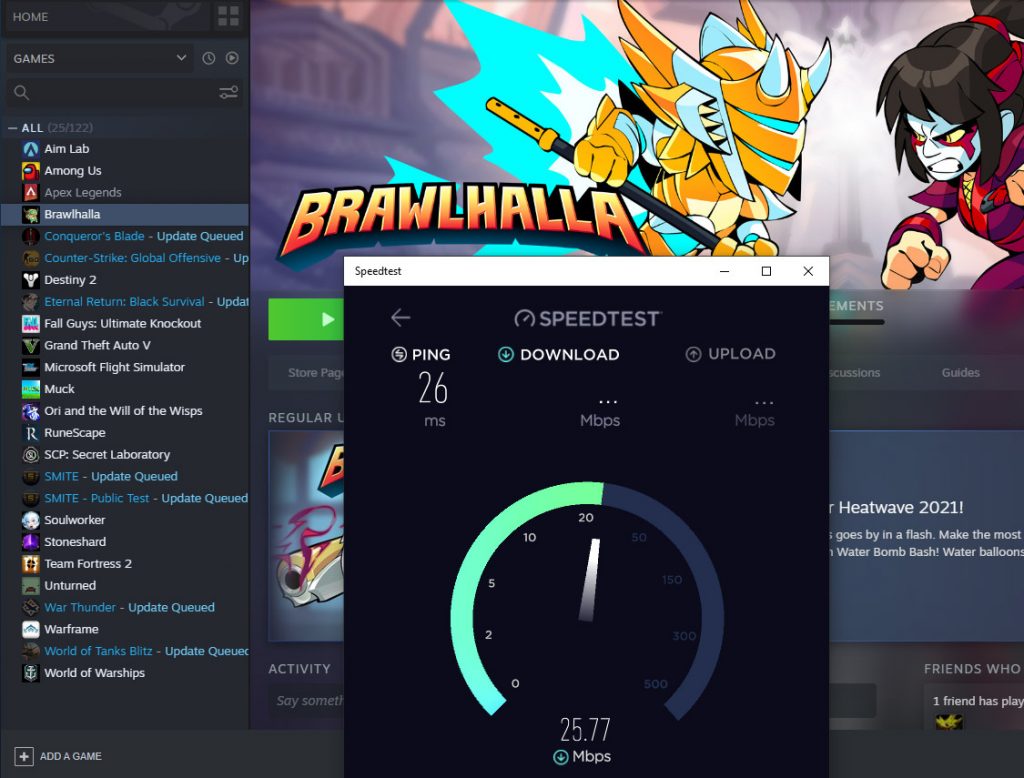 Slow internet will always result in a problem like this, especially if you're playing an online game. So the first thing you need to do is to perform a speed test to know if you're still getting the speed you're supposed to get.
Log on to SpeedTest.net and click Go. If both the upload and download speeds are way lower than your plan, then it's a connection issue. Try power-cycling your router, or call your Internet Service Provider and have it fixed.
Fix #2: Force stop Brawlhalla and restart your PC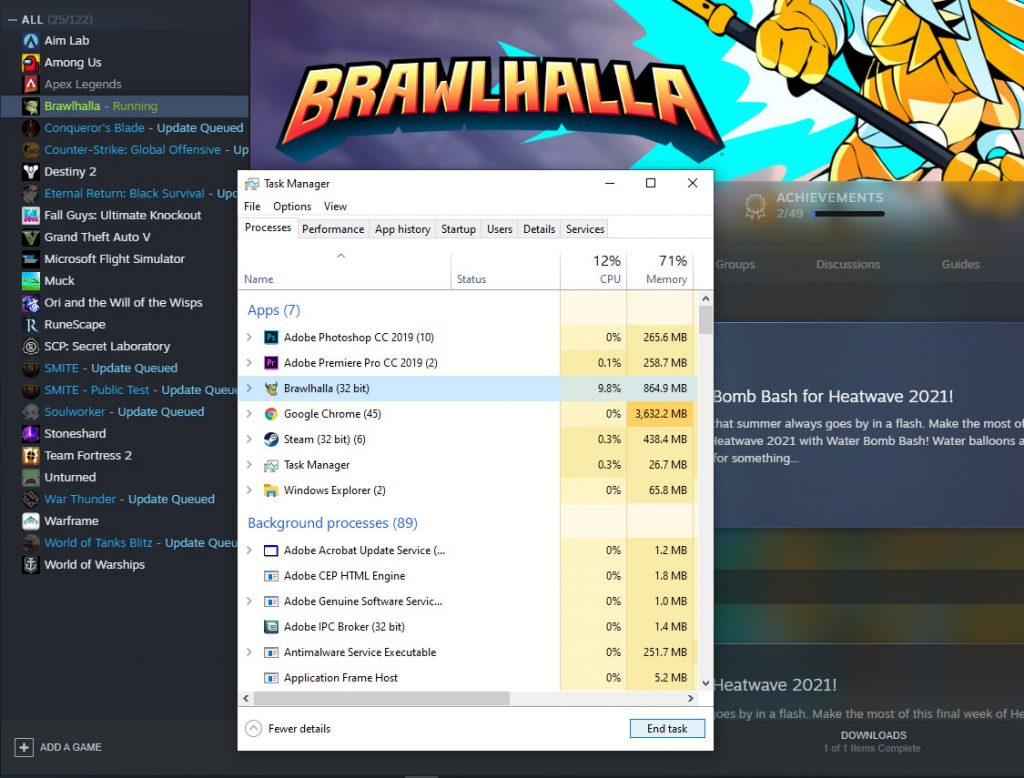 Assuming that your Internet connection is fast and stable yet Brawlhalla continues to have FPS drops and lags, try force-closing it and then reboot your computer. This often fixes minor issues such as this.
Press the CTRL, ALT and Delete keys at the same time.
Click on Task Manager to open it.
Look for Brawlhalla, click on it and then click the End task button at the lower-left corner of the window.
Once the game is closed, click the Start button.
Click Power, and then Restart.
Once your computer has finished rebooting, launch Brawlhalla again and see if it still lags.
Fix #3: Verify the integrity of game files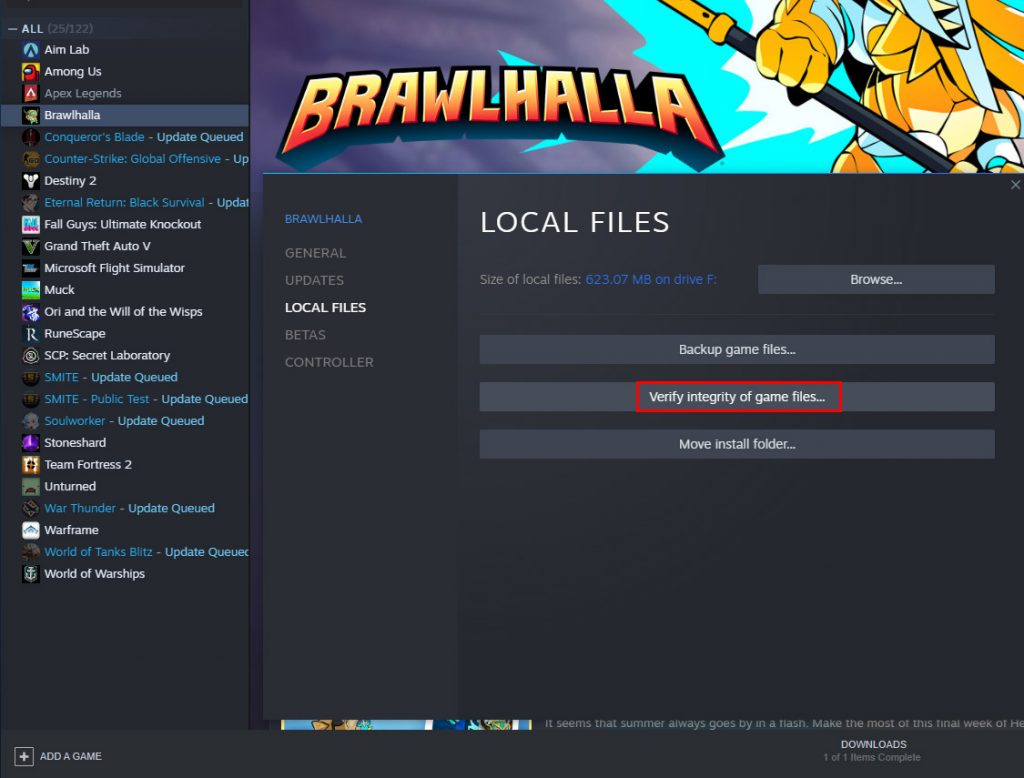 Game issues can sometimes be attributed to corrupted game files. That's why the next thing you need to do is to let Steam verify the integrity of the game files. If the problem is because of it, the Steam client will fix it. Here's how it's done:
Launch the Steam client.
Navigate to the Library tab, right-click on Brawlhalla and click Properties.
Navigate to Local Files and then click Verify integrity of game files.
Wait until the verification is finished.
Once the process is done, open the game again and see if the problem is fixed.
Fix #4: Uninstall Brawlhalla and reinstall it
If all else fails, your last resort will be to uninstall Brawlhalla. Doing so will remove all its installation files, as well as its association with the system. After doing that, you need to redownload the game from Steam. This will fix any game issues but it may take a little time doing it depending on how fast your connection is. Here's how you uninstall Brawlhalla:
Launch the Steam client.
Navigate to the Library tab and right-click on Brawlhalla.
Hover over Manage, and click Uninstall.
Click Uninstall one more time to remove the game from your computer.
Once the game is successfully uninstalled, restart your PC and then reinstall it. That should take care of the FPS drops and lags.
We hope that we've been able to help you.
Please support us by subscribing to our YouTube channel. Thanks for reading!
ALSO READ: