This post will guide you in fixing Destiny 2 stuck on the loading screen and learn the reason why such a problem occurs every now and then. Games that won't load are actually easy to fix as long as you're willing to troubleshoot them. Continue reading to learn more.
Somes games use more graphics memory and processing power and others need more RAM to store cache files. Destiny 2 is one of them, although entry-level gaming rigs can run it properly at high settings. It has also been pretty stable and updates are released regularly to make sure the game runs smoothly with minimal errors and interruptions.
There are some PC gamers, however, who got stuck on the loading screen while trying to play Destiny 2. The game just won't continue to load up prompting the users to stop the game prematurely.
Such an issue can be due to several factors among them are connectivity and server issues, as well as technical problems with the game itself and with the computer. If you're one of the gamers that's bugged by this issue, here's what you should do:
Fix #1: Force quit Destiny 2 and Steam
Once the game stops loading or gets stuck on the loading screen, you won't have an option to quit it because the options menu won't show. Your only option is to force quit the game to stop it from running. You have to do that from the Task Manager. Here's how: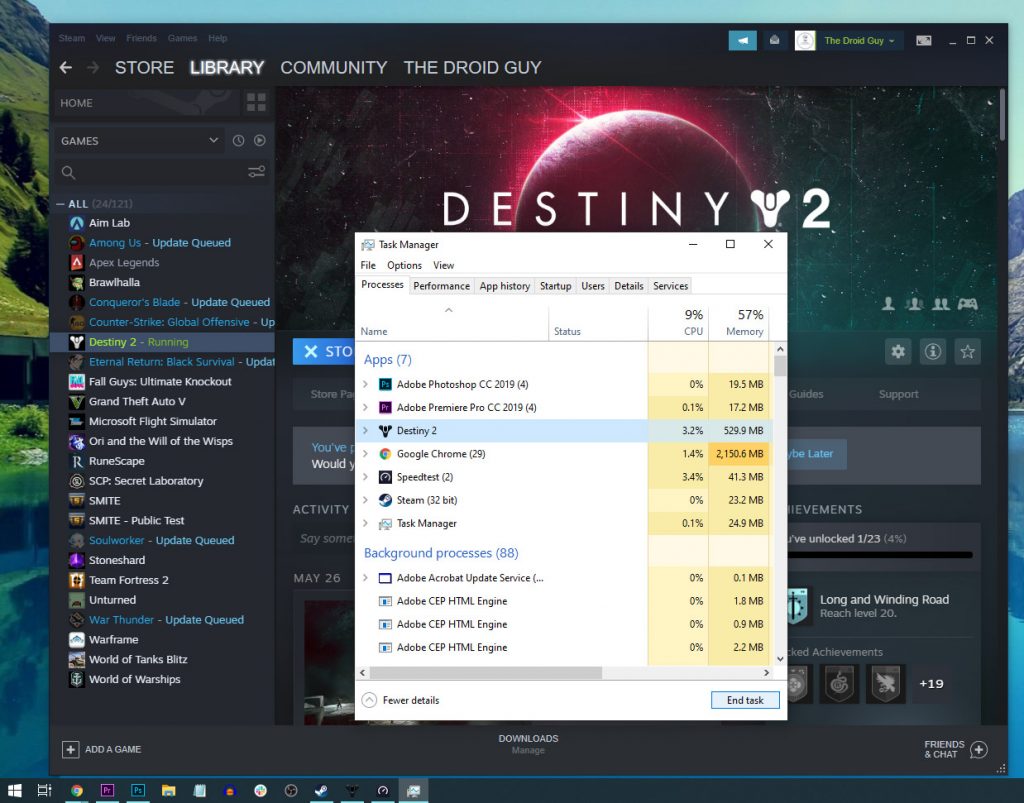 Press the keys CTRL, ALT and DEL at the same time.
Click Task Manager.
Look for Destiny 2 and click on it.
Click the End task button at the lower-right portion of the screen.
Then, look for Steam, click on it and click the End task button.
After doing that, launch Steam and open Destiny 2 from there.
Fix #2: Delete Destiny 2's cache
While it's a minor issue, you still need to do something so that the game will run smoothly. So if the first solution fails, what you need to do next is to delete the game's cache so that Windows will create a new one. The game cache is a set of files created by the system that helps make the game run smoothly. However, it has a tendency of getting corrupted and if that happens, issues like this occur. So follow these steps to delete Destiny 2's cache: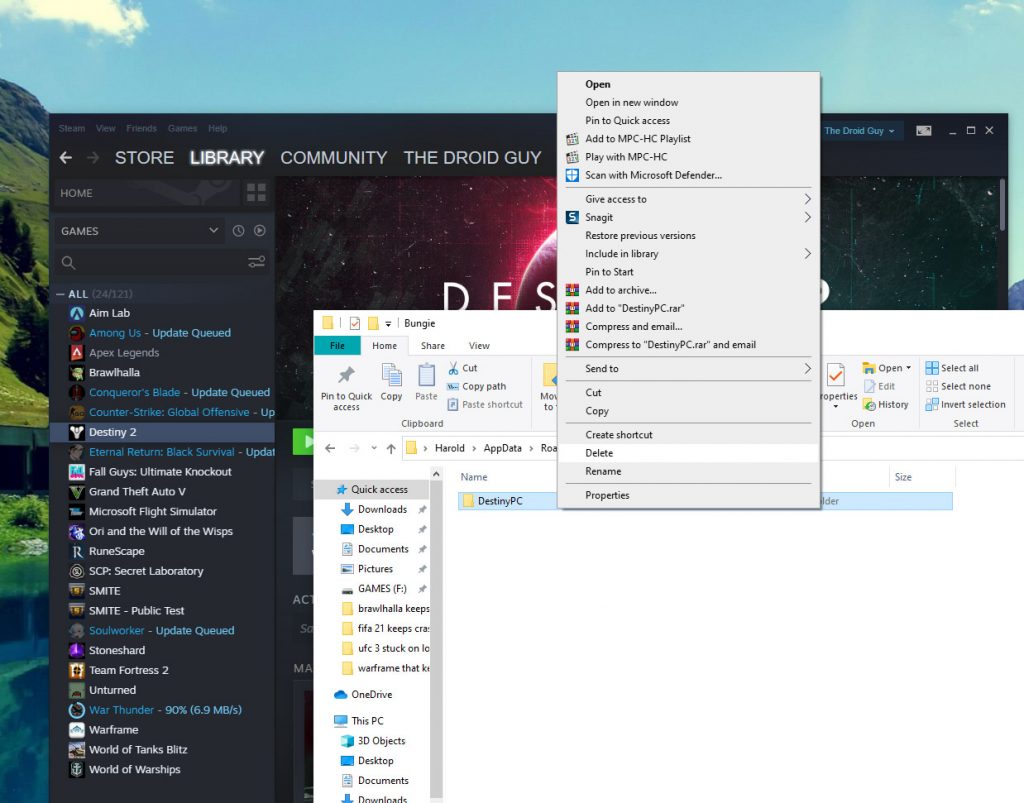 On your keyboard press the Windows and R keys at the same time. This will pull up a small window at the lower-left corner of the screen.
In the text field type %appdata% and click OK. This will open up a folder.
Look for the folder named 'Bungie' and double-click on it.
Inside it, look for the folder 'DestinyPC' and delete it. It contains all the temporary files for Destiny 2.
Once the cache is deleted, run the game again and see if it still gets stuck on the loading screen.
Fix #3: Make sure everything is updated
When it comes to gaming, the drivers play a very important role in making everything work perfectly, especially the graphics card. So make sure that your GPU runs the latest driver. Follow these steps to update it: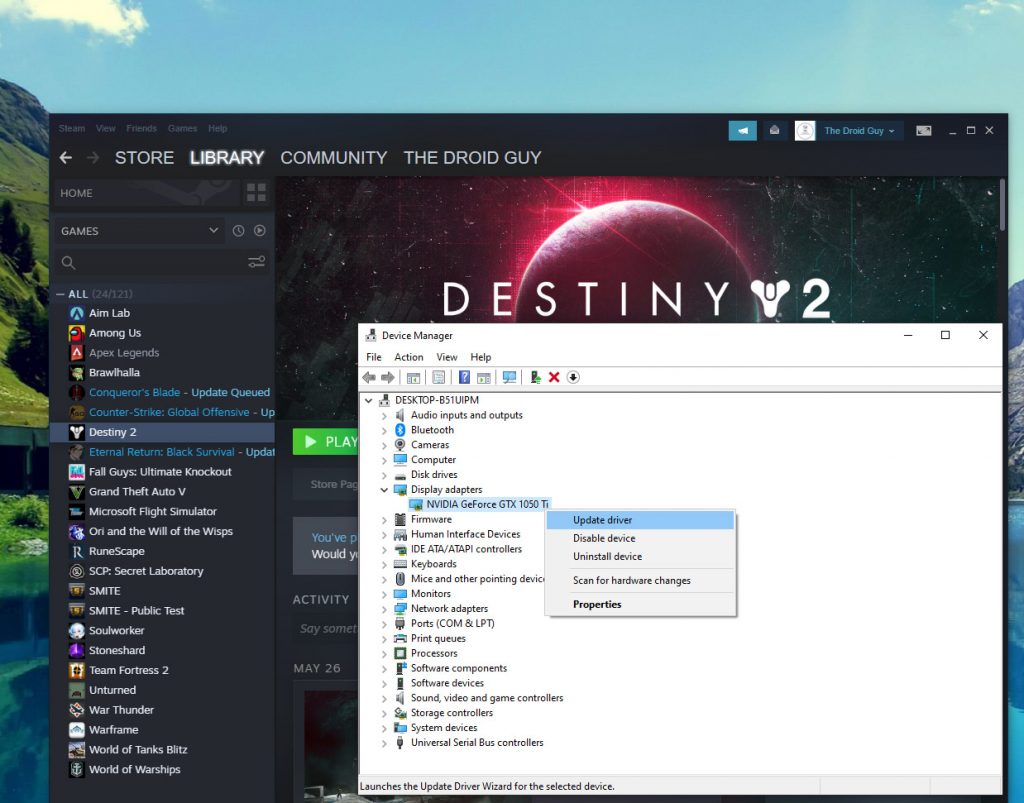 Click the Start icon, type "file explorer" and click the File Explorer app.
On the left panel, right-click on This PC and click Properties.
Click Device Manager.
Expand Display adapters, right-click on your GPU and click Update driver.
Click Search automatically for drivers, and wait until your PC finishes the update.
You may also have to update other drivers that need to be updated.
For brand-specific GPU's, here's how you update them:
Fix #4: Verify integrity of game files
What you should look into if the problem continues despite doing the previous procedures is the integrity of the installation files. It's possible that some of those files are missing, deleted or corrupted. So to rule this possibility out, follow these steps: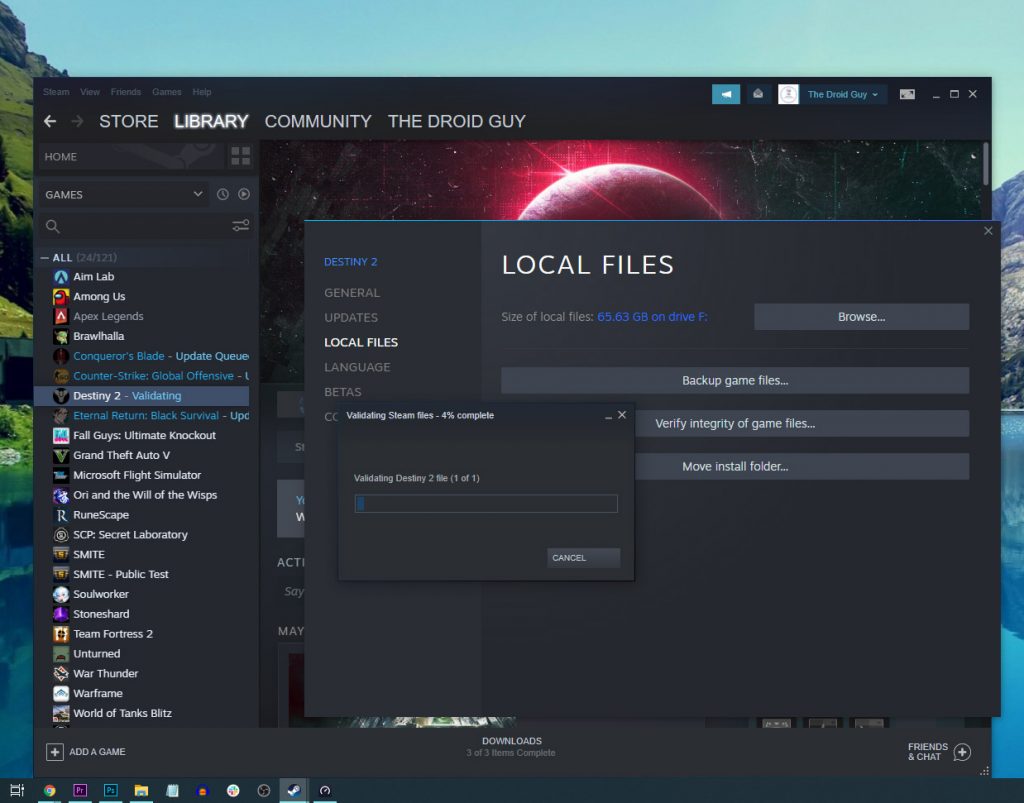 Launch the Steam client.
Navigate to the Library tab, right-click on Destiny 2 and click Properties.
Navigate to Local Files and then click Verify integrity of game files.
Wait until the verification is finished.
Once it's done, launch Destiny 2 to know if the problem is fixed. Most of the time, these procedures are enough to make the game work again. However, if it still fails, then you have to do the next solution.
Fix #5: Uninstall Destiny 2 and reinstall it
Games that get stuck on the loading screen without apparent reason need to be reinstalled, especially if you've done the previous solutions to no avail. This is the most effective solution in fixing issues like this, however, you may have to wait a little longer as games today are huge. So depending on how fast your connection is, you may have to wait for an hour or two. Here's how you uninstall Destiny 2 from your computer: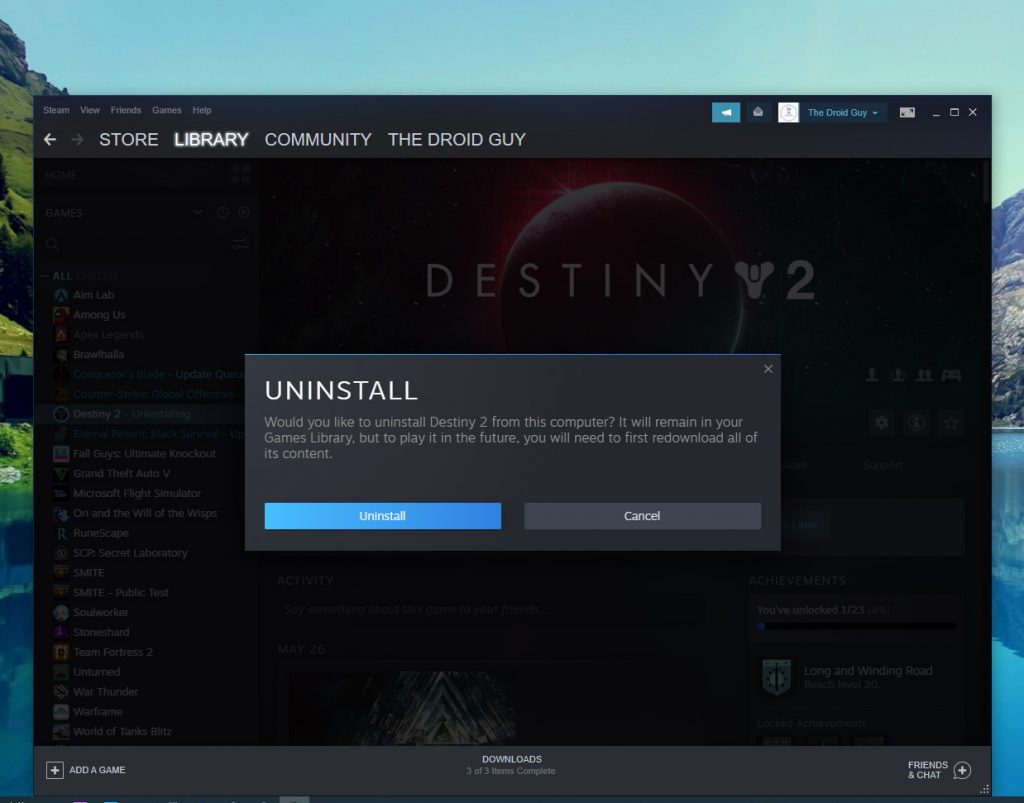 Launch the Steam client.
Navigate to the Library tab and right-click on Destiny 2.
Hover over Manage, and click Uninstall.
Click Uninstall one more time to remove the game from your computer.
After the game is uninstalled, restart your PC.
Download the game and reinstall it.
It should run properly now that you've reinstalled it. We hope that this troubleshooting guide can help you.
Please support us by subscribing to our YouTube channel. Thanks for reading!
ALSO READ: