Many Call Of Duty Black Ops Cold War players are reporting that the multiplayer mode of the game is not working, keeps disconnecting, or keeps showing connection errors. In this guide, we'll show you why connection problems on multiplayer mode occur and how to fix them.
What are the reasons for Multiplayer connection issues on COD Black Ops Cold War?
If you want to play the multiplayer mode of Call Of Duty Black Ops Cold War but the game keeps disconnecting, or does not allow you to connect to servers at all, there are multiple factors that you need to check.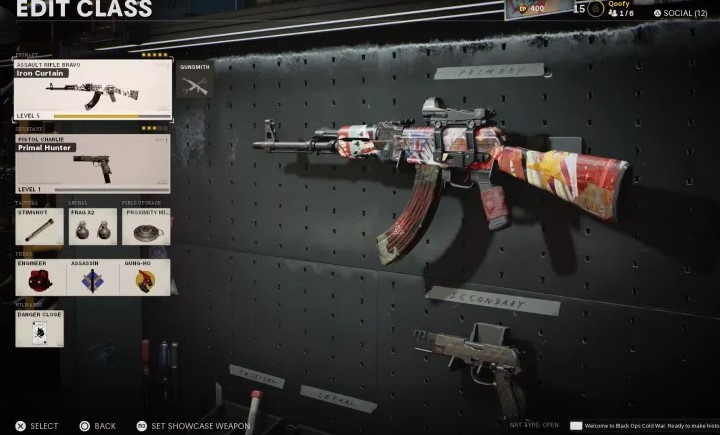 Server downtimes.
Majority of people who are experiencing difficulty playing online multiplayer on Black Ops Cold War encounter server issues. Game servers may go down unexpectedly and at other times, they may be taken offline for a short time due to maintenance.
Account issues.
For some, the main reason why they are unable to play online is not because of bad servers but an issue with their account.
If you are having a problem signing in to your Activision account or to your specific platform account (PlayStation or Xbox), that can be the main reason why multiplayer mode on Black Ops Cold War is not working.
If you are able to sign in to your account but multiplayer mode is still not working, there may be an issue with platform's network (PlayStation Network Or Xbox Live).
Home internet connection not working.
If there are no known server issues at the moment and your account appears to be working as expected, the other possible factor to consider is your home internet connection.
Make sure that you check for the possibility of slow or intermittent connection problems.
Signal interference.
For those playing online games using wifi or wireless connection, another thing that you need to worry about is possible signal interference. Wireless connection is less stable than a wired ethernet connection in terms of both bandwidth and reliability. You might want to switch to a wired setup if you can't seem to get rid of connection problems on Black Ops Cold War multiplayer.
How to fix Black Ops Cold War Multiplayer not working issue
Now that you know the multiple possible reasons why you are experiencing multiplayer errors on Black Ops Cold War, it's time to start doing some troubleshooting.
Below are solutions that you can try to fix if multiplayer mode on Black Ops Cold War is not working.
Verify if servers are working.
First, you want to visit the official Activision server status page:
https://support.activision.com/onlineservices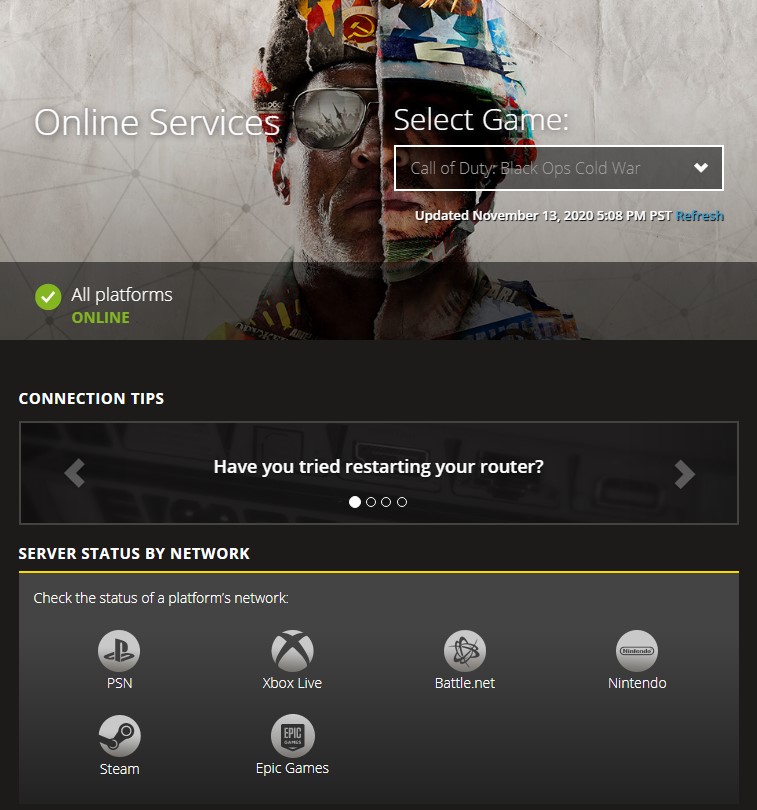 In this site, you'll know if there is any on-going outage or maintenance for Black Ops Cold War. If the status indicator for your specific platform has a different color and not green, that means that users will likely experience connection troubles. What you can do in this situation is to wait until the issue is resolved. Most of the time, server problems are fixed in a few hours so just be patient.
At other times, the game may still allow users to play online but the quality may be severely degraded. Again, all you have to do is to just leave the game and check a few hours later before playing online multiplayer again.
Double check your system's account.
Whether you play Call Of Duty Black Ops Cold War in a PlayStation (PS4/PS5), Xbox (Xbox One/Xbox Series X/S) or PC, it's important that you check if your account is signed in and ready to go.
To do that, simply log out of your system's account and try logging back in. This is a good way to know if there's any account-related issue that prevents you from playing online multiplayer on Black Ops Cold War.
Can't sign in to system account.
If you are unable to sign back in to your system's account, whether on PC or console, you will need to troubleshoot for a possible connection issue. This means that your PC or console may have lost internet connection and you need to figure out why that's the case.
Use any of these links to help you identify the reason for the problem:
Troubleshoot Wired or Wireless Network Connection on PlayStation
Can sign in to system account but can't play online multiplayer.
If there's no problem signing back in to your console or PC account but multiplayer is still not working, there may be a problem with your system's network.
If you play the game on a PlayStation, try checking the PSN status.
If you are on Xbox, visit the official Xbox Live status page for outage, maintenance, or known bugs.
Troubleshoot your local internet connection.
Some players may experience troubles with Black Ops Cold War multiplayer because of issues with their own internet connection.
To see if you have an unresponsive router, which is a common cause for minor connection issues, try turning it off and unplugging it for 30 seconds.
If Black Ops Cold War multiplayer is still not working after you've power cycled the router, try to check if you have a low bandwidth issue at the moment. Your PC or console may not be able to maintain a stable connection to the servers because your connection has become too slow due to high number of devices using your network at the same time. If you have other consoles, computers, or devices streaming HD movies, streaming music, playing online games, or downloading huge files, these devices may be the main reason for the low bandwidth situation. Try disconnecting all devices from your network except your console or PC and see how your online game performs.
If Black Ops Cold War multiplayer mode works normally again, that means that some of the devices in your home is hogging all network resources.
Use wired connection.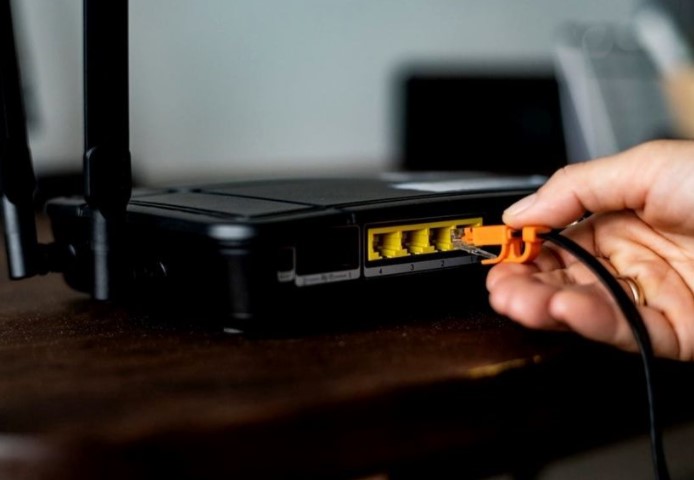 This solution obviously applies to those playing online games using wifi or wireless connection. Using a wired setup lets your PC or console perform reliably and faster when in an online game while the opposite is true for wifi connection.
Other interesting articles:
Visit our TheDroidGuy Youtube Channel for more troubleshooting videos and tutorials.