Are you experiencing Unrecoverable error in New World? There are several factors why you are having unrecoverable error in new world, this could be cause by anti cheat program, corrupted files, and other errors. To fix unrecoverable error in new world, several troubleshooting steps will be required to do.
New World is one of the MMORPG genre's most recent Steam releases. This game, which includes three factions: the Marauders, the Syndicate, and the Covenant, was developed and published by Amazon Games. On the Aeternum, Eternal Isle, you can also get crafting materials, take control of settlements, complete quests with non-player characters, and engage in player-versus-player (PVP) warfare. The game is set in the seventeenth century on the mythical island of Aeternum. Azoth is a powerful resource found on the island of Azoth, which is located in the Atlantic Ocean. Azoth is said to be the wellspring of eternal life, capable of greatly improving whatever it comes into contact with. The lure of immense riches attracts many adventurers to Aeternum.
New world unrecoverable error fix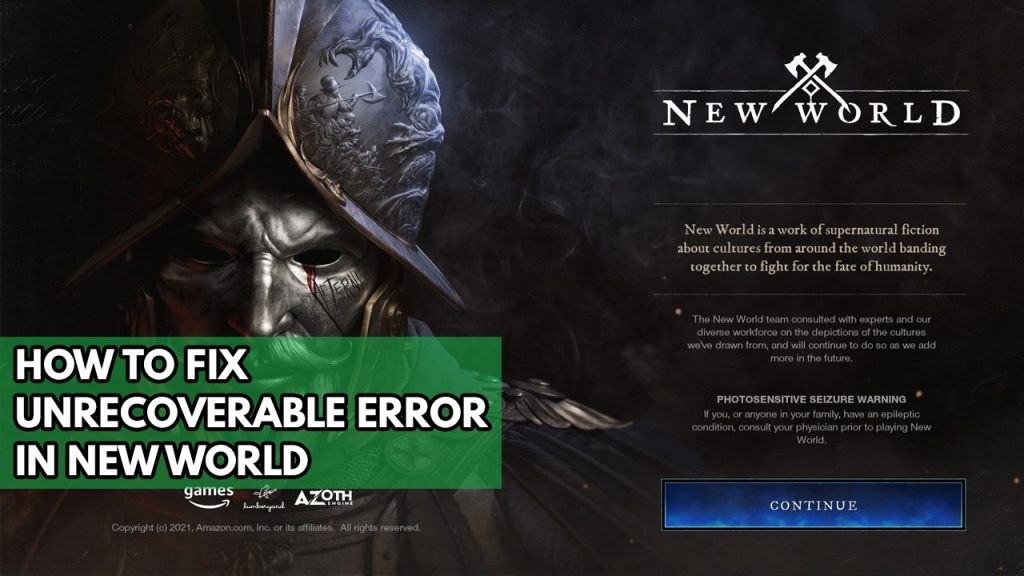 In this guide, we will be showing you the easy to fix New world unrecoverable error. Many players are complaining about it recently. If you've run into this problem and are looking for solutions, you've come to the correct place. Take a look at some of the proposed solutions on this page.
Before we begin the troubleshooting steps, make sure you have restarted your computer and network devices because this is the most easy way and immediate fix for New World unrecoverable error Steam issue.
Step 1: Your computer should be turned off.
Step 2: Remove the power cords from your Modem and Router.
Step 3: Reconnect your modem and router to the power supply after a minute and turn on the devices.
Step 4: Wait for the lights to come on again.
Step 5: Turn on your PC.
Fix #1 Check minimum system requirements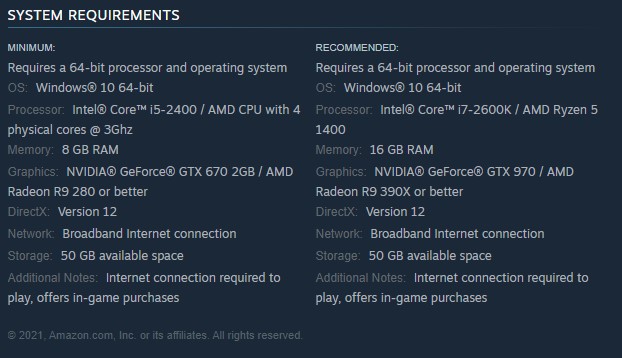 The first thing to do is to check if your computer can run the game without issue. Your computer must meet the minimum system requirements in order for the game to avoid unrecoverable error in New World.
Fix #2 Verify game files
The next step to do is to check if there are corrupted or missing files in New World because this might be the reason you are getting Unrecoverable error in New World. To do this, you'll need to utilize the Steam client to check the integrity of the game files in local files. To replace any missing or corrupted files, new files will be downloaded from the servers. You can also delete the certificates folder in easy anti cheat folder of New World before you repair or verify the game file.
Time Needed : 3 minutes
Verifying game files
Launch Steam.

This will let you open Steam.


Go to Steam Library Tab.

This will let you go to Library tab.


Search New World then right click the game and select properties

This will let you go to properties.


Choose the Local Files tab and click Verify integrity of game files.

This will let you verify integrity of game files.

After you have verify the files check if you have fix the unrecoverable error message.
Fix #3 Repair easy anti cheat
Some avid gamer have reported that repairing the easy anti cheat can fix unrecoverable error. Follow the steps below on how to fix easy anti cheat of New World.
Repairing easy anti cheat
Step 1: Select Library from the Steam menu.
Step 2: Find New World and open the game's folder in File Explorer by going to Settings > Manage > Browse local files.
Step 3: Double-click the EasyAntiCheat Setup.exe file in the EasyAntiCheat folder.
Step 4: Select the Repair Service option.
Fix #4 Disable internet protocol version 6
Try to check if the internet protocol version 6 (tcp/ipv6) is enable as this might be the problem lies. Follow the steps below to disable IPV6:
Disabling IPV6
Step 1: Go to the Control Panel.
Step 2: Select Network and Internet > Network and Sharing Center from the drop-down menu.
Step 3: Right-click your network connection and select Properties from the drop-down menu.
Step 4: Click OK after unchecking the box for Internet Protocol Version 6 (TCP/IPv6).
Fix #5 Reinstall New World
At this point if you are still experiencing the issue, you can reinstall the game to have a fresh install and will potentially fix any issues you are encountering with the game.
Reinstalling New World
Step 1: Run Steam launcher.
Step 2: Go to the Library
Step 3: Right click the game then click on Manage then uninstall.
Step 4: Click Uninstall.
Step 5: Right click the game then click on install.
Step 6: Click next to proceed with the installation