This post shows how to enable and disable a Samsung feature that will hide and display hidden files and folders on the Galaxy S21. Read on if you need help viewing all hidden directories and contents then hide them again on your new Samsung Galaxy smartphone using the built-in storage commands.
Show Hidden System Files
Just like computers, mobile devices also have a number of files that are hidden in the system folders of the internal storage. While most of these files are useful, some of them are junk files that are utilizing some portion of the internal storage. That said, removing these hidden junk files can also be considered as another workaround when dealing issues that are tied to insufficient memory.
In Samsung devices, hidden folders and files can be viewed or accessed without using any third-party apps. All you have to do is to enable a switch that will make hidden files visible among other files and folders in the internal storage menu.
In case you're wondering how to get this done on your new Samsung Galaxy S21, I've laid out a quick walkthrough as follows.
Here's how to enable the built-in command to show hidden files and folders on the Galaxy S21 smartphone.
Easy Steps to Display Hidden Files on Galaxy S21
The following method is also applicable when viewing hidden files on other Samsung Galaxy devices that are running on the same platform or Android version with the S21. Actual screens and menu items may vary between device models though.
1. Whenever you're ready, access the Apps viewer from the Home screen by swiping up from the bottom of the display.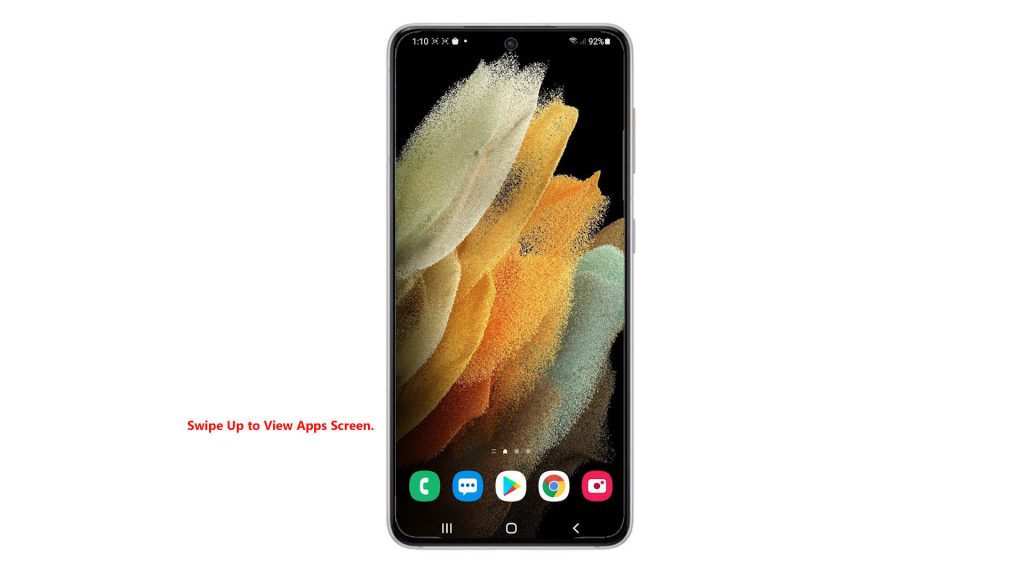 The next screen will then be populated with different app icons or shortcut controls.
2. Locate and then tap on the Settings icon. The settings menu will load up next.
On the settings menu, you will see a list of all the built-in features and settings of your phone.
3. Scroll up or down to view more items. Then, tap Battery and device care.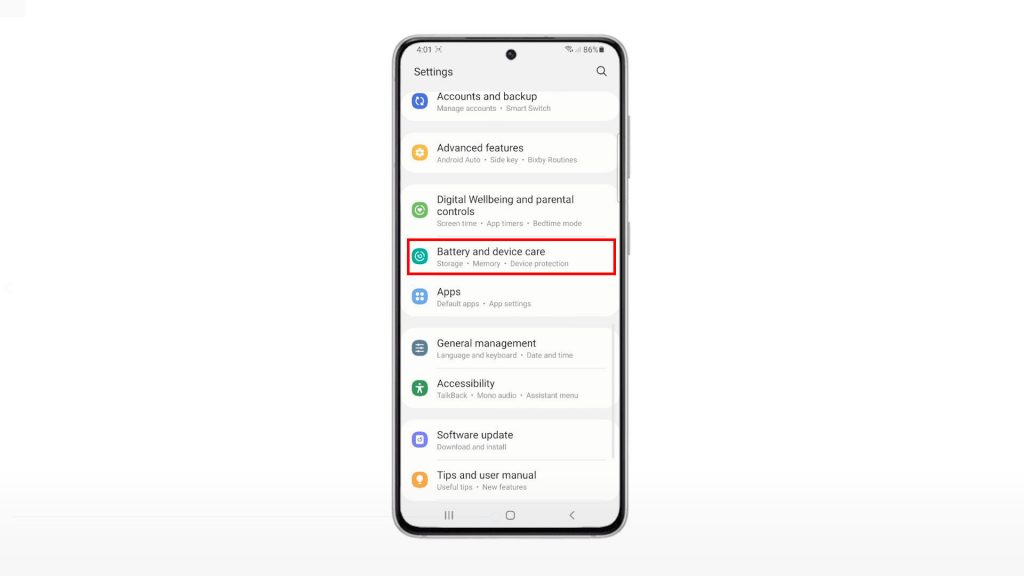 The Device care menu will load up next. Here, you will see four major directories including Battery, Storage, Memory and Device protection.
4. Tap Storage to continue.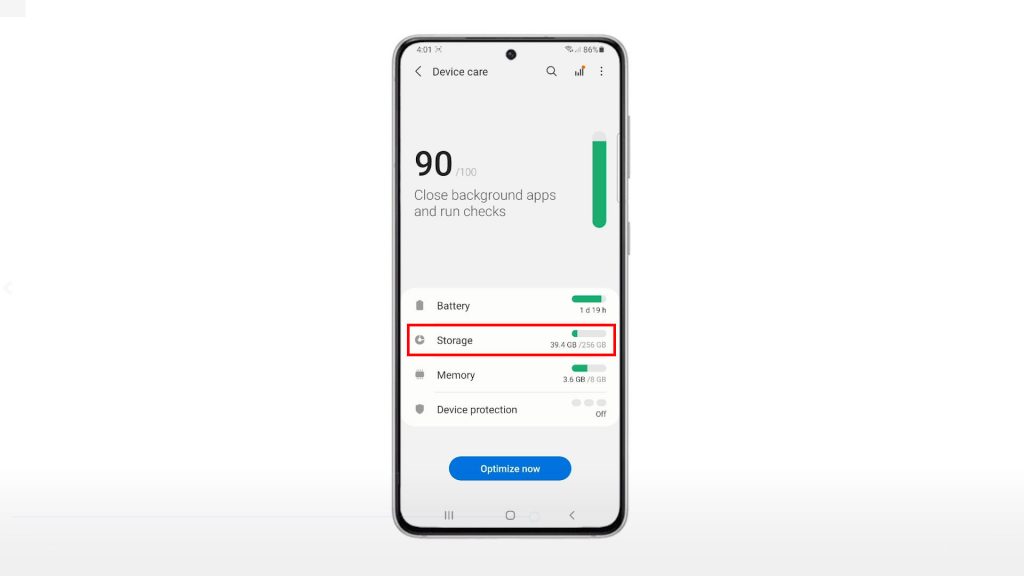 The Internal storage menu opens, highlighting a list of different content categories.
5. Tap the triple-dot icon on the upper-rightmost corner and then tap Advanced.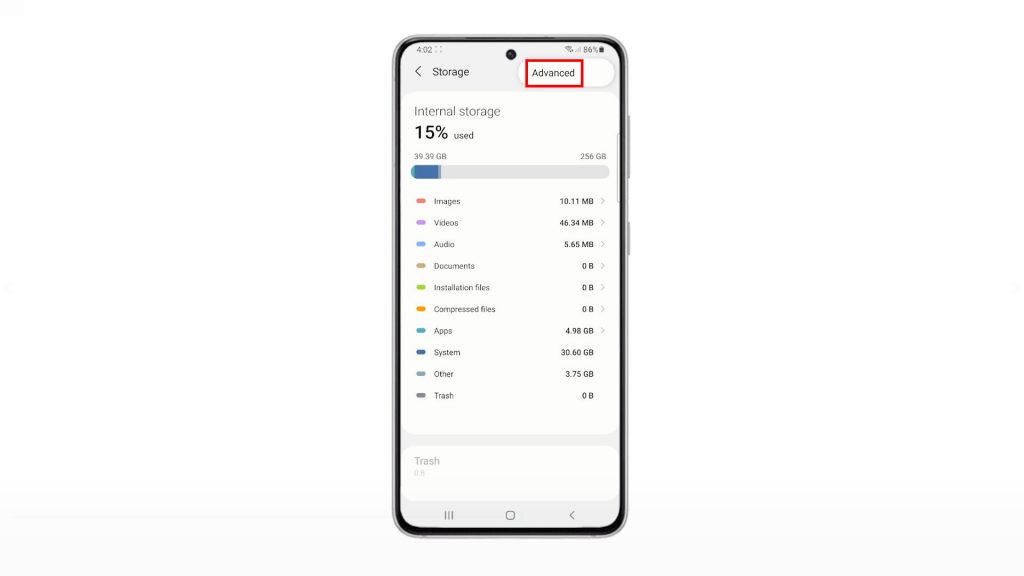 Advanced storage settings and features will show up next.
6. To continue, tap Files.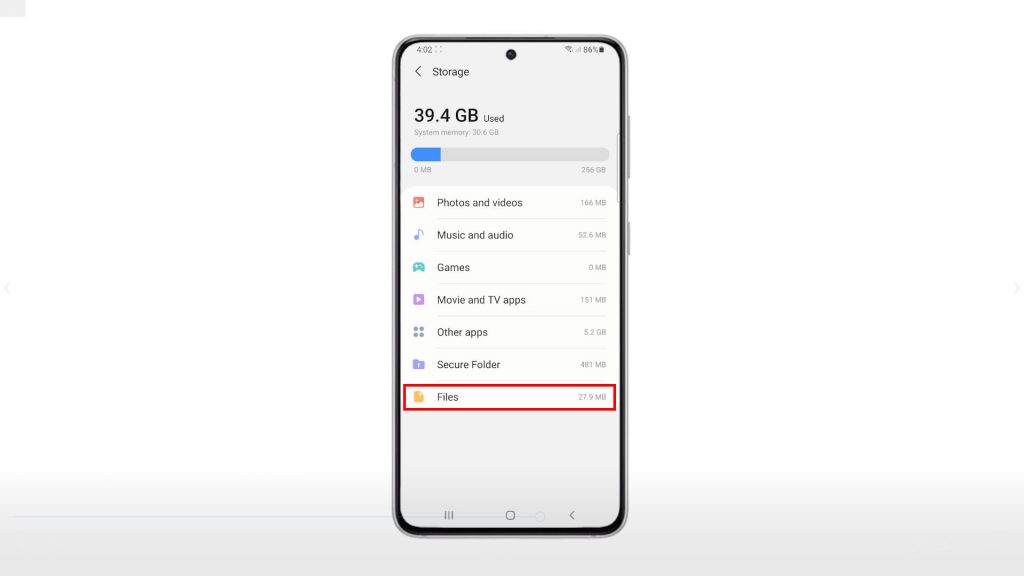 The internal storage menu opens, highlighting a list of folders containing different types of files.
7. On the upper-rightmost corner of the screen, tap the triple-dot icon. Doing so will open a side menu containing a list of additional options.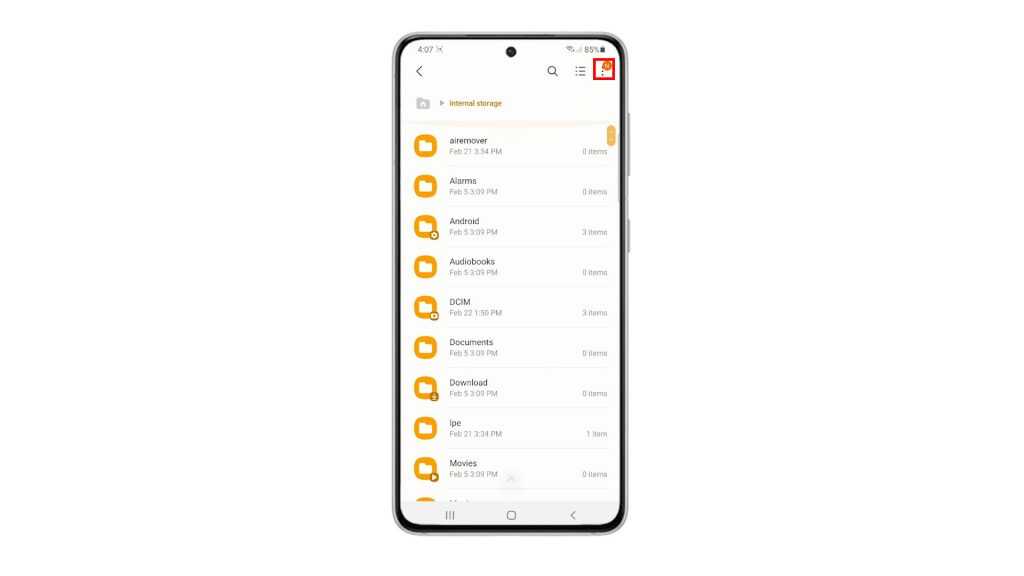 8. Tap Settings to proceed.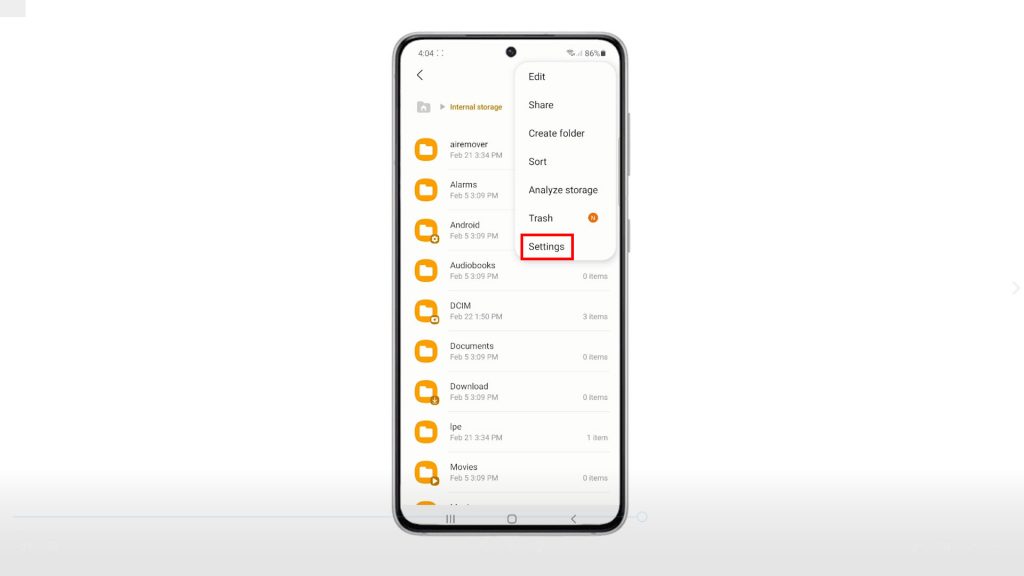 Another window opens, highlighting all the advanced storage features and settings to manage.
9. Scroll down to view more items. Then, toggle to turn on the switch next to Show hidden system files.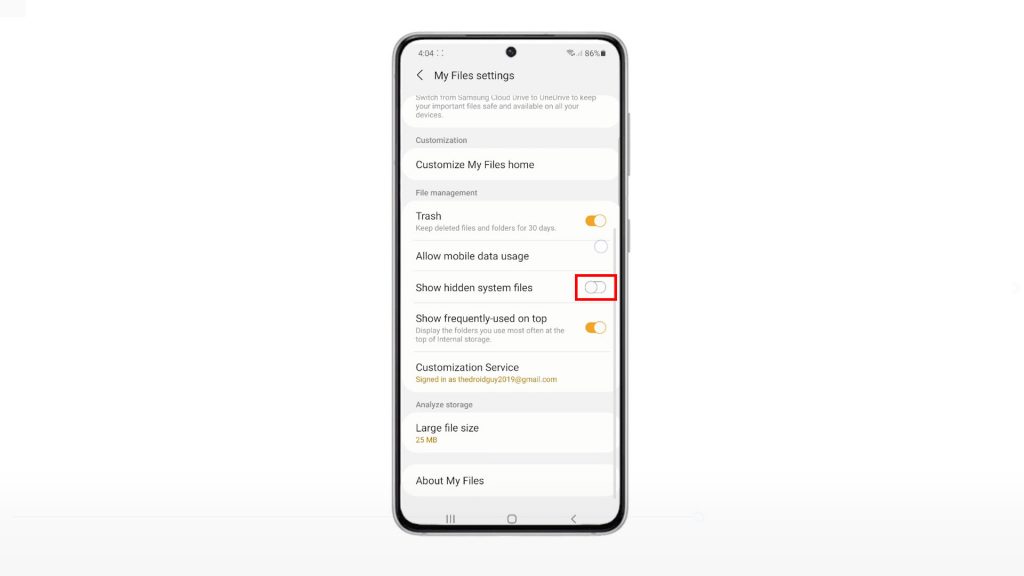 Doing so will prompt the device to display all hidden system folders and files in the internal storage menu.
10. To see how it works, return to the internal storage menu by tapping on the back key at the bottom-right corner. On the internal storage menu, you should see folders with names having a dot before them with a faded icon. These are the hidden folders or directories. To access the files inside the hidden folders, simply tap on the folder name to open it.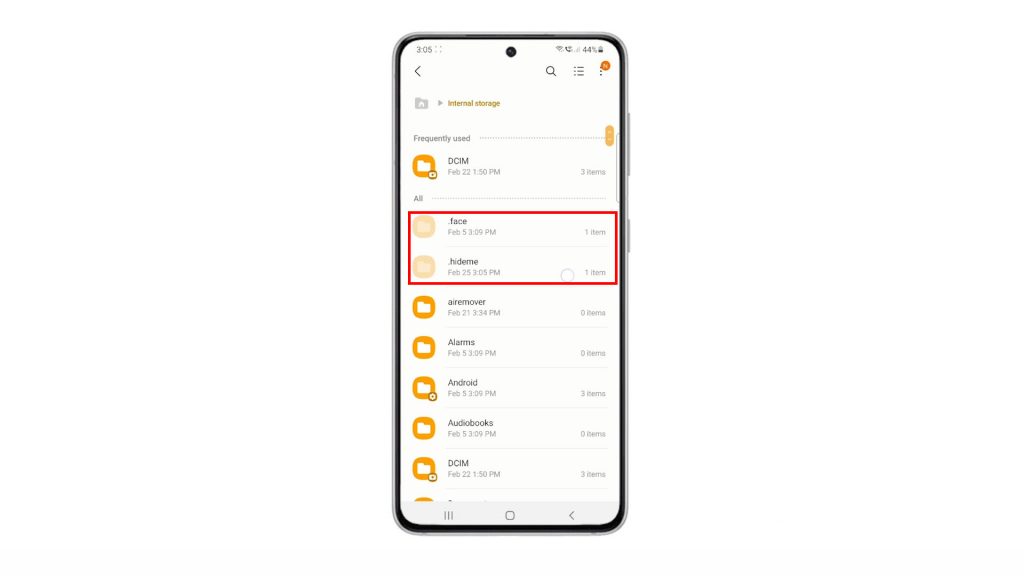 By then you can start managing hidden files on your device.
11. To hide these secret files and folders again, go back to the Advanced storage settings and then toggle the turn off the switch next to show hidden files.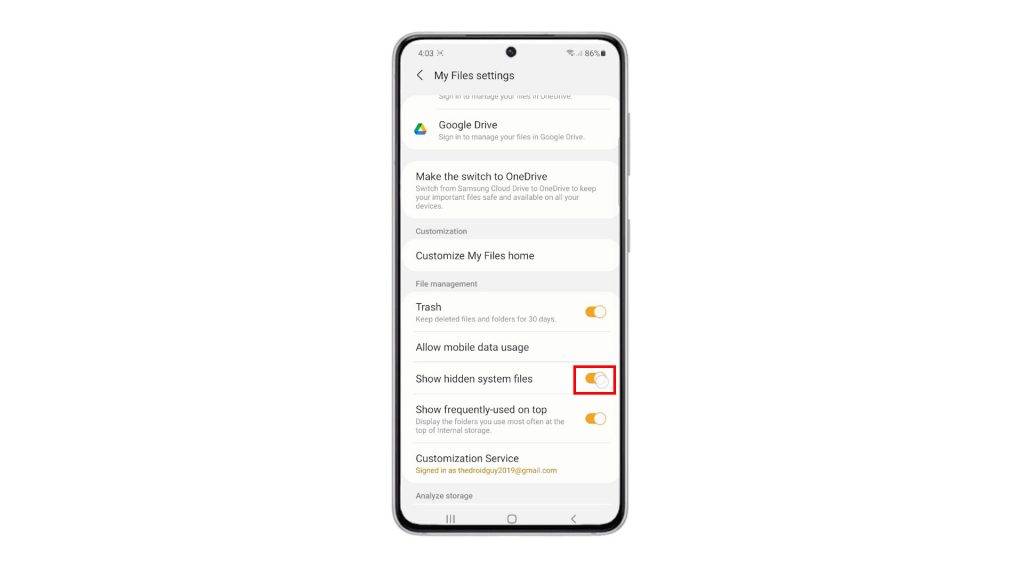 That should remove all secret files and folders from the internal storage menu and place them back into a hidden state.
You can also create a hidden folder where you can store confidential files and documents in it. Just refer to this tutorial video if you need help creating one on your new Galaxy S21 smartphone.
Hope this helps!
More Video Tutorials
To view more comprehensive tutorials and troubleshooting clips on different mobile phones and tablets, feel free to visit The Droid Guy channel on YouTube anytime.
You might also want to read: