GoPuff is a delivery app that allows you to get meals, essentials, and groceries with same-day delivery at your home. If GoPuff is not available in your location or looking for an alternative for GoPuff then don't worry, in this article, we will show you the best apps like GoPuff food delivery for your mobile device.
Over the last few years, the number of people using food and grocery delivery apps has increased dramatically. Half of all food delivery visits are now made via digital ordering, which has expanded beyond typical evening delivery to include breakfast and lunch. Digital orders, which may be placed by a smartphone app, the Internet, or text message, have grown to be a billion-dollar industry in the last four years. Digital meal orders can usually be done directly through a restaurant app or a third-party food service that allows users to browse menus of nearby local restaurants.
GoPuff is a consumer products and food delivery service located in the United States. As of October 2021, the company has over 500 micro fulfillment sites in over 650 US cities. Following the acquisition of Newcastle upon Tyne-based Fancy, it now operates in the United Kingdom. The corporation was valued at $15 billion in July 2021. GoPuff generally delivers items available in convenience stores, such as food, beverages, home items, toiletries, and pet and baby products such as diapers. In some areas, beer, wine, and spirits can be delivered.
Food delivery service apps like GoPuff alternatives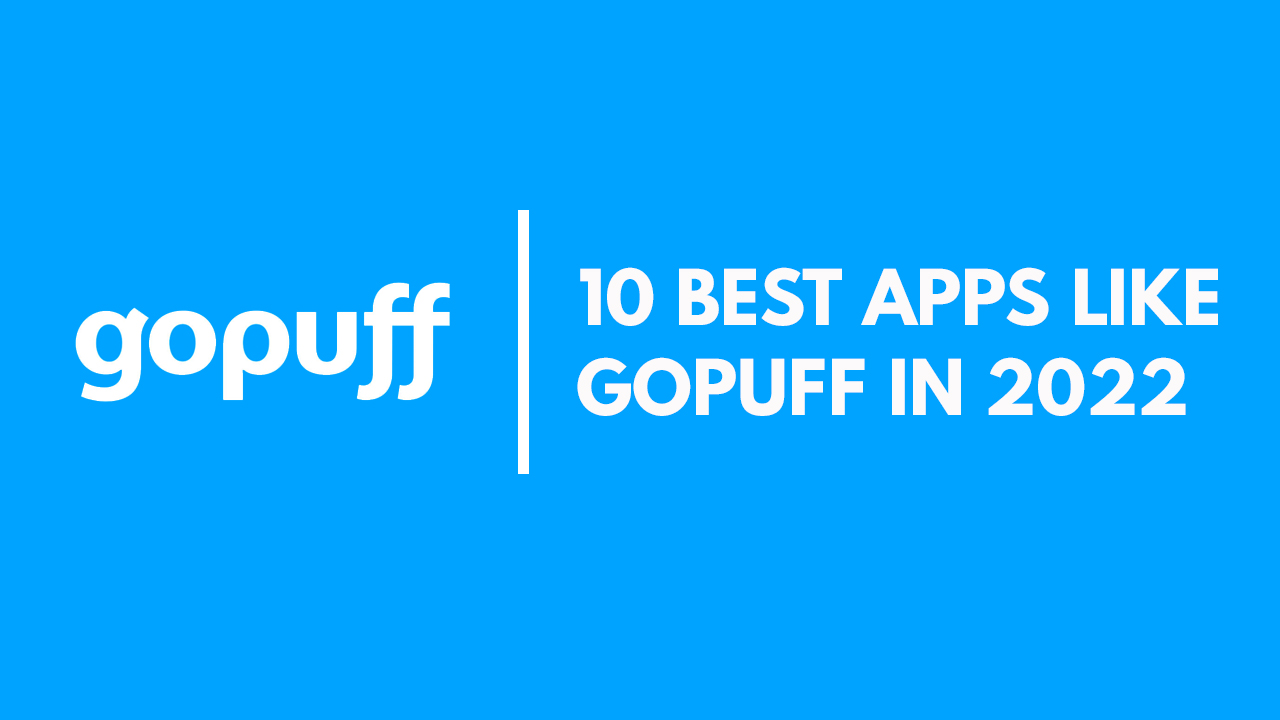 GoPuff may be a quick and easy delivery app to get meals and grocery, but if you're looking for an alternative food delivery apps or grocery delivery app like GoPuff then below are the list of best apps like GoPuff in 2023.
1.) Uber Eats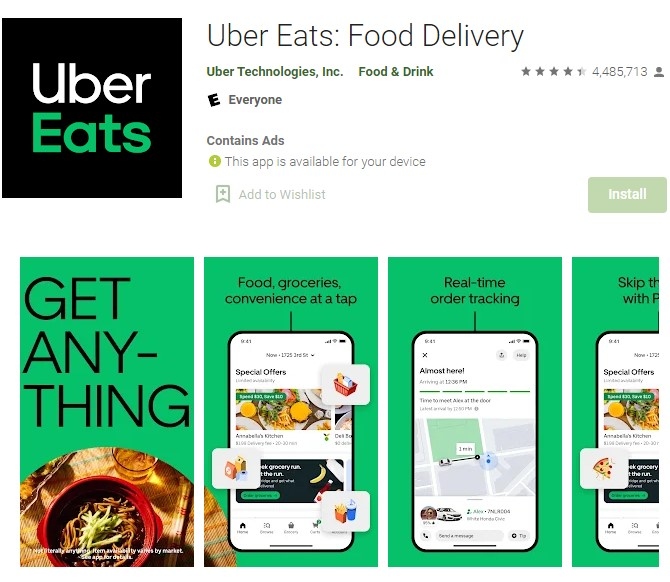 Description
One of the best app like GoPuff is Uber Eats, with thousands of wonderful local and national restaurants which will deliver food right to your door. The Uber Eats app are available for Android and IOS platforms and makes it simple to find the meal you want and order it from local stores. Real-time tracking of your order Order food from local restaurants using the cuisine, restaurant name, dish, and meal filters. Pizza, burritos, burgers, sushi, and delectable Chinese takeout are just a few of the food delivery options available through the Uber Eats app food delivery services. Do you prefer to have your items delivered? Pick up your order instead of standing in line and making reservations. With the Uber Eats app food delivery services, you can now select your favorite delivery options.
With a few taps, you browse menu to order food and add it to your cart. Uber Eats makes ordering food delivery online or through the app simple, and it's delivered by restaurants and delivery workers in your area. Alternatively, place your order ahead of time and have it picked up by delivery drivers afterward.
As your meal delivery order makes its way to you, you can track it on a map. Take a look at the estimated arrival time at your location. When your order comes, you'll be contacted.
For a contact free delivery, you can have your food delivery order left at the door. You can tell the delivery person where you'd like your food to be placed if you have any special instructions or preferences, such as a lobby, doorstep, or another designated location.
Buffalo Wild Wings, Burger King, CAVA, A&W, Chick-fil-A, Chipotle, Dunkin', IHOP, KFC, McDonald's, Panda Express, Panera, Popeyes, Shake Shack, Sonic, Starbucks, Subway, Sweetgreen, Taco Bell, Tim Hortons, Wendy's, Five Guys, Jersey Mikes, White Castle, Jack in the Box, Outback Steakhouse, Red Lobster are among the Uber Eat food delivery partners.
Using the Uber Eats app food delivery app, delivery drivers have delivered over 1 billion orders.
2.) Instacart grocery delivery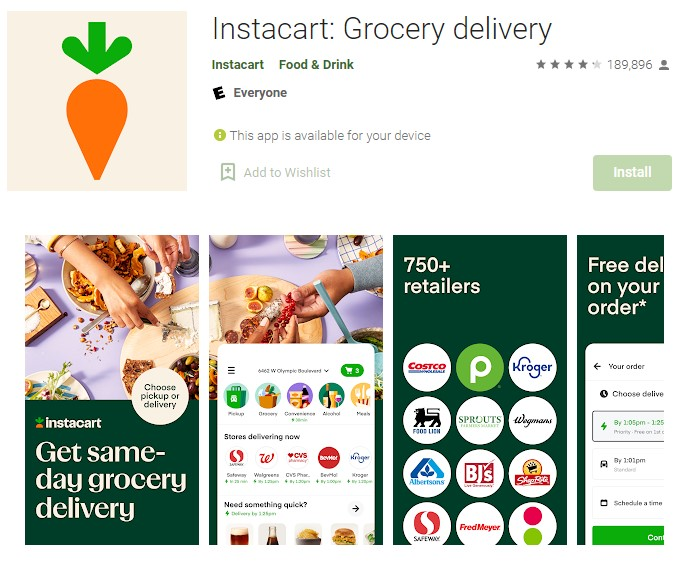 Description
Instacart is an American grocery delivery and pick-up service that operates in the United States and Canada. The company's services are available through a website and a mobile app. Customers can order groceries from partnering merchants and have a personal shopper conduct the shopping for them.
This apps like GoPuff has a same-day delivery, with fast delivery you can receive fresh food, drinks, snacks, and alcohol delivered to your house in as little as 2 hours. This is easy online grocery shopping at its finest—plus, your first grocery delivery has no delivery cost. It's also secure—contactless delivery is an option.
Do you prefer to have your groceries and booze delivered to your home? Shop for groceries online and have them delivered to your door or picked up using contactless technology at your local shop. When you arrive, your groceries or alcohol order will be excitedly awaiting your arrival.
With Instacart's simple grocery delivery, you can get groceries delivered, offers fresh produce, late-night snacks, and even booze delivered right to your house. Order toilet paper and other supplies the same day, and your shopper will make sure that fragile products like eggs and glass bottles are handled with care.
Shop groceries from your favorite local stores: Aldi, Publix, Costco, Safeway, Wegmans, Walmart, and 20,000 more retail locations across North America. And we're continually expanding our range of retail and food stores.
Download to browse for groceries and learn what stores are available for contact free delivery or curbside pickup delivery in your zip code.
3.) DoorDash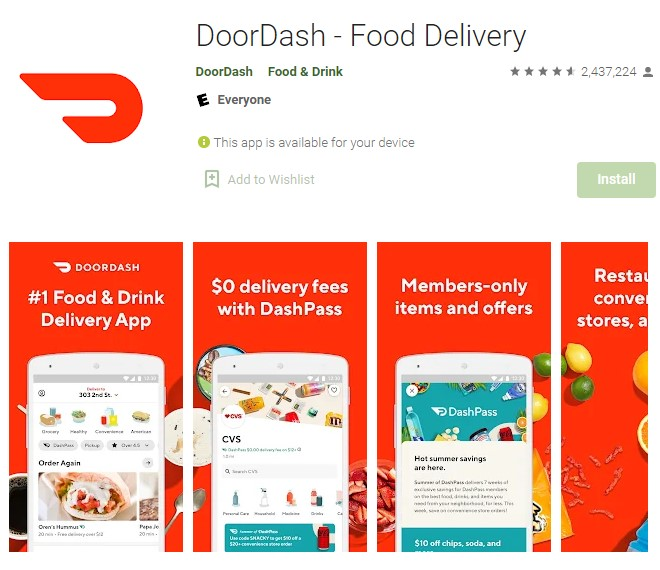 Description
DoorDash is an online meal ordering and delivery network based in the United States and offers unlimited free delivery. It is the largest food delivery service in the United States, with a market share of 56 percent. The platform was used by 450,000 merchants, 20,000,000 consumers, and 1 million deliverers as of December 31, 2020.
DoorDash is an apps like GoPuff which has over 310,000 menus from local and national restaurants, convenience stores, and grocery stores in 4,000+ cities in the United States, Canada, and Australia. No delivery fees for the first month.
Get unlimited free delivery from restaurants, grocery stores, convenience stores, pet stores, and more in your neighborhood. DashPass members also gain access to unique items and discounts, as well as a 10% discount on eligible orders due to lower service fees and a 5% rebate on eligible Pickup orders. DashPass is free for the first 30 days, then $9.99 per month after that. You have the option to cancel at any time.
Find on-demand delivery or pickup from restaurants, supermarkets, convenience stores in your area, and more. With quick and easy ordering, you can have what you need faster.
Deliveries are now left at your door by default, but you can choose to have them handed to you if you prefer. If you choose no-contact delivery, the Dasher will understand that you want them to leave your meal in a secure location and notify you when it's available for collection.
4.) Shipt: Same-day delivery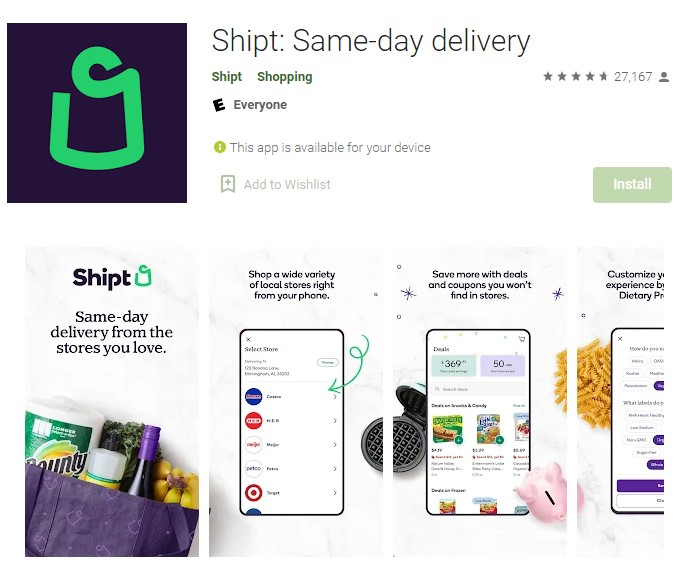 Description
Shipt is an online delivery business based in the United States and an apps like GoPuff which is dedicated to providing you with excellent service, extremely fresh produce, and trustworthy Shipt Shoppers. It's all in the bag. Shipt delivers fresh, chosen groceries and household items from your favorite stores in as little as 1 hour, including beauty products, pet supplies, and alcohol.
Shipt provides personal shopping and same-day deliveries to 80% of households in over 5,000 U.S. cities through a network of Shipt Shoppers and a handy app.
Shipt Shoppers discuss preferences and substitutes in real-time. If that's your buying style, get real-time updates with every selected order. Leave specific grocery instructions for your shoppers, such as ripe avocados and freckled bananas. Have you forgotten to add something to your to-do list? You can still get it delivered if the consumer is still in the aisles.
Shipt provides access to a diverse range of stores and product categories, including fresh groceries, you can also order household essentials, wellness products, pet supplies, and beverages such as beer, wine, and spirits, from trusted vendors.
Shipt is the way to go if you're seeking for convenience. In the app, you can order same-day grocery delivery, pay, and tip. With go-to grocery lists and favorite things, from breakfast to dessert, you can save time and place orders quickly. Shipt clients save an average of 8 hours each month. Their Support Team is also available 24 hours a day, 7 days a week to assist you with their excellent customer service.
5.) GrubHub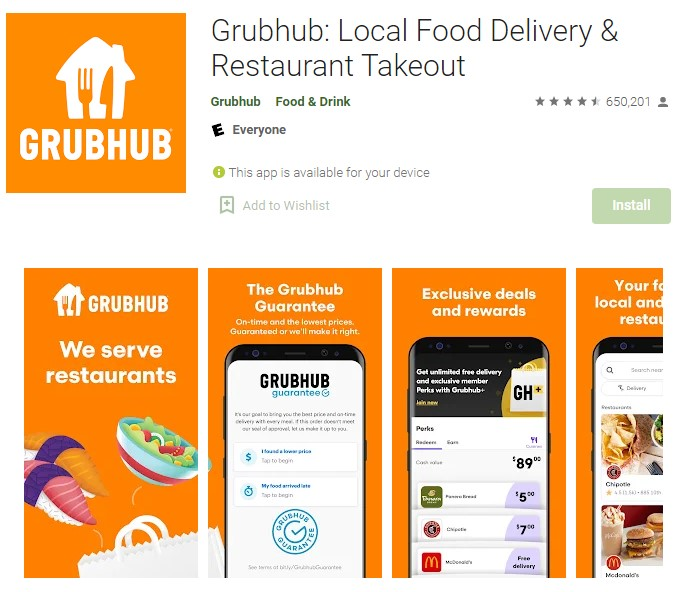 Description
Grubhub Inc. is one of the apps like GoPuff that is compatible with both the Android and IOS devices , it is an online and mobile food delivery service that links diners with local restaurants in the United States. In 2019, the company had 19.9 million active users and 115,000 affiliated eateries in 3,200 cities throughout all 50 states. To help your favorite eateries while remaining safe at home, order meals with contact-free delivery. Whether you're craving Chinese food, Greek food, Italian food, or any other cuisine, Grubhub has it covered. Because Grubhub has the most restaurant ratings and reviews, you can rest assured that you will be served the best food in your neighborhood.
For $9.99/month with Grubhub+, you can now receive even better food bargains with unlimited free deliveries. Get exclusive Perks, unlimited free local delivery from nearby restaurants, and access to premium Grubhub features when you order meals through Grubhub. When you join Grubhub+, Grubhub will even match your donations.
6.) Caviar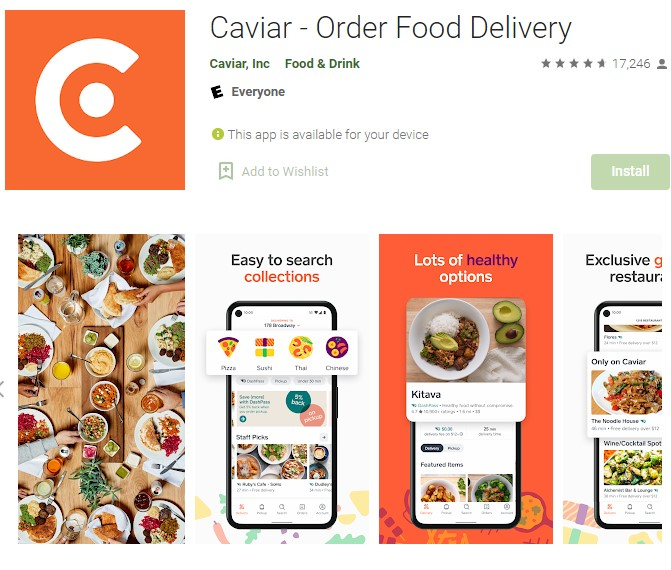 Description
Another apps like GoPuff is Caviar order food delivery service which allows you to order food from curated lists of local restaurants and have it delivered right to your door. Make any night a memorable event by dining in style at home. From local mom-and-pop to Michelin-rated and the favorite restaurant selections, choose your delivery from a variety of popular local restaurants and exclusive places you won't find on other delivery services! Check the app frequently for new restaurants, sale alerts, special offers, and exclusive advantages. If you have a DoorDash DashPass account, you can use it on Caviar as well.
restaurant delivery are now left at your front door by default, with the option to select "Hand it to me" if you like. If you choose a no-contact delivery service, the Dasher will understand that you want them to leave your meal in a secure location and notify you when it's ready to be picked up. Check the status of your order. We've taken into account everything that stands between you and your dinner, from food quality to restaurant preparation times to traffic and weather.
7.) Favor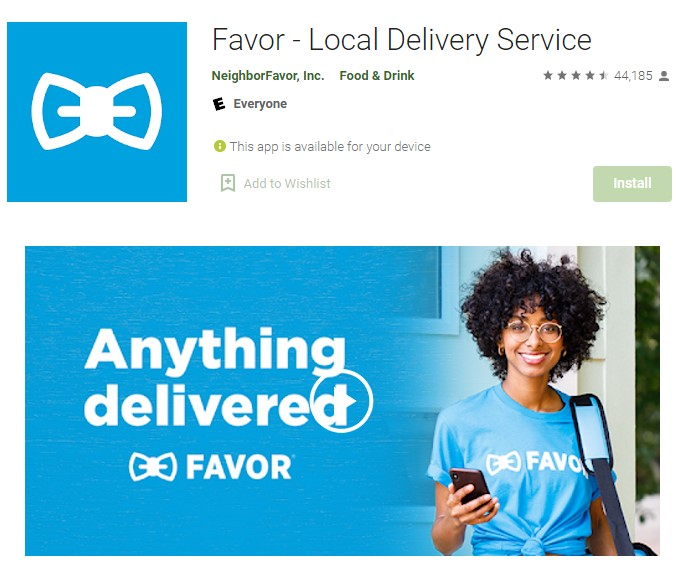 Description
Favor is the simplest method to have whatever you desire delivered to your door in less than an hour in your city. Favor gives you exactly what you want, exactly when you want it. Do you want to order some Chinese food? Do you want to order a beer or a glass of wine? Our helpers (dubbed Runners) are available to assist you with fast delivery from any of your favorite restaurants and retailers.
With Doorstep Deliveries, a 100% contact-free deliveries experience, you can stay safe and healthy. Your order will be delivered to your door, and you will still be able to SMS your Runner.
Favor also supports local companies by partnering with local favorites like Burger King, Pizza Hut, and Taco Bell. You can now enjoy free and discounted delivery from hundreds of your favorite nearby restaurants. Favor can deliver it in only a few taps, whether it's lunch at the office, dinner at home, or those fast outings.
8.) Fresh Direct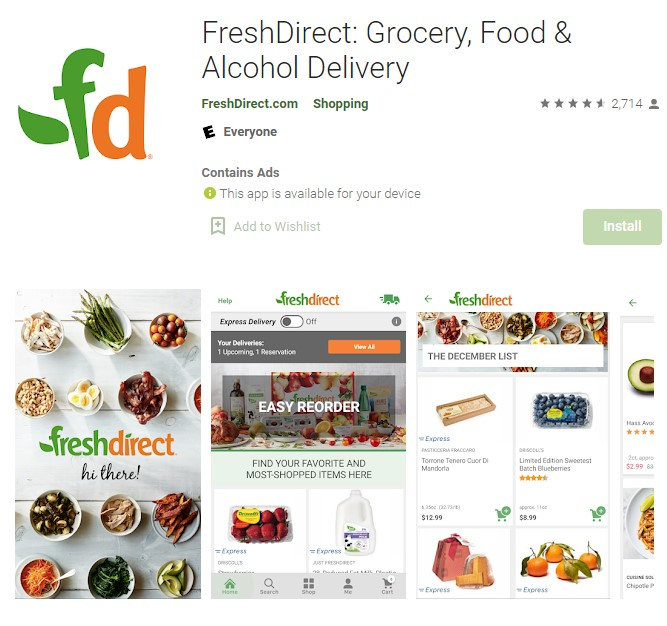 Description
FreshDirect has been the leading online food shop delivery platform in the northeast and one of the apps like GoPuff that offers fresh products. They cultivate close relationships with farmers and producers and invest in technology that allows them to provide clients with the freshest possible food.
The FreshDirect app delivery platform allows you to stock your fridge in just a few taps. They'll send seasonal farm-fresh food, local goods, high-quality meat, and chef-prepared meals, as well as your favorite grocery brands, right to your house. FreshDirect Wines & Spirits can also help you stock up on beer and deliver wine, booze, and liquor.
With FreshDirect, you can effortlessly place or change a grocery delivery order from your mobile phone, locate exactly what you're searching for, or try something new, using the simple search feature, browse categories, and curated lists. Shop their top-rated fruits, veggies, and seafood to find out what's hot right now. Check out the available timeslots and book a delivery.
FreshDirect delivers to the metro areas of New York City, Philadelphia, and Washington, DC, as well as the neighboring areas of the northeast. Unlike typical supermarkets or supermarket delivery, they source directly from farmers, fishers, and ranchers, resulting in fewer middlemen, more profit for producers, and fresher food for you.
9.) ChowNow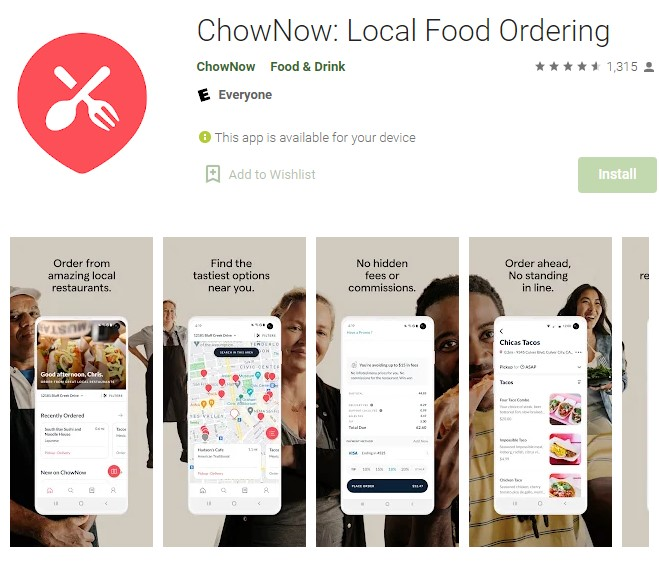 Description
ChowNow does takeout uniquely. They don't believe in overcharging their customers, diners, or restaurant partners. Other delivery applications slam restaurants by charging up to 40% commission on every order. When you order with ChowNow, everyone wins. Because decent takeout is simply better.
They collaborate with the top independent restaurants across the country. With ChowNow, you'll enjoy one-of-a-kind local fare that's ready to go whenever and wherever you are. Whatever your preferences, ChowNow has a wide selection of the greatest local takeout in your area.
Takeout options are available for every restaurant listed on ChowNow. Check out what's cooking near you—many of our partners also provide delivery and curbside pick-up. To explore local gems in your community, simply utilize "List View" or "Map View." Simply order to-go of whatever you're wanting!
Order ahead of time and pay online, avoid the wait and use Google Pay to pay with a single tap. Save your credit or debit card information securely in your ChowNow account so you can get tastier cuisine to-go faster.
ChowNow offers any great food you can think of in one easy-to-use app. Pasta, Vietnamese, barbeque, Korean, Mediterranean, Cajun, desserts, sushi, Indian, pizza, salads, deli, vegetarian, vegan, Greek, Chinese, Italian, burgers, French, seafood, Thai, comfort food, Mexican, and more may all be satisfied.
ChowNow is a free app and is an apps like GoPuff that is available all throughout the United States. ChowNow lets you order carryout from the best local restaurants in cities like Los Angeles, New York, Chicago, San Francisco, DC, Boston, Atlanta, Denver, Portland, Seattle, Philadelphia, Brooklyn, Dallas, Austin, Orange County, San Diego, Cleveland, Minneapolis, and Charlotte, whether you're at home or on the go.
10.) Postmates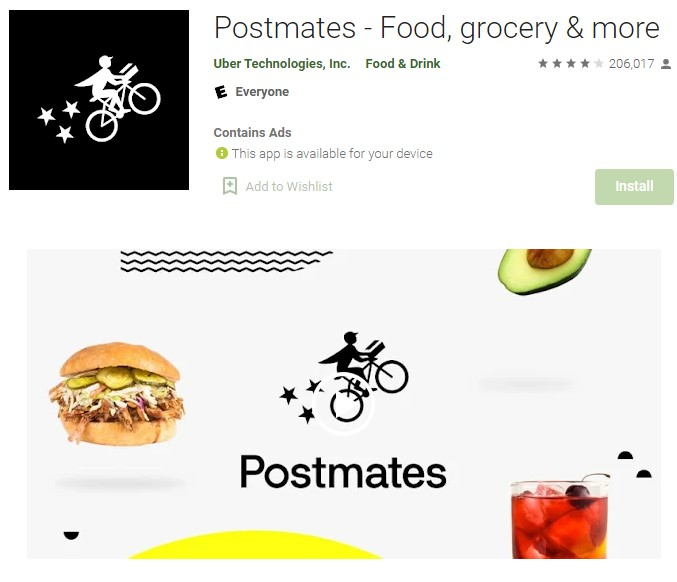 Description
Postmates is an apps like GoPuff that allows you to search for nearby restaurants. To order, choose from a variety of options, including pizza. Burritos. Burgers. Sushi. Food from China. You can skip the wait and make reservations ahead of time. With a few presses, you may order food from any menu and add it to your cart. Alternatively, you can place your food order ahead of time and have it delivered afterwards.
From your local store to liquor store to major beauty brands, there's something for everyone. Simply use Postmates to get them delivered in under an hour. Instead of ordering delivery, you can order food ahead of time for pickup. Select Pickup, add food items to your cart, then pick up your food at the restaurant. Alternatively, you can select for the new contactless delivery option and have packages left at your door. If you prefer to go out and retrieve the things yourself, you can plan a time for someone to come pick up your purchase. This function is particularly useful if you have a large or hefty order or are sick and don't want to leave the house.
More than 100,000 retail outlets, grocery stores, restaurants, and other places are available. Postmates, which is owned by Uber, is one of the best GoPuff app.
It's a local food delivery service that brings restaurant-prepared meals, groceries, and other necessities to your doorstep. You may browse all of the area's best eateries, add delectable items to your cart, and then place your order.
Customers can purchase from a variety of restaurants and retailers, not simply grocery stores and pharmacies, unlike services like Instacart and Amazon Flex.
FAQ
All the apps GoPuff alternatives are available for Android and IOS platforms?
Yes they are available.
These GoPuff alternatives offer unlimited free grocery deliveries?
Delivery fee and Unlimited free delivery will depend on the apps like GoPuff we have listed.
Feel free to visit our YouTube channel for troubleshooting guides on various devices.