There are numerous apps, such as Omegle, that you can use to do video chat and video calls with random people as an alternative. These apps provide the same core functionality as Omegle and allow you to explore more options for meeting random people to chat with. Sometimes you just want to experiment with different sites and apps where you can chat with other people. In this article, We will present you with our best apps like Omegle in 2023.
Omegle is a free online chat website and a video chatting platform where users can socialize and with others without having to register. The service pairs users at random in one-on-one chat sessions where they can converse anonymously. Omegle began as a text-only chat that randomly paired users to communicate as "strangers." However, in 2010, Omegle added a video chats to complement the text chat mode, which pairs strangers with webcams and microphones. The video chat also includes a text window. Omegle is a fun method to meet new people while maintaining your social distance. When you use Omegle, you are paired with someone at random to talk to one-on-one. If you want, you can enter your hobbies and be matched with someone who has some of the same interests as you.
Apps like Omegle that has random video chat site, video calls, or chat rooms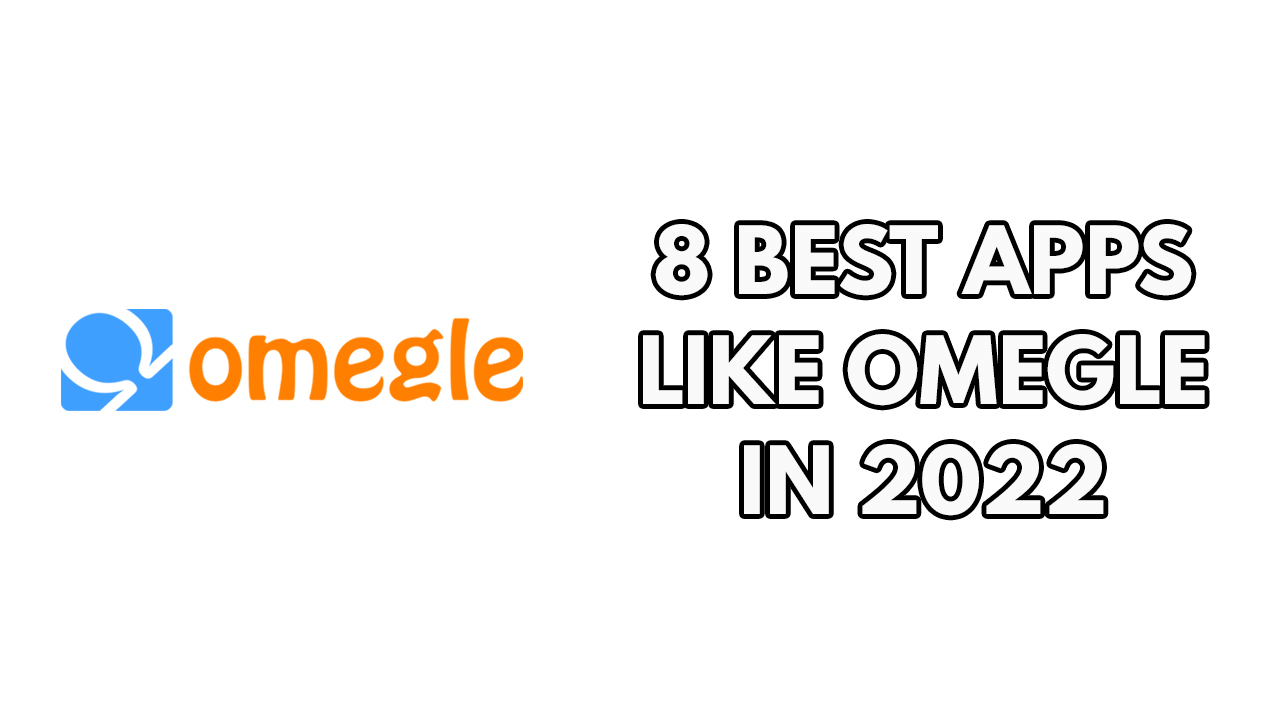 Omegle, which was launched in 2009, is a popular live video chat and video calls website and app that's currently the most popular live video chat apps in the US.
If you are looking for best Omegle alternatives for android and iOS devices to chat random people and has live videos then here are our top choices in 2023.
1.) Holla – Live Random Video Chat
Description
Holla is one of the best apps like Omegle, a video chat application like Omegle that was launched in November 2016 and has over 10 million downloads. The platform detects inappropriate behavior using AI image recognition and bans users in real-time. With Holla, you can meet new people from all around the world through the unique experience of completely free live random video chat and video call, free video chat, voice chat, and free text chat, which has more than 30 million users from 190 countries.
Meeting new people face to face with Holla is a brand-new experience when it comes to discovering new friendships from all around the world. It's quick and thrilling, and you know who you're talking to. It's also the best new way to learn new languages from people from all walks of life in one-on-one random video chat rooms. It is a perfect video chat app.
Holla has a good moderation system that is available 24 hours a day, 7 days a week. The screen will be blurred till his/her face is displayed when you are enjoying matching on your live random video chat. If you report someone who is acting inappropriately, you will no longer be able to see their profiles or match with them. Holla is dedicated to creating a secure and healthy environment for young people that is free of inappropriate behavior. As a result, you don't have to be concerned with your safety with this amazing app.
Features
Live video chat app for free
Live voice chat for free
Text chat for free
A one-on-one video call
Choose your preferred region and gender.
A secure environment
Make new friends from all across the world
Additional Information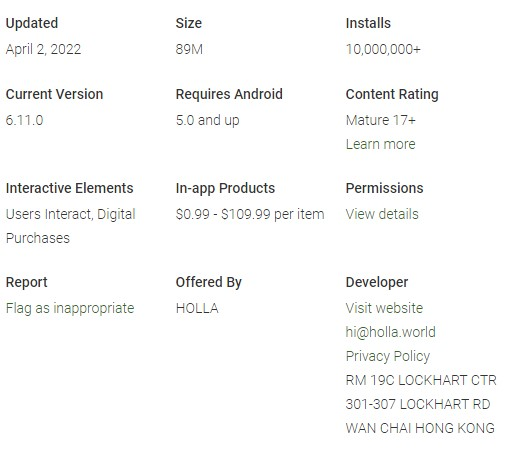 2.) Yalla – Group Voice Chat Rooms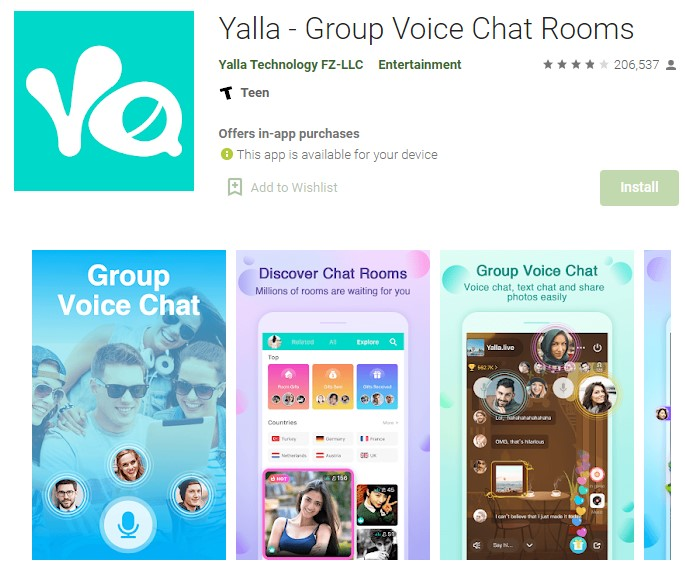 Description
Another apps like Omegle is Yalla for Android and iOS users, it is also one of the most popular live group voice talking and entertainment communities. You may use voice chat and play games with individuals from all over the world or from close by. Yalla allows you to choose from thousands of live rooms every day, filtering rooms by countries or topics. There have already been 50+ countries covered, and there are a variety of themes from which to choose. Group voice chats with friends from anywhere in the world, broadcast your favorite music inside the chat rooms, you cab sing karaoke together, and play a variety of games right in group chat.
Yalla also allows in-app purchases, so you may upgrade to Yalla Premium if you want more features. Yalla Premium is a paid service that is available every month. If you subscribe to Yalla Premium, payment will be charged to your Google Play account, and unless auto-renew is turned off, your account will be charged the same amount 24 hours before the current period ends. By heading to your settings in the Play Store, you may turn off auto-renewal at any moment. During the active subscription time, you will not be able to cancel your current subscription. You can still use Yalla apps for free if you don't want to pay for the premium version.
The following are the Yalla Premium in app purchases options:
Yalla Premium – Patrician for lavish features such as monthly golds to send gifts to others and purchase store things you like; a premium VIP badge that says something about your subscription; eye-catching arrival effects when entering a chat room; distinctive microphone animation when you talk, and more.
Yalla Premium – Knight, you'll receive more monthly golds, a more beautiful premium VIP badge, more eye-catching entrance effects, and additional benefits such as animated stickers that appear on microphones and a higher friend and follow limit.
Yalla Premium – Baron, Aside from monthly golds, a premium VIP badge, eye-catching entrance effects, exclusive animated stickers, and a higher friend and follow limit, it also includes expedited leveling, which allows you to advance faster than other players, an exclusive name card that demonstrates your noble status, and an exclusive luxury vehicle that draws everyone's attention when you enter a chat room.
Features
Use 3G, 4G, LTE, or Wi-Fi to have a free live voice chat session
Thousands of live chat rooms from nearby or around the world, covering thousands of topics
From anywhere in the world, start private one-on-one text and voice conversations with your friends online
Play multiplayer games in your chat room with your friends
To show your support, beautiful animated virtual gifts can be sent
Invite friends and new followers by sharing your favorite rooms on your social media account and on social networking media or social media platform like Facebook, Twitter, Instagram, and Snapchat
Additional Information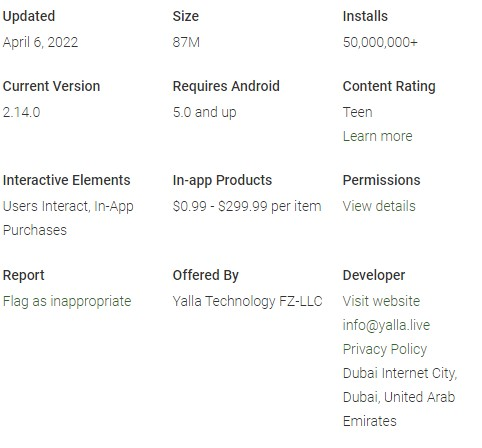 3.) Azar – Video chat & Livestream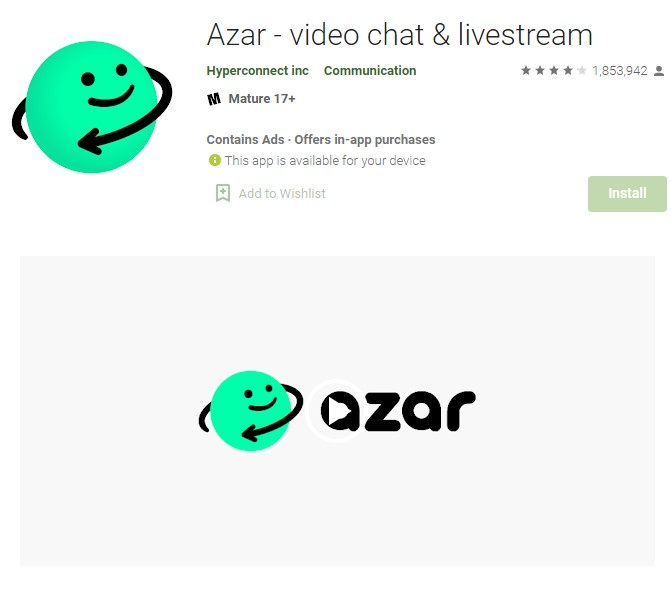 Description
Azar is one of the best apps like Omegle for Android and iOS users, it is a live video chat app that allows you to communicate with millions of people in your area and around the world in real-time. You never know who you'll meet on Azar. Azar, the all-in-one app for meeting new people, has risen to be the number one app for video chatting and meeting new people since its launch in 2014. in 2023, meet a brand-new Azar with a lot of other features, who will bring even more thrills, shocks, and connections.
Azar has a new and updated streaming service that aids in the discovery of your community. It is entirely up to you to make your decision. Sit back and watch your favorites, join in the fun as a guest, or take the lead and stream live videos.
The new Azar is also like a dating app that will be a great place to look for like-minded people in the community. Take your time to find the folks that pique your interest, and when you're ready to engage, send them likes or messages.
You can be anybody you choose, no matter where you are, thanks to the improved Avatar function. You have complete control over your matching experience thanks to new background filters and head-to-toe personalization options. You get to choose whether it's exciting or relaxing on this great app.
Azar's top goal is the users' enjoyment and well-being. The support crew and moderating services are supported by the greatest AI software that monitors activity on their platform 24 hours a day, seven days a week to provide a pleasant experience.
Azar also provides several in-app purchases and subscription options that give you more control
over who you can meet on this video chat app.
Features
Have real-time video chat interactions with random strangers
Use the Lounge to look for possible matches with a random person
Take on the role of host and meet new people
To talk with the right person you want to meet, use gender and regional filters
While chatting, add colorful backdrops, filters, and effects
Additional Information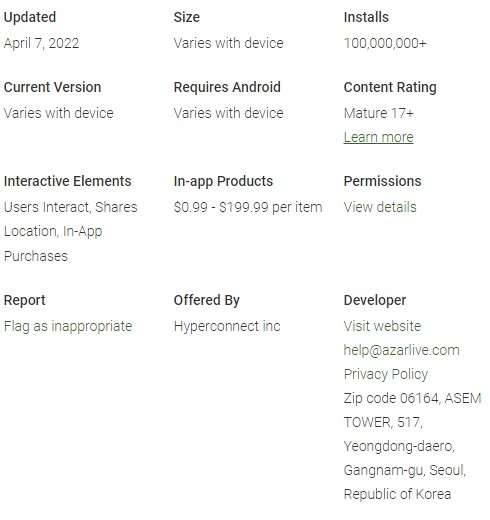 4.) Wakie Voice Chat: Make Friends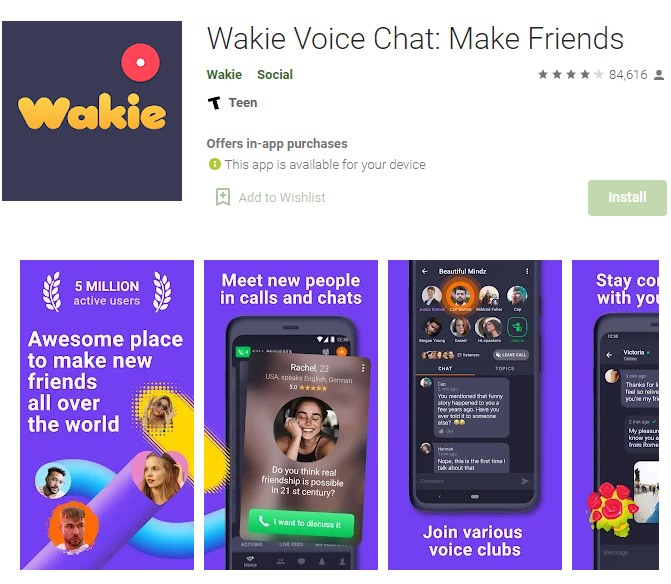 Description
An apps like Omegle is Wakie, a mobile app for Android and iOS users to do phone calls and talk to random strangers. Wakie was first offered in 2014 as an improved international version of the Buddhist wake-up call service. This was an app that replaced the standard morning alarm with a call from another user to assist people wake up in the morning. The whole point of it is for the caller to be able to offer you support, motivation, or simply talk you out of bed. This new service is supposed to offer similar capabilities, so you might be able to use it in the same way. The thought of being awoken by a human alarm clock piqued the interest of many people that it gained so much popularity.
With Wakie, all you have to do is press a button to find the right person to talk to right away. Wakie is a place where you may feel safe sharing your views and feelings with people who may become actual friends in the future. Start a free phone call with people all over the world or chat about anything with this user friendly app.
If you want to make your profile and interactions even more personal, use in-app purchases like the Wakie Plus subscription to get the most out of Wakie. Make your profile photo stand out by adding some stylish badges and background of any color you like. Promote your topics by moving them to the top of the Live Feed, where they will be seen by even more people. Choose people from the feed or carousel based on personal filters for a richer experience. You may also see who has viewed your profile and return to a topic you've already swiped with Wakie Plus.
Features
Create and search for topics that are important to you
Call people from all over the world
A safe place to be yourself
Support others with virtual gifts
Become a member of clubs to deepen connections
Additional Information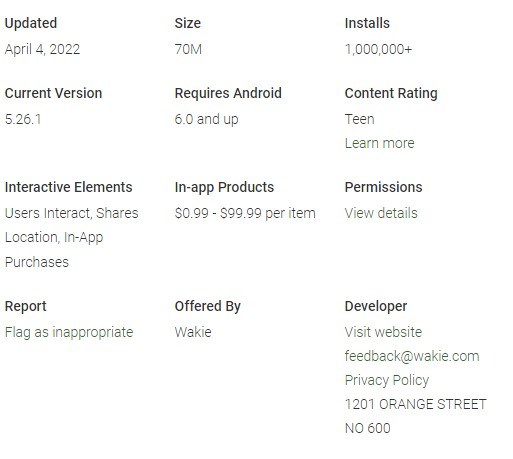 5.) LiveMe Pro – Go Live Stream!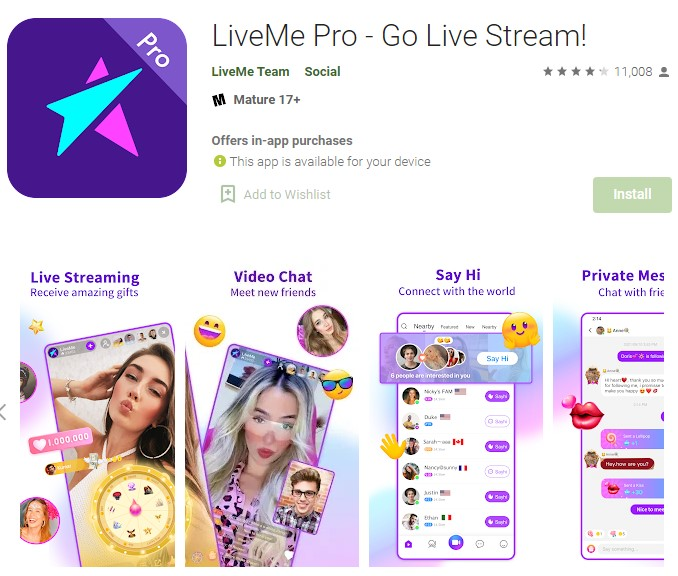 Description
LiveMe Pro is a popular apps like Omegle that has a lot of features. It enables you to live-stream important occasions, watched amazing live streams, and video chat with people all around the world. To become a social media influencer, you can use LiveMe Pro to go live and broadcast your life, gain fans, and receive prizes. LiveMe Pro promises to give you top-tier live broadcasts with 365 days of nonstop outstanding entertainment. This unique feature of this fantastic program makes it the most popular among those looking to generate money online. All users are protected by the app, which asks you to sign up with a social media account.
Features
Video Call & Live Video Chat feature
Room for Voice Chat
Streaming of Live Games
Filters and Stickers are widely available
Additional Information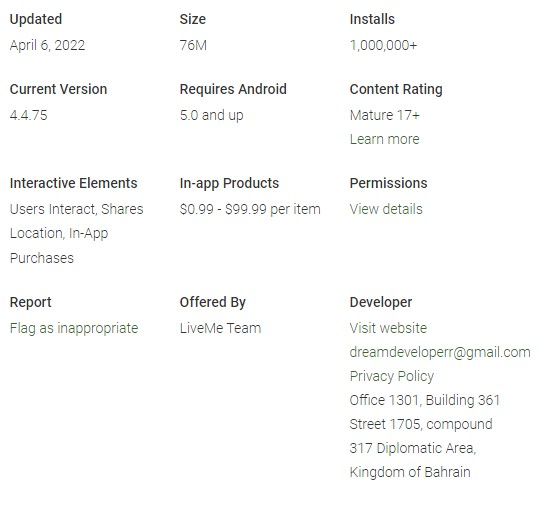 6.) Chatous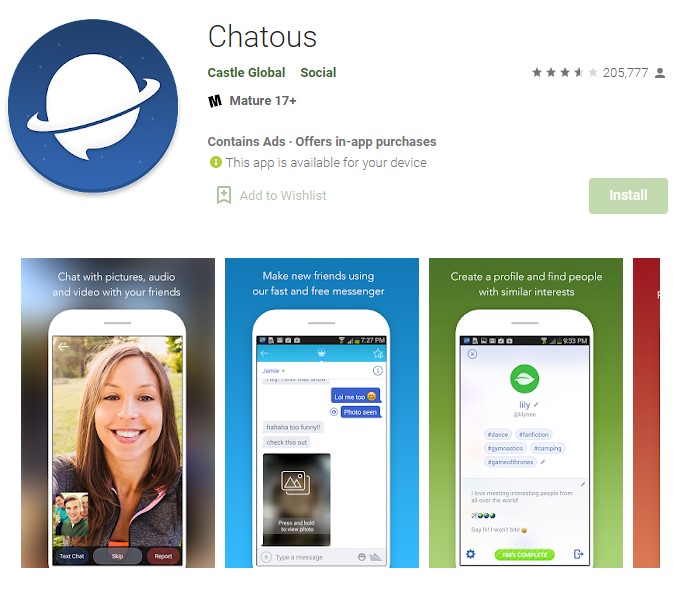 Description
Chatous is another popular apps like Omegle alternatives, It allows you to talk about your interests with people from all over the world. Keep in touch with the people you enjoy talking with and bring the conversation to life with photo sharing through Chatous.
It features a fantastic function that allows you to find someone to talk with based on your interests. It's a simple and free application for Android and iOS users. You must post or choose a hashtag so that individuals who have also chosen the same hashtag can start chatting with you. During your conversation, you can quickly share audio, edited video, text, and other media.
Features
Use #hashtags to identify and talk to individuals who share your interests
Protect your privacy by remaining anonymous or changing your display name at any moment – it will not be searched
Use Chatous on your mobile phone or at chatous.com on your desktop computer
Video chat and share photographs, videos, and audio messages which will expire
Additional Information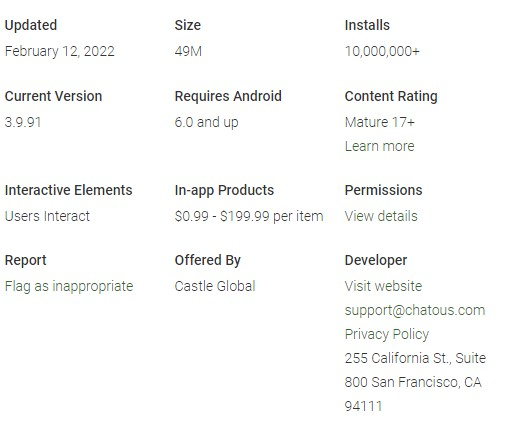 7.) Topface – Dating Meeting Chat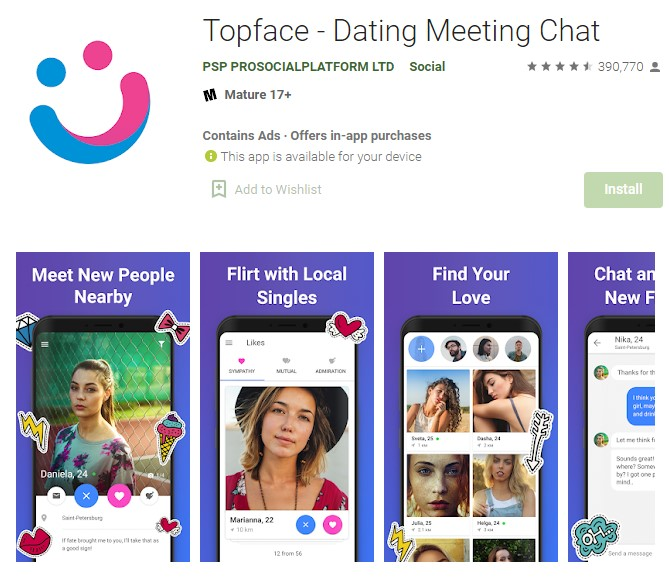 Description
Topface is another best apps like Omegle, this dating app which allows you to meet interesting people, girls, and guys from all over the world who share your interests and hobbies. This app supports Android and iOS devices which can be used to meet new people, stay in touch, communicate, and possibly for other purposes. When you use Topface, you'll see that you have the ability to meet with anybody you choose. More than 50 people will notice you on Topface in only 5 minutes and want to get to know you. Not only that, but your profile will receive well over a hundred likes.
Most of its users are just interested in meeting new people and dating. Strangers can flirt, text, voice, and video chat with each other on Topface. This app lets you conceal your true identity which makes it completely secure.
Features
You don't have to pay anything to access Topface
Topface is already used by 100 million people around the world to find people they are interested in
To begin using the app, either register or log in with your Facebook account
Additional Information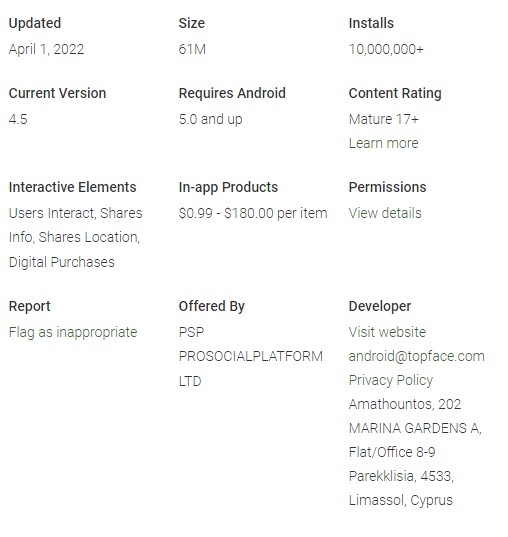 8.) AHA – Live Random video chat site, Meet New People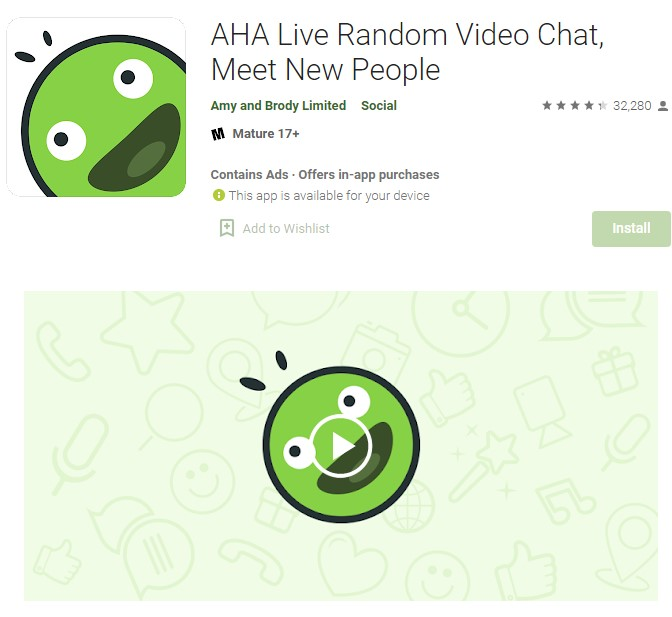 Description
One of the best apps like Omegle is AHA, At the turn of each swipe, Aha is known for having the best random video chat app for meeting entertaining and interesting individuals from all around the world!
Have you grown tired of being ignored by others when using standard talking apps? Are you fed up with people that are deceitful, dishonest, or lie about their gender? Would you like to form genuine friendships with people from all over the world without having to look at their profiles? Do you live in a place where connecting with others is difficult, or do you feel empty and have to share your views, ideas, or thoughts with someone? Regardless matter whether you use common texting apps or not, AHA allows you to create video calls to interact with others and build friendship. Chatting with people will quickly reveal whether your personality, worth, and interests are compatible. There will be no more deception or irritation when you discover you're conversing with a liar or dishonest friend, as is the case with most texting apps.
The objective of AHA is to deliver a video communication service that is simple, reliable, and enjoyable to use. You may talk to folks from all over the world face to face. We're working to create a community that's fun, clean, and harmonious, therefore any inappropriate behavior or breaches of the terms of service will be treated severely and your account will be terminated.
Features
Choose your preferred gender and region, and strike up new video messaging with strangers
Use 3G, 4G, and Wi-Fi to conduct video chat
To strengthen your friendship, you can send unlimited texts, video messages, and chat with your buddies
Hundreds of fantastic effects and filters to improve your appearance while video chatting
Add new people to your friend list via random chat
Foreign languages aren't a problem! In real time, your words will be translated. So get ready to meet new individuals as soon as possible
Additional Information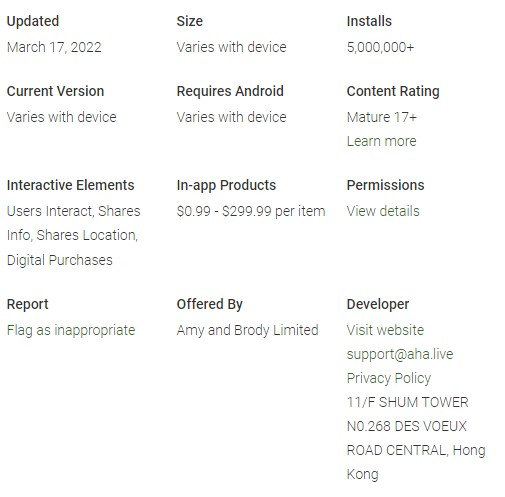 FAQ
Are these apps safe?

Because no one knows your phone number or other credentials, it is safe to use. These applications are a pseudonymous community where you can use any username and profile picture you choose and communicate with individuals all over the world.

Is talking to stranger safe?

When you use your actual name, address, and other personal information to communicate with individuals online, it might be dangerous.
Feel free to visit our YouTube channel for additional support and troubleshooting guides on various devices