Dev Error 6066 is one of the common error codes in Call Of Duty Warzone and a lot of players have reached out to us regarding this one. If you're one of them, these are the solutions that you should try to fix it.
How to fix COD Warzone Dev Error 6066?
Fatal or Dev Error 6066 in Warzone is usually caused by an issue with the graphics settings, hardware, or software of your computer. To fix this error, make sure that you do the following:
Fix #1: Restart your computer.
Before you do any aggressive troubleshooting, you want to ensure that you've refreshed the system by rebooting your computer. To do this, just shut down the PC and unplug it from the power source for about a minute. This should clear the RAM and hopefully get rid of memory bugs that may be causing this particular error.
Fix #2: Check for updates.
Call of Duty Modern Warfare and Warzone players may encounter the Dev Error 6066 if they're running outdated Windows Operating System versions.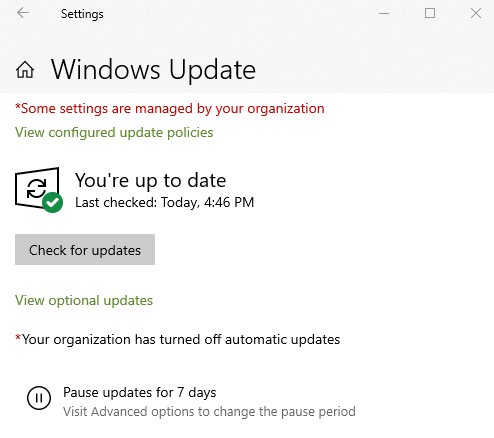 Go into Windows Settings>Update & Security>Windows Update to manually check for any system update you haven't installed at this time.
Fix #3: Install graphics drivers.
Another simple way to fix Dev Error 6066 in Call of Duty Warzone and Modern Warfare is to install the latest graphics drivers. If you installed the special software that comes with your graphics card such as the NVIDIA GeForce Experience (for NVIDIA GPU), that should take care of your graphics drivers at this time. However, you can also manually check by opening Device Manager and updating your Display adapter from there.
Fix #4: Use DirectX 11.
COD Warzone and Modern Warfare are designed to use DirectX 12 but you can try to force it to use DirectX 11. Some people were able to fix Dev Errors on Warzone by using this workaround. Here's what you need to do:
Open the Blizzard Battle.net client.
Select COD Modern Warfare > Options.
Select Additional Command Line Arguments and type "-d3d11" in the command line.
Run the game again and see if the error code is now gone.
Fix #5: Don't overclock the GPU.
For some players, the Dev Error 6066 only occurs when they overclock their graphics card. If you are one of them, try to see if you can fix the issue by reverting the clock speed of your GPU to normal.
Fix #6: Disable other apps.
Some programs may interfere with some applications or games. Try to close all applications including your security software or antivirus when Call Of Duty Warzone is running to see if one of them is the reason for this error.
If you're using applications with overlays such as Discord, Spotify, or any other similar applications, make sure that you close them too. The idea is to see if the error returns when only the game is running on the system.
Fix #7: Use PC Screen Only.
If you're using more than one monitor on your PC, make sure that you're using the right screen to play the game. To check, here's what you need to do:
Make sure to force close COD Warzone and Battle.net client using Task Manager (CTRL+SHIFT+ESC).
Go to the taskbar on your computer and on the lower right corner, click on the Notifications icon.
Click on Project.
Select PC Screen Only option.
Launch COD Warzone again and check for the problem.
Fix #8: Turn off Ray Tracing.
If you enabled Ray Tracing in either Modern Warfare or Warzone, try to see if disabling it will help you fix the problem. Some people discovered that turning off ray tracing in the game eliminated the bug so it's worth checking at this point.
Here's what you must do:
Go to Warzone Settings menu.
Go to Graphics.
Find Shadow & Lighting and select Disable DirectX Raytracing.
Fix #9: Update DirectX.
Another DirectX solution that you can try here is to ensure that the current version is updated. Go to the official Microsoft website and make sure that you download and install the available DirectX version.
Fix #10: Scan and repair.
To ensure that your COD Warzone game files are in good shape, you can run the Scan and Repair option in the Battle.net launcher. This may help you fix the issue if it's being caused by corrupted game files. Here's how: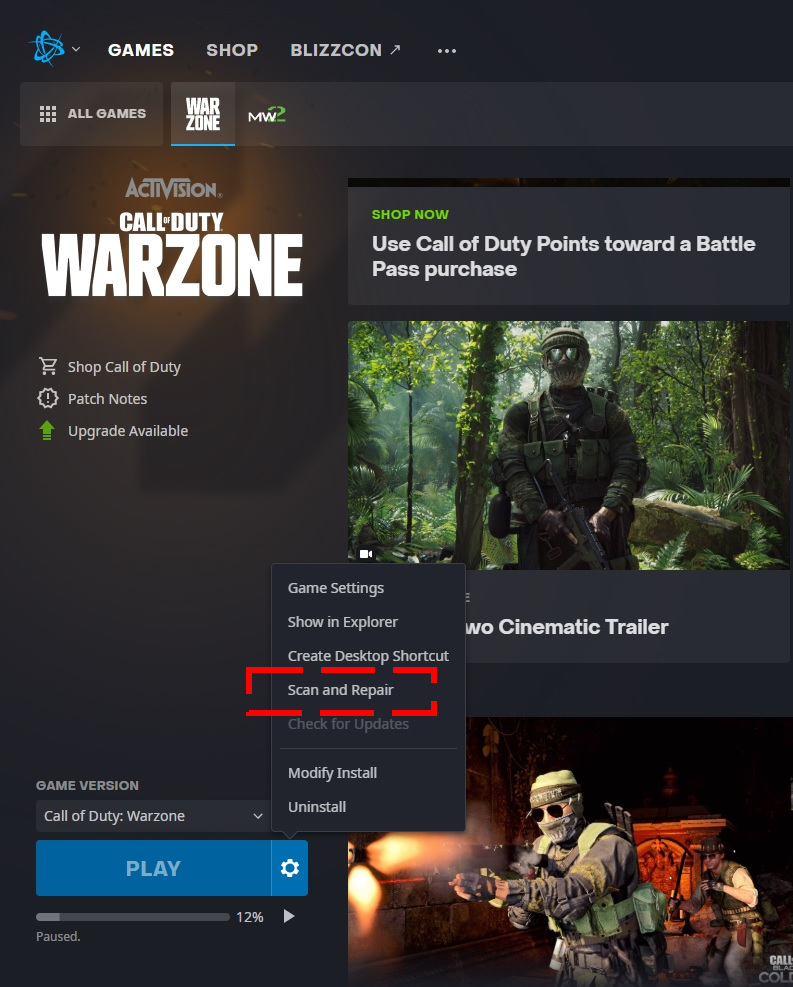 Open the Battle.net (Blizzard application).
Select the Call of Duty: BOCW game in the left panel (Below PARTNER GAMES).
Click on OPTIONS (middle of the screen, COG/GEAR icon).
Click on Scan and Repair.
Click on Begin Scan.
OTHER INTERESTING ARTICLES:
Visit our TheDroidGuy Youtube Channel for more troubleshooting videos and tutorials.