Streaming music and sharing it with friends while playing has become easy with Discord music bots. Adding a music bot in your Discord server is very simple and only takes a handful of moments to do. With Discord music bots, you can play music and share it with all members of the server with a single command.
If you haven't heard of a Discord music bot before and you're interested to know how to use it, check out this guide.
What is a Discord music bot?
A Discord bot is an automated application that allows a user or users in a server to play music from other sources (such as Youtube, Spotify, website links, etc.). It's a great addition to a server if the members want to share music for everyone at the same time. Discord bots automatically find songs from sources on the internet and play them in a voice channel you're in. It's a great way to enjoy background music while having fun with games, or when chatting with your friends.
Some Discord music bots have certain features that others may not have and since there's a whole lot of music bots on offer at this time, what you need to do is to simply pick one and use it on your server.
How to add Discord music bots in 2023?
If you're a server owner and you want to add a music bot, below are the easy steps that you need to do. Keep in mind that only the server admin has the permission to add Discord music bots by default. However, if you are not the server admin but wants to manage the addition of music bots, you need to ask permission first from the server owner or admin.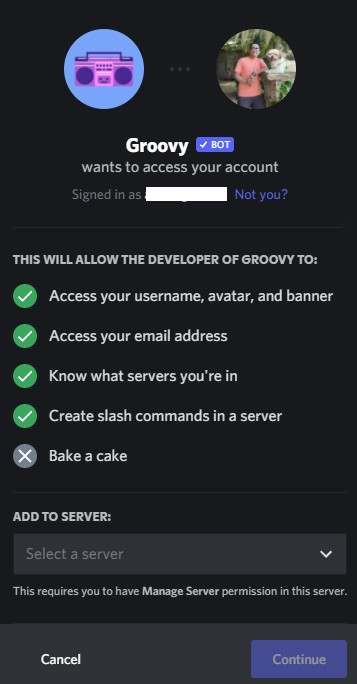 Find a good guide that will show you a list of music bots. For tutorial purposes, we will be using the Groovy music bot. 
Make sure to open Discord.
After you've taken your pick, find the link to add the bot to Discord (may also say INVITE). In the case of Groovy.bot, simply click on Add to Discord button.
Then, pick the server where you want the bot to be added to. If necessary, make sure to click on Administrator box and click Authorize to proceed.
That's it! The Groovy bot should now be ready to play songs in your Discord server.
Keep in mind that each Discord music bot has its list of commands. Try to do some research if the commands are readily available. In the case of Groovy bot, you simply have to type in "/" to open up a list of commands for more functionality.
Is Discord music bot free?
Most Discord music bots are free although almost all of them require a premium subscription fee in order to access certain features like volume control, bass boost, autoplay, etc. If your goal is sharing or playing music within the members of your server, then paying for a premium is not necessary. You should find almost all the basic things that you want by utilizing the basic offerings of each music bot.
For Groovy music bot, it will allow you to create playlists, stream songs, and do other things as far as playing your favorite songs is concerned.
Is using Discord music bot safe?
Discord allows usage of music bots in its platform so it's generally safe, especially if you stick to known ones.
The main concern of many though is the legality of using music and its copyright. This is a tricky issue even today and many Discord music bots were permanently shut down because of copyright issues. Using music bots is not illegal per se but using it may violate certain DMCA (Digital Millennium Copyright Act) rules. To be on the safe side, you should consider bots that primarily use YouTube and Spotify as sources for music. Groovy bot does that as well as other known music bots so, in general, Discord music bots are not breaking laws at all.
What is the best Discord music bot?
As mentioned above, there's a lot of music bots for Discord that you can choose from so it all comes down to your preference. Majority of these bots are easy to install and use although there's a few that stand out such as Groovy, Rythm bot, Chip, Octave, and Vexera. Try to check some of them to see which of them is the best music bot for you.
OTHER INTERESTING ARTICLES:
Visit our TheDroidGuy Youtube Channel for more troubleshooting videos and tutorials.