Today's guide will talk about one of the frustrating issues on the new Call Of Duty Modern Warfare 2 — the dev error 356. If you're getting this error and you have no idea how to go about it, this guide is for you.
What does dev error 356 mean?
There is no clear explanation from Infinity Ward or Activision support what dev error 356 actually means but some gamers theorize that it may have something to do with the in-game language packs not working properly. Others don't think this is the case though as they do not have any problems with certain language packs at all.
The only certain thing about the problem is that it only occurs when trying to play an online match. The offline campaign of the game does not trigger this issue so it may be caused by either a server-side glitch, internet connection of the user, or an in-game bug.
How to fix Call Of Duty Modern Warfare II dev error 356?
It's disheartening to have your match interrupted due to Dev Error 356, especially since you have no control over when or why it will occur. If you're experiencing this error right now and you have no idea how to fix it, try out these solutions.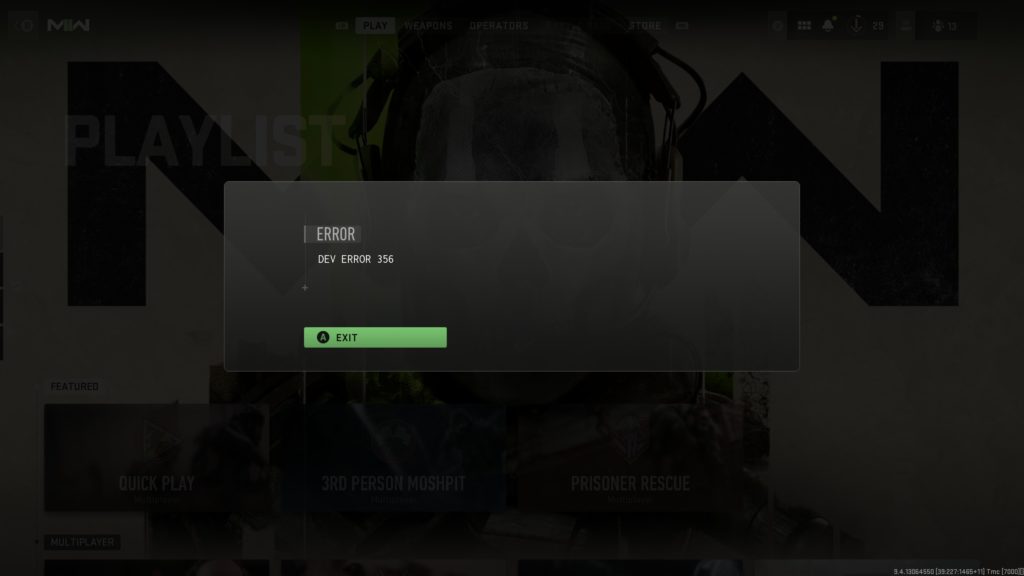 Fix #1: Restart the game.
Minor game bugs are sometimes fixed by simply closing and restarting the game. If it's your first time to experience the error, consider closing both the game software and the launcher (Steam, Battle.net, Xbox Game Pass) and see if that will fix it.
If the game has become unresponsive and you can't seem to close it, pull up the Task Manager first and close both the game and the launcher from there.
Fix #2: Reboot your PC.
Another easy trick to try in fixing dev error 356 is to restart your PC. Doing so refreshes the system and hopefully helps in getting rid of this dev error.
Fix #3: Verify integrity of game files.
Game files can sometimes become corrupted or damaged, which can then lead to gaming problems, and sometimes to specific error codes or dev errors. If you're still getting the dev error 356 after restarting the game and your PC, the next thing that you can do is to verify the integrity of game files.
The exact steps of doing this solution depends on your game launcher.
Repairing Modern Warfare II game files on Steam
If you're playing Modern Warfare 2 on Steam, here are the steps: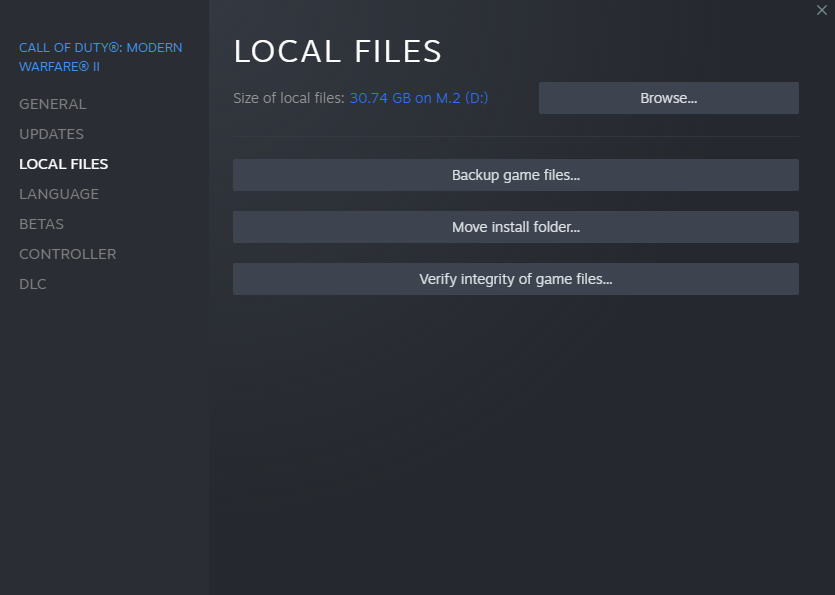 Go to your Games Library.
Right click on Call of Duty Modern Warfare 2.
Select Properties.
Go to Local Files tab.
Click on Verify Integrity of Game Files.
Restart Steam and launch Call of Duty Modern Warfare 2 again.
Repairing Modern Warfare II game files on Battle.net
If you're playing the game via Battle.net, here's how to repair the game's files:
Open the Battle.net app.
Find the Call of Duty Modern Warfare 2 icon and open the game.
Select Options.
Select Scan and Repair.
Click Start Scan.
Repairing Modern Warfare II game files on Xbox Game Pass (Windows)
Here's what you have to do in order to play Modern Warfare 2 that you bought using the Xbox app on Windows or the Microsoft Store:
Open the Xbox app.
In the left panel, check the Installed games and click on the three dots beside Call of Duty Modern Warfare 2.
Click on Manage.
Go to the FILES tab.
At the bottom, click on the VERIFY AND REPAIR button.
Check for dev error 356 afterwards.
Fix #5: Turn on Shader Cache Optimization.
For PC users, the main reason for their dev error 356 problem is the game's Shader Cache. When the game is loaded, the textures and assets can be re-rendered. It will allow the game to replace or update any of its dated parts, giving the entire experience a new lease on life.
Make sure that you enable Shader Cache Optimization before launching the game again. Turning on this feature has been the permanent fix for some so hopefully this will work on your case too.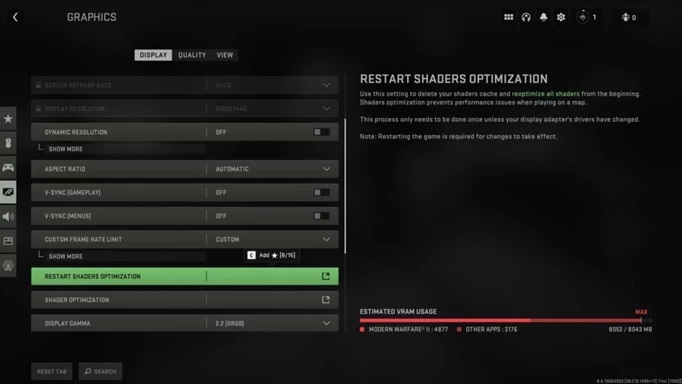 Here are the steps to restart shaders optimization:
Open the Modern Warfare 2 Settings menu.
Go to Graphics.
Under the Display tab, click on Restart Shaders Optimization.
It's a good idea to give this feature a shot if you're having performance troubles as well, just to see if it can assist you out in a hurry. It may take a while for the effect to take effect the first time you play a match or the campaign after selecting the option.
Once you've restarted the Shader Cache, run the game again and check if the dev error 356 remains.
Fix #6: Check the server status.
Some people may not be able to fix dev error 356 simply because it's outside their control. This can happen if the bug is being triggered by a server glitch.
Errors caused by server issue are usually fixed in time by Infinity Ward, the game's developer so all you have to do is to wait until the issue is resolved. What you can do in the meantime is to check the server status.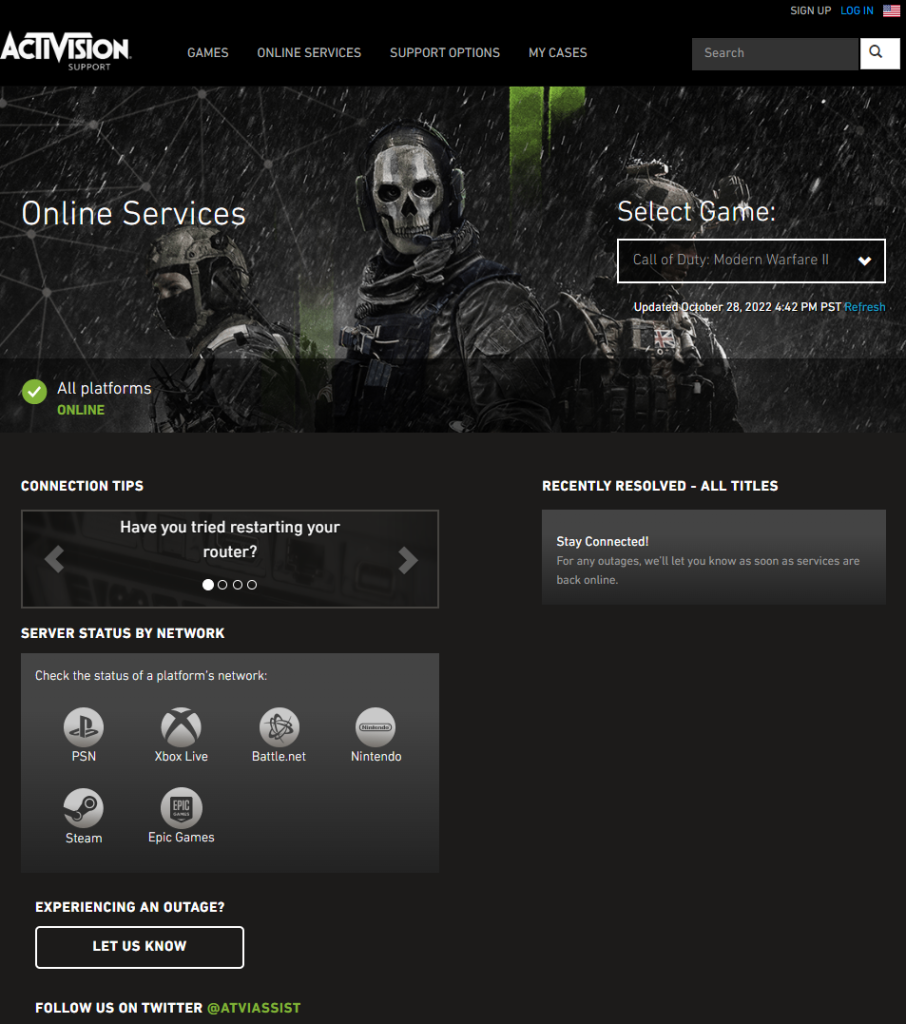 Check the Activision support site right now to see if there are any known server issues.
Alternatively, you can check their official Twitter account may contact Activision Support.
Fix #7: Troubleshoot your internet connection.
Modern Warfare II players sometimes experience online problems due to their internet connection. There are a handful of quick steps you may run to see if this is the case.
The first thing you should do is reboot your modem or router.
Turning off and disconnecting the power to your network equipment will force it to restart.
This easy fix frequently fixes Internet problems caused by short-lived glitches.
If you have an unstable connection or if your internet keeps dropping out, you may encounter errors. The best way to find out is to perform a speed test on your PC and see what your current download and upload rates are.
Make sure your upload and download speeds are at least 10 Mbps if you want to do most of your gaming online. This will guarantee that your device always has a solid connection to the internet's servers.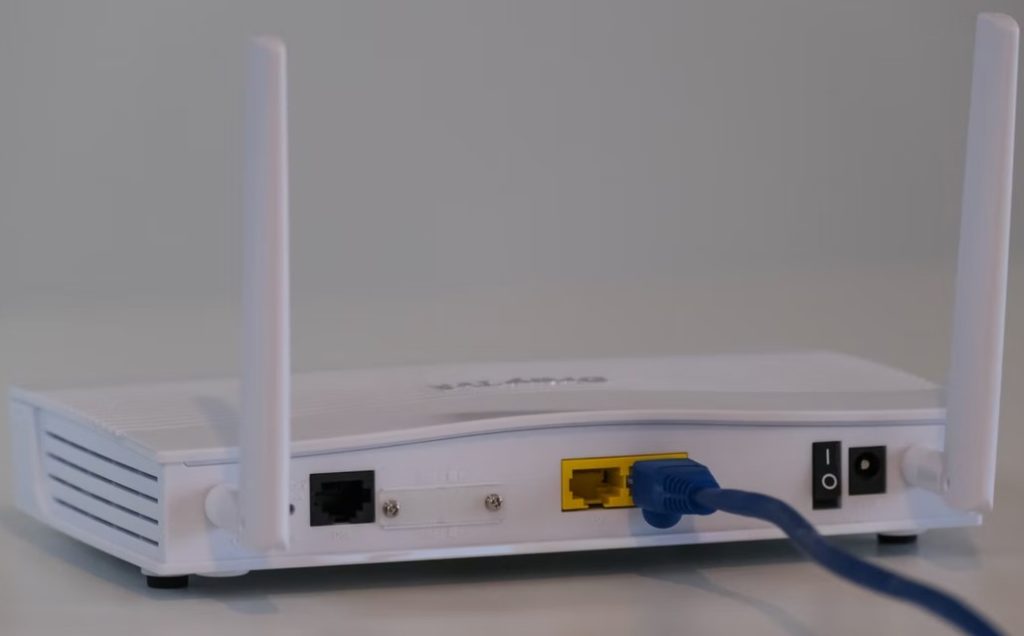 Connecting your computer or gaming console directly to the router through an Ethernet connection may resolve the problem if you have been relying on wireless connectivity for your gameplay.
If you can't use a hardwired connection, get your device as close to the router as possible to boost the strength of the wireless signal. If doing this fix dev error 356, that can be an indicator that there's an issue with your wifi.
Fix #8: Use a VPN.
I don't highly recommend VPN usage when it comes to fixing connection errors on games but if nothing has helped so far, you can give it a try. This is not a guaranteed way to fix dev error 356 but it's worth testing out especially now that you're running out of options.
Virtual Private Networks or VPNs might work with some players and not for others. If you want to check if a VPN can help you, I suggest that you try the free version of the premium service you're planning to get. This can help you avoid paying for a service that might not work at all.
FAQs
Why do I keep getting the Call Of Duty Modern Warfare II Dev Error 356?

There are many factors to consider when dealing with this error. It seems to only occur when playing an online mode of Modern Warfare II so your troubleshooting must be centered towards fixing possible connection issues.

How do I fix Call Of Duty Modern Warfare II Dev Error 356?

There are a number of dev error 356 solutions that you can try. For some people, restarting the game or their PC is enough but others may requires more in-depth troubleshooting. 
Check out the solutions in this guide to know what to do.