Are you getting the Valorant shipping error 0xc0000005 when launching it? The full message reads:
The application was unable to start correctly (0xc0000005). Click OK to close the application.
In this troubleshooting guide, we'll show you how to fix this bug.
How to fix Valorant 0xc0000005 error code?
If there are annoying errors that one can encounter in Valorant, the 0xc0000005 will most likely be on top of the list. Anyone getting the Valorant shipping error 0xc0000005 will be unable to launch the game at all so there's no way to other option than to face it head on. Unfortunately, fixing this error code is not straightforward and there's no official word from Riot Games on what to do exactly.
The solutions that we provide below come from the fixes that we've collected since this error code started showing up. If you're interested to know what they are, read on.
Fix #1: Interference from antivirus software.
Many players who encountered the error 0xc0000005 resolved the bug by disabling their antivirus software. It looks like third party programs including certain security software can prevent Valorant game client from opening. If you have a third party antivirus on top of Windows Defender, consider turning that off before launching Valorant again.
Riot Games did not specify the antivirus software that affects their product so as a general rule, simply try turn off your software regardless of which company it's from. If your Valorant shipping error 0xc0000005 goes away when you turn off the antivirus software, that's a confirmation that your game client is indeed being affected by a third party program. As a temporary workaround, consider maintaining the setup by leaving the antivirus disabled when you play. Just make sure to turn it back on after playing.
Fix #2: Disable the Data Execution Prevention feature.
DEP or Data Execution Prevention is a Windows OS feature that prevents viruses and malware from making changes to your computer's system files. Malware and viruses usually execute codes from system memory locations that Windows system uses so preventing access to these memory locations is the key reason why DEP was built.
Turning off DEP is never recommended but for troubleshooting purposes, you want to do this to check if Valorant is being prevented by this feature at this time. Just like your antivirus software, you want to make sure that you re-enable DEP after your troubleshooting session.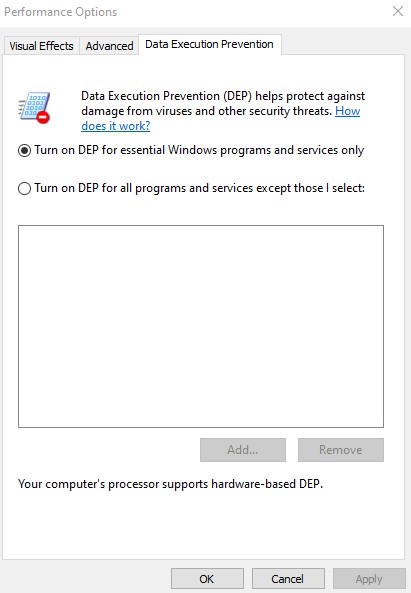 Here are the steps on how to disable DEP:
Press the Windows key + R.
Type in "sysdm.cpl" in the Run dialog box and press Enter.
Click Advanced tab.
Under the Performance section, click the Settings button.
Click the Data Execution Prevention tab.
Select "Turn on DEP for all programs and services except those I select."
Click the "Add" button and then locate the Valorant executable (.exe) file.
Click "OK."
Restart the computer and try launching Valorant again.
Fix #3: Check for corrupted system files.
If you continue to get error 0xc0000005 when playing Valorant, make sure that the next solution you make is to address the possible missing DLL files. Here's how:
Press the Windows + R keys.
In the Run dialog box, type in "cmd".
Press Shift + Ctrl + Enter keys together.
In the Command Prompt, type in "sfc /scannow" and press Enter.
Wait for the system to scan your computer and hopefully fix the problem for you.
Fix #4: Run Valorant as Administrator.
Some games and programs may require elevated access as Administrator in order to use system files. Make sure that you run Valorant as Administrator with these steps: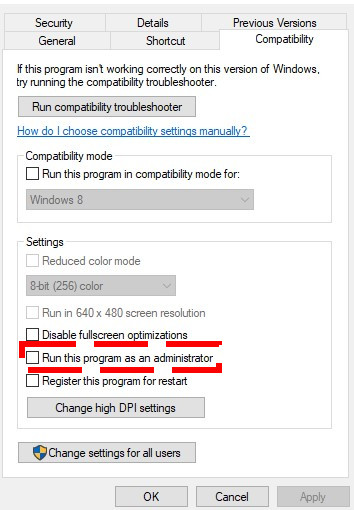 Find the game shortcut on your desktop and right click on it to select Properties. (Alternatively, you can press Windows key on your keyboard, search for the game, right-click on it, and select Run as administrator).
Select Compatibility tab.
Put a check on the box next to Run this program as an administrator.
Click Apply.
Click OK.
Restart your PC and launch GTA 5 again.
Fix #5: Close all Valorant processes.
For some players, simply restarting Valorant was enough to get rid of 0xc0000005 error. If you haven't tried it yet, open the Task Manager and make sure that you close all Valorant processes. Then, launch the game again and see if the Valorant shipping error 0xc0000005 is now gone.
Fix #6: Delete and reinstall Valorant.
The final fix that you can try in this situation is to ensure that delete and reinstall Valorant. This may work if the cause of the problem lies deep within the software.
If the Valorant shipping error disappears after reinstalling the game, make sure that you keep the game and the software environment of your PC updated in the future to avoid bugs and glitches.
OTHER INTERESTING ARTICLES:
Visit our TheDroidGuy Youtube Channel for more troubleshooting videos and tutorials.