One of the common complaints that many SteelSeries Arctis 7 users encounter is the weird crackling sound issue. The sound can occur randomly, although some people may experience the issue more often when in games. If you are experiencing the same issue whenever you use the wireless mode of your Arctis 7 headset, check out the solutions in this guide to fix it.
Why does your SteelSeries Arctis 7 make a crackling sound?
There are several reasons why you may be hearing crackling sound or noise when using the SteelSeries Arctis 7 headset. These causes can vary and every individual case may have a different issue.
We've identified four commonly cited causes in many cases over the years. If your SteelSeries Arctis 7 makes crackling or popping sound during games, when listening to music, or voice chats, it may be due to one of the following reasons below:
outdated audio drivers
audio enhancements
usage of Spatial Sound feature
incorrect network settings
For most people, any one of these causes can lead to unwanted crackling noise so you'll need to figure out which of these causes is the likely reason in order to fix the problem.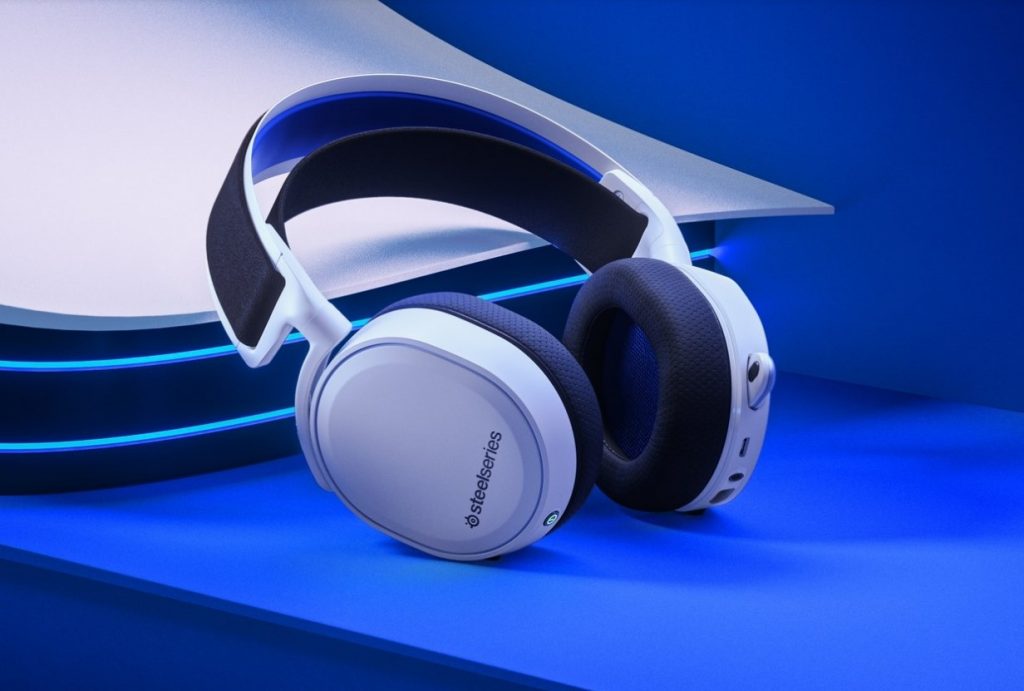 How to fix SteelSeries Arctis 7 crackling sound on Windows 10?
If your SteelSeries Arctis 7 headset is making crackling noise and you have no idea why that is, these are the troubleshooting steps and solutions that you can try:
Fix #1: Restart your Arctis 7 headset.
Refreshing the headset is the simple first step in this situation. Try to press and hold the Power button on your headset for about 2 seconds. Make sure that the Power button is not flashing as that can indicate that the headset has not been turned off.
Once the headset is off, you can turn it back on by pressing and holding the Power button again for 3 seconds. While doing this, make sure that everything is correctly connected by double-checking the connecting of the wireless transmitter to the USB port.
Fix #2: Connect the wireless transmitter to another USB port.
For some people, audio interference may happen due to issues with their USB port. If you've been using the same USB port on your computer since you began using the Arctis 7, try to see if using another port will eliminate the problem. You'll need to use your headset for a while to notice if there's a difference after doing this troubleshooting step.
Fix #3: Reset network settings on Windows 10.
Your wireless headset may be having issues with the current network settings on your PC. Try to reset the network settings and see if that will help. Here's how:
Press the Windows key on your keyboard or the Start button on the lower left corner.
Select Settings (gear icon).
Click Network & Internet.
Click Status.
Scroll down until you find Network reset and click it.
Click Reset now.
Click Yes to confirm.
Reboot your PC.
This procedure will wipe all network settings for your wifi networks, VPNs, and Bluetooth devices. You'll have to reconnect to them afterwards.
Fix #4: Change your Equalizer settings in the SteelSeries Engine software.
For some people, tweaking the equalizer settings on their SteelSeries Engine software is the key to totally eliminating sound issues. When you click your headset in the SteelSeries Engine, one of the things that you'll see is the Speaker equalizer settings.
There are six presets that you can use right away but if you have a crackling noise issue on your Arctis 7, you can manually move the sliders for each frequency up or down. Try playing around with the settings and see which custom settings will work for you.
If you have the ChatMix dial, try to use a flat preset where the bar are set to the mid range.
Keep in mind that there's no specific custom settings that we can suggest so you'll have to figure this out on your own.
Fix #5: Install audio device drivers.
If you're getting the crackling or popping noise when you're connected to your PC, make sure that all your drivers, particularly the ones for your sound card, are up-to-date. The easiest way to update all the drivers is by ensuring that you check for Windows updates. To do that, go to Windows Settings>Update & Security.
Alternatively, you can also open the Device Manager and manually update the drivers for every component that needs it.
Fix #6: Turn off Audio Enhancements.
Another tweak that you can try is by disabling Audio Enhancements in Windows. Here's how:
At the lower-right corner of the screen, right click the speaker icon.
Select Open Sound settings.
Click Sound Control Panel.
Right click your headset in the Playback tab and select Properties.
In the Properties window, select the Enhancements tab and check the box next to Disable all enhancements.
Click Apply > OK to save the changes.
Fix #7: Turn off Spatial Sound.
If you are still having an issue with your gaming headset at this point, the last solution that you can try is to disable Spatial Sound. While many people does not find any problems when using the Spatial Sound feature in Windows 10, some few SteelSeries users have discovered that turning off this feature helps in eliminating the weird popping or crackling noise.
OTHER INTERESTING ARTICLES:
Visit our TheDroidGuy Youtube Channel for more troubleshooting videos and tutorials.