Fortnite continues to be on top of its genre today, and it's not a surprise at all. The game regularly updates its characters and keep the gameplay interesting. With millions of people playing this game every month, it's no wonder that some may experience issues such as the one we're fixing today. In this troubleshooting guide, we'll be dealing with the annoying Fortnite LS-0013 error code. The full error reads:
Launch Failed. Could not launch Fortnite. Please verify the installation. Error Code: LS-0013.
To know more about this error and how to fix it, continue reading below.
How to fix Fortnite LS-0013 error code?
If you're getting the LS-0013 error when trying to launch Fortnite, it can be due to one of several possible causes. To know the real reason for the problem, you'll need to perform a number of troubleshooting steps.
By far, the most common reason for the LS-0013 error on any games in the Epic Games launcher is a corrupted Launcher webcache. Clearing the webcache can be done easily anytime on your Epic Games launcher.
Another possible reason for the problem is bad game data. This may happen if the game did not update correctly, or if there are missing files for a particular game.
For some people, LS-0013 error can be a sign of a conflict between the game and another program. The most common programs to cause interference are security software. If you are using a third party antivirus or anti-malware software, it may be set to strict that's why it's restricting some programs from running or launching. You can try to disable this security software before you launch Fortnite again.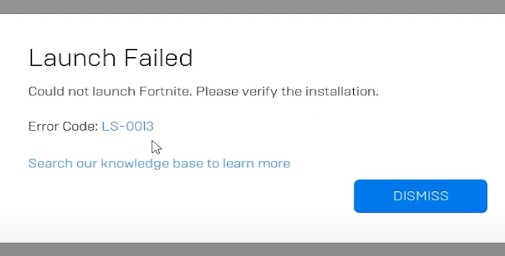 In some rare cases, the version of the game you may be playing at the moment may no longer be valid. While this cannot happen on Fortnite, especially if you've already played online before, you have to make sure that you verify the game version and update it to the current one if applicable.
Below are the solutions that you can do to fix the Fortnite LS-0013 error code:
Fix #1: Close the restart the Epic Games launcher.
Closing and restarting the Launcher and Fortnite is a basic troubleshooting step in this situation. Doing so not only refreshes the apps but will also trigger any update that you haven't installed yet.
Fix #2: Verify the Fortnite game data.
If nothing happens after you've restarted the game client and Launcher, the next step that you can do is to repair possible corrupted or outdated game files.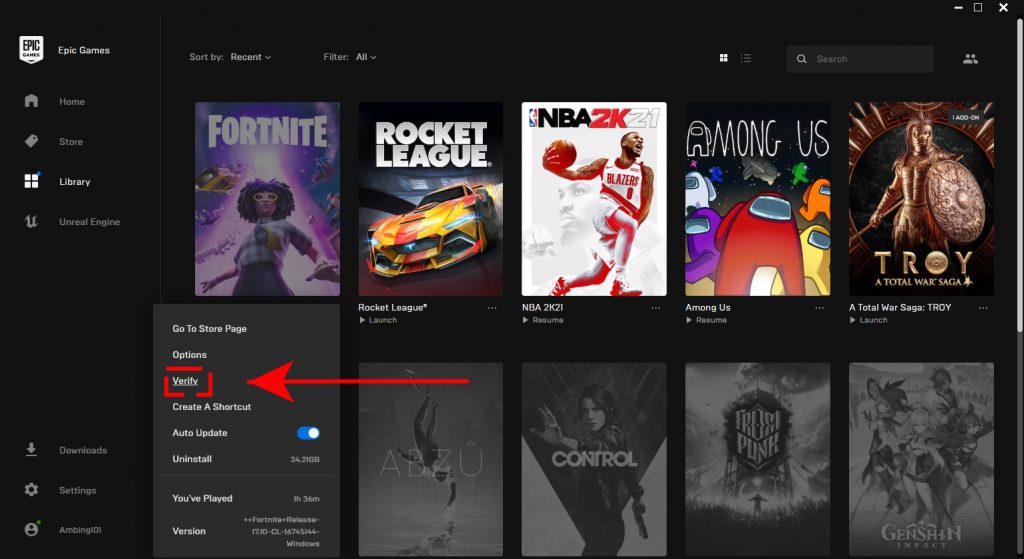 Here's what you need to do:
Close Fortnite (if you're running it).
Open Epic Game launcher.
Click Library on the upper left.
Below the game tile, click on the three-dots icon.
Click Verify.
Wait for the process to finish.
Launch the game and check if the LS-0013 error code returns.
Fix #3: Refresh the Epic Games launcher webcache.
If you noticed that Epic Game launcher is lagging and having a hard time launching Fortnite, it's webcache may be to blame. Follow the steps below on how to clear the webcache:
Close Fortnite and relaunch the Epic Games launcher.
Press Windows key + R and type "%localappdata%" to open a File Explorer window.
Open the Epic Games Launcher folder.
Open the Saved folder.
Click the webcache folder, and then delete it.
Restart your computer and start the Epic Games Launcher.
Fix #4: Close other background applications.
As mentioned previously, some apps may cause interference with other programs such as games. If you're running a security software that's not from Microsoft, try to see if Fortnite can launch if you close them first. You can also opt to close your security software before you run Epic Games launcher.
If you have other applications running aside from your antivirus or antimalware, try to close them as well to see if that will make any difference.
To easily close any background application, we suggest that you use the Task Manager app (CTRL + SHIFT + ESC).
Fix #5: Run Fortnite as administrator.
Some apps or games may need elevated permission to access restricted system files. Make sure that you allow Fortnite to run as Administrator so it can get to the necessary files it needs to run properly. Here are the steps to run Fortnite as administrator:

Click the Start button on the lower left corner or press the Windows key on your keyboard. (Alternatively, you can go to the installation folder of Fortnite and right click on it to go to Run as administrator option.)
Type in "fortnite" and right click on Fortnite app.
Select on Run as administrator.
Fix #6: Reinstall Fortnite.
Any of the previous solutions should have fixed your Fortnite LS-0013 error code by now. However, if nothing has changed so far and the problem returns, consider deleting and re-installing Fortnite to fix the problem. This may work if the cause of the problem is a bug hidden deep within the system that any of the fixes above has not addressed.
OTHER INTERESTING ARTICLES:
Visit our TheDroidGuy Youtube Channel for more troubleshooting videos and tutorials.