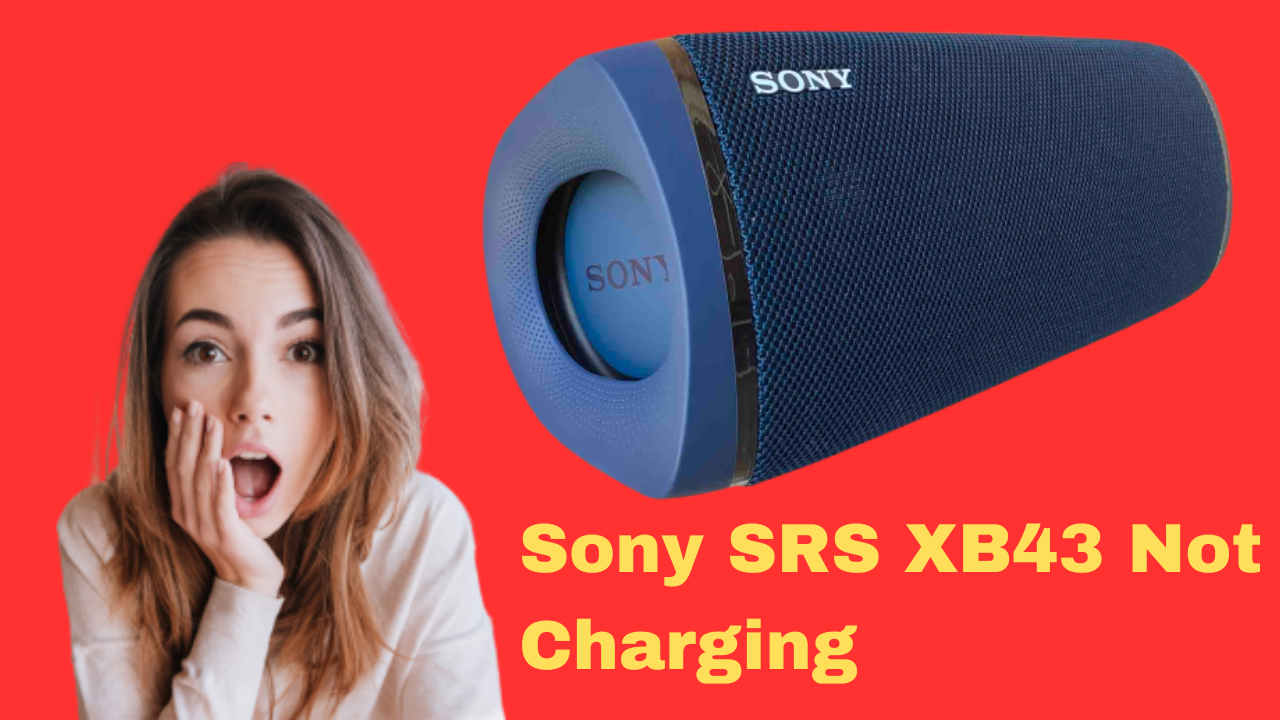 Are you having trouble charging your Sony SRS XB43 Bluetooth speaker? This could be due to a software glitch, a faulty charging port, a defective charging cable, or a faulty charger. Fortunately, there are several troubleshooting steps you can take to try and resolve the issue.
The Sony SRS-XB43 is one of the best portable Bluetooth speaker models that delivers powerful sound with a range of impressive features. It features a sleek and durable design that is dustproof, waterproof, and shockproof, making it perfect for outdoor use. With up to 24 hours of battery life, this speaker allows you to enjoy your music for an entire day on a single charge. Whether you're at home, at the beach, or on the go, this speaker is a must-have for music lovers who want to take their audio experience to the next level.
Technical specifications:
DIMENSIONS (W X H X D): Approx. 325 x 123 x 117 mm (w / h / d)
WEIGHT: Approx. 2,950 g
SOUND MODES: Clear Audio+, DSEE, LIVE SOUND, EXTRA BASS Tm, STAMINA MODE
NFC: Yes
HANDS-FREE FUNCTION: Yes
Bluetooth: Version 5.0
FREQUENCY TRANSMISSION RANGE: 20 Hz–20,000 Hz (44.1 kHz sampling)
INPUT AND OUTPUT TERMINALS: Stereo Mini Jack (in), USB C, USB A
BATTERY LIFE: Approx. 24 h
WATER PROTECTION: IP67
No Charge? No Problem: How to Fix Sony SRS-XB43 Charging issues
An issue that you might experience with your Sony wireless speaker is when it does not appear to be charging. This can be an annoying experience especially if the speaker's built-in battery life is already low.
Here's what you need to do to fix the charging issues on your Sony speaker
Solution 1: Check the Sony SRS XB43 speaker charging port and cord
To ensure that your Sony Bluetooth speaker charges properly, it's important to keep its USB Type C charging port clean and free from dirt or debris. Over time, this port can become clogged with dust and other small particles, which can prevent the supplied USB cable from making proper contact with the port. To clean the charging port, you can use a thin object like a toothpick to gently remove any accumulated debris.
Your XB43 will have a USB AC adaptor included in its package. Make sure that it is not damaged. To eliminate the possibility of the adaptor causing the problem try using different USB adaptors to charge the speaker. You can use any USB-C charger to charge the speaker.
Solution 2: Fully charge your Sony XB43 speaker properly
You need to make sure that you are charging your Bluetooth speaker correctly.
Connect the USB Type-C cable of the included charger to the DC IN 5V USB-C port on the speaker and then connect the USB AC adaptor to a wall outlet.
Make sure that the USB cable is firmly connected to the speaker.
Make sure the USB AC adapter is firmly connected to the speaker and the AC outlet.
The CHARGE indicator lights up in orange while charging is in progress.
Solution 3: Reset the Sony XB43 speaker
There are instances when the charging issue of your Sony Bluetooth speaker can be caused by the software freezing. If this is the case, performing a factory reset can be an effective solution. It's important to note that this process will erase all data on the speaker and restore it to its default settings.
Turn on the speaker.
Press and hold the – (volume) button and the (BLUETOOTH) button until the speaker turns off (5 seconds or more).
Try to check if the rechargeable built-in battery can now be charged.
Solution 4: Have your Sony Bluetooth speaker checked at a service center
In some cases, a damaged battery or circuit board can be the root cause of charging issues with your Sony Bluetooth speaker. If you suspect that this is the case, it's best to seek assistance from a qualified service center. A professional technician can diagnose the issue and provide the necessary repairs or replacement parts to get your speaker functioning properly once again.
Frequently Asked Questions
Is the Sony XB43 speaker waterproof?

Answer: Yes, the speaker is waterproof with an IP67 rating, which means it can withstand being submerged in water up to a depth of 1 meter for up to 30 minutes.

Can I connect multiple Sony XB43 speakers together?

Answer: Yes, you can connect up to 100 Sony XB43 speakers together using the Party Connect feature.

How do I check the battery level on my Sony XB43 speaker?

Answer: Press and hold the Play/Pause button on your Sony XB43 speaker. The speaker will announce the current battery level.

What do I do if my Sony speaker has a faulty rechargeable built-in battery?

When Bluetooth speakers have a faulty battery the best way to proceed is to have the batteries replaced at a repair shop.

How do I know if my Sony speaker built-in battery is already defective?

If your Bluetooth speaker built-in battery life is low even on a full charge or if you are having issues with its charging capabilities then it's very likely that the built-in battery is already defective.