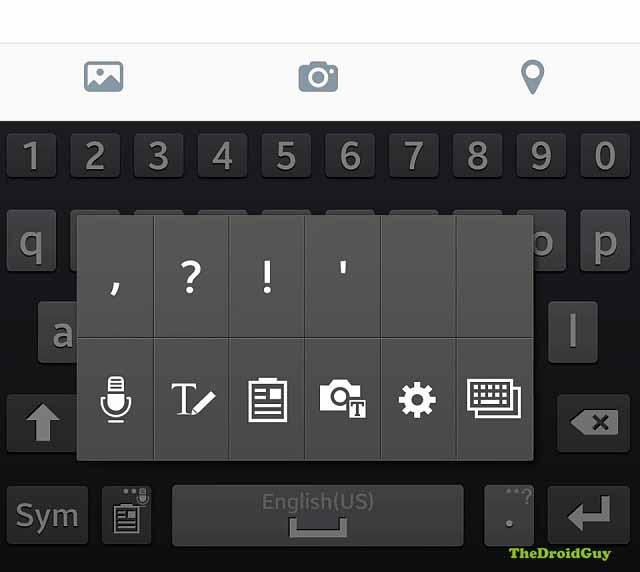 Welcome to our second installment of this troubleshooting series to fix keyboard issues on your Galaxy S4s. If you missed the first part, simply follow this link. It appears that we have covered all the keyboard issues for Samsung Galaxy S4 in our two articles but we won't hesitate to publish more posts if you request for more assistance.
Problem #1: Stock keyboard predictive text stopped working
Hello there. I currently own a Samsung Galaxy S4 and going on almost 2 years with it. I love this device because it is just the right size. Not too big & not too small. It used to run zippy and reliably until recently. I noticed several issues.
Keyboard
Simply put, the stock keyboard is quite ugly, but i loved the fact that it could handle precise word predictions and allows me to write bilingual without having to change the input language, like most of the other keyboard apps out there do. Now it is far from doing the correct predictions and the emojis key is hidden. You actually have to press and hold the microphone key for a few seconds to get the option to come out. And it gets stuck a lot. I found myself switching between Google keyboard, ikeyboard, a.i .keyboard plus and back to stock because a.i.keyboard plus predictions seem to be at the awful worst.
Issues streaming Netflix
Lags fall behind then freezes and shuts down… every time.
Battery  drainage
When not in use, battery suction when in use can't get to noon without being on at least 70% battery life and with hardly any use. Plenty of phone signal though.
AT&T SGH-1337 MODEL.
Any advice is greatly appreciated. Oh, and #4… contact opening lag. Thanks. — Hector
Solution: Hi Hector. To start, try restoring your keyboard to its factory values under keyboard settings menu. Doing so usually eliminates any software glitch that may be causing it to malfunction.
For your Netflix app issue, you can try to delete the app's data or simply re-install it. If other apps are also having some performance issue or lag like Netflix, you may also want to clear the phone's cache partition.
Battery-related issues  can be expected after using your phone for some time. A good Lithium-based battery like the one on your device can last for up to about 500 charging cycles. If you have been using the phone for two years, it's understandable that the battery may no longer retain full capacity like before. Consider replacing your current battery and see if that will improve the situation. We also encourage you to visit our previous post on how to improve the battery life of your device here.
Lastly, if your Contact app lags when you open it, you want to clear its cache and data. Keep in mind that deleting an app's data is the equivalent of reinstalling an app. You may lose your contacts on the process so make sure that you have created a backup copy of your personal data.
Problem #2: Keyboard lags when typing, showing "Message may be corrupted on recipient device. Change input mode to automatic." error
I hope I didn't just miss the fix on this when I was going through your troubleshooting guides. I even fixed things I didn't even see as a problem, but they totally helped. I tried a bunch of different things to fix the texting, but I'm still having problems.  When I go to text someone, there is a delay on my typing and sending the message. There is especially a delay if they are trying to send a text message back to me at the same time. Then it randomly will retype the message, so it will look something like this:
We We need We need dog We need dog food
I use the Swype method but on the Samsung keyboard because I like it better.  I haven't been having these problems until recently.  This is a very frustrating problem because I text 90% of the time.
Another problem I have is that on the Samsung keyboard, I use the emojs that you get when you hold down the voice button.  But I have been getting an error whenever I try to send one that reads:
"Message may be corrupted on recipient device. Change input mode to automatic."
I get this message whether I'm sending to another galaxy phone or an iPhone.  If you could offer some suggestions on fixes, it would be much appreciated. Thank you! — Randalyn
Hi DroidGuy! On my Samsung Galaxy S4, when I try to send a message with a sticker icon (? – not sure if I'm saying that right) it replies:
"Message may be corrupted on recipient device.  Change input mode to automatic."
How do I do that?
Thank you so much, from yet another challenged yet HUGE Samsung fan…so appreciate what you are doing to help! — Patty
When I try to send a emoji on my Galaxy S4 I get the following error message "message may be corrupted on recipient device. Change input mode to automatic." Help. — Dawn
Hi. When sending text I always sign off with one of the smiley faces (not the android ones but the proper smiley faces, sorry for being non-technical!).  For a while now people have said why do I send a "?" at the end of a text!  It seems the smileys etc are not working properly but just send a "?" in place.  Also just before I send a smiley a message comes up…."MESSAGE MAY BE CORRUPTED ON RECIPIENT DEVICE.  CHANGE INPUT MODE TO AUTOMATIC". Any help please??? Cheers. — Paul
Hi. Every time I send an Emoji a message pops up and says: "Attention message may be corrupted on recipient device. Change input mode to automatic". I can't find anywhere where I can change the input mode. I'm guessing it isn't automatically converting to mms but I'm not sure. The recipient gets question marks instead of emoji even though it shows on my end that I've sent one.
I recently did a software update and converted my SD card to a new one. Would this have done something?
Thanks for your help! — Megan
Solutions: Hi Guys. First, let us deal with a common issue you all have in this section, "Message may be corrupted on recipient device. Change input mode to automatic." error. This error pops up if you chose a different input mode under keyboard settings. Simply changing the input mode back to automatic will resolve the problem. Here's how:
Go to Apps.
Tap Messaging.
Summon the keyboard by trying to send an SMS.
Tap the Menu button under Settings.
Find SMS settings section.
Tap Input mode.
Tap Automatic as input mode.
Tap the Back key to go back to the Messaging apps and send an SMS.
That error should not go back after doing all these steps.
Randalyn, if you experience lag when trying to type a message, consider restoring the values of your keyboard to factory default. You can do this under your keyboard settings.
Problem #3: Galaxy S4 keyboard sends question mark instead of emojis
My Galaxy S4 keeps sending question marks every time I send emojis. I've reset the keyboard it keeps saying restart the recipient. — Aiden
Solution: Hi Aiden. This problem happens if you changed the input mode of your keyboard to non-automatic. Kindly follow the steps provided above on how to change the input mode of your keyboard.
Problem #4: How to set Note 3 keyboard to automatic
Hi! My girlfriend's phone won't send emoticons; it says the message may be corrupted and to change the input to automatic. Now the Google Voice is set to automatic but I cannot make it my default keyboard. How do I change the input to automatic when I can't even make the Google Voice my default? — Ty
Problem #5: How to change the color of the keyboard to black
I was in the middle of typing a text when all of a sudden the keyboard turned white. I can't figure out how to return it to black. I've restored original settings and rebooted it. Still white. It still works but I hate it. Did I hit some weird button while I was texting? Please help. It's a Samsung Galaxy S4. Thanks. — Kelly
Solution: Hi Kelly. The only color that you can change in your keyboard is the color of the pen. If the color of the pen has been changed, you can try changing it back to black under keyboard settings.
If you are using a third party app, try to check the settings to see if there was a combination key that you have pressed accidentally that changed the color of the  keyboard.
Problem #6: Some keyboard characters are not working
Hi. I have had my phone for a year and half and a few days ago i purchased a selfie stick with Bluetooth remote. Since using it with my Samsung S4 I am experiencing problems using my keyboard where the letters u and down from there and the number seven don't work anymore. Thank goodness for predictive words otherwise i couldn't complete this email. The other letters have to be hard pressed and the space bar is a pain.  I've tried uninstalling the keyboard but no good. Switched the phone on and off again and the French keyboard I'm using helps with some letters. Any advice please? Thanks. — Madi 
Hi there. I seem to be having an issue with the Samsung keyboard on my Galaxy S4. It types the above row of letters when I'm pressing the space bar and full stop etc. Also, i can't get the keyboard to pop up in text message feeds. its as if the bottom of my touch screen it unresponsive. I can click the bottom of the screen on the homepage and in other apps, so it is working. I can also get the keyboard up by changing text size or by rotating my phone landscape. However the issue with the keys only occurs when portrait but in all apps. Can you help please? It's got VBE baffled! Thank you. — Alyce
Solution: Hi Madi and Alyce. If this problem happens on your stock keyboard, we recommend that you clear the keyboard app's cache and data. If the problem happens after updating the phone's firmware, try clearing the phone's cache partition.
If you have Galaxy S4 keyboard issue, we suggest that you check the previous post in this series first before telling us about it. We hope that we continue to provide effective solutions for Galaxy S4 keyboard, input problems in these posts. Let's keep Android community a helpful place for everyone!
Engage with us
If you are one of the users who encounters a problem with your device, let us know. We offer solutions for Android-related problems for free so if you have an issue with your Android device, simply contact us by email at [email protected] and we will try to publish our answers in the next posts. We cannot guarantee a quick response so if your issue is time sensitive, please find another way to resolve your problem. 
When describing the problem, please be as detailed as possible so we can easily pinpoint a relevant solution. If you can, kindly include the exact error messages you are getting to give us an idea where to start.
TheDroidGuy has social network presence as well so you may want to interact with our community in our Facebook and Google+ pages.