Is your Samsung Galaxy Z Fold 4 having issues sending text messages? There are several factors that can cause this issue such as a poor network signal, software glitch, or some phone setting issue. To fix this you will need to perform several troubleshooting steps.
The Samsung Galaxy Z Fold 4 is the latest premium Android smartphone model that uses the foldable form factor. It has several upgrades over the Z Fold 3 such as more powerful processor, better camera, and a wider form, factor. It's a solid performing device that allows for easy multitasking when unfolded. One drawback to this type of phone is that it is heavier and thicker than most of the regular smartphone models.
Why is my Samsung phone not sending text messages?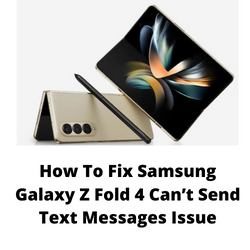 One of the issues that you might encounter with your Samsung Galaxy Z Fold 4 is when it fails to send out text messages using the default messaging app. This can be a frustrating experience especially if you need to send out an important text message to someone.
Here's what you can do to fix this messaging app issue.
Solution 1: Check cellular network
The first thing you will want to do when text messages are not being sent on your Samsung Galaxy Z Fold 4 is to check the signal the phone is getting from the cellular network. If the signal is weak or non-existent then not only will you be unable to send a text message, but you might also have a problem making and receiving calls.
An example of a place where the cellular network signal can be spotty is in the basement of a building which will usually have low to no signal or in areas that are too far from the network towers.
You can check your phone signal strength on the upper right part of the display. If the signal is weak then you might want to try to transfer to a different location. If the phone has a strong signal and you can't seem to be getting any messages, then here's what you need to do.
Turn off the Wifi
Try turning off the WiFi of your phone and see if you can get a cellular signal. Try sending yourself a couple of text messages and check if your phone is receiving messages.
Toggle airplane mode
Turning on airplane mode then turning it back off is another way of refreshing the Galaxy Z Fold 4 connection to the network towers.
From a Home screen, swipe up to access the apps screen.
Tap Settings.
Tap Connections.
Tap Airplane Mode switch to turn on.
Wait for a minute then tap Airplane Mode switch again to turn off.
Check if your Samsung phone is getting a signal from the network. If it is, try to send messages to your contact using the messages app and see if it gets sent out.
Solution 2: Soft reset your Samsung Galaxy Z Fold 4
The next thing you should do when you are unable to send or receive text messages using your Galaxy phone is a soft reset. This refreshes your phone's operating system and will fix any issues caused by a firmware crash or software glitch.
This process will reboot the operating system of the phone and reload all of its services. Your personal data, files, and apps will remain unchanged.
Soft reset Samsung Galaxy Z FOLD 4
Simultaneously press and hold the Power key and Volume down button on the right edge for approximately 15 seconds.
Release the buttons when the Samsung logo appears.
Try to check if you can send out text messages using the default messages app.
Step 3: Clear the Message app cache
Another reason as to why your phone can't send out an SMS is because of a corrupted cached data in your messages app. In order to fix this, you will need to clear the cache of the messaging app of your Samsung phone.
Clear messaging app cache
Open Settings
Scroll down and tap Apps.
Locate and then tap Messages.
Tap Storage.
Tap Clear cache.
Try to check if you can now send out an SMS.
Solution 4: Check if a third-party app is preventing the device from sending out SMS
One of the possible causes of this issue is a third-party app installed in your Galaxy device. The easiest way to check this is by starting your phone in safe mode.
When your phone is running in Safe Mode only the pre-installed apps are allowed to run making it easier to determine if a third-party app is the culprit.
Safe Mode
Turn the Samsung device off.
Press and hold the Side key past the model name screen appearing on the screen.
When SAMSUNG appears on the screen, release the Side key.
Immediately after releasing the Side key, press and hold the Volume down key.
Continue to hold the Volume down key until the device finishes restarting.
When Safe mode appears in the bottom left corner of the screen, release the Volume down key.
Wait for up to 30 seconds for the process to complete. When your device reboots "Safe Mode" will appear on the lower left side of the home screen.
Try to check if you are able to send messages in this mode.
If you can send messages, then you will need to find out the specific app that is causing this problem and uninstall it.
After uninstalling the app you can exit from safe mode.
Exit Safe Mode
Press and hold the Side key.
Tap Restart > Restart.
The device will restart in standard mode and you can resume normal use.
Solution 5: Reset network settings
This procedure will reset the cellular, Bluetooth and WiFi network settings of your phone which will then be restored to their default values.
Resetting network settings
Open the Settings app4.
Scroll down to and tap General management.
Tap Reset to view the reset options.
Tap Reset network settings.
Tap Reset settings and if prompted, enter your security lock.
Tap Reset to proceed with the network settings reset.
Try to check if you can now send out messages.
Solution 6: Check for software updates
One of the reasons why your Samsung Galaxy Z Fold 4 will have issues sending text messages is because it is running on an outdated software version. This old software might have some bugs that's causing the issue you are experiencing.
You need to manually check for any new software updates available for your Samsung device and apply them immediately. It's best to manually check for major Android updates regularly as sometimes the automatic update feature is delayed.
Go to your phone Settings.
Scroll down and tap on Software update.
Tap Download and install.
The Samsung Galaxy Z Fold 4 will search for any new software updates available. It will automatically be downloaded, and the previous version will be replaced.
Solution 7: Perform a Factory Reset
A factory reset or hard reset is performed when Samsung phones are experiencing issues such as unable to send out messages.
This procedure will erase your phone data and bring it back to its original condition. Any corrupted data stored in the operating system which could be causing this problem will be completely removed.
Before proceeding with this procedure, it is recommended that you backup your Galaxy Fold 4 data.
Factory Reset
Turn off your Samsung Galaxy device.
Simultaneously press and hold the Volume up and side buttons until the device vibrates and the Android Recovery screen appears then release all buttons. Allow up to 30 seconds for the recovery screen to appear.
From the Android Recovery screen, select Wipe data/factory reset. You can use the volume buttons to cycle through the available options and the side key to select.
Select Factory data reset. Allow several seconds for the factory data reset to complete.
Select Reboot system now. Allow several minutes for the reboot process to complete.
Set up your Android phone.
Try to check if this fixes the problem.
Frequently Asked Questions
How to limit notifications on Galaxy Fold 4?

Tap and hold on the app icon you want to disable notifications.
Next click on App info.
Then tap on Notifications.
Now tap on Show notifications and toggle it off.

How do I block messages in my phone?

From the home screen, select the messages app. Select the desired message thread. Select the Drop-down icon, then select the Info icon. Select More, then select Block contact. Select Block to block the contact.

How do I unblock messages in my phone?

To remove a number from the Blocked numbers list, from the Messages app, select the Menu icon then select Settings. Select Block numbers and spam. Select Block numbers. Select the Remove icon next to the desired number to unblock.

How to enable power saving mode on Galaxy Z Fold 4?

Open Settings.
Tap on Battery and device care.
Tap on Battery.
Tap on Power saving mode and toggle it On.

Does the Z Fold 4 support wireless charging?

The Galaxy Z fold 4 supports fast wireless charging speeds of up to 15 watts. It also supports fast wired charging speeds of up to 25 watts.