Is your Samsung Galaxy Watch 5 heart rate tracking not working? There are several factors that can cause this issue such as the Galaxy Watch not able to get a strong signal, a software error, or the feature might be turned off. To fix this you need to perform several troubleshooting steps on the device.
The Samsung Galaxy Watch 5 is one of the newest wearable devices running on Wear OS available in the market today. It has several outstanding health and fitness features allowing users to track important data during their workout sessions. It's best paired with a compatible Galaxy smartphone in order to maximize its features.
Technical Specifications:
Display: 1.19″ Sapphire Crystal Glass AMOLED 396 x 396px (40mm) or 1.36″ Sapphire Crystal Glass AMOED 450 x 450px (44mm)
CPU: Samsung Exynos W920
RAM: 1.5GB
Storage: 16GB
Battery: 284mAh (40mm) or 410 mAh (44mm)
Connectivity: NFC, GPS, Bluetooth 5.2, Wi-Fi (2.4Gz & 5Ghz), LTE (optional)
Durability: IP68, Waterproof to 50m (5ATM), MIL-STD-810H
Software: One UI Watch 4.5 atop Wear 3.5
Health sensors: Optical Heart Rate, Electrical Heart Sensor (ECG), Bioelectrical Impedance (BIA), Continuous SpO, Skin Temperature Sensor
Mobile payments: Samsung Pay, Google Wallet
Why isn't my Galaxy Watch reading my heart rate?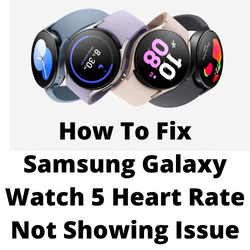 One of the issues that you might experience with your Samsung Galaxy Watch 5 is when it does not measure your heart rate. This can be an annoying experience especially if you want to keep track of your current heart rate.
Here's what you can do to fix this heart rate monitoring issue.
Solution 1: Check the Samsung Galaxy Watch's fit
If the Samsung Galaxy Watch 5 is too loose, then its heart rate sensor won't be able to get an accurate measurement. For best results make sure that the watch fits properly on your wrist to have a good contact.
Wearing the Galaxy Watch 5 properly
Center the watch on top of your wrist and slide the end of the strap or band through the loop.
Fit the strap or band to your wrist and firmly insert the pin into the adjustment hole.
Make sure the pin is fully inserted into the hole. But make sure not to overtighten the strap or band.
Take note that you should not bend the strap or band excessively as this might damage the watch.
Solution 2: Clean your Samsung Galaxy Watch 5
There are instances when the heart rate sensor of your Galaxy Watch will fail to work due to dirt found on the sensor. It's best to make sure that the watch is clean to ensure that the heart rate reading is accurate.
Cleaning the Galaxy Watch 5
Clean your wrist and the watch strap or band after exercising or sweating. Use a soft, lint-free cloth, and dry it thoroughly.
Don't expose the Galaxy Watch to dust, sweat, ink, oil, or any chemical products, such as cosmetics, sunscreen, antibacterial spray, hand cleaner, detergent, or insecticides.
If the watch gets stained or contains any foreign materials, wipe it with a moistened, soft bristle toothbrush.
Use water to clean the rubber watchband.
Use a soft lint free cloth to clean the leather watchband.
Make sure not to use any soap, cleaning agents, abrasive material, or compressed air to clean the Galaxy Watch.
Solution 3: Restart the Samsung Galaxy Watch 5
Sometimes a software issue will cause the Galaxy Watch 5 to have heart rate monitor problems. To fix this you should try to do a restart. When you restart your watch, it refreshes its operating system and removes any corrupted temporary data that could be causing the heart rate tracking problem.
Restart
Press and hold the Power button and Back button for approximately 7 seconds or until the watch power cycles.
Your Samsung watch should start rebooting.
Once the Reboot is complete, your Samsung watch should start up as normal.
After the watch restarts you should check if the heart rate tracking works.
Solution 4: Update Samsung Galaxy Watch 5 software
Your Samsung Galaxy Watch 5 HR sensor might not work because of a software bug. To fix this you need to make sure that your watch is running on the latest software update.
Getting the latest version
Make sure the watch has at least a 30% charge.
On the connected phone, navigate to and open the Galaxy Wearable app.
Tap Watch settings.
Tap Watch software update.
If your watch displays a Home tab, swipe to and tap Watch software update or Band software update.
Tap Download and install.
After software updates have been installed try checking if the heart rate tracking works.
Solution 5: Check the heart rate setting on your Galaxy Watch 5
If the heart rate tracking of your watch does not appear to work automatically then you should try to check if it is set to gather data manually.
Set Watch 5 heart rate to automatic
Swipe up from the home screen.
Tap on Settings.
Tap Samsung Health.
Tap Heart rate.
Choose Measure continuously or Every 10 mins while still.
After choosing the heart rate continuously option try to check if the issue persists.
Solution 6: Factory reset your Samsung Galaxy Watch 5
Performing a factory reset will remove all data from the device. This is the last troubleshooting step you should perform for this particular issue.
Factory reset Galaxy Watch 5
Ensure your watch is powered off.
Press and hold the Power/Home button (right-edge) until 'Rebooting' appears at the bottom of the screen then release.
Press the Power/Home button repeatedly until the 'Select REBOOT MODE' screen appears.
Select Recovery. Press the Power button to cycle through options.
When 'Recovery' is highlighted as seen in the image above, press and hold the Power/Home button until the device reboots again. Allow several minutes for the reboot process to complete.
Set up your device.
Try checking if the issue still occurs.
Solution 7: Contact the nearest Samsung Service center
If the above steps fail to fix the problem, then this might already be caused by a faulty hardware component. You need to have your watch checked at the nearest Samsung service center.
Frequently Asked Questions
How do I improve my Galaxy Watch 5 measurement accuracy?

You need to make sure your watch and the Samsung Health app are using the latest software. You should also make sure that your watch is properly fitted to your wrist.

Why is my Galaxy Watch 5 not detecting my steps?

Steps are not counted when there is no hand movement in the exercise. The step count may not increase immediately when walking or exercising due to the step count algorithm. When the algorithm detects 10 continuous steps, the algorithm starts to count your steps taken and updates the step count.

How do I pair my Galaxy Watch 5 to an Android phone?

To connect your Galaxy Watch to a mobile device, install the Galaxy Wearable app on the mobile device.
Launch Galaxy Wearable. If necessary, update the Galaxy Wearable app to the latest version.
Tap START THE JOURNEY.
Select your device on the screen. If you cannot find your device, tap MINE'S NOT HERE.
Tap TURN ON when the Bluetooth activation request window appears.
Follow the on-screen instructions to complete the connection.

How to install apps on Galaxy Watch 5?

Open the Galaxy Wearable app on the connected phone. Swipe to and tap Store to open the watch version of the Play Store.
Find the app you want, tap it, and then tap Install. It will automatically install on your watch.

How to uninstall Galaxy Watch 5 apps?

Open the Galaxy Wearable app, and then tap the Home tab.
Tap Apps, and then swipe to and tap Manage apps.
Tap the Delete icon (the trash can), select the app(s) you want to delete, and then tap Uninstall. Tap Uninstall to confirm.