Is your Samsung Galaxy Watch 5 not getting notifications from your Android phone? There are several factors that can cause this problem such as a setting issue, a software glitch, or a connection problem. To fix this you will need to perform several troubleshooting steps.
The Samsung Galaxy Watch 5 is the latest wearable device available in the market that offers several outstanding health and fitness features. This new model boasts of a longer battery life and uses a Sapphire crystal glass allowing it extra protection from damage. It helps you easily keep track of your health and wellbeing goals with its activity trackers and sensors.
Technical Specifications:
Display: 1.19″ Sapphire Crystal Glass AMOLED 396 x 396px (40mm) or 1.36″ Sapphire Crystal Glass AMOED 450 x 450px (44mm)
CPU: Samsung Exynos W920
RAM: 1.5GB
Storage: 16GB
Battery: 284mAh (40mm) or 410 mAh (44mm)
Connectivity: NFC, GPS, Bluetooth 5.2, Wi-Fi (2.4Gz & 5Ghz), LTE (optional)
Durability: IP68, Waterproof to 50m (5ATM), MIL-STD-810H
Software: One UI Watch 4.5 atop Wear 3.5
Health sensors: Optical Heart Rate, Electrical Heart Sensor (ECG), Bioelectrical Impedance (BIA), Continuous SpO, Skin Temperature Sensor
Mobile payments: Samsung Pay, Google Wallet
Why am I not getting notifications on my Samsung Galaxy watch?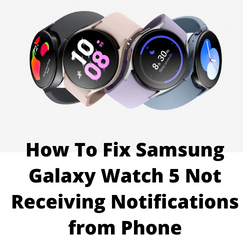 Aside from the various health and fitness features available in your Samsung Galaxy Watch, another useful feature is the app notifications from your Android phone which will be pushed to the watch. This means that you don't have to constantly get your phone out from your pocket or bag as you can check the notifications just by looking at your watch.
Sometimes though, your Samsung Galaxy Watch 5 will not be getting any notifications even if your phone has new notifications. Here's what you can do to fix this problem.
Solution 1: Turn of Theater Mode
The Theater Mode or Cinema Mode of almost all Galaxy smartwatches disables all alerts, alarms, system sounds, Watch always on, and Wake-up gestures. This mode is usually used when you are in a public setting like in a movie or when in a meeting.
Turning off theater mode
Swipe down from the top of the screen to open the Quick settings panel.
Tap the Theater mode icon if it is on to turn it off.
Solution 2: Turn off Airplane Mode on your Samsung Galaxy Watch
If the connected phone has airplane mode enabled, then your Galaxy Watch 5 won't be able to get any notifications since communications between both devices will not work in this mode. You should turn this mode off to enable notifications again.
Turning off airplane mode
Swipe down form the home screen to open quick settings.
If airplane mode is on then turn it off by tapping on its icon.
Solution 3: Turn on notifications on the Galaxy Wearable app on the connected Samsung Galaxy Watch
Samsung Galaxy Watch users will be able to control the notifications that they get on their watch using the Galaxy Wearable app. Make sure to check if you have turned on the notification settings for certain apps that you want to be notified on the watch.
turn on notification settings galaxy watches
Open the Galaxy Wearable app on your phone
Tap on Watch Settings
Tap Notifications
Turn on the switch for apps you want notifications sent to your watch.
Solution 4: Restart the Samsung Galaxy Watch 5
Sometimes a software glitch will cause the Galaxy Watch 5 to have battery drain issues. To fix this you should try to do a restart. When you restart your watch, it refreshes its operating system and removes any corrupted temporary data that could be causing the notification issue you are experiencing.
Restart
Press and hold the Power button and Back button for approximately 7 seconds or until the watch power cycles.
Your Samsung watch should start rebooting.
Once the Reboot is complete, your Samsung watch should start up as normal.
After the watch restarts you should check if its battery life has improved.
Solution 5: Make sure you are getting app notifications on the connected phone
Your Samsung Galaxy Watch 5 will use the same notification settings as your phone. If the phone does not make a sound or vibrate when notifications arrive, then this is also the way your watch will act.
check app notification settings
Open the Settings app on your phone.
Tap Apps and notifications
Tap Notifications.
Tap App notifications
If the app you want is listed as "Off," tap the app name and then turn it on.
Solution 6: Make sure the phone is connected to the internet
Most of the apps installed in your phone will need an internet connection to work. You might not be getting notifications because the phone is not connected to the internet. Try opening a website on your phone and see if it opens. If it doesn't then you will need to connect your phone to the internet.
Solution 7: Make sure the Samsung Galaxy Watch 5 is connected to your phone
You will not be getting any notification on your Galaxy Watch 5 if it is not connected to your phone. The fastest way to check if both devices are connected is by opening the Galaxy Wearable app on the phone. Click the menu button on the upper left side of the app to see what devices are connected to your phone. You should see the Galaxy Watch 5 status as connected.
Frequently Asked Questions
Why am I not getting Galaxy Watch notifications?

Samsung Galaxy smartwatches have silent mode features to help minimize distractions. Make sure that none of these modes are enabled.

Can I send text messages using my Galaxy Watch 5?

You will be able to send and receive text messages on your watch using the messages app.

How do I disable notifications on my Watch 5?

To turn off notifications you can enable the theater mode of your watch.

Why does my smartwatch stop showing notification?

You need to check if the connected phone is getting notifications. If it is, then the next thing to do is to check if the smartwatch is connected to the phone.

How to install apps on Galaxy Watch 5?

Open the Galaxy Wearable app on the connected phone. Swipe to and tap Store to open the watch version of the Play Store.