Hello again dear readers! We welcome you to the seventh edition of our Samsung Galaxy Tab S troubleshooting series. We are aware that you have been looking for solutions to the issues that you have encountered with your own tablets. Rest assured that we will continue to provide you answers as best we know how. Continue reading and hope you get something from it.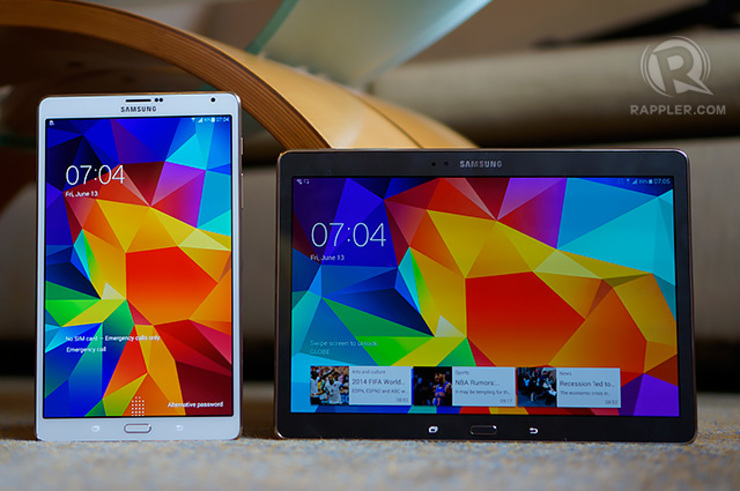 As usual, you can send your concerns via [email protected] We may not be able to respond to every email we receive but rest assured we will read every single one of them so your effort won't be wasted. And for those who prefer to reach us via social networks, feel free to post your problems on our Facebook wall or on our Google+ page.
Expect more articles for the Samsung Galaxy Tab S in the following weeks.
 —————
Samsung Galaxy Tab S freezes randomly
Problem: Hi Droid guy. I am new to this forum as well as to the Samsung Galaxy Tab S. I am experiencing some problems with my tab which is also a 10.5 in titanium and bronze (which is what sold me in the first place, along with the bright contrast). Three days after I purchased it, the touch screen froze. It's refusing to do anything for me. This was before I started putting free apps from the Google Play Store on it as well as music. Then last weekend, it froze up right in the middle of playing "heart wild" solitaire so I uninstalled all my Mahjong games and all my music by doing a complete factory reset. I called Samsung and spoke to a nice woman and there wasn't much to do since I already did a factory reset. I couldn't even turn off nor restart my tablet. I even tried holding the on/off button and volume buttons but to no avail. What can you tell me that may help me fix this problem? Appreciate it. – Oswald
Troubleshooting: Hello Oswald. A freezing issue is pretty unusual considering that you just purchased the tablet. It is good to know though that you have attempted to isolate and fix the issue on your own by removing the installed apps and performing a factory reset. This process is usually performed last as this is considered an ultimate fix because it will return your tablet to its factory state. Performing it failed to resolve the issue and even worsened the situation. We also can't do much in regards to checking its firmware as the tablet doesn't turn on anymore. The other option is to open the tablet and check its components. There is a huge probability that the issue is caused by a defective part on the tab's mother board. Checking the tablet's core requires tampering with the device therefore voiding its warranty. I don't recommend you do this as your tab is good as brand new since you just had it for a week. I would strongly suggest you bring the entire package to the retail store where you purchased it from and have it exchanged. You'll get your money's worth by doing this and won't need much effort from you as well. Better still, you can send it to Samsung's service center and let them take care of it. They can fix it for you without voiding the warranty. Hope this helps.
—————
Apps are not showing on the app drawer of a Samsung Galaxy Tab S
Problem: Hi Droid Guys. I recently purchased a 10.5″ Galaxy Tab S. This is my second Samsung Tablet, my first being an older 8″ Note, which I continue to enjoy. Anyway, I've run into TWO issues with my new 10.5″ Tab S that I have not encountered before and can't seem to resolve on my own, no matter what I try.
First issue:  I downloaded several apps and they do NOT appear on the home screen, they do NOT appear in the app drawer, NOR do they appear in the downloaded app section of the app drawer.  The only place I am able to view the apps is Settings/Applications/Application Manager. I can also view them through My Files/Categories/Downloaded Applications.  However, neither of the locations I can view them through allows me to move them to the home screen or app drawer with a long press, drag and drop or any other option, etc.  I confirmed in my Google Play settings that the display on home screen option is selected. I tried uninstalling and reinstalling the apps, I even get the brief message that flashes at the end of installation indicating a "shortcut" has been created or added.  However, when I look for the shortcut on the home screen or in the app drawer there is nothing there. Also, I'm certain the app drawer is not full – the tablet is brand new and I've only downloaded about ten apps – the first four all appeared on the home screen, everything subsequent has not.  The apps can be accessed/opened from one of the two locations mentioned above and seem to function properly.  So, how do I fix my non-displaying shortcut problem?
Second issue:  The new mail indicator associated with the email icon (for Hotmail) permanently indicates 1 new message.  It indicates one unread message regardless of how many unread messages there are – whether none or thirty, it always indicates one.  I confirmed all messages have been "read" or opened both on the tablet and on the PC but the indicator still displays "1".  I tried uninstalling and reinstalling the email account but it still displays "1".  So, how do I fix the indicator on the email icon? Thanks for any help and/or insight you can provide.  These aren't catastrophic issues but they sure can be annoying, even a bit frustrating. –Sam
Troubleshooting: Hello Sam. Thank you for providing a very detailed description of your issues. You have a pretty messed up tablet there. It's not common for a brand new tablet to experience these problems. These two mishaps you have with your tab can be caused by a malfunctioning firmware. Have you attempted to perform a soft reset? If not, try doing so by holding the power button down for ten seconds or until the tablet shuts off. This should refresh the firmware and usually resolves minor issues. With the missing apps in the app drawer though, you can also clear the data of your launcher by going to Settings/Applications/Application Manager and see if it fixes it. The logic behind this is if launcher data gets corrupted in the process, clearing it will prompt the launcher to look for apps and place their corresponding icons back where they belong. As to the issue with the email indicator, you can also clear its system cache by going to Settings/Applications/Application Manager and look for the email app on the list, select it then hit the clear cache button. Merely uninstalling and reinstalling the said application does not remove the cache from the tab's memory. That is why you would still see the "1" on the app icon no matter how many times you uninstall it. If none of the above steps work, you can also perform a hard reset to your device. This will completely wipe your phone of any data thus it is noteworthy to save a backup prior to doing the steps. This returns your tab to its factory settings therefore it fixes almost all issues most of the time. If you don't want to go through the hassle though, then getting your tab replaced or repaired is the best solution. You can use the manufacturer's warranty that comes with it and Samsung will gladly make it work again for you.
—————
Samsung Galaxy Tab S won't charge
Problem: My tablet is 1 month old. I plugged it to its charger and left it to charge with 15% battery remaining. After a few hours, I tried to turn it on but nothing happened. It's still dead! I already pushed all buttons in every possible combination but nothing happened. Very disappointed. Please help! –Sensei Eduardo Ruiz
Troubleshooting: Hello Eduardo. Did you make certain that it's indeed charging before leaving? It is possible that the tablet did not charge at all due to a loose connection to its charger. Have you attempted to charge it again? You may also want to try a different power outlet while you're at it. Furthermore, you may want to connect a different tablet to your tab's charger and check if it charges. This is to better isolate the issue. If it does gives out power, then that means that the charger is working fine. Another reason why the tablet does not turn on at all is its battery may have been defective. We can open up the back of your tab and reseat the battery connector from the motherboard however, this will likely void its warranty. It would be your discretion if you want to attempt this or just send the tablet to Samsung's service center and take advantage of the manufacturer's warranty. In order to reseat the wire connecting the battery to the motherboard, we need a pry tool to open the back cover up. Once you have the pry tool handy, you need to carefully slide it between the gaps and slowly pull the back cover out. Once it's removed, locate the connector at the bottom left part, and then use the pry tool to carefully lift it from its panel. Leave it disconnected for a couple of minutes then put it back in place. Make sure that it is properly connected before replacing the back cover. This should help jumpstart the battery and make the tablet turn on again. Let us know if you need further assistance.
—————
Samsung Galaxy Tab S responds to the S-pen sensor but doesn't respond to touch
Problem: Good day. I have a Galaxy Tab that my cat jumped on. Now it is stuck in a mode where it doesn't work without the pen. Please help me, I don't know what to do. How do I get it to work with the touch of my finger again? Look forward to your feedback. – Cindy
Troubleshooting: Hi Cindy. You've got quite a dilemma there, though we can't blame your cat for it. I presume the tablet was turned on when your cat jumped on top of it? Have you rebooted the tablet after the incident? Two things can happen: the connector for the touch input got damaged or it is caused by a broken digitizer. A digitizer is what enables the touch screen input in your tablet. If it is a damaged connector, then the motherboard will have to be replaced. If it's a digitizer failure, then you may need to buy a replacement. Replacing the digitizer on your own can be a bit tricky and involves a lengthy process. Check out this video on how to properly replace it. If your tab is still under the manufacturer's warranty, it is recommended to just send it to Samsung's service center and let them fix it for you. Otherwise, you may attempt to follow the tutorial video on the link provided. Lastly, it could just be a simple process of disabling the S pen output in order for the touch output to be detected. Try checking it under Settings and see if it resolves the issue.
—————
Tablet is stuck on Kid's Mode
Problem: Help! Our tablet is stuck on child games. I tried switching it off and turning it back on but nothing's working. Looking forward to your response.  – Mary
Troubleshooting: Hello Mary. I presume you owned the Samsung Galaxy Tab S with Kids mode? I need more details from you in order to isolate the issue further. Is your tablet stuck on Kid's mode and is not allowing you to go back to normal mode or are you playing a child game on the tab and that specific game does not close? If it's a game you have downloaded from the Play Store, a simple reboot can definitely close it out as the system is also shutting down thus closing any open apps. If you are stuck on Kid's mode and it doesn't accept your password, wiping the system cache may not work for you. You would need to reboot the tablet into Safe Mode in order to remove Kid's mode. Here's how:
Turn Off the tablet then turn it on normally again.
Hold the Volume Down button while the tab is booting.
Once you reach the display screen, select the "TouchWiz Home" icon in order for the app drawer to open.
Look for the Kid's Mode icon, touch and hold it, then drag it to the trash bin to be uninstalled.
Reboot your tab afterwards to exit Safe Mode.
If it still doesn't resolve the issue, you may want to consider performing a hard reset to the tablet. This will wipe all data and settings from the tab thus returning it to its factory state.
—————
Samsung Galaxy Tab S battery concerns
Problem: Hi. I just bought a Samsung Galaxy Tab S and had a few questions and concerns about the battery. First question. One morning, I put my tab to charge with a 10% battery life at about 6:30 AM and I got a 100% at around 11am. Is my battery charging too slow or is it on point? Second question. How fast are the percentages supposed to go down at? Third question. I bought one of those Gum Drop cases online, which is mainly all rubber, to protect my tab even though it is not the same experience. Will the case suffocate the battery and make it hotter inside while using it and charging it?  Because if it does then that means that it will affect the way it discharges right?  Well I think that's it for now.  I really hope you can give me the correct and proper answer.  Thank you. – Egal
Troubleshooting: Hi Egal. Thank you for sending your queries to us. A malfunctioning device can indeed hinder one's experience in using it to its full capacity. To answer your first question, Samsung created this tablet in such a way that the hardware, the software, the features, and the whole package mesh pretty well. Thus, given the high specifications this tablet has, a three to four hour battery charge per day is just right especially if you've been using the tab hard all day long. There is a lot of bright colors and beautiful screen here so expect that it takes a lot of juice to run it. Your second question relates to the first one. This tab's battery life is just fair. If you've got the 10.5-inch model, it should last about a full day with continued use. The 8.4-inch model however, has a shorter battery life and may need to hit the charger earlier than the other model. If you are playing games, browsing online, and or watching a video, the battery percentage drops pretty quickly. If you are using it mostly to read eBooks or leaving it on standby most of the time, then the battery percentage should stay as is or may go down slowly. Regarding the third question, some rubber casings can cause overheating especially if it is not intended for your device. We should consider the cover's compatibility to the device in order to achieve the protection that the tablet needs or else it will cause the device to break. This being said, it is absolutely recommended to use the original cover or purchase a replacement similar to the first one. If the battery overheats, the tab overheats in response and may affect either the battery or the parts inside the tab. Rubber is a good conductor of heat thus it is possible that it would contribute to an overheating issue. Hope you got the answers that you seek.
—————
Unable to capture a screenshot while the notifications are showing on a Galaxy Tab S 10.5
Problem: Hi. I really like my Galaxy Tab S 10.5, and I'm gradually learning its ins and outs after a long run with my Galaxy Tab 10.1. There is one operation which is not as handy with the newer Tab, though. I know I can use the motion setting to enable the capture by swiping, but I found out that that won't work to capture the screen with the notifications showing — Swiping just closes the notifications, so I tried the hardware approach. Holding the Home button and Power buttons did not work, so I tried the Power and Volume Down buttons with still no success. I tried this approach with the motion setting to enable swiping both on and off. This is not likely to be a huge problem for me, but I would like to understand why I have the problem. Thank you for your attention! – Virginia
Troubleshooting: Hi Virginia. I totally feel you with this issue as I have also experienced this with my own tablet which can be utterly frustrating as it goes on. It's good that you have tried a workaround for it though. When you attempted the Home and Power buttons on your device, did you press them at the same time or one at a time? These two buttons should be pushed at the exact same time until a white border flashes around the edges of the screen. You can release the buttons once the image is copied to the clipboard. The issue with my motion sensor is it takes a very long time for it to recognize the gesture which turned out to be a calibration error. Recalibrating it resolved the delays. It still does the screenshots too even when my notifications are up. Your own device should support the "palm swipe to capture screenshot" gesture. Have you checked under Apps>Settings>Device>Motions if the slider is ON? You can actually capture a screenshot by touching the screen with the side of your hand and swiping it across from left to right, or vice versa. It is nowhere mentioned in the Samsung Galaxy Tab manual that the open notifications can affect the swiping motion in taking screenshots. It should still be possible to take that most wanted screen capture regardless of the notifications. It just requires multiple tries though.
—————
Samsung Galaxy Tab S 10.5 battery issues
Problem: Hi there. I hope you can help me. My 10.5 Tab S is about 5 months old and it has worked perfectly until this week when I'm having three issues:
The tablet is shutting down and rebooting constantly. I have now pinned down that this is happening when I'm on Instagram. Should I uninstall and reinstall this App? I have like 60 Apps and I have not detected this happening with another App.
The battery now is losing charge much rapidly than before. With constant use, before by the end of the day, it would be down to 70%; now with the same constant use, by the end of the day, it is down to 30%.
The tablet is NOT charging using the USB port on my PC.   I can only charge it with the DC/AC plug on the wall.
— Sam M. Aron
Troubleshooting: Hello Sam. Experiencing multiple issues with a tablet is not a good indicator especially at five months old. Let's go ahead and figure out each one.
If the tablet keeps on rebooting only when Instagram is open, then it is obvious that the said app is affecting its firmware especially if it works fine with the other apps open. You may consider uninstalling the said application as it is corrupted. You can always reinstall it afterwards. Consider clearing the cache as well, as this can improve your tab's performance.
Let me raise this question to you. Are you running the same applications every time? Different apps takes out different percentages of battery juice even though you've been using the tab constantly and at the same time. It still boils down to the kinds of applications you are running especially if you've played a game or watched a movie. Not unless the battery drains really fast even just after an hour of using. If that's the case, we may be looking at a defective battery.
Have you been able to charge the tablet through a USB port on a computer before? By default, USB devices can only be charged by computers with specific drivers installed. Make sure that the USB ports on your computer are compatible with your tablet. That means that it should be the latest versions as the old school ones like the USB 1.0 cannot support a charge. Some PCs also have two different USB ports. One that supports standard downstream and the other charging downstream. As a result, your tab may charge on one port but not on another. In a similar vein, your device may require more power than a USB port can provide. As opposed to a DC/AC plug on the power outlet wherein it gives enough power for the charge to be detected.
————————————-
Engage with us
Feel free to send us your questions, suggestions and problems you've encountered while using your Android phone. We support every Android that is available in the market today. And don't worry, we won't charge you a single penny for your emails. Email us via [email protected] any time. We read every email but can't guarantee a response. Lastly, if we were able to help you, please help us spread the word by sharing our posts with your friends or visit our Troubleshooting Page.