Hello dear readers! We give you part five of the Samsung Galaxy Tab 3 7.0 troubleshooting hub. We hope you'll find solutions to issues you have encountered with your respective device. Feel free to browse through the thread!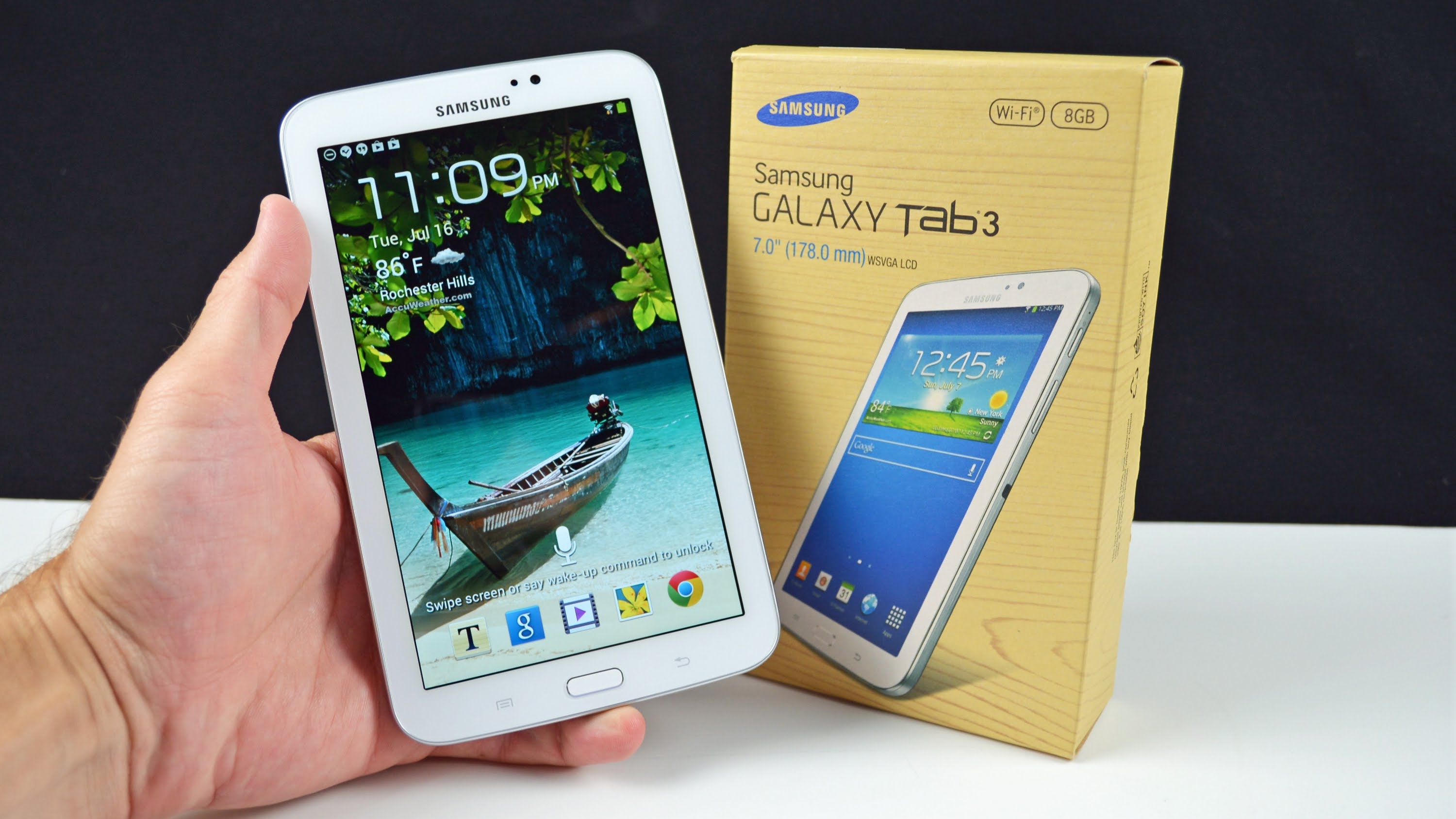 As usual, you can send your concerns via [email protected]. We may not be able to respond to every email we receive but rest assured we will read every single one of them so your effort won't be wasted. And for those who prefer to reach us via social networks, feel free to post your problems on our Facebook wall or on our Google+ page.
There could be a lot of articles like this for the Galaxy Tab 3 7.0 in the following weeks.
 —————
Home button stopped working on a Samsung Galaxy Tab 3 7.0
Problem: Good day. The home button on my tab doesn't work at all. Do you have any suggestions? Thanking you in advance. – Christelle
Troubleshooting: Hello Christelle. A malfunctioning button is always a downbeat especially if it's the main button. Just to clarify, do you mean pressing the Home button doesn't show the lock screen nor switch it back to the main screen? Does it stay on the same screen after you press it? If so, we may have a defective Home button. However, before we go into conclusions, we can try to power boot the device and perform a soft reset to your tablet. It could be that the specified button just needs to be refreshed for it to work again. Perform a soft reset by holding the power button down for ten seconds or wait until the screen turns off. Leave it be for a couple of minutes then turn the tab on. Check if it got the Home button working again. If not, the problem is obviously on the hardware side. We can go two ways when it comes to fixing the hardware of your tablet. First, you have to bring it to any Samsung certified centers and let a Samsung certified technician take a look at it and fix it. They know the ins and outs of this tab so it would be easy for them to repair. Second, you can try the DIY (Do-It-Yourself) option if you are techy and confident enough to open the tablet on your own. We have compiled a detailed and easy-to-understand tutorial on how to open your tablet.
You need the right materials in order to do it the proper way. The main tool to use is a plastic pry tool. You can get one of these in any hardware stores near you. The first thing that needs to be done is pry the back cover off using the plastic pry tool. Removing the back cover is difficult and involves a lot of strain as this is a delicate part of the tab. You need to exercise caution while doing this step. To pry the back off, you need to lodge the pry tool between the glass cover and the side, then carefully pull the cover from the main part. This involves multiple connectors so this may take some time to remove. Once the back has been taken out, locate the Home button at the bottom of the tab and carefully remove it from the mother board. Leave it disconnected for five seconds then place it back to its rightful place. Make sure that you'll hear a click when you push it back to its place. Reattach the back cover and turn the tab on. The Home button should now function normally. Hope this helps resolve your issue.
—————
Unable to use the external SD card after the latest software update
Problem: I'm not at all happy with the last update that Samsung pulled on my Galaxy Tab 3 7.0 which effectively emasculated my SD card. Can this unwanted update be uninstalled? I'll take the security risks to get my SD card working again! – Mike
Troubleshooting: Hi there Mike. Are you currently running the Android 4.4 KitKat update? It is public knowledge that Google has removed the write capability to the external SD card on this update. They did this for security reasons and to prevent all third party apps from dumping unwanted files to the external storage. Therefore all downloads will go directly to the internal storage which can be inconvenient for most users as the storage capacity of such is very limited. You must have been used to the Save to SD card option in the Jelly Bean version.
Unfortunately, we don't have the option to revert the software back to the Jelly Bean form. Luckily, it is now possible for Android users to root their device to alleviate the writing permission on external SD. Rooting your tab allows you full access to all the data which have been locked by the manufacturers. Rooting, however, can void the warranty of your tab so you have to do this at your own risk. The Play Store already contains great apps intended for fixing the write access to an external SD without having to uninstall the latest software update. Your device must be rooted first before these apps can be utilized. Follow the following steps to effectively apply the root.
Your tab's battery must be charged to at least 60%. This is to prevent power issues during the flashing process.
Make sure that you back up all your personal files before starting the rooting process.
Install CWM Recovery or TWRP Recovery first.
Download the Android-armeabi.universial-root.zip file and save it on the SD card of your tab

.

Enter into CWM Recovery or TWRP Recovery. To do this, turn off your device first. Then turn it on while holding the Volume Up+Home Button+Power Key at the same time. If this won't work on your device, attempt to boot into Recovery Mode by following this guide.
In CWM, select "Install Zip>Chooe Zip from SD Card > Android-armeabi-universal-root.zip > Yes".
Be patient and wait for the flashing process to complete.
Restart the tablet.
Look for SuperSu in the App Drawer. Rooting successful!
You can now try the SD KitKat Fixer app to allow external saves on your tab. You can also use other similar apps found in the Play Store.
If you don't want to go through the hassle of rooting your tablet, then you just have to be contented with using the internal storage for all your saves. Some users have already complained to Google about it and hopefully they'll hear them out. Hope this helps. Please feel free to leave a comment if you have further questions.
—————
Unable to charge the Samsung Galaxy Tab 3 7.0 using a USB cord
Problem: Two weeks ago, I was able to connect my tablet to my computer using a USB cord and it would go straight to charging. I was on vacation for two weeks and when I got back, I connected my tablet to my computer using the same USB cord, however, it used the USB connection as storage. I cannot find where to turn off the connection for storage and use the computer to charge it instead. My only options are MTP and PTP. I don't want either. – Josh
Troubleshooting: Hi Josh. Hope you are aware that charging your tab on a computer can reduce its battery life. This is due to a lower power provided by the computer as compared to charging it straight to a wall socket. The computer USB port only provides 0.5A (Amperes) of current which is too low for the Samsung Galaxy Tab 3 7.0. Prolonged charging with a USB connection will eventually damage the battery. To add, the charging time on a computer is longer as compared to charging it in a wall outlet using the standard charger. In your case, you can turn off your tablet before connecting it to your computer. This will allow the USB connection to go straight to charging as there is no active command for it to boot into storage. Another way is to manually turn off the MTP and PTP option under storage. You have to access Settings>General>Storage>USB Computer Connection. In this menu you will have the options for Media Device (MTP), Camera (PTP), and Mass Storage (UMS). Turn them all off in order to get it to charge only. If these options are not available under the Settings menu but are previously visible, then the software may have encountered a glitch. Try to do a soft reset to revert it to its full functional state. Simply turn your tablet off by holding the power button down for ten seconds. Let it rest for a couple of minutes then turn it back on. Check if the USB options are already visible. If all the recommended steps fail, performing a hard reset will definitely resolve the issue. Make sure to back up your files to prevent data loss. Hope this helps resolve the issue.
—————
Blank screen on a Samsung Galaxy Tab 3 7.0
Problem: Hi. I recently received a Tab 3 7 inch tablet off my brother in law (it was his for a year or so) and everything was going great with restoring it to factory settings. The issue started when I tried to link it up to my Gmail account. Halfway through, it randomly restarted and since then nothing is coming up on the screen. I know it is on because of the back lit screen and know that it's all there in its brain because it makes all the swooshy (official term) noises when you swipe to unlock. Anyone who could possibly help will be a hero. Thanks in advance. – Seth
Troubleshooting: Hi Seth. This seems to be an issue with the software that is unable to complete the boot process. Seeing the backlight lit up and hearing a sound when you swipe it is good news because it means that there is nothing wrong with its hardware components. One easy way to get the tablet to load up is to do a soft reset. This won't erase any data and should be the first troubleshooting to be performed for any mishaps encountered by a device. All you have to do is turn off the tablet by holding the power button down for ten seconds or until the screen goes dark. Let it rest for a few minutes then power it back on. This trick should allow the tablet to access the main screen again. You can also allow your tab to go on sleep mode by tapping the power button once. You will know that sleep mode is activated if the backlight turns off. Press the power button one more time to wake it up from sleep and should display the lock screen. If these steps failed to fix the issue, a hard reset is needed. Take note that this will erase any data saved in your internal or external storage. You can remove the external SD card to save the files then attempt the hard reset. This should fix the issue with your tablet. If not, we suggest you bring the device to a Samsung service center in your area and a certified Samsung technician should be able to fix it for you.
—————
The screen of a Samsung Galaxy Tab 3 7.0 cracked
Problem: Okay, so my brother's Samsung Galaxy Tab 3 7.0 was just sitting there on my kitchen table when it cracked right down the middle. No one touched it. I looked at it and even looked back and it was cracked. Is it defective? What's going on? – Milo
Troubleshooting: Hello Milo. This is definitely weird. Under no circumstance that the tablet should crack on its own unless it has been subjected to some kind of stress before it happened. A sudden change of temperature can cause this. If the tablet has been exposed to a low temperature (say below zero degree) and is suddenly placed in an area with a high temp (say seventy degrees or more), the screen would definitely react thus causing it to have some dents or eventually crack. Another scenario is if someone had accidentally sat on it for a long time. The pressure applied to the screen can ultimately cause it to break down. Think of an instance prior to the incident which could've contributed to the screen's mishap.
This problem is not common to Android devices much more to a Samsung Galaxy Tab 3. This is the first incident that I've heard of. Because of the rarity of this issue and the manufacturers would definitely deny the possibility of a soft spot on a Gorilla screen, you may have a hard time convincing the technicians at the Samsung service center that this is not something that someone had caused. Even so, the only way to fix it is by bringing the device to a Samsung service center to get a replacement screen and hope that the warranty would cover it.
—————
Unable to boot load with TWRP or the normal Samsung boot loader
Problem: Hi. I downloaded Odin on my computer and flashed recovery (v. T2111 by mistake) on my rooted tablet. Now, whenever I start the boot loader mode, neither does the TWRP nor the normal Samsung boot loader starts! I have the Cyanogen mod (CM-11) update. In the normal boot loader, it didn't work so I used Odin (for downloading TWRP and CMR 6) so that I can install the manual update. None of them work! Please help. Thank You. – Crystal
Troubleshooting: Hi Crystal. Installing the wrong flash TWRP can indeed cause major issues in an Android device. That is why advanced Android users are always reminded to be mindful of the files being used in rooting their respective device. Every phone or tablet has its own set of rooting rules and you must even run it on a specific firmware only. It is not advisable to try the same method on any other variants of a specific device.
If your tablet can still turn on and boot up, we can erase all previous rooting attempts by performing a hard reset to your device. Remember that this will erase all data stored in your tab and not just the root files. A hard reset is the only way to resolve this issue. Once the tablet is cleared of any rooting files, it is now possible to start fresh with the rooting process. Make sure to follow the instructions as indicated this time. Here's a comprehensive guide for you to root the Samsung Galaxy Tab 3 7.0 properly. Carefully read the pre-installation requirements first before starting the rooting process. Let us know if it helped fix the issue.
—————
Music with birds chirping randomly plays on Samsung Galaxy Tab 3 7.0
Problem: Whenever I have earbuds connected and the tablet goes into sleep mode, music with birds chirping starts playing out of the speaker and through the earbuds. The only way to stop it is to close any app I might have running and open the notifications screen. It also happens randomly when playing games. I have no music installed so I'm guessing it's built in. What is causing this and how do I stop it? It's really starting to annoy me. UPDATE: Tried various types of headphones and the same thing happens even if they are basic or have controls/mics. I also just encountered the problem while playing a game without anything connected. – Hilton
Troubleshooting:  Hi Hilton. It's good to know that you have isolated the issue beforehand. We can conclude that this is specific to a setting activated in your tablet. The only thing I want to clarify is if this issue happened on the initial setup (first time setup of a brand new tab) or did this start to happen just recently?
Regardless, we can try to boot into Recovery mode and wipe the cache partition. This will attempt to fix any minor issues that your device has. You don't have to worry about your personal files as this won't erase any data. Follow the steps below in order to wipe the cache partition:
Turn off the tablet using the power button.
Turn the tablet on while pressing the Volume Up key at the same time.
Release the Power button once the Samsung logo is starting to load up.
Release the Volume Up key when the Android picture comes up on the screen.
Once the menu appears, tap the Volume Down key and select Wipe cache partition by pressing the Power button once.
When the message "Cache wipe complete" appears on the screen just right below the menu, press the Power button again to select Reboot System
You can now test if the music with chirping sounds still comes up or not. If it does, this may have been caused by something you recently installed (like a third party app). Let's boot your tablet into Safe Mode to further check. This mode disables all third party apps. To boot into Safe Mode:
Turn the tablet off first.
Turn it back on by pressing and holding the Power
Release the Power button once the Samsung logo comes up on the screen. Right after releasing the Power button, immediately press and hold the Volume Down Continue holding it down until it completes the boot process.
Safe Mode should be displayed at the bottom left corner of the screen of it has successfully entered that mode.
If the issue doesn't occur while on Safe Mode, then it is certain that a third party app is causing this. If you have installed multiple third party applications, it would be challenging to pin point which one is causing it. You may need to uninstall one app at a time to determine the culprit.
If a third party app did not cause this, then the last thing to try is a hard reset to your device. Keep in mind to back up your personal files first as this type of reset can delete all data stored in your tablet. Finally, if you just recently purchased the tab, you may want to return it to the store and request for a replacement. A trip to a Samsung service center would also help a great deal as their seasoned technicians would definitely know how to address this issue.
—————
Charger stopped working on a Samsung Galaxy Tab 3 7.0
Problem: Hi. My son got his tablet for Christmas. The other day, the charger stopped working. I have tried different cables that work on other devices. Has he damaged the connectors in the tablet itself? If so, is this a common problem? He is quite careful but then again he's only 9 so he may have left it in the wrong position whilst charging. Will it be a matter of sending it back to Samsung or can it be rectified by DIY? Thank you for your time. – Siobhán
Troubleshooting: Hi Siobhan. This is a known issue though not that common. Still, you did an exemplary job trying out different cables. This can get rid of the possibility of a damaged cable. Have you tried a different charger though? This is to see if the charger head itself has stopped working. Universal chargers would work fine with your Android tablet but it is always recommended to use the original one. Try to plug it into different wall outlets as well to further isolate the case. You can also try plugging it into a computer using a USB cable to see if it will start to charge. If not, the connection of the charging port to the battery may have been loose or defective. To test if it has nothing to do with the battery, we can refresh its connection to the mother board. This involves opening the tablet up and may void the warranty as well. If you want to try it out, you can follow this simple guide in resetting the battery connector of a Samsung Galaxy Tab 3 7.0. This resolves battery issues 90% of the time.
To sum it up, the issue could either be caused by a faulty charging head or a defective charging port. If your tab is still within the warranty, you can have it fixed at a Samsung service center near you.
————————————-
Engage with us
Feel free to send us your questions, suggestions and problems you've encountered while using your Android phone. We support every Android that is available in the market today. And don't worry, we won't charge you a single penny for your emails. Email us via [email protected] any time. We read every email but can't guarantee a response. Lastly, if we were able to help you, please help us spread the word by sharing our posts with your friends or visit our Troubleshooting Page.