In this post, I will tackle some communication-related issues with the Samsung Galaxy S6 Edge (#Samsung #GalaxyS6Edge) including the "Emergency calls only" prompt on the lock screen, which you may notice during the boot up process. It also shows up from time to time especially if you are within an area where there is poor reception. Above all, it shows up if the phone failed to read properly from the SIM card. Continue reading to learn more about this problem and other issues I mentioned here. You may also find solutions or answers to the problems I cited.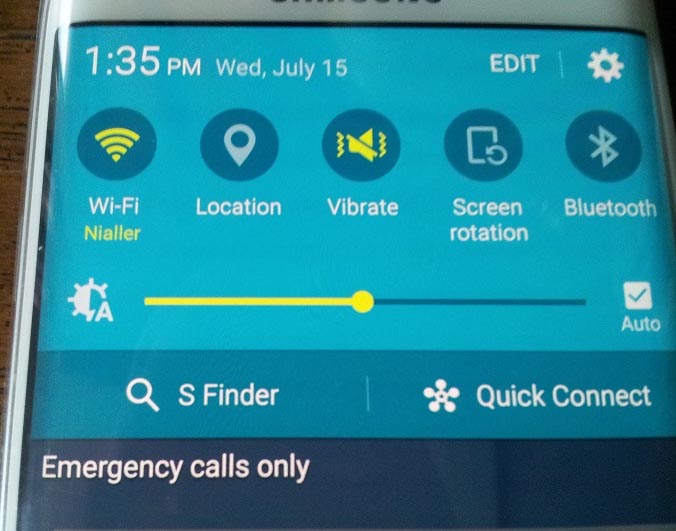 For owners who are looking for solutions to a different problem, visit the troubleshooting page we carved out just for the Galaxy S6 Edge. Find issues related to what you have and use the solutions we suggested. You may also contact us by filling up this form should our suggestions fail.
Going back to our topic, here are the problems I addressed here…
---
Galaxy S6 Edge shows "Emergency calls only" on lockscreen
Problem: Network problem. In lock screen says emergency  calls only once open sometimes get signal or says not in network area more frequently than need to change mode to airplane back or restart it happens all the time. Heats up all the time sometimes during idle time also.
Answer: If it's a GSM model, it is most likely the SIM card that's the problem but for CDMA, you really have to call your provider and inquire about your account. The "Emergency calls only" prompt indicates the phone isn't getting a service either due to faulty SIM card or a network issue. That said, your service provider can help you more than we do but please try to check if the SIM card is properly mounted.
Voice Mail icon won't go away on Galaxy S6 Edge's status bar
Problem: I have the VM icon displayed on my status bar for about a week now and it will not go away. I have no vm the vm has been set up but the icon will not leave. Please help it is driving me nuts. Thanks
Troubleshooting: This is clearly just a glitch or a minor bug and most of the reports suggested that it started after an update. But no worries because you can get rid of the VM icon by clearing the cache and data of the phone app:
From any Home screen, tap Apps.
Tap Settings.
Scroll to 'APPLICATIONS,' then tap Application manager.
Swipe right to the ALL screen.
Scroll to and tap the phone app.
Tap Clear cache.
Tap Clear data, then OK.
GPS not working on Galaxy S6 Edge
Problem: My GPS won't work. All the maps I try to use like Google maps, Waze, navigation all can't locate my location. I reset the phone to factory setting still couldn't use the GPS. Please, help me.
Troubleshooting: My question is was there a certain time when the GPS in your phone was working fine? If so, then it must be a firmware issue or if your phone suffered physical and/or liquid damage, it's probably a hardware problem. If it were the former, then try the master reset or re-flash the firmware. Otherwise, you really need to have a technician take a look at it.
Master Reset
Turn off your Samsung Galaxy S6 Edge.
Press and hold the Volume Up, Home and Power keys together.
When the device powers on and displays 'Power on logo', release all keys and the Android icon will appear on the screen.
Wait until the Android Recovery Screen appears after about 30 seconds.
Using the Volume Down key, highlight the option, 'wipe data/factory reset' and press the Power key to select it.
Press the Vol Down button again until the option 'Yes — delete all user data' is highlighted and then press the Power key to select it.
After the reset is complete, highlight 'Reboot system now' and hit the Power key to restart the phone.
Galaxy S6 Edge connection to computer gets cut off
Problem: My phone is having issues when trying to connect with my computer. It'll read it, but then it cuts out. I've used different USB cable and it's the same thing. I've downloaded drivers from Samsung, apps suggested and made sure the USB  debugging is off and still nothing. I'm not sure what I can do to make this connect any better. Let me know what else I can do. Thanks.
Answer: Thank you for making sure it isn't a driver and cable issue. About a couple of weeks ago, I encountered this same problem with a client and it after thorough troubleshooting, it went down to the USB port being loose. If this is the case with your phone, then you need to have it repaired under warranty. The tech will try to replace the either the port or the entire board. If that won't work, then he will recommend a replacement.
Galaxy S6 Edge screen not responding due to physical damage
Problem: This is my son's phone. He accidently slept with it in his bed, probably on top of it. There is a flashing blue indicator light still going & the status bar running down the right side shows 3:39am Mon, Jul 20 87% however the rest of the screen is black & the phone will not respond to anything he or i have tried. We took it into T-Mobile but since he had broken the camera screen (which happened about 2 months ago & in no way effected the function of the phone) they don't believe that whatever the current issue is not related & will not offer any help other than us paying $175 insurance replacement. Can you help?
Answer: Apparently, the phone suffered physical damage and no, you can't claim warranty because of that. So, you either have to spend having the screen (and the camera lens) replaced or avail what your provider offers–insurance replacement. There's not much we can do about this because the problem is with the hardware or components.
Galaxy S6 Edge fingerprint scanner not working
Problem: Unable to verify my fingerprint. Prompt to enter my backup password to verify my identity. As I forgot my backup password and been trying for 5 times, then keep trying again still cant. How am I going to reset my passwords again. Kindly advise what is the step i should do. Thanks. – Germaine
Troubleshooting: Lock screen security exists to prevent unauthorized access to your phone, data, pictures and whatnot. That said, you can't bypass any of them unless you discovered a bug that could potentially render them useless. For average users, however, the only option left for you if you're locked out is the master reset. After you followed the procedure, you will be able to regain access to your phone but in return, you will also lose all the data you were trying to protect.
Galaxy S6 Edge can't send a PDF file
Problem: I downloaded a .pdf doc last night of 235 KB.  Wanted to send the same to my hubby & I can't seem to. He has an iPhone. It stands at 91% & doesn't go beyond. Tried to re-download and re-send. Hasn't worked. While I get notifications and alerts all the time, this is kind of a work in progress mode now. Call it an ocd of mine, but I hate it when I have an unattended mail whether in my mailbox or spam or trash. I clean the latter 2 daily. Help! I'm so losing it. I could send a screen grab to put things in perspective. Thanks much. — Radhika
Suggestion: Hello Radhika. Were you trying to send it as an attachment to an email message? If so, make sure you have an active internet connection first. After that, try to attach it to an email and see what the error message is. If you can't send or attach it, there must be a prompt notifying you that what you were trying to do weren't successful. Only then we'll be able to know what the best course of action is.
But let's not dwell much on this problem, instead, let's try to work around it. You said downloaded it from the internet, so, why don't you send the link to your husband and let him download it?
Galaxy S6 Edge stuck in boot loop after an update
Problem: Hi, after an update (around 220MB) my S6e it is stuck in loop. I have done the simulated battery disconnect, as I explained in step 1, the phone responds and starts to reboot, shows the carrier logo (Telstra, Australia) and goes back to a black screen with the SAMSUNG logo showing. The same outcome with releasing the Power key and continue pressing the Volume Down key.
I currently work in Thailand and have a Thai SIM card in my phone. The update was done over Wi-Fi if this makes a difference.
I really would appreciate a quick answer or solution. I do use my phone for work a lot. Thank you. — Reiko
Troubleshooting: For issues like this, there's one very effective troubleshooting procedure you can do to fix this, wiping the cache partition. What it does is delete all caches of files and services that were used by the previous system. More often, these caches aren't compatible with the new firmware. Don't worry though, none of your data will be deleted if you did this.
Turn off the device.
Press and hold the following three buttons at the same time: Volume Up key, Home key, and Power key.
When the phone vibrates, release the Power key but continue to press and hold the Volume Up key and the Home key.
When the Android System Recovery screen appears, release the Volume Up and Home keys.
Press the Volume Down key to highlight 'wipe cache partition.'
Press the Power key to select.
When the wipe cache partition is complete, 'Reboot system now' is highlighted.
Press the Power key to restart the device.
Connect with us
We are always open to your problems, questions and suggestions, so feel free to contact us by filling up this form. We support every Android device available and we are serious in what we do. This is a free service we offer and we won't charge you a penny for it. But please note that we receive hundreds of emails every day and it's impossible for us to respond to every single one of them. But rest assured we read every message we receive. For those whom we've helped, please spread the word by sharing our posts to your friends or by simply liking our Facebook and Google+ page or follow us on Twitter.