The error "Unfortunately, Messages has stopped" means the app you use for texting has crashed for some reason and some Samsung Galaxy S6 Edge Plus (#Samsung #GalaxyS6EdgePlus) owners encountered this problem immediately after a firmware update. App crashes may occur if some caches or data got corrupted after the update. It's the first problem I addressed here so continue reading to learn how to deal with it in case it happens to you in the future.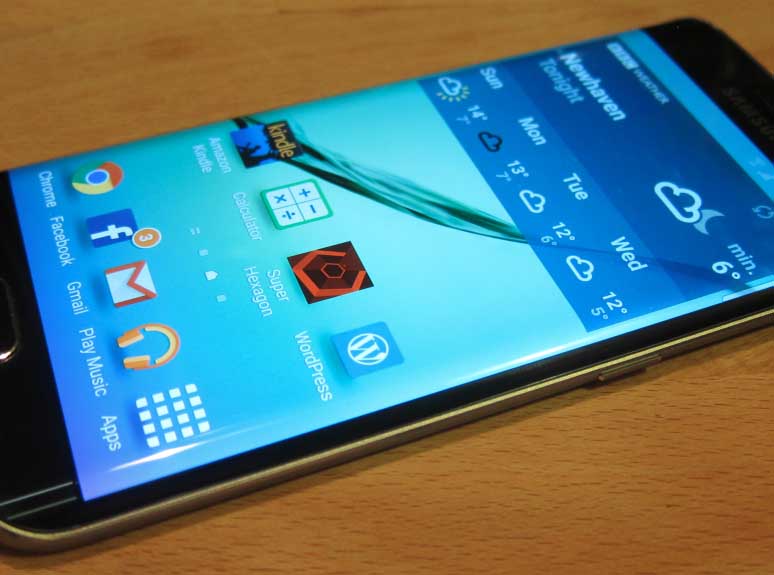 There are several other texting problems I included in this post so try skim through the page to see if your concern was addressed. If you are looking for a solution to a different problem, then visit our S6 Edge+ troubleshooting page. Find issues that are related to yours and try the solutions we suggested. If they won't work, fill up this form and hit submit to contact us.
Here's the list of the problems tackled in this post…
---
Galaxy S6 Edge+ shows "Unfortunately, Messages has stopped" error
Problem: For some reason an error started to pop up yesterday and the thing is, it's a very important app that keeps crashing–Messages. Whenever I open the app to text, it says, "Unfortunately, Messages has stopped" and I have no other option but to hit OK and then it closes. When I open it again, the same thing happens. There might have been an update as I receive a notification days earlier and yesterday, I think I might have installed it as the notification is gone. Is it possible that an update ruined my phone? Help me please. Thanks.
Troubleshooting: As to your question, yes, it's possible that an update may "mess" up your phone but not ruin or damage. This problem (app crash) is actually common during updates regardless whether it's a major or a small one because it is inevitable that some caches may not work after the new firmware has been downloaded and installed. But don't worry, more often than not, app crashes are minor issues and the first thing you should do is wipe the cache partition:
Turn off the device.
Press and hold the following three buttons at the same time: Volume Up key, Home key, and Power key.
When the phone vibrates, release the Power key but continue to press and hold the Volume Up key and the Home key.
When the Android System Recovery screen appears, release the Volume Up and Home keys.
Press the Volume Down key to highlight 'wipe cache partition.'
Press the Power key to select.
When the wipe cache partition is complete, 'Reboot system now' is highlighted.
Press the Power key to restart the device.
If wiping the cache partition didn't fix the problem, you need to try to go after the app that's crashing, in this case, it's the Messages app. Clear it's cache and data by following these steps:
From any Home screen, tap Apps.
Tap Settings.
Scroll to 'APPLICATIONS,' then tap Application manager.
Swipe right to the ALL screen.
Scroll to and tap Messages.
Tap Clear cache.
Tap Clear data.
Lastly, if the error messages won't go away after those procedures, then backup all your data and perform the master reset:
Turn off your Samsung Galaxy S6 Edge.
Press and hold the Volume Up, Home and Power keys together.
When the device powers on and displays 'Power on logo', release all keys and the Android icon will appear on the screen.
Wait until the Android Recovery Screen appears after about 30 seconds.
Using the Volume Down key, highlight the option, 'wipe data/factory reset' and press the Power key to select it.
Press the Vol Down button again until the option 'Yes — delete all user data' is highlighted and then press the Power key to select it.
After the reset is complete, highlight 'Reboot system now' and hit the Power key to restart the phone.
New Galaxy S6 Edge+ can't send pictures
Problem: Hi. So I bought a new Galaxy S6 Edge+ and have everything setup by my provider. The internet works fine as I'm connected to my Wi-Fi network, my email goes through and I can receive them, text messages come in, pretty much everything is setup except one, picture messages. Whenever I send one it fails and whenever my son sends me one, I can't view it. Is there a problem with my phone? If so, how can I fix it?
Troubleshooting: Multimedia messages (MMS) or picture messages need mobile data to be sent or received. That said, the first thing you should do is check whether mobile data is turned on or not.
From the Home screen, tap Apps icon.
Find and tap Settings.
Scroll to and tap Data usage.
Tap the Mobile data switch to On.
If mobile data has already been turned on and you still can't send pictures as texts, then it must have something to do with the APN settings in your phone. Call your provider and ask the rep to give you the correct APN and then have him or her walk you through in making sure your phone has been properly setup to use the correct APN.
MMS shows a different time
Problem: When I receive an MMS, its displaying the wrong time it was sent by the other user. It will say that I had received it a few hours before when actually the time should of been what ever the present time was. I have checked with the senders and they verified it was not sent at that time being displayed under the message.
Answer: Just make sure your phone time and date are set correctly or properly synced. Experiment with Automatic time; you may turn it off or on to see if that makes a difference. As far as this problem is concerned, it's just a syncing issue.
Can't attach pictures to text messages
Problem: Phone won't attach MMS. I've read the article, so should i just wait for an update for my s6 edge+ ? I've factory rested it and it still cant attach. It happened on day 1. Should i go and turn it in?
Answer: It's obviously a bug and we, as end users, can't do anything about it. It's up for Samsung when to roll out an update to patch it. So yes, just wait it out. But you can still send a picture as a text, although you couldn't include actual texts with it. Just open the picture in Gallery and there are a bunch of sharing options there, choose the messaging app and that's it.
Cannot send MMS but can receive them
Problem: I cannot sent MMS messages. I can receive them, but when I go to send one it just says sending and finally comes back and says sending failed. Any ideas?
Answer: Call your service provider and ask the representative for the correct message center number and then edit that one that's in your phone.
Open the Messages app.
Tap More.
Choose Settings.
Tap More settings.
Tap Text messages.
Tap Message center.
Enter the correct number.
Tap Set.
Group Messages are receive as MMS
Problem: My group Messages I don't receive them like message, I receive them like pictures and I have to use data usage so I can see them. My friends have iPhone and Samsung Galaxy. Do you any solutions? Because on the older phones I can receive group messages without using data usage.
Answer: Well, group messages are now considered as MMS and you need mobile data to send and receive them. There's no flex on this one, this is how it works now and there's nothing we can do about it.
Can't send picture messages over Wi-Fi
Problem: My messaging app will not allow me to send or receive picture messages while connected to the Wi-Fi. If I turn it off and just go over 4G the picture will go through.
Answer: It's because MMS or picture messages are transmitted over mobile data and not through Wi-Fi networks. But you can still send them while using Wi-Fi provided that mobile data is also enabled in your phone.
From the Home screen, tap Apps icon.
Find and tap Settings.
Scroll to and tap Data usage.
Tap the Mobile data switch to On.
Connect with us
We are always open to your problems, questions and suggestions, so feel free to contact us by filling up this form. We support every Android device available and we are serious in what we do. This is a free service we offer and we won't charge you a penny for it. But please note that we receive hundreds of emails every day and it's impossible for us to respond to every single one of them. But rest assured we read every message we receive. For those whom we've helped, please spread the word by sharing our posts to your friends or by simply liking our Facebook and Google+ page or follow us on Twitter.