When your smartphone is running low on storage space to save your music or video files then you should consider expanding your device storage by adding a microSD card to it. This however applies only to phones with a microSD card slot such as the #Samsung #Galaxy #S5. The advantage of adding a microSD card slot aside from providing you with more storage space is that it can free up the internal storage space of the phone making it perform better. There are however instances when certain issues can occur due to the addition of a microSD card which we will be addressing today. In this latest installment of our troubleshooting series we will tackle the Galaxy S5 won't read the SD card issue & other related problems.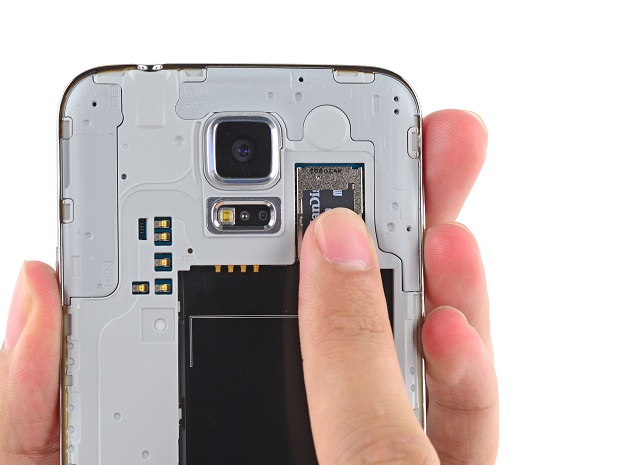 If you own a Samsung Galaxy S5  or any other Android device for that matter then feel free to contact us using this form. We will be more than happy to assist you with any concern that you may have with your device. This is a free service we are offering with no strings attached. We however ask that when you do contact us try to be as detailed as possible so that an accurate assessment can be made and the correct solution can be given.  
If you would like to browse the previous parts in this series then check out this link.  
You may also reach us at our Facebook and Google+ social media accounts.
S5 Won't Read The SD Card
Problem: My Samsung s5 is not reading the sd card I've try more than one sd card so for but nothing has change it just says checking sd card then safe to insert or remove when I head to settings to mount it for use it starts the same thing over again
Related Problem: Galaxy s5 active. All of a sudden after a reset, it won't read the SD card. Nothing abnormal has happened to the phone since the last reset, approximately 1 week ago.
Solution: If using another microSD card on the phone doesn't fix the problem then I suggest you follow the troubleshooting steps listed below.
Remove the microSD card from the phone. Clean the microSD card slot using a can of compressed air. Make sure to remove any dirt or debris present in this slot. Reinsert the microSD card then check if the issue still occurs.

Start the phone in Safe Mode. When your phone operates in this mode only the pre-installed apps are allowed to run. This makes it easy to check if the problem is caused by an app you downloaded. If the microSD card can be read in this mode then the problem is most likely caused by an app. Find out what app this is and uninstall it.

Backup your phone data then do a factory reset. Once the reset is complete immediately check if the card can be read.
If the above steps fail to fix the problem then you should bring your phone to a service center and have it checked.
S5 Randomly Not Reading microSD Card
Problem: S5 randomly forgets that there is an SD card. Restarting the phone will sometimes fix it. Sometimes not. For instance, the alarm has a selected song but will sometimes use the default chime. The camera is set to save to the SD card but will randomly say it's not available and save to the phone. This just started happening a couple weeks ago after 2 years of near flawless operation. I don't know if it has to do with the recent updates but that's when it started.
Solution: If restarting the phone fixes the problem temporarily then this issue could be caused by a glitch in the phone software. Below are the troubleshooting steps that you need to do to fix this problem.
Try starting the phone in Safe Mode first then observe if the problem occurs in this mode. If it doesn't then it could be caused by an app you downloaded. Find out what app this is and uninstall it.

Wipe the cache partition of your phone from the recovery mode.

Backup your phone data then do a factory reset.
S5 Getting A microSD Card
Problem: Hi, I have a Galaxy S5.  It is almost 2 years old and I am about to pay it off and I am happy with it (so I would like to keep it) except for the storage memory.  It is a 16GB.  I think it is internal?? only because when I look under settings > storage > I see internal storage and I do not see the unmount SD Card option as I have seen online.  I want to purchase a 64GB SDXC card since I keep running out of space. I'm not sure what to do once I have the new SD card.  It sounds like I need to unmount but I'm not sure.  I have a laptop with a SD slot.  I've read in places about formatting etc. and I am getting confused about what to do. The bottom line is that I want to increase the memory from 16GB to 64GB and want to make sure that I transfer all my factory installed apps, etc., my installed apps, and files like photos to the new card and are not lost or messed up in the process.  Can you assist?
Solution: If you will be getting a new 64GB SDXC card then you can insert it in your phone and use it immediately as it has already been pre-formatted for use in your device. Make sure to get a card with a reputable brand as there are some generic name cards that cost cheap but can easily be damaged in the long run. You don't want this to happen since you will lose the data stored in the card.
With regard to transferring data from the internal storage to the microSD card you can use the phone's file manager app to move the data. The easiest data to transfer are your photos, music, and video files. Apps on the other hand are a different story since sometimes they can't be moved to the microSD card. If your phone is already running on Android Marshmallow then you can merge the microSD card to the internal storage making the phone have one seamless storage space. This option makes it easy for you to install several apps in your phone without worrying about running out of storage space.
S5 SD Card Corrupted Error
Problem: Recently my phone has been telling me that my sd card is corrupted and that my storage is full. How do I uncorrupt my sd card and stop settings from shutting down ( I was given to option to format my sd card and every time I tried to settings wouldn't work)
Solution: Take the microSD card out from your phone and let your Windows computer read it. You will need a card reader to do this. Take note that any data stored in this card will be lost during the troubleshooting process so make sure to have a backup copy. To fix the issue you have to run the CHKDSK command on this microSD card. Windows will fix any issues that the card has. For detailed instructions on how to use the CHKDSK command on microSD cards please refer to several of the online sources.
S5 SD Card Unexpectedly Unmounted
Problem: Hello team, since my device update 7th October 2016 (Lollipop) Samsung S5 neo – i noticed a message SD card unexpectedly unmounted, yet it was still in the device untouched. I have removed the SD card, and powered off the handset & re-booted reinstalling the card, and it still shows 'mount SD card' in the expanded 'storage' option
Solution: If this problem occured right after a software update then it could be caused by some form of old software data that got left behind during the update process. I recommend that you backup your phone data then do a factory reset to fix this issue. If the problem persists after the reset then try replacing the microSD card with a new one as this card might be malfunctioning.
S5 microSD Card Format Fails
Problem: How do I reformat my current SD Card on my Samsung Galaxy S5? I got an error message saying either SD Card not Supported" or "Format SD Card". I never removed my SD Card from my phone at anytime. When I click on "Format SD Card" I get the 20% install and then I get another message saying Format Failed. So it never formats.
Solution: Try taking out the card from your phone and let your computer format it. If your computer can't format this card as well then you should try using a different microSD card on your phone.
Feel free to send us your questions, suggestions and problems you've encountered while using your Android phone. We support every Android device that is available in the market today. And don't worry, we won't charge you a single penny for your questions. Contact us using this form. We read every message we receive can't guarantee a quick response. If we were able to help you, please help us spread the word by sharing our posts with your friends.