One advantage that most Android smartphones enjoy is the availability of a microSD card slot. This allows a microSD card to be inserted so as to increase the available storage space of the device. The #Samsung #Galaxy #S5 for example is available in 16GB and 32GB variants which can easily be increased by adding a microSD card. While adding this card is quite easy there are instances when certain issues can occur due to this microSD card. In this latest installment of our troubleshooting series we will tackle the Galaxy S5 microSD card is unsupported issue & other related problems.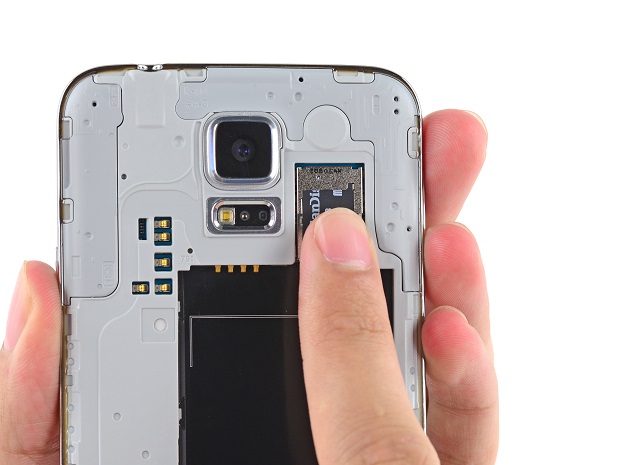 If you own a Samsung Galaxy S5  or any other Android device for that matter then feel free to contact us using this form. We will be more than happy to assist you with any concern that you may have with your device. This is a free service we are offering with no strings attached. We however ask that when you do contact us try to be as detailed as possible so that an accurate assessment can be made and the correct solution can be given.  
If you would like to browse the previous parts in this series then check out this link.  
You may also reach us at our Facebook and Google+ social media accounts.
S5 microSD Card Is Unsupported
Problem: I have a S5 that I bought a SD card for today. The card is the Samsung 32GB Evo.  When I plug it into the phone it says Unsupported SD card and wants to format it.  I say okay but then it gives a command 7 volume partition disk 179,64  public failed with 400 10 command failed.
Solution: Try taking out this microSD card and format it using your computer. You will need a card reader to do this. When formatting this card use the FAT32 partition. If some error message pops up then the card could contain some corrupt sectors. I recommend that you replace this with a new one. If the card can be formatted then insert it back to your phone and check if it is recognized.
S5 Not Enough Storage Space in microSD Card
Problem: Hi there! I'm having an issue with a 64G microSD card that I just purchased for my Galaxy S5. The SD card is able to mount to the device and the device recognizes that there is available space, but whenever I try to download something such as a song on Google Music it is unable to download and indicates that there is not enough space on the storage device. Default storage is also set to the SD card and not internal device storage.
Solution: For this issue make sure that the storage location is set to external for the Google Music app. To do this go to the Google Music app settings then go to downloading. From here tap on Storage location then make sure that it is set to external card. Once you have set this any offline music files saved in the internal storage will be transferred to the external storage. Any new music that you downloaded for offline use will automatically be saved to the microSD card.
If the issue still occurs then I recommend that you backup the contents of the microSD card then format it. Once the format is done try to download a song from Google Music again and see if it now works.
S5 microSD Card Unrecognized After Software Update
Problem: I bought a Samsung 64GB Evo microSDXC for my S5. I put it in and the phone recognised it and I set it up to store the photo's onto the SD card and transferred across all my current photo's to save phone memory. Then I got a software update.  Then it told me that the SD card wasn't recognised as I haven't been able to see it since. Any helpful tips. I've rebooted it and inserted and removed it a dozen times.
Solution: Try taking out the microSD card then have your computer read it. You will need a card reader to do this. If your computer can read the contents of the card then make sure to create a backup copy first before removing it from your computer. Before inserting the microSD card to your phone I recommend that you backup your phone data then do a factory reset. Once the reset is complete insert the microSD card then check if it can now be read.
Just in case the microSD card can't be read by your computer then it could already be corrupted. If you have important data stored in this card then you can try to use some data recovery software to gain access to this data.
S5 SD Card Not Available
Problem: After wiping cache partition on my samsung S5, upon booting up i started to have problems. When opening some messaging apps like WeChat, QQ it will show "no memory card, pictures, videos, etc cannot…". Sometimes it will show "SD Card not available". But i don't have an SD card. I am using the internal storage only. I never installed any external storage. Then when i open gallery, cannot view pictures or play videos. Please help. Thanks.
Solution: Since this issue is most likely caused by a glitch in the phone software I recommend that you backup your phone data then do a factory reset.
S5 Photos Saved in microSD Card Not Opening
Problem: hi guys please help me recover my photos. those pictures are important. this is what happened. every time I tried to open the photos on my gallery app the error appear "the photos couldn't load" its seems that my photos was corrupted.. the photos was saved on Sdcard, when i tried to capture new one, i can see the new pictures but those old photos can't view anymore
Solution: It's possible that the old photos are already corrupt. To verify this further you can take out this microSD card from your phone and let your computer read it. If the photos can't be accessed it's very likely that the card has developed some corrupt sectors, sectors where some of your old photos are stored. You can try using a data recovery software to retrieve these old photos.
If you can access the photos using the computer then I suggest you create a backup copy. The reason why the old photos can't be accessed is possibly due to a glitch in the phone software. Try clearing the cache and data of the gallery app then check if you are now able to access the old photos. If they are still inaccessible then I recommend doing a factory reset. You should backup your phone data before doing the reset.
S5 Cannot Access Photos Stored In microSD Card
Problem: I have a Samsung S5 phone that is 1 year old.  In the past, I would plug my phone into the computer with a USB and use windows explorer to look at my files and transfer pictures. Recently, Windows explorer shows the phone, but when I click on it to open up the files, nothing happens. I also removed the memory card and inserted it into my computer and cannot access my pictures that were stored on it. I put another memory card into the phone and nothing changes. Thanks
Solution: If you are unable to access the data stored in the microSD card by connecting it to the computer then it's very likely that it has developed some corrupt sectors. These corrupt sectors might be caused by some issue with the phone which is why when you insert a new microSD card to your phone the same issue occurs.
I recommend that you try to backup your phone data then do a factory reset. Once the reset is done try inserting some microSD cards to your phone then check if they can be read and if data can be stored in the card. If the problem still persist then I recommend that you have your phone checked at a service center.
Feel free to send us your questions, suggestions and problems you've encountered while using your Android phone. We support every Android device that is available in the market today. And don't worry, we won't charge you a single penny for your questions. Contact us using this form. We read every message we receive can't guarantee a quick response. If we were able to help you, please help us spread the word by sharing our posts with your friends.