Welcome to another part of our troubleshooting series where we help our readers resolve the #Samsung Galaxy #S5 issues that they are experiencing. In this latest installment of the series we will tackle the Galaxy S5 screen glitching issue & other related problems. We will be analyzing problems mostly relating to the display of the phone flickering, displaying odd colors, and freezing among others. We have selected the issue of this nature that have been sent to us and have provided the best possible troubleshooting steps below.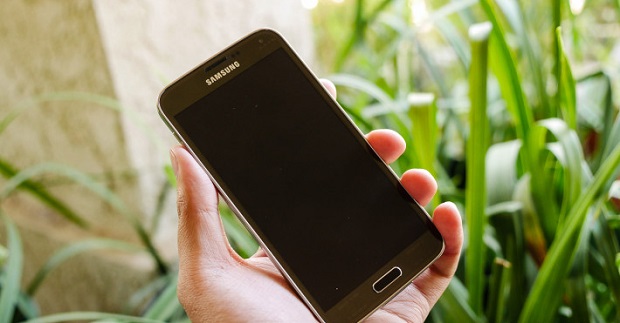 If you own a Samsung Galaxy S5  or any other Android device for that matter then feel free to contact us using this form. We will be more than happy to assist you with any concern that you may have with your device. This is a free service we are offering with no strings attached. We however ask that when you do contact us try to be as detailed as possible so that an accurate assessment can be made and the correct solution can be given.  
If you would like to browse the previous parts in this series then check out this link.  
You may also reach us at our Facebook and Google+ social media accounts.
S5 Screen Glitching
Problem: I'm having a glitch thing occurring to my phone. I got it last year around October so it's not that old. The problem is that when I press the power button on the side it doesn't work sometimes. It just glitches and the screen turns green with lines and dims down. Then I press the home button and it sometimes doesn't work to turn the phone on. Also let's say I'm just using my phone and then I leave it there so it turns off by itself. The screen dims down and then again the green glitching starts. This occurs also when I connect the charger to my phone.
Solution: There's a possibility that this issue could be a combination of a software and a hardware problem. What you need to do first is to backup your phone data since this will be deleted when we do the troubleshooting. You can use Kies or Smart Switch to do the backup.
Once your data is safe you need to start your phone in recovery mode then do a factory reset. Once the reset is done check if any of the issues still occur. It's possible that the screen glitching issue will be resolved by the reset.
If the power button or home button still works intermittently or if the screen still glitches then I suggest you bring your phone to an authorized service center and have it checked as this may already be a hardware related issue.
S5 Screen Goes Black
Problem: If had this phone for 5 months now and the screen is acting funny I have it in a case and I bought it brand new. The screen when I cut it on will sometimes flash on for a split second and go black but the buttons on the bottom will light up. when my is powered on it take  around 10 times of me pressing the power button to get the screen to come on and stay on and not go black I have tried to master reset and all that but it didn't work it does go into recovery mode so as you have said in many of your trouble shoots if it doesn't it is most likely hardware this is a Samsung galaxy s5 it's running android version 4.4.2 I'm not sure if that is the problem or not if I need find a way to update it or something to that extent I just need help as soon as you can thank y'all.
Solution: This display of this phone should easily be waken from sleep mode. If it is difficult to wake the screen even after performing a factory reset then this could already be a hardware related problem. You should however try to update your phone software first to the latest version since there is a possibility that the issue could be caused by conflicts between your phone apps and the system software.
S5 Screen Jitters
Problem: I bought the Wizgear universal visor phone mount which instructs you to stick a metal plate on the phone case so the magnet on the mount can hold your phone.  Shortly after attaching the metal plate to my phone and putting my phone on the magnetic holder, my screen began jumping around.  I took it off, removed the case and metal plate and restarted my phone, however it is still having the same issue.  I took the battery out and left the phone off, but it's still having the same problem.  I even tried swapping out the battery with my husband's (as he has the same phone), removing the SD card, and everything I can think of but the problem is still there.  The phone screen jumps around, jitters, and really is hard to use.  Also, there is a green 'tinge' around part of the background picture and when the phone is booting up or turning off, there is digital color 'static' across the whole screen.  I know it is the magnet that has damaged the phone and have contacted the maker, but in the meantime if you have any ideas on how to fix this, it would be greatly appreciated!!  Thank you!
Solution: You can try to backup your phone data then do a factory reset. Once the reset is done check if the issue still occurs. If it does then the problem could be caused by the magnet. Although magnets are generally safe, some are used in phone cases, a strong magnet may interfere with the phone display and in some cases can damage the phone circuit.
S5 Screen Does Not Recognize Fingers
Problem: My screen will not recognize my fingers, not even to swipe down to see the setting across the top, cannot unlock screen with a swipe.  Very frustrated. The phone as not gotten wet, the screen has been cleaned and it will not move.  I pulled the battery to power on and off, nothing changed.  Any help would be appreciated.
Solution: To fix this problem access the recovery mode of your phone. From here check if you can select the option available. If you can then I suggest you immediately do a factory reset. Take note that this will delete your phone data so proceed at your own risk.
If you are unable to access the recovery mode or unable to select its options then there is a possibility that the digitizer of your phone could be damaged. I suggest you bring your phone to an authorized service center and have it checked. You will probably need to have the digitizer replaced.
S5 Random Remote Icon Appears On Screen
Problem: A random icon popped up at the side of my screen (I think of a phone) and when I pressed it, my touch screen became unresponsive till it dies and I can't turn it off without clicking on the screen otherwise I'd restart it when this happens
Solution: This icon belongs to the Peel Smart Remote app which has been introduced in your device through the latest software update. It appears that the widget has a bug causing your phone to freeze when you tap on it. The best way to deal with this issue right now is to disable the Peel Smart Remote app from the application manager. For a more permanent solution you should wait for another update for the app to arrive which could come with a fix to this bug.
Feel free to send us your questions, suggestions and problems you've encountered while using your Android phone. We support every Android device that is available in the market today. And don't worry, we won't charge you a single penny for your questions. Contact us using this form. We read every message we receive can't guarantee a quick response. If we were able to help you, please help us spread the word by sharing our posts with your friends.