The #Samsung #Galaxy #S5 is one of the Android smartphones in the market that uses a Super AMOLED screen display. The benefits of this display type is that it delivers a more detailed and clearer image on the screen as well as having a better color reproduction. It also has wider viewing angles compared to regular LCD screens. While this type of display is excellent to use there are instances when issues can occur. In this latest installment of our troubleshooting series we will tackle the Galaxy S5 screen flickers yellow issue & other related problems.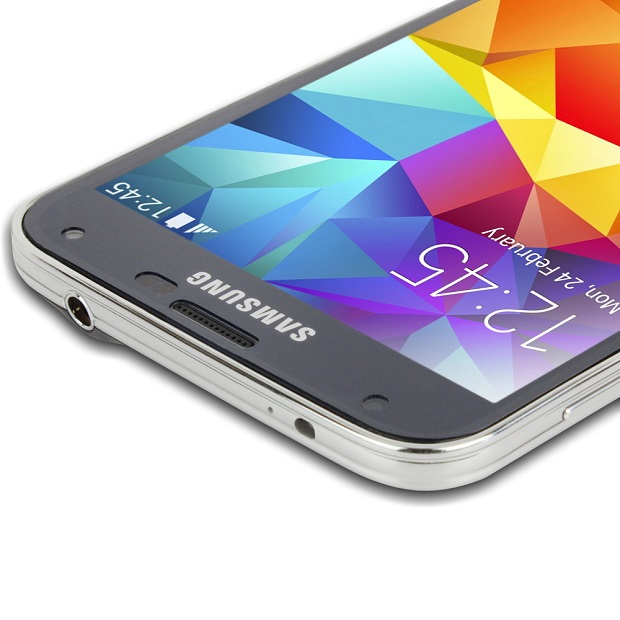 If you own a Samsung Galaxy S5  or any other Android device for that matter then feel free to contact us using this form. We will be more than happy to assist you with any concern that you may have with your device. This is a free service we are offering with no strings attached. We however ask that when you do contact us try to be as detailed as possible so that an accurate assessment can be made and the correct solution can be given.  
If you would like to browse the previous parts in this series then check out this link.  
You may also reach us at our Facebook and Google+ social media accounts.
S5 Screen Flickers Yellow
Problem: I have Samsung Galaxy S5 and I have never had problems with it until maybe 2 months ago. As I've looked before on the forums and got some answer, it never worked so I'll describe it here. When set at the lowest brightness setting, the ENTIRE screen flickers green and yellow lines. Along with this, when I try to unlock my phone, the screen flickers yellow then goes back to black, but if I touch the screen, I can still try to put in my pass code because it vibrates under my touch. It takes a long time and a few tries of locking the phone and then unlocking it again to try to get it to turn on and show me the actual screen. No clue how to fix this, and I don't know if I have a warranty on my phone. I got it at Walmart and have had it since December 2015.
Solution: While Super AMOLED displays are great at reproducing colors there are instances when certain flickering issues can occur especially when the display is set at a minimum brightness level. This is most likely caused by the difference in voltage levels that arrives at each pixel of the display. Sometimes though the phone software is causing this problem.
For this issue that you are experiencing in your device try to perform the following troubleshooting steps listed below.
The first thing that you should do in this case is to start the phone fresh. This way you can verify if an app you installed is causing the issue or if a glitch in the phone software is responsible. Backup your phone data then do a factory reset. Once the reset is done do not install anything in your phone yet. Try to check first if the issue still occurs.
If the screen still flickers try turning off the auto brightness feature then set the brightness level to maximum.
If the screen still flickers or if it is unresponsive then you need to have this checked at a service center as the issue could be caused by the display itself.
S5 Screen Flickers Then Goes Black
Problem: My Samsung Galaxy S5 has just started flickering when I press the power button to turn the screen on. After a few minutes of being off, the screen will flicker then go black. It will continue doing this for a few times, then the screen will come on just fine. But after a few minutes of being off again, it will flicker and go black again.
Solution: The first thing you need to do to in this case is to check if an app installed in your phone is causing the problem by starting the phone in Safe Mode. While the phone is operating in this mode only the pre-installed apps are allowed to run while apps you downloaded are prevented from running. Check if the phone flickers in this mode. If it does then there's a possibility that a third party app is causing the problem. Find out what app this is and uninstall it.
In case the issue occurs even in Safe Mode then the next step is to wipe the cache partition of your phone from the recovery mode. This will delete the temporary system data which if corrupt can cause this problem.
One last troubleshooting step you should consider is a factory reset. Make sure to backup your phone data before doing the reset. Once the reset is complete do not install anything in your phone yet. Try to check first if the issue still occurs.
If the above steps fail to fix the problem then you should have your phone checked at a service center.
S5 Flickers Yellowish Green
Problem: Sorry to bother you but I have a Galaxy S5 and everytime I'm on it the screen goes down and then it starts blinking on and off and then the screen turns yellowish green. I did remove the battery and then put the battery back in and it still doing the same thing is it something in this type of model phone go through or is it like a technical issue I need to deal with Sprint
Solution: For this issue you need to follow the same troubleshooting steps that we have suggested above. Try starting the phone in Safe Mode then check if it occurs. If it does then wipe the cache partition of your phone then follow this up by a factory reset if wiping the cache partition doesn't work.
If the above steps doesn't resolve the problem then you should bring your phone to a service center and have it checked.
S5 Green Lines Across The Screen
Problem: My s5 suddenly began showing green lines across the screen one day. I had done nothing to it prior to it doing that. Now it takes me forever to get the screen to show. It either remains black and the bottom buttons turn on or it flashes green lines and goes black. It has been doing this for almost a week and it is driving me crazy. I have tried a factory reset, soft reset and starting it in safe mode. I have no idea what else to do. It's either black or glitching green lines. I need my phone. Please help! It's only 6 months old.
Solution: This is most likely caused by a defective display. Have this checked at a service center. You probably will need to have the display replaced.
S5 Black Screen After Phone Dropped
Problem: Hi, I've been having problems with my phone that are getting me worried. 2 days ago i've dropped my phone on the screen on the flat ground. It only started acting up yesterday (1 day after the drop) when i try switching on my phone the screen stays black and the back and recent apps buttons switch on only. When i power it on the samsung logo etc shows very faintly and it shows as if it's red. I have tried everything but nothing works. I am scared that if i repair it will cost me as much as a new one. Please help me i really need your help.  Thanks for your patience and assistance
Solution: It's very likely that this issue is caused by the drop. You can however check if the phone software is causing this issue by starting the phone in recovery mode. If the screen works in this mode then I recommend that you do a factory reset. If the screen doesn't work in this mode then the problem is most likely caused by a damaged display. I recommend that you have this checked at a service center.
S5 Not Booting Up
Problem: My phone not booting up.. It stucks on Samsung logo itself. Even I tried to soft reset and tried to run the device in recovery mode by using your method but I'm unable to get the recovery mode also.. The screen just flickers for milli seconds and boooom… And black screen appears.. Not even able to hard reset. But when I press Volume down  home key power button I get the custom rom window which I don't really know…. Please I need the solution.
Solution: It's possible that the phone software is corrupt. I recommend that you manually flash the phone with its stock firmware file. While this will erase everything in your device ( you will lose your data) there's a possibility that it will fix this issue. Instructions on how to flash your phone can be found at several of the popular Android forums online.
Feel free to send us your questions, suggestions and problems you've encountered while using your Android phone. We support every Android device that is available in the market today. And don't worry, we won't charge you a single penny for your questions. Contact us using this form. We read every message we receive can't guarantee a quick response. If we were able to help you, please help us spread the word by sharing our posts with your friends.