The #Samsung #Galaxy #S5 has had a long history of software updates ever since it was released in 2014. Starting with Android KitKat the phone later on got the Android Lollipop update. Today, its latest official version is Android Marshmallow which appears to be its final official software version. These updates are released to improve the overall performance of the phone. While getting these updates is generally highly recommended there are instances when certain issues can occur on the device which we will be addressing today. In this latest installment of our troubleshooting series we will tackle the Galaxy S5 not turning on after software update issue & other related problems.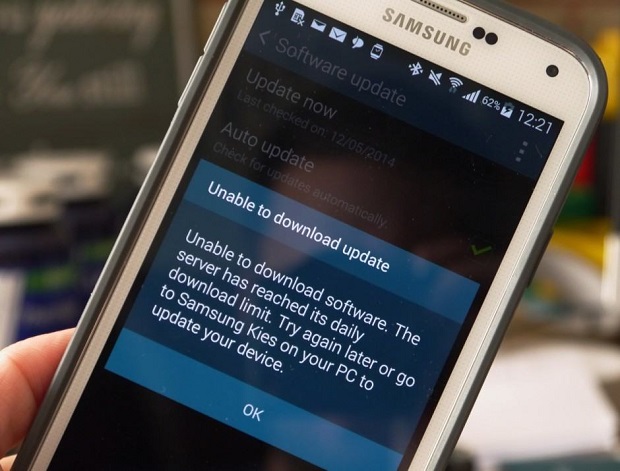 If you own a Samsung Galaxy S5  or any other Android device for that matter then feel free to contact us using this form. We will be more than happy to assist you with any concern that you may have with your device. This is a free service we are offering with no strings attached. We however ask that when you do contact us try to be as detailed as possible so that an accurate assessment can be made and the correct solution can be given.  
If you would like to browse the previous parts in this series then check out this link.  
You may also reach us at our Facebook and Google+ social media accounts.
S5 Not Turning On After Software Update
Problem: I set my phone to do a software update overnight. My phone never turned back on. The blue light in the upper left hand corner stats a solid blue and SAMSUNG in white is flashing in the middle of the black screen. I have removed the battery and turned it back on and nothing has changed. It was plugged into the charger over night so there should be plenty of battery.  I have been running out of storage space, so there may not have been enough storage to complete the update. This has happened in the past, but usually it just gives that message that there is not enough storage space.
Solution: The first thing that you need to do in this case is to remove the battery and microSD card ( if you have one installed) then press and hold the power button for at least a minute. What this does is it discharges the phone circuit as well as clears out the RAM. Once this is done reinsert just the battery then try turning on your phone. If the issue remains then follow the troubleshooting steps listed below.
Connect the phone to a charger and let it charge for at least 20 minutes. With the phone still connected to its charger try turning it on.

Start the phone in recovery mode then wipe its cache partition. Restart the phone.

Start the phone in recovery mode then do a factory reset. Take note that this will erase your phone data.
If the above steps fail to fix the problem then you should consider manually flashing the updated firmware file to your phone. Instructions on how to do this can be found at several of the popular Android forums online.
S5 Keeps On Rebooting After Software Update
Problem: Received software update request this morning (1/28/2017) and accepted.  The process seemed to complete with no issues but to be honest I was not really paying attention.  Phone rebooted and all seemed well.  I checked my contact list and attempted to open "Yelp" but received a message stating the app needed to be installed. I sat the phone down and a few minutes later it rebooted and then repeated reboot over and over.  Home screen comes up for 10 seconds or so and then it reboots, over and over.  Removed battery for 15 minutes, re-installed, rebooting continues.  HELP
Solution: Does your phone have a microSD card installed? If it does then try removing it first then check if the issue occurs.
If your phone doesn't have a microSD card or if the issue still occurs even with the card removed then follow the troubleshooting steps listed below.
Connect the phone to a charger and let it charge for at least 20 minutes. Try turning on the phone.

Check if an app you downloaded  is causing this problem by starting the phone in Safe Mode. When the phone works in this mode only the pre-installed apps are allowed to run. Does the problem occur in this mode? If it doesn't then the problem could be caused by an app you downloaded. Find out what app this is and uninstall it.

Try wiping the cache partition of your phone from the recovery mode. This will erase the temporary system data of the phone which could be causing the problem.

Start the phone in recovery mode then do a factory reset. Take note that this will erase your phone data.
If the above steps fail to fix the problem then you should consider manually flashing the updated firmware file to your phone.
S5 Failed to Update Software
Problem: My Samsung S5 prompted me to download software update. The update installation progresses well then it gives the below message. I have over 2GB free space and I have even removed the battery for over 10 secs. Previous updates have been going on smoothly. The software update version downloaded is G900HXXS1CPI8 / G900HOJP1CPG1 / G900HXXU1CPCA (Size 25.37 MB).  Failed to update software Failed to update firmware. Visit a Samsung service center. My phone details are: Model No. SM-G900H Android Version: 6.0.1 Baseband version: G900HXXU1CPCA Kernel version: 3.10.9-7760371 Build number: MMB29K.G900HXXU1CPF2
Solution: For this particular issue I recommend that you backup your phone data then do a factory reset. Once the reset is complete download the update again. In most cases it should be able to install properly right now.
S5 Not Getting Software Updates
Problem: Hi The Droid Guy! Just gonna ask why I cant update my Samsung S5 to Marshmallow? My current OS is Android 5.0.2 and each time I press the update now button what pops up is PROCESSING FAILED. I don't really get the logic here. is there something wrong with my software? Thanks
Related Problem: I purchased an unlocked Verizon phone off ebay and live in Canada so use it with Koodo. After a couple years having it I realized that I am not getting any android software updates 🙁 I currently have Android 4.4.4 and wonder how i would go about actually updating the version of Android that is current, manually. When i go the typical software update it says that the server is temporarily unavailable. Do I need to get some random verizon sim and it will automatically update the android version?
Related Problem: When I try to do a system update on my samsung galaxy s5 (android version 5.0) it starts to load with 'Registering Device' (in a text box appears on my screen) and 1 or 2 seconds later that same text box pops up with Processing failed.
Solution: There are several conditions that your phone must meet in order for it to get the official update.
Your phone must be running on its original network. This applies to unlocked devices that are now running on a different network.

Your phone must not be rooted.

Your phone must not be running on a custom software.
If your phone meets the above conditions and it still isn't getting any update then connect the phone to a computer with Kies running and let the software update your device.
You should also consider doing a factory reset ( make sure to backup your phone data first) then check for the update again.
Should the above steps fail then you should consider manually flashing the updated firmware file to your phone.
S5 Upgrade Interrupted Now Phone Does Not Boot
Problem: The OS upgrade was stopped on my Galaxy S5. Now it won't boot up. I can get to the Android Recovery Screen and I have cleared the Cache Partition. I would like to find a way that I can download the files in the phone before I have to wipe it clean. Is there a way? My carrier is Rogers. I am not sure of op system. I bought it new in May 2015
Solution: Try connecting your phone to a computer with Kies running. If your phone can be detected by Kies then you will be able to make a backup of your phone data.
Feel free to send us your questions, suggestions and problems you've encountered while using your Android phone. We support every Android device that is available in the market today. And don't worry, we won't charge you a single penny for your questions. Contact us using this form. We read every message we receive can't guarantee a quick response. If we were able to help you, please help us spread the word by sharing our posts with your friends.