Samsung has officially started sending out invitations for its Galaxy Note 10 launch event. The highly anticipated Samsung flagship will arrive on August 7. The invite doesn't leave any ambiguity about what's on schedule, although we wouldn't be surprised if Samsung offers some other surprises at the event. The launch will be held at Barclay's Center in Brooklyn, New York, which is where the Galaxy Note 9 was launched last year.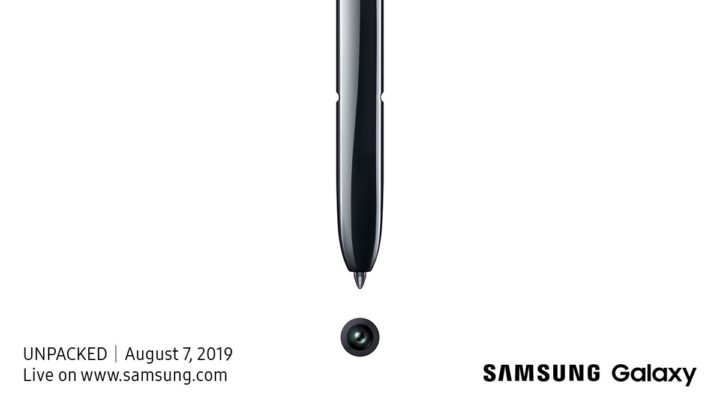 The event invite shows off the company's iconic S Pen stylus placed right on top of a camera. While we're not sure if this is a hint of something, there have been reports about the flagship featuring an IR blaster as well as an "S-Pen Remote Control App".
We've come across multiple rumors and leaks about the hardware of the new flagship. Several reports have indicated that Samsung might have two variants of the handset like the Galaxy S10 from earlier this year. This could either be a "Pro" or a "+" model, and might even feature dual front facing cameras while the standard Galaxy Note 10 may only have one selfie camera. The phone is also expected to feature a 6.75-inch Dynamic Super AMOLED display sporting a resolution of 3040 x 1440.
The Galaxy Note 10 should be packing the 7nm Qualcomm Snapdragon 855 chipset which is the gold standard among mobile chipsets today. Samsung is also expected to show off 25W fast charging with the Galaxy Note 10. Naturally, there could also be a few surprises up Samsung's sleeve for the August 7 event.
What other features do you expect to see on the Note 10?
Via: Android Authority