One of the most common troubles that Samsung Galaxy users encounter is network connectivity problems. In many cases, the problems themselves are caused by a broken network setup. This can occur after a major software update, a carrier update, a firmware update, and in some cases, after installing a new app.
To fix any issues related to network connectivity, one of the solutions that you must try is to reset the network settings of your Samsung phone or tablet.
This guide will walk you through how to go about this procedure. The steps are simple and can be finished in under a minute.
What stuff are affected by a Samsung network settings reset?
Below are the things that happen when you reset the network settings:
Allows background data sync
Clears mobile data limits
Deletes all Wi-Fi SSIDs or wifi names
Disconnects all tethered interfaces
Forgets paired devices
Removes all app data restrictions
Sets network selection mode to automatic
Sets preferred mobile network type to the best available
Turns off Airplane mode
Turns off Bluetooth
Turns off data roaming
Turns off mobile hotspot
Turns off VPN
Deletes VPN profiles
Turns on mobile data
Turns on Wi-Fi
As you can see, there's a lot of things that may change after doing a network settings reset. You'll have to manually do some changes afterwards to reconfigure you device. For example, you'll need to reconnect to wifi networks you were previously automatically connected to whenever you're in range.
All Bluetooth devices that your Samsung had stored will also be deleted from the device so you'll need to reconnect to them again afterwards. If you had mobile hotspot created before, that will be erased as well so you'll have to reconfigure it again.
Steps to reset network settings of a Samsung Galaxy
Estimate Cost : 0
Time Needed : 4 minutes
Follow the steps below to revert the network settings of any Samsung Galaxy phone or tablet.
Open Settings app.



You can find the Settings app in your Home screen or Apps Tray.

Tap General management.



Scroll down and tap on General management.

Tap Reset.



Select Reset option.

Tap Reset network settings.


Tapping on Reset network settings will return settings of wifi, Bluetooth, and other network settings to defaults.

Confirm prompt.



Tap Reset settings to confirm.

Enter your screen lock option (PIN, Pattern, Password) to proceed.



You may be asked by the system to input your screen unlock code depending on the option (PIN, Pattern, Password) you're using.

Tap Reset.



Tap the Reset button to proceed with the network settings reset.
NOTE: If you have a dual-SIM capable Samsung Galaxy device, you'll have to select which SIM card you want to reset. If you want to reset network settings of both SIMs, you'll have to do the steps above twice.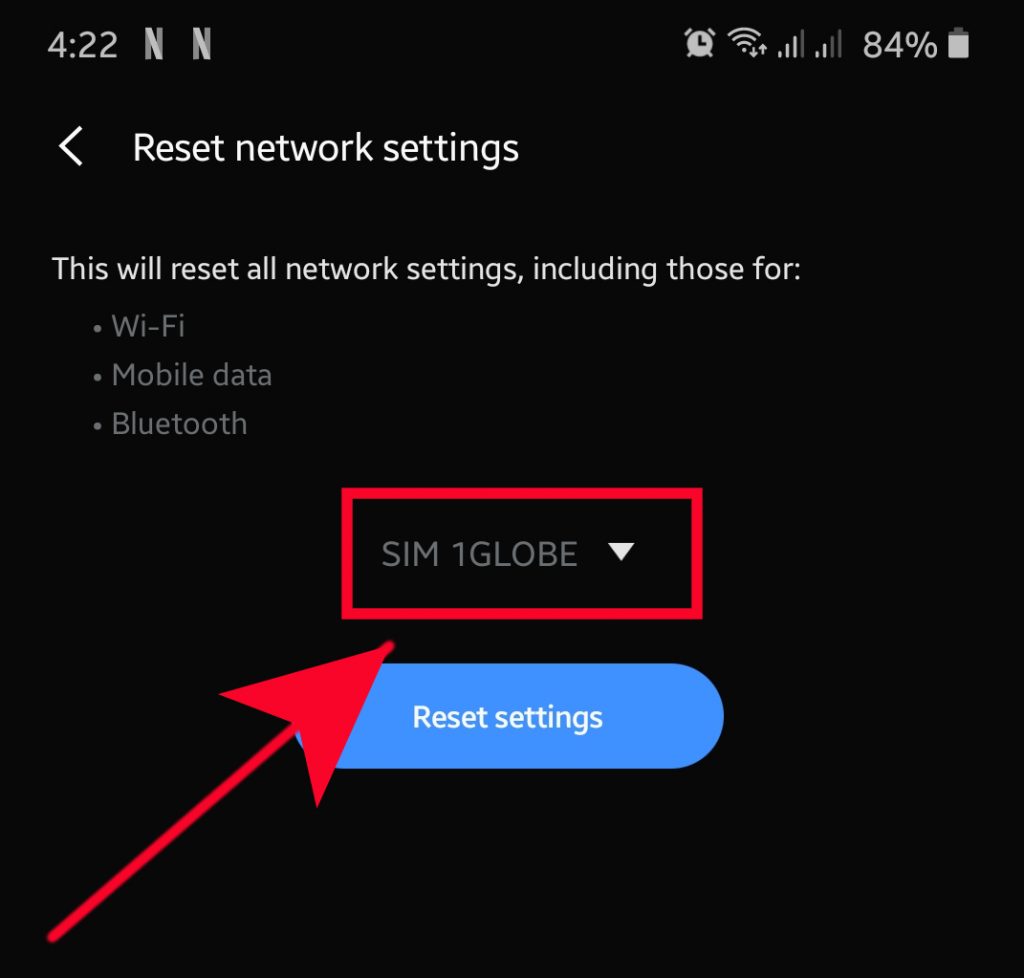 Suggested readings:
Get help from us
Having Issues with your phone? Feel free to contact us using this form. We'll try to help. We also create videos for those wanting to follow visual instructions. Visit our TheDroidGuy Youtube Channel for troubleshooting.