Here are some of the most common microSD card problems reported by our readers who own a Samsung Galaxy S5 (#Samsung #GalaxyS5) smartphone. Together with these issues are their quick fixes and/or workarounds.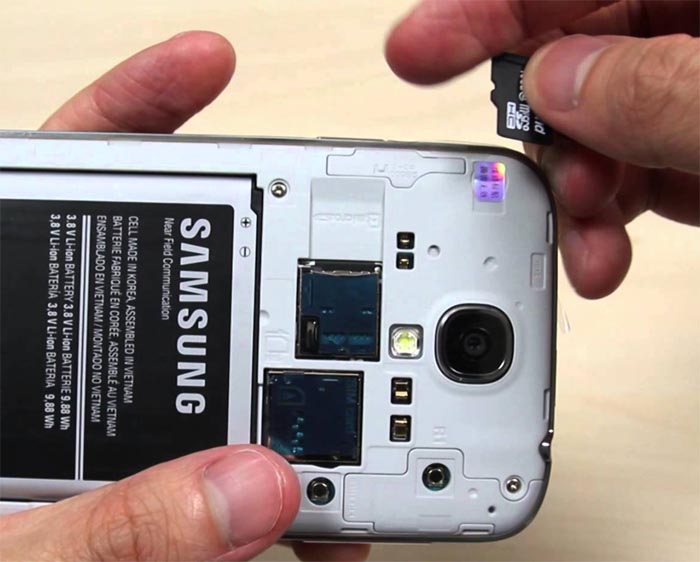 Now, before anything else, if you have issues with your phone other than ones I mentioned in this post, then head to our troubleshooting page where you can find hundreds of problems. Find ones that are related to yours and use the solutions we provided. Or, you can just contact us directly by filling up this questionnaire.
Now, here are the problems I covered in this post. Just click on the link to jump to a specific issue…
---
Galaxy S5 won't recognize a new microSD card
Problem: My new Galaxy S5 won't recognize my also new Sandisk 32Gb micro SD. The S5 recognizes the micro SD from my old S4, a 1GB microSD SDC01G. But the 1gb card is broken and won't stay properly mounted. So I got a new SD card, but the S5 won't recognize that the new sandisk card has even been inserted. I took it into Sprint and they tried cleaning both the card and the port. Didn't work. They tried inserting a different SD card and it wouldn't recognize that one either. They even did a factory reset (though the phone is brand new). And still the only card it will recognize is the broken 1gb card. What can I do?
Solution: Try to reformat your new microSD card using your laptop or computer and choose FAT32 format instead of NTFS. The former is the format that can easily be read by the Android system.
Galaxy S5 can't play videos recorded by its camera
Problem: I recently bought a 64GB Samsung SD card for my Galaxy S5 and when I record videos and try to play them back, within 15-30 seconds, the video stops and a message pops up that says "file incorrect data."
Solution: The camera is set to save videos and pictures to the microSD card. Change the save location to the phone's internal memory and you should be able to play recorded videos without errors.
Galaxy S5 can't detect mounted microSD card
Problem: I am storing photos on the SD card I installed.  My desktop at home with Windows 7 has no problem downloading the photos.  My laptop with Windows 7 says there are no photos on my device.  How to I make it see the SD card?
Solution: Just make sure you installed necessary drivers on your laptop. Head to Samsung's website and download the drivers for the Galaxy S5 or better yet, download Kies as it comes packed with all drivers needed so your computer can detect the phone. On the other hand, why don't you just use a card reader, insert the microSD card in it, and let your laptop read from it?
Pictures and videos lost after moving them to the SD card
Problem: Lost pictures and videos after moving (not copying and pasting) from device storage to sd card.  Is there a way of retrieving these lost pics?  Tried having pics go directly to sd card, which worked fine when taking new pics.  However, could not replay any new videos so can't permanently set pics settings to go to card rather than device.  Have read many comments from people who have same issues but found no solutions.  Any advice?
Solution: We really can't confirm on our end if those pictures and videos are already gone and irretrievable. However, you can try connecting your phone to a computer and try to find out if they're still inside your phone's memory or the SD card.
Furthermore, I suggest you backup all data inside your SD card and reformat it as there may have already been some corrupt or damaged sectors in it. Reformatting may fix them as well as solve your problem.
Galaxy S5 showing a prompt saying there's not enough memory left
Problem: No more memory space. IPSEC SERVICE FILE 8 GB. Free memory 20 MB. Total memory in the stock 16 GB. SD extern 64 GB. Downloading and software updates are not possible because of memory space. I have only software App on the stock memory. Fotos are on the SD minicard. Memory used: 4,2 GB for system and over 11 GB for Software.
Solution: With only 20 MB left in your phone's memory, there is no room for an update of more than 1GB. Things to do to get this problem fixed:
Move apps to the SD card.
Transfer files to the external memory or download to computer.
Clear cache and data of apps that you don't use anymore and uninstall them.
Galaxy S5 shows "Unfortunately, Android.process.acord has stopped" error
Problem: I keep getting a message saying android.process.acore has stopped. Its also says that the device memory is full and storage is full. I deleted quite a few apps also some videos and photos, all my messages and e-mails.  I cannot access my contacts or look at any pictures.
I turned my phone off one night on the next day and this has happened. Thank you for this.
Solution: Probably a memory issue; there isn't enough space left for apps to run. Just like the solution to the previous problem, if you don't have a microSD card, get one and then transfer your apps, files, videos, pictures, etc. to it and if all else fails, you can surely fix this problem by doing the master reset. Of course, you need to backup all your data as they'll all be deleted during the process.
S5 says there's insufficient storage left after an update
Problem: Ever since the upgrade my phone has been telling me insufficient storage I'm deleting apps left and right where I did not have to before. And can you help me with the miscellaneous files that seems to be taking up most of my storage and I don't know why. Thank you!
Solution: Check how much storage space is left in your phone's internal memory. If it shows more than 2GB, then that's more than enough to run all apps and snap a several pictures and a few videos. However, if the phone says there's insufficient storage left even with 2GB left, then it's a firmware issue; probably just a glitch. Try wiping the cache partition first, if that failed, then the master reset.
S5 kept showing not enough storage even with new SD card
Problem: I kept getting not enough storage so I added a micro SD CARD 16G and am still getting not enough storage notes.
Solution: Just because you inserted a new microSD card doesn't mean the problem will just go away. What the phone was telling you about was the internal storage. The microSD card is an external storage. To get rid of this problem, transfer your pictures, videos, files and some larges to the new microSD card.
Facebook app can't be moved to SD card
Problem: Daily update of Facebook app. Always have to move to SD card. Now it's reporting some help files won't work and moving to SD not possible.
Solution: Uninstall the app, download a fresh copy from the Play Store (to make sure you got the more recent version), install it and move it to the microSD card. That should work.
S5 storage space didn't change after moving photos and apps
Problem: I try and save my photo's and apps to my SD memory card. I have my photos shown as being stored to memory card and will move my downloaded apps to SD card. However when I check my memory nothing seems to change on the device memory used or the SD card memory used. Is there something I can try and do to fix the problem? The only solution I can think of is to transfer my photo's to the computer but that still doesn't fix my app memory issue.
Solution: Moving a few photos and apps won't make a difference. Move them all! Your videos, music, pictures, files, third-party apps, etc. After all that, reboot your phone and you'll see the difference.
SD card got damaged without apparent reason
Problem: I woke the other morning and checked my phone. My lock screen photo was gone and my SD card was blank. I lost all my music and a lot of pics. I'm glad I had my pics backed up. I took out my SD card put it in my tablet and it said damaged SD card. 
Solution: Try to let your computer or laptop read from the card. If it would tell you it needs to be reformatted the moment it was detected, then it's really damaged and all data inside it are lose. However, if the computer can still read from, then you can backup all other stuffs you don't want to lose but either way, you need to reformat the card to use FAT32. After this, you can tell immediately if you need to buy a new one or not.
Connect with us
We are always open to your problems, questions and suggestions, so feel free to contact us by filling up this form. This is a free service we offer and we won't charge you a penny for it. But please note that we receive hundreds of emails every day and it's impossible for us to respond to every single one of them. But rest assured we read every message we receive. For those whom we've helped, please spread the word by sharing our posts to your friends or by simply liking our Facebook and Google+ page or follow us on Twitter.