Are you experiencing connectivity issues on your Switch? In this troubleshooting guide, we'll explain to you what 2618-0203 error means and how you can avoid or fix it if you encounter it in your Nintendo Switch.
The full error reads: "Error Code: 2618-0203. A communication error has occurred. Please try again later." This has been reported to us countless times by gamers around the world so we hope that this article will help you fix it for good.
What does 2618-0203 error mean?
If you're getting the error code 2618-0203 on your Nintendo Switch, that's an indication that the internet connection in your console has been interrupted or stopped. Usually, this error is a direct result of a DNS issue in the Nintendo Switch console although there are also a few other reasons that might cause it.
Because this error effectively blocks you from connecting a Nintendo online service or playing your favorite online games, it needs to be addressed if you wish to get back to your games, or what you're doing before the error shows up.
Causes of Nintendo Switch error code 2618-0203
Below are the known factors that might lead to Nintendo Switch error 2618-0203:
Incorrect DNS settings.
DNS stands for Domain Name Server. Think of it as a digital phonebook that translates the human-readable domains (such as TheDroidGuy.com) into computer-readable values. Without the DNS, everyone who uses a computer will be forced to memorize all the assigned IP address for each domain or website on the web instead of simply typing them in the browser's address bar.
By default, your Nintendo Switch will use whatever settings your router is currently giving it. However, DNS issues may arise if ISP-provided servers go down, or if you accidentally changed some settings like DNS address in your Nintendo Switch console.
Nintendo Switch servers are down.
Aside from DNS server issues, you may also encounter the 2618-0203 error if there's on-going problems with a particular service of Nintendo.
Random console bug.
At times, random glitches may occur in devices simply because certain changes were made, like when installing new updates, games, or apps. At other times, coding issues with the software, or any unofficial modifications may also lead to a certain issue or error. This is typically normal for gaming devices, consoles, computers, or mobiles.
Slow or intermittent internet connection.
For some people, error 2618-0203 can be an indication of a home network issue. If your internet connection is slow, or when your Nintendo Switch console is kept getting disconnected, it might lead to certain errors.
Wifi signal interference.
If you use wifi, there's also a chance this error is related to wireless signal issues. Troubleshooting your wifi may be necessary to get to the bottom of this problem.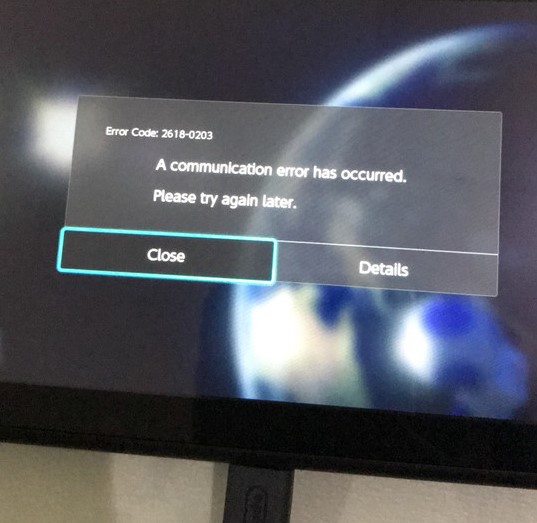 How to fix Nintendo Switch 2618-0203 error code?
These are the solutions that you can try if you have the 2618-0203 error on your Switch console:
Fix #1: Reboot the console.
Refreshing the system is a basic troubleshooting step as well as an effective solution for certain minor bugs. You can restart your Switch by pressing the Power button and selecting Restart.
Fix #2: Power cycle the router.
Because you're dealing with a connectivity issue here, you also need to do another basic solution and that is to reboot your router. Just turn the router off normally and unplug it from the power source for 30 seconds. This should be enough time to clear its cache and hopefully get rid of the network bug.
Fix #3: Check the DNS settings.
If you recently did some changes to your Switch console internet settings, or if you suspect that you may have bad DNS settings, try to manually check the DNS settings or use alternate ones if needed.
Fix #4: Check for Nintendo Switch server issues.
If the DNS settings are all good, then the next step for you is to try to see whether or not the error is due to an on-going server outage or maintenance. Visit the official Nintendo website to check.
Fix #5: Move the console closer to the wireless router.
If your wifi is sometimes unreliable, or if you're getting weak signals, try to see if moving closer to the wireless router will fix the problem. If possible, use your Switch in the same room where your router is located (make sure that there's a clear line of sight between the devices) and see if there's a difference.
Fix #6: Check for wireless signal interference.
The other wifi troubleshooting that you can do is check for interference for your wireless signals. If you need help in troubleshooting wifi issues on your Switch, refer to this article.
Fix #7: Use a direct or wired connection.
If you constantly play online games, especially competitive shooters like Fortnite, you should seriously think of investing in a USB LAN adapter. Wired connection is more reliable than a wireless setup and it's usually free from common connectivity errors like the 2618-0203.
OTHER INTERESTING ARTICLES:
Visit our TheDroidGuy Youtube Channel for more troubleshooting videos and tutorials.