Are you getting the 2101-0001 error on your Nintendo Switch? In this article, we'll explain the known triggers of this issue as well as the solutions that we've collected over the years regarding this error code.
What does Nintendo Switch 2101-0001 error mean?
2101-0001 is a general Nintendo Switch error which can mean one of two things: either the console encounters a random software glitch that it can't resolve on its own, or that its hardware has a malfunction. In most cases, the hardware component that can trigger this error code is the microSD card.
What happens when your Nintendo Switch encounters 2101-0001 error?
While most people who may come across error code 2101-0001 on their Nintendo Switch may simply need to refresh the system, some may have to do a manual check for new software update. Others are unable to load their games or certain games may fail to connect online. A small number may also experience their game to crash with this error message.
What are the causes of Nintendo Switch error code 2101-0001?
There are a number of possible triggers for error code 2101-0001.
Random software glitch.
This error code may come and go depending on the condition of the your Nintendo Switch console. For some, the trigger may be software-related and may show up when trying to load a game. It may also interrupt you when trying to browse the Nintendo eShop.
Other users may randomly encounter this error code when they're trying to access contents in their microSD card such as certain downloaded contents and other software data.
Game bug.
There were also reports from other users of this error showing up when playing certain games only. I am yet to know personally what there particular games are but if this is accurate, then it may attributed to bad saved data and may not be entirely due to poor coding.
Outdated system software.
Running your Nintendo Switch on older, outdated or even corrupted system software may also trigger errors like the 2101-0001.
MicroSD card issue.
Even Nintendo itself acknowledges that in certain situations where this error is triggered, the main cause can be something related to an extension of the console's storage. If you are using a microSD card on your Switch, you must consider checking if it's working properly before inserting it again.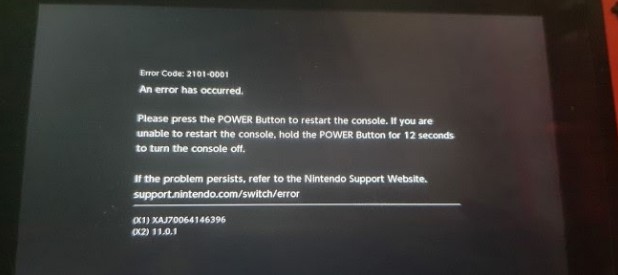 How to fix Nintendo Switch 2101-0001 error?
Below are the solutions that you can try if you encounter error code 2101-0001 on your Nintendo Switch.
Fix #1: Reboot the Nintendo Switch.
Many people fixed error code 2101-0001 by doing a simple trick: restarting the Switch. Just press and hold the Power button on top of the console for three seconds then select the Restart option on the screen.
If your Switch has become unresponsive, pressing and holding the Power button for 12 seconds instead of 3 should force it to restart.
Fix #2: Keep the software and games updated.
Whether you're having an issue or not, it's always a good idea to keep the software environment of your NIntendo Switch updated.
To manually check for update:
Go to the Nintendo Home menu.
Select the System Settings.
Find and select System.
Select System Update.
Also read: How To Update Nintendo Switch Controller | Easy Steps
Fix #3: Take out the microSD card.
If rebooting and updating your Switch did not fix the problem, your next move is to see if error code 2101-0001 is being caused by your microSD card. To do that, make sure that you turn your Switch off first. Then, gently swing the microSD tray open so you can remove the card. Afterwards, push the tray back in before turning on the console.
Try using the Nintendo Switch for several minutes to check if the error returns when the microSD card is not inserted.
Fix #4: Get help from Nintendo.
If the error continues to show up without the SD card, you can assume that there is much deeper reason for it. Since you've run out of options to fix the issue at this option, you need to contact Nintendo support.
FURTHER READING:
Visit our TheDroidGuy Youtube Channel for more troubleshooting videos and tutorials.