If you are new to mobile gaming, especially with shooter games like Call Of Duty Mobile, the tiny screen is often inadequate. The good thing is, you can greatly improve on the situation by playing the game on your PC. To do that, you'll want to use an emulator like GameLoop. If you have an old or low end PC, you can use that to play your favorite game. In this article, we'll show you how to get the best GameLoop settings for your low end PC.
What is GameLoop?
GameLoop, formerly known as Tencent Gaming Buddy, is an emulator meant to let players enjoy games such as Call Of Duty Mobile, PUBG, Free Fire, and many other popular mobile games to be played in a PC.
An emulator is basically a program that "imitates" another software or program. GameLoop offers almost all the same capabilities of an Android device when used in a PC.
This means that you can enjoy your favorite mobile game in a much larger screen while having the same or even better keyboard mapping than when you're on your phone.
Using GameLoop emulator is NOT considered cheating at all, perfectly legal, and is an even better way to play frantic and fast-paced shooters like Call Of Duty Mobile.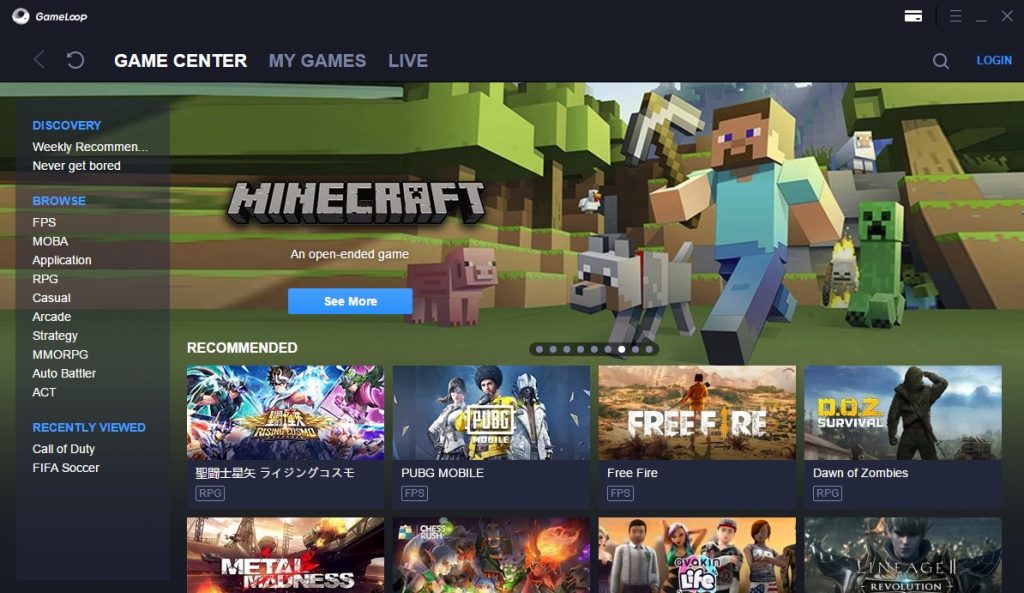 What is considered a low end PC?
The good thing with GameLoop is that it lets you play your games on your monitor even when your computer is not exactly built for gaming.
If your PC has less than 4GB memory (RAM) and an old graphics card with 512MB memory, it's considered low end. Don't worry as even though you have a low end PC, as long as your machine works normally, GameLoop emulator is designed to continue working by finding the best available configuration for you.
Does GameLoop works fine in a low end PC?
In my experience, my old workhorse PC, which is considered a low end PC at this time, handles Call Of Duty Mobile in GameLoop still. That said, I can personally testify that this emulator is designed to work with weak machines. In my end, my PC only has 3GB of RAM but the game's performance works as expected.
What is the minimum system requirements of GameLoop?
If you want to use GameLoop as your emulator of choice to play, these are the minimum system requirements that you should have in your PC:
CPU: Dual-core from Intel or AMD at 1.8 GHz.
GPU: NVIDIA GeForce 8600/9600GT, ATI/AMD Radeon HD2600/3600
Memory/RAM: at least 3GB of RAM
OS: Windows 10, 8.1, 8 and 7
DirectX: Version 9.0c
Storage: 1GB of free storage
What are the best GameLoop settings for low end PC?
There are several steps that you must do in order to greatly boost the performance of GameLoop in your low end PC.
Bear in mind that we this guide assumes that you have a dedicated graphics card and not using the built-in GPU of your processor, also known as integrated graphics card.
If you are using an old laptop with an integrated graphics card only, tweaking the settings may not significantly improve GameLoop performance at all.
The steps below should be for a low end PC with a dedicated graphics card. You don't need to buy an expensive one for this though.
Step 1: Create a larger virtual memory
Press the Windows button on your keyboard and type "This PC". Alternatively, you can open Windows Explorer and right-click on "This PC" icon.
Once you've right clicked on This PC, select Properties.
In the left sidebar, click on Advanced System Settings.
Go to the Advanced tab, click on the Settings button in the Performance section.
Go to the Advanced tab, under the Virtual memory section, click on Change button.
Uncheck the Automatically allocated virtual memory option.
After that, click the circle beside Custom Size and enter the virtual size for your pagination file.
Set initial size and maximum size to the same.
Restart your PC.
Step 2: Set Power Plan Mode to High-Performance.
Open the Control Panel (icons view),
Click Power Options.
In the right of the power plan, click on the Change plan settings link.
Select your plan mode to High Performance.
Click OK or click Save changes.
Step 3: Set Priority of GameLoop in Task Manager
Open Gameloop and make sure it's running.
Open your Task Manager.
Go to the Detail tab in Task Manager, and search for AndroidEmulator.exe and AppMarket.exe.
Once you find the first of both, right-click on it and navigate to Set Priority and change the priority to High.
Close the Task Manager and you are now all ready to play the game.
Step 4: Enable Virtualization
If your CPU supports it, you want to ensure that you enable Virtualization Technology. This allows your machine to run multiple instances of your OS, which can speed up the performance of GameLoop in your low end PC. The steps to enable Virtualization varies by CPU.
Step 5: Tweak GameLoop emulator settings
Another way to make GameLoop run faster is to change some of its default settings.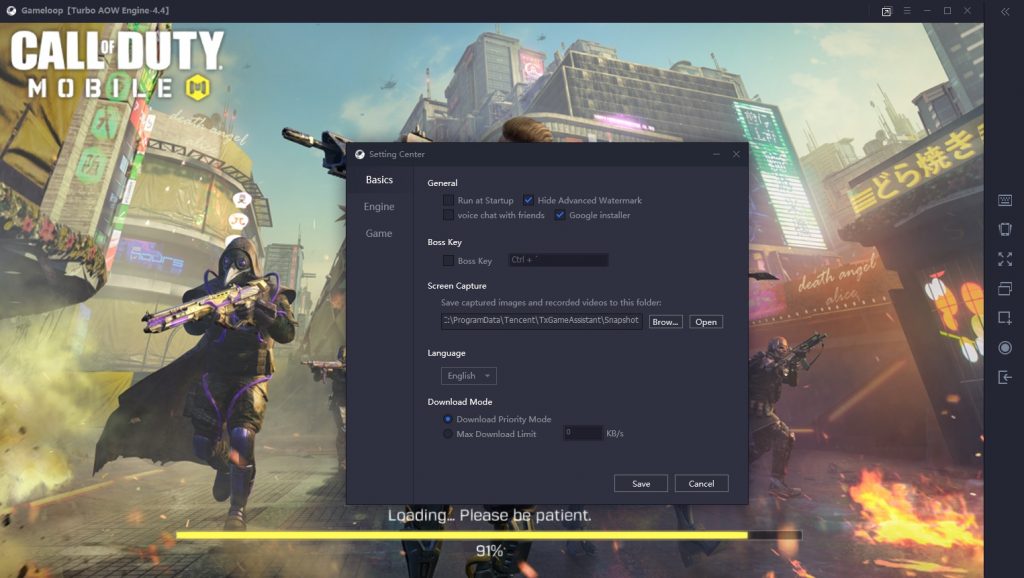 General settings.
Under General settings, make sure to:
disable everything except Hide Advanced Watermark
Select Download Priority Mode
Gameloop Engine Settings
Under GameLoop Engine settings, do the following:
Select Direct X+ or OpenGL (Update) for Rendering
Set Antialiasing to Disabled/Closed
Set Memory to the same number as your PC's RAM
Set Processor to the Same number of your CPU cores
Set Resolution to the same resolution as your Monitor's resolution
Set DPI to either 160 or 240
Gameloop Game Settings
For GameLoop Game settings, make sure to:
Set the Gaming Resolution to that of your Monitor Resolution
Set Display Quality to Smooth.
Step 6: Use Turbo AOW Engine for better GameLoop settings for low end PC
GameLoop emulator determines automatically if you have low end PC and it will let you use its Turbo AOW Engine instead for increased performance in gaming.
To open the Turbo AOW Engine when playing, you must directly run the games from the GameLoop Home screen. You should see the Turbo AOW Engine indicator when the game runs.
FURTHER READING:
Visit our TheDroidGuy Youtube Channel for more troubleshooting videos and tutorials.